Amazon Web Services (AWS) is the biggest cloud service vendor in terms of market share value. They were launched back in 2006 and this been made them progress way ahead of Azure, and GCP which are from the top competitors Microsoft and Google. Cloud Computing has revolutionized the way the information technology industry is working. The cloud has offered an innovative solution of offering services like computing, database, machine learning, networking, storage, etc., on-demand with a pay-as-you-go payment model. AWS is used globally by big MNCs, corporations, companies, startups, and many governmental agencies like the CIA, and NASA, among many others. AWS Certification is to validate the expertise of the candidate in working with the AWS cloud domain. AWS Cloud Certification is a basic level certification that we will be addressed here. So, let's discuss the top tips and tricks to crack this exam: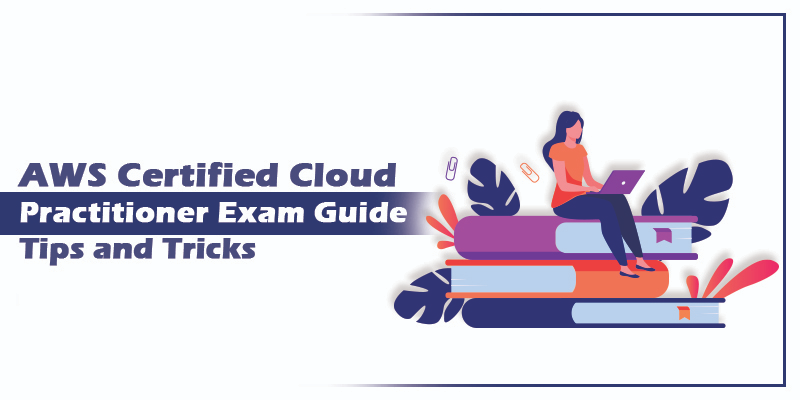 Understand the Subject Areas or Domains of this exam
The first step that you must get done is, understand the exam's subject areas or key domains from where the questions will be asked in what percentage. In our case, four key subject areas/ domains are asked in the AWS Cloud Practitioner exam, and they are:
Cloud Concepts constitute 26% of all the questions asked.
Security and Compliance carve in 25% of the total share.
The Technology     domain has the majority of questions standing at 33%.
And the final area is Billing and Pricing, which has 16% of the questions in the exam.
Understanding this figure and stat is very important while you are still in your preparatory phase. These are four areas that complete your syllabus for the AWS Cloud Practitioner exam.
Read the AWS Cloud Practitioner exam guide thoroughly.
Exam Guides are very useful when it comes to writing any AWS Cloud Practitioner certification exams. This guide will help guide you throughout your exam preparation. It contains all of the contents and syllabus materials that you need for the exam. It will structure your preparation with detailed tools, domains, technologies, and services knowledge you require to crack the exam. It also outlines all the required prerequisites, if any, and all the requirements to score high in the exam, along with all the major points that are necessary for the exam.
Enroll in a recognized online training for clearing this exam.
If you are a novice to the cloud or a beginner to the Cloud Computing domain, I recommend you enroll in a good AWS Cloud Practitioner Certification from a recognized training or learning partner. As it will help you master the AWS cloud domain from bottom through industry professionals. You will understand all the essential concepts that you must understand, get tools and knowledge that you must know to crack the exam.
Hovering over subject areas will help you score high.
To crack this exam, you must gain experience using the AWS platform to establish your proficiency. Exam objectives intertwine with the outlined subject areas or domains mentioned in the exam guide. You must be thorough with all the subject areas to be able to perform better. Once you complete your preparation, go through the exam guide to strike off what you are thorough with and identify what you are not with.
AWS Whitepapers are another helpful source
AWS keeps releasing these whitepapers for its users, customers, and viewers to educate about many concepts that are integrated into the AWS platform. These are created by AWS officials and experts and that's the very reason why they are a great source of information. Many whitepapers are covering many aspects of the AWS Cloud, such as economics, architecture, security, etc.
Check out some of the whitepapers like these, which will help you get started and keep up your AWS Cloud Practitioner Cert.
Overview of AWS, AWS Security best practices, Business Value of AWS, How AWS AWS Pricing works, Maximizing Value with AWS, AWS CloudFront, and many more that you will find useful for your prep.
These whitepapers will help you understand what the exam is all about and what it isn't.
Join groups or a community of learners.
Joining a learning community or group is a great way to have fun while preparing for your exam. It keeps you competitive. You will get to hear various ideas, concepts, and resources that you will be able to leverage for your exam. You will be able to connect with these groups online on social media platforms like LinkedIn, Facebook, etc. You will also get many practice questions and other supplementary materials that will help you with the exam. Many share their success stories, exam experiences, and their tricks and strategies that will help you ace the exam.
Test yourself!
Testing yourself is the most beneficial step that you will take for your exam. Because taking practice tests will help you zero in on your strengths, weaknesses, your advantages, lackings, etc. You must keep scoring high marks in the practice tests to help you get confidence for the real exam. Your revision is almost completed if you keep taking tests.