Goa Beaches is famous for fun and exciting activity for both children and the parents The shape of the boat is like a banana and its connection with the speed boat which is pull in the open sea air with high speed. Everyone who riding in banana ride holds it tight because speedboat attempts to flip the boat thereby dropping its passengers into the water.
Banana Ride and Scuba Diving in Goa is fun and super exciting for all ages, whether it is little children or elderly people. you do not have to worry about anything. as you are given life jackets and also lifeguard is present for your help.
Why it's Funny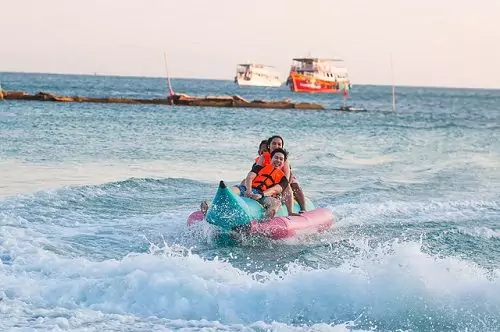 Funny as the name suggests, the Banana and Ringo rides have caught the imagination of tourists and enthusiasts worldwide and are proving to be a star attraction at many beaches in Goa. Almost all major beaches have operators who cater to these rides.
The Banana rides can be availed by the entire family where the aim is to ride a giant-sized inflated banana and try and maintain its orientation while sailing through the choppy waves. Sounds easy, but beware of the fights which may ensue after a free fall in the water.
The Ringo rides are for individuals riding in inflated rings which are left adrift in the waters. The twists, twirls, and bottoms up are sure to chill the hardcore and leave them asking for more.
Some of the thrilling sports in Goa are scuba diving, parasailing, trekking, water skiing, jet skiing, bungee jumping in Goa, speed boating and many more.
Best Time for Banana Ride
Summer is the season when most of the family plan for vacation and everyone wants to plan a vacation that involves different kinds of water activities. Most of people like to get involved in water sports activities and rides. We surf the internet to search for various places water sports where we can take the pleasures of the water boat rides as well as indulge in nature.
So get out of the worried and anxious zone because finally, we got a place for you which could be one of the best vacation places for you. This place has everything a family desires. This place not only offers thrilling water rides but also has a mindful view of nature.
Yes, It's Goa! A heavenly place that can be enjoyed by everyone's family Member, from kids to adults. It offers so many different water sports activities that you won't ever wish to leave this beautiful place. There are some prominent water sports games that are admired among the Indian as well as international tourists. Water sports like Jet ski, Parasailing, Scuba diving, Snorkeling.
One of the popular ones which can be loved and enjoyed by family and kids as well as with the loved ones is the Banana Boat Ride, It is one of the popular water sport in Goa.
Tourists may appreciate an extensive variety of water sports offer in Goa. In regards to picking amongst the listing of Water Sports available in Goa, you can choose any of the water sports. Yet, nothing would fit on the place of Banana Boat Rides which is available in Goa.
Bungee jumping is a bit risky but it is an adventure activities in Goa in which individuals jump from a higher spot. do try your first bungee jumping Goa. these are the best place for Bungee Jumping in India. It is placed near Anjuna beach, Bungee jumping comes at feasible rates in Goa. You can try the Sky high bungee jumping in Baga Beach. bungee jumping is exciting as well as amazing. There is no particular time to enjoy this thrilling activity,
Banana Boat Rides in Goa are the funniest Water Sports available in Goa, where the boat is connected to a speed boat. 4 to 6 people could be seated in a single banana boat. Excitement comes when boat throws the passengers off when the speed boat sprints over the ocean. Occasionally, you'll find yourself being flung to the water before you've barely started off the shores.
Banana Boat Rides really is a repetitive process of hauling yourself back and after being flung to the ocean. Therefore, this sport analyzes your endurance, as your muscles would begin to hurt on being thrown after some spells. But, the rib-tickling amusement of banana boating can not be dismissed at any cost. So, rush to reserve yourself a tour so that you could have a great time while experiencing Water Sports in Goa.
The boat is made with an inflatable boat and has a large sitting space for around 6 to 8 people. The Ride on the beach for 15 Min with Best Value. It is only for adults and not allowed for children who are below 12 years of age. Because this boat is connected to a speed-boat. It will take you in the middle of the sea and as soon as the speedy waves occur in the sea, the boat will try to throw you off into the sea water.
You will Get wet and have a blast in the middle of the Sea. you should be holding the boat as tightly as possible because sometimes it can be harmful and become difficult to ride on the boat once you fall into the heavy speed waves in the sea. There are various other water sports, but the Banana boat ride is especially enjoyed to Get wet and have a blast. You will get wet so make sure you have your bathing suit on.
There would be a training session and you will also be accompanied by the instructors throughout the ride. In the Summer Vacation Banana boat ride in Goa could be one of the best rides you can enjoy. So if you are thinking to plan something worth-remembering with your mates. Then it, Goa is the place to please your desires.
Banana Ride Packages
Sea Water Sport
This is the best place for Banana Ride in Goa. You should visit Adventures like Banana Ride, Scuba Diving, Parasailing ride, Jet Ski with your family and friend. Banana Ride is a fun and enjoyable adventure in sea water sport. Also, Seawater sport boasts of having the most competitive banana boat ride rates for you, your family and friends. Be adventure and have the most unforgettable vacation in Goa with different exciting activities to choose from. Going on a banana boat ride in Goa is truly a great way to take a break from your everyday routine as it is exhilarating, fun and very safe.
Are you tired of experiencing water sports activities alone and you are looking for some activity that can be enjoyed with the family? Then we have got the right sport for you that you can enjoy with your family and make your trip to Goa memorable. Banana Boat Ride in Goa, is one of the most popular water sport for the tourists and the local people in Goa.
The banana ride involves riding through the water in the banana-shaped boat. It is an inflatable recreational boat that is connected to a speed-boat which will take you in the middle of the sea. You must grab the boat tightly, as the boat will slam into the big waves trying to throw you off into the water.
It is one of the famous Water Sports in Goa that loads up to 6 people involving children above 12 years. The experts will provide the proper guidance about the activity and you will also be given the safety measures so that you are well prepared in case of any kind of uncertainty that happens during the activity.
The Banana Ride is a great sport to enjoy with your group mates or with your family. To start the ride you'll be escorted to the location by our professionals and equipped with the gear and set on the boat. Life-jacket is mandatory for each and every person while trying the banana ride, as you'll be thrown into the waters. Even if you don't know how to swim, the efficient guides and the safety gear will keep you safe and sound.
Goa is filled with beautiful beaches, clubs, and a variety of water sports and one of the major attractions people love to indulge in is the Banana Boat ride. After a short period of this intense activity, your muscles will start to ache but you should not lose the chance to experience this activity at any cost.