Homeopathy is an alternative medical practice in which extremely dilute amounts of certain natural substances are used by Homeopathy Doctors In Bangalore to treat various ailments. Homeopathy is a natural form of medicine used by over 200 million people Bangalore and worldwide to treat both acute and chronic conditions.
It is based on the principle of 'like cures like'. In other words, a substance taken in small amounts will cure the same symptoms it causes if taken in large amounts. Interestingly, the homeopathic medicines are also prepared in such a sophisticated way that rather than using harsh chemicals for treating humans, homeopathy uses attenuated and 'potentized' medicine substances which are in the form of nano particles, which have been found to be effective in treating the diseases at a much deeper level.
Homeopathic medicine helped many people out of being natural and safe. When people couldn't think of what to do with their diseases, they go with the homeopathy treatment.
In this blog, we'll see some of the Best Homeopathy Doctors in Bangalore.
Dr. Rajesh Shah ( Life Force )
Dr. B. T. Rudresh
Dr. Deepa Raje Nimbalkar
Dr.Srikant Morlawar ( Homeo Care )
Dr. Daisy Bagchi
Dr. Batra's
Dr. Kiran Kumar ( Positive Homeopathy )
Dr. Monica
Dr. Preeti Tavarkhed (Centre of Homeopathy )
Dr. Shaji V. Kudiyat
Dr. Sanjay Panicker
Dr. Banerjee
Dr. Munavvars
Star Homeo
Namma Homeopathy

1. Ask Dr. Shah
Ask Dr. Shah is one of the Best Homeopathy Doctors in Bangalore and Best Ayurvedic Doctors In Bangalore . Their mission at there clinic is to develop the best world standards in homeopathic practice and make them available to their patients. Enhancing the potential of homeopathy by research, and bring its benefits to people across the globe.
To practice the highest standards of ethics and conduct in medical practice. Everything they do reflects their mission and values. They value integrity, honesty, dedication, commitment, and accountability.
Contact Details:
Address: Jyothi Plaza, 1st Floor, Building No. 25, 5th Cross Lane, Next to Idea Showroom, Malleswaram Circle, Bangalore - 560003, India
Phone: +91-80-43748881, +91-80-43748882
Email ID: [email protected]
Website: https://www.askdrshah.com
2. Dr. B. T. RUDRESH
Dr. Belavady Thippeswamy Rudresh, a classical practitioner of Homeopathy has completed 3 decades of committed service to the multitude who have thronged to him for an effective cure. His affinity for Homeopathy was founded at a time when the world was yet to crown Homeopathy with the glory that it holds today.
Today Dr. B. T. Rudresh's selfless service at Ashwini Homoeo Clinic, Gandhi Bazaar has benefited lakhs of patients enormously.
Contact Details:
Address: Opp. Syndicate Bank, D V G Road, Basavanagudi, Bangalore - 560004
Phone: 080-2679-7575
Email: [email protected]
Website: http://www.drrudresh.com/
3. Dr. Deepa Raje Nimbalkar
Dr. Deepa Raje Nimbalkar is a founder of Lifetron Healthcare. Lifetron Healthcare is a specialized clinic in homeopathic treatments for women and children healthcare. This is one of the best Homeopathy Clinics in Bangalore and Best Ayurvedic Doctors In Bangalore Lifetron is amongst Bangalore's specialized homeopathic clinics currently treating patients from across various age groups, cultures and professions.
Contact Details:
Address: 411, First Floor, San-Man Complex, 24th Main Road, Sector 2, HSR Layout, Bengaluru, Karnataka 560102
Phone: 9902571444
Email ID: [email protected]
Website: http://www.lifetron.in/
4. Dr.Srikant Morlawar
Homeocare International, a network of world-class premium Homeopathic clinics committed to providing advanced Homeopathic Treatment enriched with decades of rich experience, excellence, and expertise in treating various diseases using world-class techniques, latest advances, sophisticated technology and software for effective treatment of diseases without any side effects.
It has its own quality control and medical audit department and Best Homeopathy Doctors In Bangalore also Best Ayurvedic Doctors in Bangalore which helps in the implementation of quality management systems in accordance with international standard ISO 9001:2008.
Contact Details
Address: No.340 (old no. 522), 11th cross, sampige road, Opp.Yadugiri Yathiraja Mutt, Malleswaram market bus stop, Beside max showroom & Arvind store, Malleswaram, Bangalore-560003, Karnataka, INDIA.
Email: [email protected]
Phone: 1800-102-2202
Website: https://www.homeocare.in/
5. Dr. Daisy Bagchi
Bong Homoeo Care is a homeopathic clinic opened by Dr. Daisy Bagchi in the heart of India's IT hub - Bangalore. They aim to provide treatment to the patients & educate everybody about the dynamic medicines of homeopathy. Bong Homoeo Care wants to show everybody how effective homeopathic treatment can be and how it can cure diseases when all other pathies give up.
Bong Homoeo Care will not only provide treatment for the diseases, but they will also share the knowledge of how they can be prevented. We dream to see us as a nation free of any diseases.
Contact Details:
Address: #3DM-356, Mahi Arcade, 1st Floor, 3rd D Main, 4th Cross, Near Shiva Parvathi Kalyana Mantapa, OMBR Layout, Banaswadi Bangalore, Karnataka, India, PIN- 560043
Phone: 9379905956
Email: [email protected]
Website: http://bonghomoeocare.com/
6. Dr. Batra's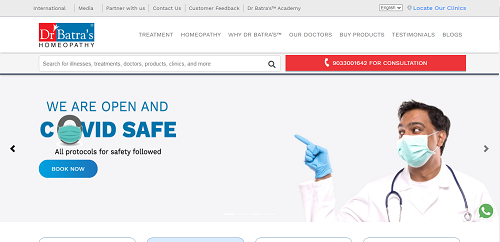 At Dr. Batra's, They believe that a job is not simply about getting to office every day, finishing routine stuff by the end of the day and then packing off without any take-home feeling. They believe that this is the place where you spend most of your waking time so why not make it worthwhile! Whether it is the doctor in the consulting room, the pharmacist who prepares medicines, the back-office accountant who keeps meticulous records or the patient care executive, They believe that everyone here must have a sense of belonging as well as an opportunity to grow as a person and as a professional.
Contact Details:
Address: 2nd floor, No. 35, Above Bangalore Endocrinology and Diabetic Research Centre 5th Cross, Dattatreya Temple, Road, Malleshwaram, Bengaluru, Karnataka 560003
Phone: 9033001642
Email ID: [email protected]
Website: https://www.drbatras.com/
7. Dr. Kiran Kumar
Positive Homeopathy is a leading Homeopathy Clinic chain with over  Karnataka and Best Homeopathy Doctors In Bangalore. Dr. Kiran Kumar founded Positive Homeopathy in 2002 seeing the need for a change in Homeo care. He established a culture of putting the patient's needs before anything else.
Under his leadership, Positive Homeopathy has seen exponential growth, and we are rapidly expanding in South India. In spite of the rapid growth, in each of our locations, you will get the same high-quality personal care and customized treatment.
Contact Details:
Address: H.No: 1-73/JH/4 & 11, 4th floor, Challa's arcade, Beside Chandana Brothers, Gachibowli, Hyderabad, Telangana 500081.
Phone: 9676457878
Email: [email protected]
Website: https://www.positivehomeopathy.com/
8. Dr. Monica
Dr. Monica is a Homeopath and General Physician in Whitefield, Bangalore and has an experience of 10+ years in these fields. She practices Classical Homeopathy. Dr. Monica wants to show everybody how effective homeopathic treatment can be and how it can cure diseases when all other pathies give up. Also Best Ayurvedic Doctors In Bangalore
Contact Details:
Address: #4, Malliyappa Complex, ECC Road, Whitefield, Pattandur Agrahara, Whitefield, Bengaluru, Karnataka 560066, India
Phone: 8147029960
Email: [email protected]
Website: https://www.monicahomeopathy.com/
9. Dr. Preeti Tavarkhed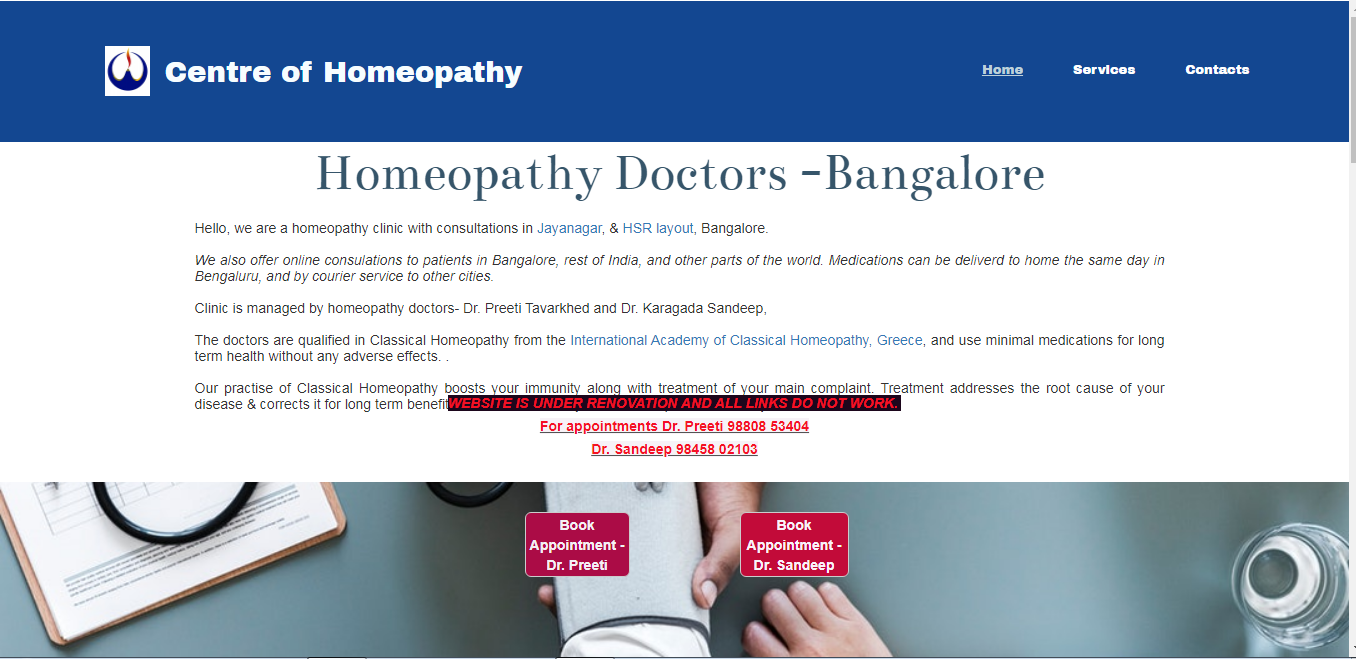 Dr. Preeti Tavarkhed is an experienced Homeopathy Doctor in Bangalore. She has had many happy patients in her 15 years of journey as a Homeopathy Doctor. She studied and completed BHMS . She is currently practising at Centre of Homeopathy in Jayanagar, Bangalore. You can book an instant appointment online with Dr. Preeti Tavarkhed on Lybrate.com.

Find numerous Homeopathy Doctors in Bangalore from the comfort of your home on Lybrate.com. You will find Homeopathy Doctors with more than 31 years of experience on Lybrate.com. You can find Homeopathy Doctors online in Bangalore and from across India. View the profile of medical specialists and their reviews from other patients to make an informed decision.
Contact Details:
Address: 1612, E End Main Rd, Jayanagara 9th Block, Jayanagar, Bengaluru, Karnataka 560069
Phone: 098458 02103
Email: [email protected]
Website: http://centreofhomeopathy.com/
10. Dr. Shaji V. Kudiyat
Dr. Shaji V. Kudiyat is an innovative and pioneering Homeopathic Physician and
Researcher who introduces a new science called "Dynamic Science." The most
important application of Dynamic Science today is in the Prevention and
Management of cancer through a new disease management methodology called
"Dynamic Scientific Approach."
Dr. Kudiyat was involved in cancer research in the Philippines for more than 15 years which helped him to find out the limitations, inadequacies and deficiencies of the present material philosophy based science.
Dynamic Science is the product of his sincere and dedicated effort to correct
the limitations of the present science to make it more complete to explain and understand the Nature and behaviors of Nature to its fullest extent.
This new science helps us to understand and explain many things which present science fails to explain like: how mind, vital force (soul) and DNA are interconnected; how cancer develops; how mutations happen; how homeopathic medicines work; how spiritual healing takes place; how yoga and meditation can heal; etc. Though ancient cultures believe that mind, soul and body are interconnected, the scientific community does not explain how this relationship practically works.
Dr. Kudiyat through his Dynamic Science answers this mystery to the scientific world and humanity. Itis a historic introduction which will change the future scientific thinking and understanding and also the parameters of future scientific researches. This also will create the beginning of a new scientific era called the "Dynamic Scientific Era."
Contact Details:
Address: St. George Cancer Care and Research CenterT.C.Palaya Main Road, Hoysala NagarRamamurthy Nagar, Bangalore – 560016,Karnataka State, India.
Phone: +919902044512
Email: [email protected]
Website: http://www.homeoresearch.com/
11. Dr. Sanjay Panicker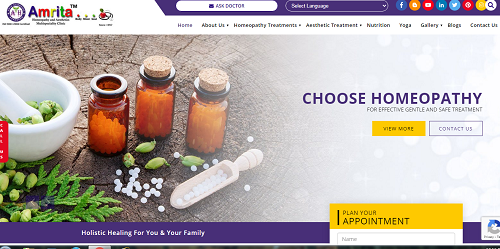 At Amrita Homeopathy, you can experience Homeopathic healing with Dr. Sanjay Panicker, BHMS,who has 22 years of rich experience in the field of classical Homeopathy, having successfully treated 3 lakh patients during his medical practice. A Fr. Muller's alumni, he is a senior consultant and a corporate trainer for homeopathic doctors. He has done his thesis on "Homeopathic paediatric repertory" and also specializes in treating dermatological and Trichological cases
Contact Details:
Address: NO. 779,80 feet road, 1st block, Koramangala, opposite Niilgiri above goli, Bangalore - 560034
Phone: 080 -4121 6688
Email: [email protected]
Website: https://www.amritahomeopathy.in/
12. Dr Banerjee
Being a doctor was not just my first choice but also a dream I wanted to live up to. Plus, being the 5th Generation Homeopath in my family, I also have the responsibility to live up to the legacy and taking the legacy forward.
My great grandfather was founder of homeopathic medical college in Allahabad. From childhood I have seen the tireless effort and dedication of my forefathers have put in each and every patient. It is now my time to live up to it and here I am doing just the same.
Doing my Masters in Hospital Management, post my M.D. in Homeopathy has given me a new dimension to look into case taking, treatment and connect the missing dots of a case to the point of cure.
By Almighty God Sri Krishna's Grace my efforts are shown in the feedback of my patients, who get well soon from the most dreadful and difficult chronic cases.
I have developed expertise as following in my many years of practice as a : Dermatologist, Allergist/Immunologist, Gastroenterologist, Gynecologist, Hematologist, Headache and Vertigo Specialist, ENT/ Otorhinolaryngologist, Counseling Psychologist, Bladder Stones Specialist.
Contact Details:
Address: 3137, 7th Main Road, HAL 2nd Stage, Indiranagar Signal,
Landmark: Near ESI Hospital, Bangalore 560008, Karnataka, India
Phone: +91 9353 105 105
Email: [email protected]
Website: https://www.drbanerjeecures.in/
13. Dr. Munavvars
Our mission is to provide you with personalized, high-quality care. We are dedicated to improving and maintaining your health through preventative care and treating chronic diseases.
M S Homeopathic Medical Centre offers broad array of services geared to address today's most common illnesses and health challenges. We know there is no such thing as one-size-fits-all cure, so we never use a one-size-fits-all approach to your diagnosis.
Our goal is to improve and maintain your overall health and to empower you with an understanding of your condition and wellness plan. Let's get started today on  path to your life-long wellness.
Contact Details:
Address: Marathahalli I BTM layout, Bangalore-560095.
Phone: 91-9741711897
Email: [email protected]
Website: https://mshomeopathicmedicalcentre.com/
14. Star Homeopathy
Star homeopathy, a chain of super specialty homeopathic clinic's founded by a group of practically high qualified doctors with the vision to provide the best medical treatment in a scientific and most advanced way with the use of latest clinical knowledge and medical diagnostic equipment.
We boast of a combined experience of 200 years in the science of Homeopathy. We have 35 years of personal experience to provide you world-class solutions in health care. Experience the odour of advanced and New-Age Homeopathy–only at Star Homeopathy Clinics. It is no more a slow and long drawn treatment process.
You can rely on us to get world class homeopathic solutions for your problems like : Hair loss, Dandruff , Joint pains, Neck pain, Knee pain, Gastric and duodenal ulcer, Piles, Fissure, Fistula, Asthma, Skin and respiratory allergies , Sinusitis, Acne ,Hyperpigmentation , Psoriasis, Migraine , Headache, Anxiety, Depression , Sexual problems like Erectile dysfunction ,Premature ejaculation, Hormonal imbalance in female, Low sperm count in men.
Contact Details:
Address: H.NO. 1-2-271/3F/A, Third Floor , Sree Arcade , Sarojini Devi Road , Secundarabad , Hyerabad , Telangana , India , 500003
Phone: +91 8019099933
Email: [email protected]
Website: https://starhomeopathy.com/
15. Namma Homeopathy
Namma Homeopathy offers advanced homeopathic treatment with accurate disease diagnosis. Homeopathic Therapy is an Age-Old natural medication totally for you and your family of all ages. The medicines are created from fine particles extracted from plants, animals, or minerals suspended in distilled water or spirit. The essence of the medicine is very effective and strengthens the body, mind, and heart with the aim of triggering the body's own healing mechanisms.
Contact Details:
Address: No. 93, 2nd Main Road, 7th Cross, Besides Yes Bank, Sampige Rd, Malleswaram, Bengaluru, Karnataka 03
Phone: +91-9900091777
Email: [email protected]
Website: https://nammahomeopathy.com/