Homeopathy is an advanced, effective, and gentle system of holistic medicine that has been successfully used for over two hundred years and on every continent. Homeopathy is not to be confused with herbal medicine or nutritional therapy. The set of principles that guide the selection of medicine make homeopathy a distinct and integral system unto itself. Many doctors are practicing Homeopathy in India for many years.
Homeopathic medicines, called remedies, may be safely and effectively applied in chronic (long-term) conditions, as well as acute (short-term and self-limiting) illnesses and injuries of adults, children, and animals. Homeopathy stands out distinct as compared to other modes of treatment by its fundamental principles directed towards treating diseases at the root level, by addressing the multiple causative factors such as genetic, immunological, metabolic, hormonal, emotional and the like.
As a result, the diseases are treated in totality rather than in parts or as entities separate from the 'whole' of the individual patient. In that sense, homeopathic science believes in the 'holistic' approach.
Every life is precious. Everyone wants to consult the best doctor for their health. Here we bought you the 10 Best Homeopathy Doctors In Navi Mumbai for your next doctor visit.
List of Content
Ask Dr. Shah
Dr. Ashwini
Welling Homeopathy
Dr. Rupali Mendhe
Dr Simanchal Panigrahi
Atharv Homoeopathic
Dr. Shweta's Homoeopathy Clinic
Dr. Batra
Imperial Clinic
Dr. Joshi's Homeopathy
1. Ask Dr. Shah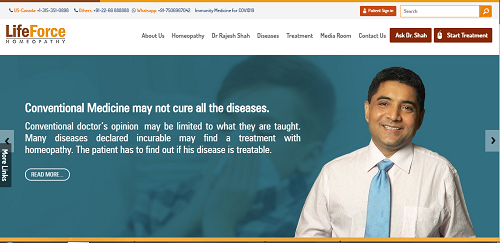 Ask Dr. Shah is one of the Best Homeopathy Doctors in Navi Mumbai. Their mission at there clinic is to develop the best world standards in homeopathic practice and make them available to their patients. Enhancing the potential of homeopathy by research, and bring its benefits to people across the globe. To practice the highest standards of ethics and conduct in medical practice. Everything they do reflects their mission and values. They value integrity, honesty, dedication, commitment, and accountability.
Contact Details:
Address : 42, Shanti Center, 4th Fl., Near Navaratna Restaurant,
Plot No. 70, Sec-17, Vashi, Navi Mumbai - 400703
Phone : +91-22-6688-8888, +91-7208001138
Email : [email protected]
Website : https://www.askdrshah.com
2. Dr. Ashwini
Ashwini Homoeopathy is a leading homeopathic center in India, Specialising in the treatment of Advanced diseases as Cancer, is a premium medical center that specializes in innovative and effective forms of healing. Relentless efforts by Dr.Abhay Patil, who has pioneered homeopathy treatment with astrological insights, have given AHC phenomenal results in overcoming tough medical challenges like Cancer.
Contact Details:
Address : Shop no19,20 JK Chambers, Ground Floor, Next to Golden Punjab Hotel, Sector-17, Vashi, Navi-Mumbai:-400705.
Phone : 9820577533
Email ID : [email protected]
Website : https://ashwinihomoeopathy.com/
3. Welling Homeopathy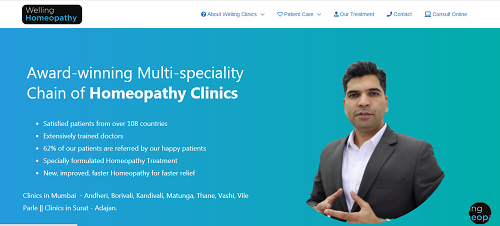 Welling Homeopathy Clinic offers some of the best Homeopathic doctors for the treatment of  your complete family. All our doctors are trained to handle advanced pathologies and the most complex illnesses. The doctors are hand picked by our directors and made to undergo an intensive training, making them one of the best homeopathic doctors, you can consult for your family. Welling Homeopathy Clinic in Mumbai is the only modern Homeopathic Clinic in India. With concerns of safety of the conventional medicines increasing over the past few years, we are sure you would want medicines that are not only safe, gentle and painless but also more effective for you and your family.
Contact Details:
Address : Shop no. 33, Ground Floor, Raikar Bhavan Premises Co-Op Society Ltd, Near Navratan Restaurant, Next to Hilton Cold Storage, Sector 17, Vashi, Navi Mumbai 400703
Phone : 8080850950
Email : [email protected]
Website : https://www.wellinghomeopathy.com/
4. Dr.Rupali Mendhe
Dr.Rupali Mendhe is a leading Homeopath doctor in Airoli, Navi Mumbai, with 18 years of experience in this field. She provides Homoeopathic treatment for all ages and stages in life. She is specialised in treating cases of anxiety disorders, depression ,Psychiatric problem, Post-Traumatic Stress Disorder (PTSD), allergies, auto-immune complaints like multiple sclerosis, scleroderma, severe urticaria, rheumatoid arthritis, hormonal complaints like polycystic ovary syndrome (PCOS), diabetes, behavioral issues in children, Child Immunity, Migraine, Panic disorder, Infertility, asthma, thyroid disorders, Psoriasis, Eczema, Skin Allergy, kidney stones and other medical conditions.
Contact Details:
Address : 4/1/3, Sahajeevan Apt., Sector-16 Near Criti Hospital, Airoli, Navi Mumbai-400708
Phone : 9820098915
Email : [email protected]
Website : https://drrupalihomeopathy.com/
5. Dr Simanchal Panigrahi
Dr Simanchal Panigrahi, MD is providing the best homeopathic treatments to the patients since 1994. He has treated more than 1 Lakh chronic patients with more than 95% cured ratio. He has more than 14 years of teaching experience in different Medical colleges of Maharashtra as a faculty and HOD. At Amruut Homeopathic Centre in Kharghar cultivates a wonderful blend of curing and healing through exceptional natural healing with excellent intuitive skills and experience. Adapting classic homeopathy to modern times, this system of medicine uses genetic, biochemical and personality markers to make the life-changing connection between mind and body and take on cases that challenge modern medicine with incredible results.
Contact Details:
Address : Shop No. 18 Plot No 184 , Tiara Shopping Complex, Near Daily BazaarSuper Market ,Kharghar, Navi Mumbai
Phone : 8369420848
Website : https://homeopathic.business.site/
6. Atharv Homoeopathic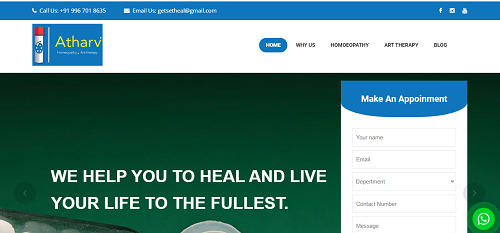 The clinic is situated in New Panvel. Dr. Kalyani has been associated with Homoeopathy since past 15 years and believes Homoeopathy is the right answer to several diseases. The clinic is specialized in treating people of all ages, adults and children. We are specialized in treating allergic conditions, auto-immune disorders, hormonal problems and diseases of women like menstrual complaints. We also provide supportive treatment in cancer cases.
The First Consultation is crucial in the treatment where Dr. Kalyani gives sufficient time to understand and study you as person. All patients go into a meditative and introspective phase during the interview which make them aware about themselves.
All appointments new case or follow ups are by strict appointments so as there will be minimum waiting time for you. You will often not see long queues at the clinic for the same reason.
Contact Details:
Address : Ridhi-Sidhi Recidency, Shop No 44, Sector 3, New Panvel East, Panvel, Navi Mumbai, Maharashtra - 410 206.
Phone : +91 996 701 8635
Email ID : [email protected]
Website : http://atharvclinic.com/
7. Dr. Shweta's Homoeopathy Clinic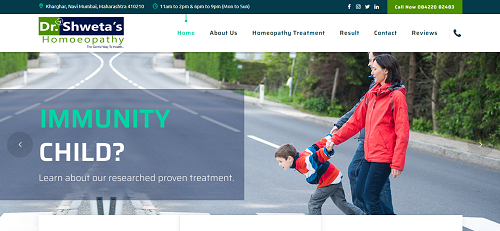 "Dr. Shweta's Homoeopathy Clinic" is one of the renowned and best homeopathic clinic in Navi Mumbai providing effective homeopathic treatment. Dr. Shweta's Homoeopathy Clinic is a reputed name that has been serving the people with its top-notch treatments services that can put an end to patients overall health problems by working with team of best homeopathy doctor in Navi Mumbai. We are always committed to providing satisfactory & effective treatment to the patients and also offer online homeopathy consultancy for distant patients.
Our experts account the holistic approach towards the patient and utilize the best approach to manage and cure the medical condition. Homeopathic remedies help to stimulate the body's natural and self-healing power to repair and regenerate itself.
We at Dr. Shweta's Homoeopathy aims at practicing evidence-based homeopathy and strives hard to provide patients with an affordable and effective remedy. We are well known for best homeopathy doctor for Sinusitis, Tonsilitis, Migraine, Eczema, Psoriasis, Growing pain, Poor growth, Poor appetite, Poor concentration, Constipation, Indigestion, Irrtiable bowel syndrome, Skin allergies, Food allergies, Recurrent cough cold, Bronchitis, Hair faal, Fibroadenoma(lump in breast), Fibroid(lump in uterus), Pcod, Acne, Hair fall, Melasma, Irregular period, Leucorrhea, Joint pain, Insomnia, Anxiety, Mood swing, General weakness, Renal stone, Lipoma, Uncontrolled diabetes, Poorly controlled hypertension, Joint pain, Back pain, Enuresis, Oedema, Liver disorder, Kidney disorder, Respirotory diseases, Breathlessness, Heart diseases etc Our efficient team of experienced doctors opts for the best approach to cure chronic disease and ensure great relief while eliminating the root cause
Contact Details:
Address : Shop No. 92, Vighnahar Complex, Plot No. F - 72, Dhansoli Nirman Yojana Marg, Sector 12, Kharghar, Navi Mumbai, Maharashtra 410210
Phone : 084220 82483
Email ID : [email protected]
Website : http://drshweta.in/
8. Dr. Batra
Dr Mukesh Batra is single-handedly responsible for pioneering modern homeopathy in India.
In 1973, when he graduated in medicine, homeopathy was regarded as an ancient art, little better than faith healing, and practiced mainly by amateurs and retirees. However, early to realise the importance of homeopathy in healing, he took up the challenge of standardising it to bring it on par with conventional medicine. He also legitimised homeopathy as a paid and professional service.
It is largely because of his entrepreneurial courage, dedication, foresight and medical skills that homeopathy is viewed as a modern, progressive, efficient and effective medical science today.
Contact Details:
Address : PN 8, Shanti Centre Pemises Co op Soc, Plot No 8 Vashi, Sector 17 Navi Mumbai - 400703
Phone : 9033001649
Email ID : [email protected]
Website : https://www.drbatras.com/
9. Imperial Clinic
Imperial Clinics specializes in treating developmental disorders, severe and complex pathologies that are considered 'incurable' but the approach to every illness, even a simple cough is with the same degree of care and attention. The individual is looked at, not their symptoms. Everything from the mind state to genetic disposition, from diet to social conditioning is taken into consideration before a personalized line of treatment is devised. The ultimate aim is to strengthen the patient's immune system and stimulate their own DNA repair mechanism so they can fight off disease from within. These are some best Homeopathy Clinics in Mumbai and Best Ayurvedic Clinic In Mumbai
Contact Details:
Address: Shree Sai Prabhadevi CHS, Ground Floor, Opposite Sahakar Bhandar Mall, Agar Bazar, Kashinath Dhuru Marg, Prabhadevi, Mumbai, Maharashtra 400028.
Phone: 022 2438 5888
Website: http://imperialclinics.com/
10. Dr. Joshi's Homeopathy
Located in Vile Parle, Mumbai, they provide Homeopathic care to patients from all sectors, all age groups, from young infants, children to adults. They see clients from India and from different parts of the world. They specialize in treating cases of allergies, auto-immune complaints like multiple sclerosis, scleroderma, severe urticaria, orthopedic complaints like rheumatoid arthritis, hormonal complaints like PCOS, diabetes, auto-immune thyroiditis, high blood pressure, cancer care, kidney failure, liver disorders, depression, anxiety neurosis.
Contact Details:
Address: B 101, Rushi Sanket, Mahant Road, Vile Parle (East) Mumbai, India - 400057.
Phone: +91-22-26149922, +91 9619532162
Website: http://www.drjoshisclinic.com/