Homeopathy is an advanced, effective, and gentle system of holistic medicine that has been successfully used for over two hundred years and on every continent. Homeopathy is not to be confused with herbal medicine or nutritional therapy. The set of principles that guide the selection of medicine make homeopathy a distinct and integral system unto itself. Many doctors are practicing Homeopathy in India for many years.
Homeopathic medicines, called remedies, may be safely and effectively applied in chronic (long-term) conditions, as well as acute (short-term and self-limiting) illnesses and injuries of adults, children, and animals. Homeopathy stands out distinct as compared to other modes of treatment by its fundamental principles directed towards treating diseases at the root level, by addressing the multiple causative factors such as genetic, immunological, metabolic, hormonal, emotional and the like.
As a result, the diseases are treated in totality rather than in parts or as entities separate from the 'whole' of the individual patient. In that sense, homeopathic science believes in the 'holistic' approach.
Every life is precious. Everyone wants to consult the best doctor for their health. Here we bought you the 10 Best Homeopathy Doctors In Thane for your next doctor visit.
1. Ask Dr. Shah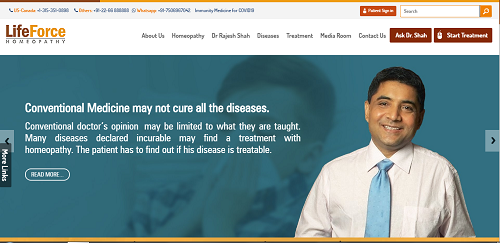 Ask Dr. Shah is one of the Best Homeopathy Doctors in Thane. Their mission at there clinic is to develop the best world standards in homeopathic practice and make them available to their patients. Enhancing the potential of homeopathy by research, and bring its benefits to people across the globe. To practice the highest standards of ethics and conduct in medical practice. Everything they do reflects their mission and values. They value integrity, honesty, dedication, commitment, and accountability.
Contact Details:
Address: 8 - 9, Shreeji Arcade, Gr. Fl., Almieda Road, Opp Nitin Company,
Panch Pakhadi, Thane (W)
Phone: +91-22-6688-8888, +91-7208001138
Email : [email protected]
Website: https://www.askdrshah.com
2. Welling Homeopathy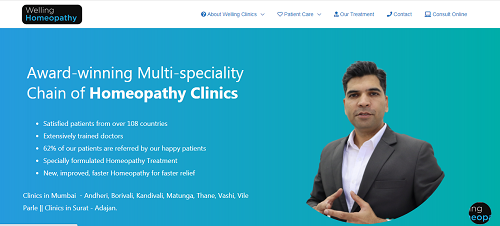 Welling Homeopathy Clinic offers some of the best Homeopathic doctors for the treatment of  your complete family. All our doctors are trained to handle advanced pathologies and the most complex illnesses. The doctors are hand picked by our directors and made to undergo an intensive training, making them one of the best homeopathic doctors, you can consult for your family. Welling Homeopathy Clinic in Mumbai is the only modern Homeopathic Clinic in Thane. With concerns of safety of the conventional medicines increasing over the past few years, we are sure you would want medicines that are not only safe, gentle and painless but also more effective for you and your family.
Contact Details:
Address : A-102, 1st Floor, Sarovar Darshan Towers, Opp TMC, Thane Mahapalika Road, Panchpakhadi, Thane (w) 400602
Phone : 8080850950
Email : [email protected]
Website : https://www.wellinghomeopathy.com/
3. Dr Medha Durge
Dr Medha Durge has been in active homeopathic practice for the last 30yrs after taking guidance from all senior and renowned homeopaths. She has trained with Dr ML Dhawale of ICR who was a pioneer in homeopathy in Thane. Absolutely passionate about homeopathy and its spread she started this online store so that people can easily access homeopathic medicines. Online consultations are now need of the hour and no matter where you stay you deserve the services of good homeopaths. Her vision is of giving each and every one homeopathy from where ever they are staying and make it their 1st choice of treatment and preventive health! She is active during pandemics -H1N1, ebola, covid 19 as she truely believes that Homeopathy has a lot to offer.
Contact Details:
Address : G 35, Amrapali Arcade,, Vasant Vihar,, Pokharan Road Number 2, Thane (West)
Phone : 9221859970
Website : https://www.homeopathy4all.com/
4. Dr. Anagha M. Mahajan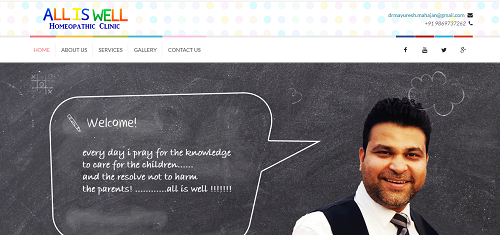 Dr. Anagha M. Mahajan, I have completed my medical studies in Homeopathy at the University of Mumbai, and practicing homeopathy in India for last 17 years. I am specialist in Cosmetic issues, hairfall, pigmentation, all types of skin diseases. Homeopathy is the system of medicine in which ailments are treated by minimal doses of natural substances. It attacks and cures the root cause of the ailment without causing side effects. To deal with skin disease, it not only studies the skin type but also takes into account a complete analysis of the mind, genetic factors and the condition of the immune system. Homeopathy just doesn't treat the symptoms, but delves inside the body and takes on the root cause behind the symptoms.
Contact Details:
Address : 104, New Kailash Park Building, Near Rajmata Wada Pav, Ram Maruti Rd, next to Satyam Collection, Naupada, Thane West
Phone : 9869737262
Email Id : [email protected]
Website : http://www.alliswellhomeopathy.in/
5. Dr. Rupesh Waphekar
Dr. Rupesh Waphekar is a Homeopath in Manpada, Thane West and has an experience of 8 years in this field. Dr. Rupesh Waphekar practices at Dr waphekar Homoeopathic Clinic in Manpada, Thane West and Dr. Waphekar s Homoeopathic Clinic in Bhiwandi.
He completed MD - Homeopathy from DKMM HMC, Aurangabad in 2015 and PG Hom, London from Hahnemann College of Homoeopathy, London in 2012. Diploma in International Academy Of Classical Homoeopathy, Greece in 2017.
Contact Details:
Address : 211, Soham Plaza, Near Manpada Bus Stop, Beside Shri Sai Hospital, Ghodbunder Road,  Thane
Phone : 804812763
Email Id : [email protected]
Website : http://www.drwaphekarhomeopathy.in/
6. Dr Amisha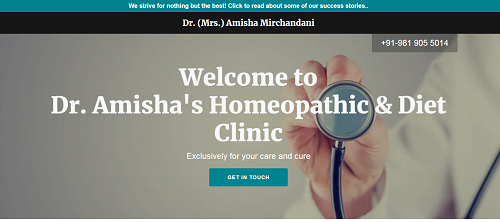 Experience Inner Healing with homeopathy based remedieswhich stimulatesthe innate capacity of humans for healing themselves and implies that the symptoms of disease reflect the individuals struggle to overcome any illness. Get rid of conditions such as hypertension, diabetes, cardio vascular diseases, behavioral problems, high cholesterol, obesity etc. with scientifically proven methods and positive lifestyle changes. Give us a chance to serve you with free first consultation. We surely won't disappoint you.
Contact Details:
Address : Shop no 12-Mahalaxmi, Vasant-Leela, Near Hiranandani Estate, Thane West
Phone : 9819055014
Website : https://dramisha.co.in/
7. Dr. Rujula Mahajan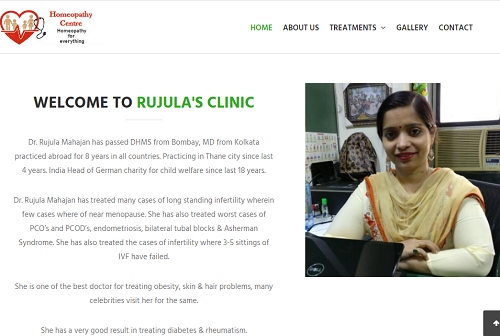 Dr. Rujula Mahajan has passed DHMS from Bombay, MD from Kolkata practiced abroad for 8 years in all countries. Practicing in Thane city since last 4 years. India Head of German charity for child welfare since last 18 years.Dr. Rujula Mahajan has treated many cases of long standing infertility wherein few cases where of near menopause. She has also treated worst cases of PCO's and PCOD's, endometriosis, bilateral tubal blocks & Asherman Syndrome. She has also treated the cases of infertility where 3-5 sittings of IVF have failed.
She is one of the best doctor for treating obesity, skin & hair problems, many celebrities visit her for the same.
Contact Details:
Address : 104 / Bldg. No. 3, Ishan Residency Opp. Gaodevi Bhaji Market, Gokhale Rd, Naupada, Thane West, Thane, Maharashtra 400602
Phone : +91-9224472479
Email Id: [email protected]
Website : http://rujulasclinic.com/
8. Dr Ashwini Pawar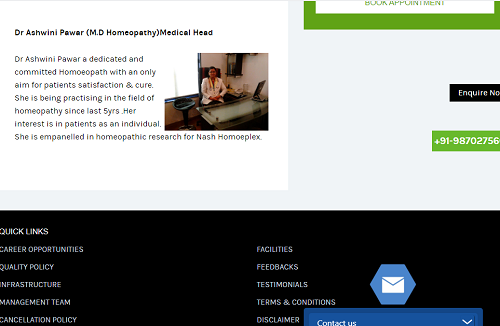 Dr Ashwini Pawar a dedicated and committed Homoeopath with an only aim for patients satisfaction & cure. She is being practising in the field of homeopathy since last 5yrs .Her interest is in patients as an individual. She is empanelled in homeopathic research for Nash Homoeplex.
Contact Details:
Address : Muni Surat Apartment,2nd Floor, Abhimaan II,LBS Marg, Near Damani Estate, Teen Haath Naka, Thane (w)
Phone : +91-22-25423434
Email Id: [email protected]
Website : http://www.nashhomeoplex.com/
9. Dr. Divya Jangid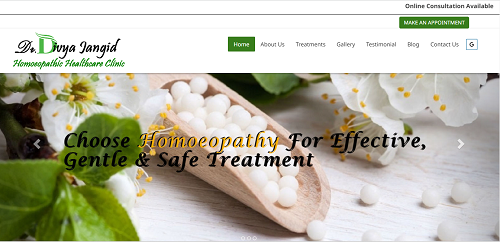 Dr. Divya Jangid completed my BHMS from CMPHM COLLEGE, VILE PARLE , MUMBAI, MAHARASHTRA in the year 2017.
I aspire to be the best homoeopathic practioner as it gives me immense inner peace in treating patients where modern medicine has no scope and homoeopathy blooms up like a ray of hope for difficult cases to treat as per modern medicine.my knowledge is my power, my perseverance is my strength and my success is when patients feels better.The key requirement of any homoeopathic practictioner is patience,empathy towards other persons suffering and carefull listening for a successful practice buildup,as sometimes all what the patient wants is just carefull listening and the patient is treated for lifetime.
The novel CORONAVIRUS is a pandemic and WHO has declared it as an emergency. Since there is still no cure for this virus it makes it very important that we take precautions at a personal level. Basic sanitization and cleaning methods can go a long way in improving immunity and saving ourselves from viruses and infections. Sanitizing your hands at regular intervals with an alcohol-based sanitizer, not touching public places or disinfecting it before use are some methods to stay safe. It is also equally crucial that you follow proper disinfection methods at home to not welcome illness.
Contact Details:
Address : 1st Floor, Ashu Apt, Sambhaji Path, Near Sushil Dairy, Opp Kolhapuri Pahelvan Vadapav, Vishnu Nagar, Thane west. 400 602.
Phone : 879433155
Email Id: [email protected]
Website : http://www.drdivyajangid.com/
10. Dr. Gyanesh Sharma
Dr. Gyanesh Sharma is a young and dynamic, Best homeopathic Doctor in Vaishali, Ghaziabad practicing since 2003. He has started his journey from Lucknow and set up his Clinic in Posh location of Ghaziabad Vaishali. Dr. Sharma is a BHMS graduate from National Homeopathic Medical College, Lucknow, UP.
The Major treatment by Dr. Gyanesh are Children & Infants, Hair Problem, Skin Problems, Pathological Problems, Life Style Diseases, Seasonal infections.

Large-scale studies have found homeopathy is more effective than a placebo and normal recovery from illness. The effect of Dr. Gyanesh Sharma's Medicine formula start working from the very first day to Cure and Care of these Problems .
Contact Details:
Address : Shop No. 9, 1st Floor, Kshitij Complex, Sector 4, Vaishali,NCR
Phone : +91 9871190713
Email Id : [email protected]
Website : drgyanshomeopathy.com