For the academic session 2021-2022, we are providing the list of top MBA colleges in Kanpur. The list is comprised of all the government, public & private universities/institutions. In these colleges, candidates can pursue full time & part time Master of Business Administration (MBA) program in different specializations.
Kanpur has many top MBA colleges or Business schools (B-schools) which produce entrepreneurs and business leaders of tomorrow. Here is our list of the top 10 best MBA Colleges In Kanpur
List of Content:
Jagran Institute
KIMS
KIT Kanpur
DINANATH GORUP
GHS-IMR
Banshi
Axis
Naraina Group of Institutions
Allenhouse Group of Institutions
Dayanand Academy of Management Studies
1. Jagran Institute
agran Prakashan Limited (Jagran ), we are building scale, widening reach and enhancing value for stake holder consistently; taking forward the vision of our founder, freedom fighter Late Shri Puran Chandra Gupta. For over seven decades, we have meticulously created a brand that symbolizes trust. Today we are one of India's leading media & communication conglomerates, empowering people across the social spectrum, and transforming lives.
Or the students in our program, Jagran Institute of Management is not a final destination, but an important point of transition that prepares them for the opportunities that lie ahead. That's why Career Services is an integral part of any JIM experience. To make your degree as rewarding as possible, we create time for personal and professional reflection that allows you to immerse yourself in PGDM & MCA Programs.
Contact Details:
Phone: 0512-2601126
Email: [email protected]
Address: 620-W, Block Saket Nagar, Kanpur- 208014
Website: https://www.jimkanpur.ac.in/
2. KIMS
Kanpur Institute of Management Studies founded in the year 2009 by a group of visionaries and intellectuals to impart quality education in a stimulating and innovative environment and manner, students are here empowered with the knowledge and professional skills while upholding the values of integrity, tolerance and mutual respect.K-IMS is approved by the All India Council of Technical Education, New Delhi under Ministry of HRD, Govt. of India and stands affiliated to Dr APJ Abdul Kalam Technical University, Lucknow. K-IMS has attained a unique and a highly respectable place amongst the top professional education institutions in the state of UP and border states. K-IMS has earned a reputation for academic excellence in providing practical and quality academic program in the field of Management.
The Institute has become a preferred destination of choice for students, faculty and recruiters. The ambience and serenity of high-class infrastructure housed in a green campus, faculty who have proved themselves in their respective fields, robust industry interaction, scholarly research aimed at solving real world problems, outreach activities that touch the lives of a wide cross section of society and an exemplary track in placement facilitation and recruiter satisfaction combine together to provide a rare synergy that enables students to follow their aspirations with passion and confidence.
Contact Details:
Phone: +91-9792909666,
Email: [email protected]
Address: 10 Km away from Kanpur Ganga Bridge, 2 Km from Unnao city, Pin-209801
Website: https://www.kimsunnao.com/
3. KIT Kanpur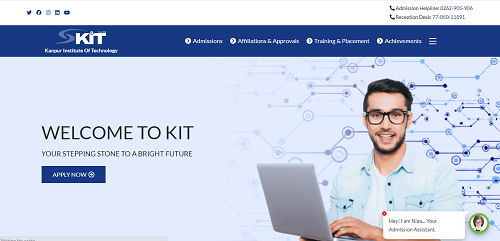 In KIT, Sports is commonly defined as an organized, competitive and skillful physical activity that requires commitment and fair play. It is governed by a set of rules or customs. Its key factors are the physical capabilities and skills of the competitor that determine the outcome (winner or losing).
It is the most sought after qualification in the world. The course offers knowledge and training in management and leadership skills to prepare them for managerial roles and entrepreneurship. The students can flourish in the field of Marketing, Finance, Information Technology (IT), Operations and Human Resource Management. New job sector like Telecommunications, IT & ITES, Education Support Services, Automobile and Auto Components, Banking & Insurance etc. have thrown new opportunities. Since its inception in 2004, Kanpur Institute of Technology has been successfully shouldering the monumental responsibility of producing capable technocrats and managers.
Contact Details:
Phone: +91-8262-905-906
Address: A1, UPSIDC Industrial Area, Chakeri Ward, Rooma, Uttar Pradesh 208001
Website: https://www.kit.ac.in/
4. DINANATH GORUP
Established in 2002, in the memory of Late Shri Dinanath Sachan, the group runs and manages institutions - DDCIP (Pharmacy), DDCM (MBA), DDC (B.Ed) & two CBSE Schools (DDEC).
Start your amazing career with DDGI. Click on the online admission link below, choose your course & fill in your personal & academic information. You will be directed to our online payment gateway to pay the registration fee.
Once the payment is received through available modes as debit card, credit card, internet banking, upi, paytm etc. your receipt will be available on screen. It is as easy to start a whopping career with DDGI.
Contact Details:
Phone: +91 7887070444
Email: [email protected]
Address: DDGI Knowledge Park Dayanand Dinanath Group of Institutions (DDGI) NH#86, (Kanpur-Sagar Highway), Ramaipur, Hamirpur Road, Kanpur Kanpur (INDIA) PIN Code : 209214
Website: https://www.ddckanpur.edu.in/
5. GHS-IMR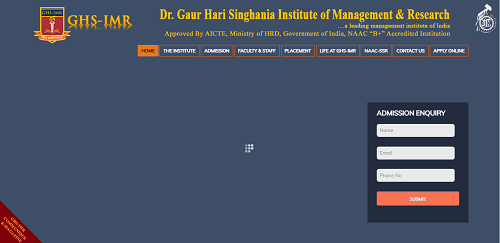 Dr. Gaur Hari Singhania Institute of Management and Research Top MBA Colleges In Kanpur is one of the oldest and premier management institute, established in 1995 by JK Organization, a 136 years old India's leading & respected industrial conglomerate. The institute is working towards academic excellence and development of management skills through its flagship two-years full time PGDM program, which is approved by the All India Council of Technical Education & Research (AICTE), Ministry of H.R.D. (Govt. of India) & NAAC "B+" Accredited.
GHS-IMR aims at developing technical, professional, and managerial excellence, along with social and cultural sensitivity in students. Besides emphasizing the importance of management ethics, the institute also has concern for the environment and stresses upon students to become 'environment-friendly' for ensuring the overall sustainable development of the society.
Our practical knowledge and accredited course, which is based on industry requirements and research, are delivered by well-qualified and experienced faculty. This enhances the "employability quotient" of the students and thus are handpicked by the employers through our strong industry links.
27 batches have successfully passed out from the Institute and more than 2200 students are serving in leading companies of India. GHS-IMR has been recognized as "Centre of Academic Excellence" by national and international organizations.
Contact Details:
Phone: +91-9076610397
Email: [email protected]
Address: Jay Kay Staff Colony, Kamla Nagar, Narainpurwa, Kanpur, Uttar Pradesh 208005
Website: https://www.ghsimr.ac.in/
6. Banshi

The Institute is housed in a 8.5 acres lush green Campus with the state of the art facilities for sports and cultures, away from the noise and pollution of Kanpur city, making it a true center of learning .
The Computer center is one of the best equipped IT centers geareds to aid the learning process. Software package like SPSS ,ERP, help in conducting data analysis of case studies, preparation of summer training projects and concurrent projects. no. of legal application software are ten no. of legal system software are two
Contact Details:
Phone: 9839069066
Email: [email protected]  
Address: BANSHI GROUP OF INSTITUTIONS Bithoor, Kanpur-209 201 (U.P.)
Website: http:/www.banshicollege.org/
7. Axis
Axis has emerged as a leading world class educational group that creates and disseminates knowledge, integrating advance technology. It was always a dream to build a conglomerate of institutions for quality, innovation and eminence to create graduates with knowledge and competence that can help in scripting success stories. Top MBA Colleges In Kanpur our colleges aim at becoming a pacesetter in developing the next generation teaching and learning methods to foster individual brilliance.
We focus on participation of our students in academics, teaching, cultural, social and physical activities to make them socially sensible all-rounder.We strongly believe in academic excellence, high teaching standards and discipline. At Axis campus, we equip our students with first -rate education and necessary practical skills as well as strong interface with the corporate world to ensure that they stand out the best in today's world."I strongly believe there is no shortcut to success"
Contact Details:
Phone: 1800-3132-464
Email: [email protected]
Address: Axis Knowledge City:Hathipur, Rooma, NH-2, Milestone- 478, Kanpur- 209402 (U.P.)
Website: https://axiscolleges.org/
8. Naraina Group of Institutions
Naraina Group of Institutions was established with a view of providing quality education to young guns of India through best-of-class infrastructure, top class faculty and best possible education.
The principle of education is to bring grade of knowledge & awareness and to enjoy life in a well-ordered conduct. We are dedicated to do so by providing an assortment of courses, which are vibrant, self-motivated and dynamic in personality. Making a pyramid for all courses, in which a learner gets flexibility of enduring advanced education in his own pace and convenience.
With the firm belief that the goal of true education is holistic development, the college ensures imparting values, ethics and confidence in young men and women to harness their full potential, thereby creating social capital necessary for establishing a healthy society. I warmly welcome the young aspiring students to be a part of NGI and "Join the World of Opportunities".
Contact Details:
Phone: +9918601154
Email: [email protected]
Address: Gangaganj, Panki, KanpurUP - 0208020
Website: http://www.narainagroup.ac.in/
9. Allenhouse Group of Institutions
Allenhouse Group of Institutions, established under the aegis of Superhouse Education Foundation, offers graduate and postgraduate courses of B.Tech., BBA, BCA, Polytechnic, and Top MBA Colleges In Kanpur strong foundation for learning and imparting world class professional education, Allenhouse Group of Institutions started its journey in the year 2009 with the inception of its premier institution, Allenhouse Institute of Technology that currently offers graduate courses in B.Tech & Diploma. Furthering its aspiration to impart leading-edge education in the field of Business Administration and Computer Application in the year 2015, the group founded another institution, Allenhouse Business School that offers Graduate Courses in BBA and BCA.
Since the time, both the institutes have strived to develop Knowledge-Skills-Attitude of its students with focus on values and ethics besides adaptive and collaborative learning. Continuing its invariable journey and defying all odds through consistent endeavour, Allenhouse Group of Institutions, in the year 2020, has come up with yet another institution, Allenhouse Institute of Management, offering postgraduate degree programme in management Top MBA Colleges In Kanpur of Institutions, through its innovative teaching pedagogy, comprehensive training modules, and state-of-the-art facilities, enables students to transform into seasoned professionals possessing the right mix of calibre, competency, mindset, and attitude.
Contact Details:
Phone: 8127505222
Email: [email protected]
Address: 176, Kulgaon Road, Rooma, Kanpur – 208008, Uttar Pradesh
Website: https://allenhouse.ac.in/
10. Dayanand Academy of Management Studies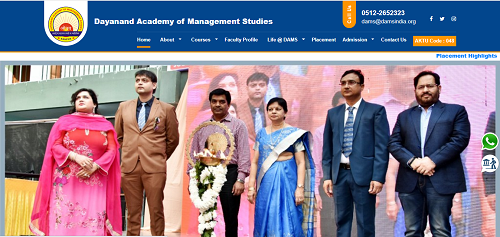 Dayanand Academy of Management Studies is committed to working together as a community to provide a safe, positive, equitable and supportive learning environment. We value the diversity of our students, and believe that all students are to be valued for their unique gifts. We believe in offering all children the opportunity to reach their potential through a rigorous curriculum. Equal importance is given to Curricular and extra-curricular activities to bring out the best in every student. An encouraging platform is provided for every student to bring out the latent talents in them. Our high-fliers are always honored and encouraged to continue their education to fulfill our vision Educating further and farther.
Our dedicated and collegial staff, our learner-friendly campus, and a scientifically designed standards-based academic program provide our students education as well as experience necessary for their development as a professional. Our College proclaims a powerful vision for the future of young people . Our particular focus is to encourage our students to be strengthened by the values; to take responsibility for directing their learning pathway and creating their future, well prepared to make a positive contribution to a changing and challenging world. I believe that my words give a glimmer of insight into who we are but I hope that it induces you to visit. I and my staff and students would be delighted to welcome you at Dayanand Academy of Management Studies.
Contact Details:
Phone: +0512-2650021
Email: [email protected]
Address: N Block, Govind Nagar, Kanpur, Uttar Pradesh 208006
Website: https://www.damsindia.org/