For the academic session 2021-2022, we are providing the list of Top MBA colleges in Kerala. The list is comprised of all the government, public & private universities/institutions. In these colleges, candidates can pursue full time & part time Master of Business Administration (MBA) program in different specializations.
Kerala has many top MBA colleges or Business schools (B-schools) which produce entrepreneurs and business leaders of tomorrow. Here is our list of the Top 10 MBA Colleges In Kerala
List of Content:
Lead College of Management
Marian College
Jai Bharatha
SCMS Cochin
Nehru School of Management
Nehru Group of Institute
Dist
G Karunakaran Memorial
Holy Grace B-School
Asian School of Business
1.  Lead College of Management
LEAD College of Management, a state -of -the -art, standalone Top MBA Colleges In Kerala institute, approved by AICTE and affiliated to University of Calicut was established in 2011. LEAD is an acronym derived from 'Leadership & Entrepreneurship Academy, Dhoni'. LEAD envisions in creating an academic environment where highest standards of academics and professionalism are met and besides the expectations of all stakeholders are consciously addressed.
LEAD College of Management, Dhoni Palakkad is a brain child of Dr. Thomas George, a professional life-skill trainer for various Engineering & MBA students in and around Kerala for years. Dr Thomas' training of students at various levels in a culture obsessed with measuring talent and ability opened his sense of creating an institution that gives importance to inspiration that might lead to entrepreneurship, social commitment and values. According to him, inspiration awakens to new possibilities by allowing one to transcend his ordinary experiences and limitations. Inspiration propels a person from apathy to possibility, and transforms the way one perceives his own capabilities. The idea of starting a business school in a three tier city of Kerala got conceived, germinated, nourished and became a reality in 2011.
Contact Details:
Phone: +91 9497713693
Email: [email protected]
Address: Dhoni, Palakkad, Kerala, India – 678009
Website: https://lead.ac.in/
2. Marian College
Marian Institute of Management (MIM) is a unique initiative of the Catholic Diocese of Kanjirappally. The Diocese has several reputed Educational Institutions with National and International Accreditations. Marian College Kuttikkanam, Amal Jyothi College of Engineering, Kanjirappally and St. Dominic's College Podimattom are a few among them. The Christian Missionary Zeal that worked through H. E. Mar Mathew Arackal, Bishop Emeritus, Diocese of Kanjirapally, gave birth to a world-class institution-MIIM.
The All India Council for Technical Education (AICTE), New Delhi approved MIM with a sanctioned intake of 180 students. MIM is a part of Marian college and sanctioned by the Government of Kerala. MIIM is accredited by the National Board of Accreditation (NBA).
Contact Details:
Phone:  7594971010
Email:  [email protected]
Address: Kuttikkanam P.O, Peermade Idukki Dist, Kerala-685 531
Website: https://miim.ac.in/
3. Jai Bharatha
Jai Bharath School of Management Studies is one of the best B School in the state of Kerala founded in 2004 with an endeavor of developing scholars who wish to peruse the dream of becoming an entrepreneur. The Institute comes under Jai Bharath Educational Foundation which was established in the year 2001 as a charitable trust with a registered office at Thrikkakkara, Ernakulam, Kerala. The foundations key objective is to bring out intellectual awakening in people and also to prepare manpower who are capable of contributing effectively towards national development.
Jai Bharath Educational Foundation is one of the largest networks of educational institutions in Kerala. The Institution affiliated to the foundations are Jai Bharath College of Management and Engineering Technology, Jai Bharath Arts & Science College, KMM college of management and technology, KMM College of Arts & Science, KMM Women's College, RU college of management and technology and Jai Bharath Training College.
Contact Details:
Phone: +91 72932 29051
Email: [email protected]
Address: JB Campus, Arackappady, Vengola P.O, Perumbavoor , Cochin, Kerala 683 556 India
Website: https://jaibharathmba.com/
4. SCMS Cochin
SCMS Group of Educational Institutions is a national leader in higher education especially in the fields of Management, Engineering and Technology. Inspired by the vision of its founder Dr. G.P.C Nayar on value based education, SCMS has a tradition of over 4 decades of sustained and focused pursuit of its objectives. There are about a dozen Institutions under its fold in diverse disciplines like Management, Engineering, Biotechnology, Architecture, Computer Applications, Polytechnics and the like, operating from different locations in Kochi (Kerala) and Bangalore.
The Group, from the beginning has placed great emphasis on research as an integral part of its academic programmes. Research centres are established with adequate resources and are led by qualified and renowned doctoral fellows. With tie-ups and collaborations with global research institutes, interdisciplinary and collaborative research with emphasis on relevant and commercially viable areas are pursued.
Contact Details:
Phone: +91 484 2623803
Email: [email protected]
Address: Prathap Nagar, Muttom, Alwaye, Cochin - 683106, Kerala, India
Website: https://www.scms.edu.in/
5. Nehru School of Management
Nehru College of Educational and Charitable Trust, established at an auspicious moment in the year 1968, with the primary objective of rendering selfless, dedicated and yeomen service to cause of higher education originally in the field of Aeronautical Engineering and subsequently in the field of rest of engineering branches, Management, Arts, Science, and Paramedical Sciences and Top MBA Colleges In Kerala has added feather after feather to its Cap.
Its educational service to the poor underprivileged and downtrodden in the society is freely accessed and widely appreciated by the people, especially from Tamil Nadu and Kerala. Over the period of nearly four decades, it has established and patronized a number of prestigious Educational Institutions, all of which have grown to the stature of being accredited with ISO 9001:2000 certification by the International Certification Services. The Trust headquartered at Coimbatore has spread its wings to the neighbouring Kerala State too by establishing Educational Institutions of high reputation.
Contact Details:
Phone: +91 - 860 6554 777
Email: [email protected]
Website: https://nsm.org.in/
6. Nehru Group of Institute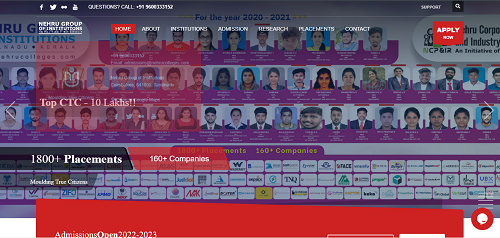 Over five decades ago, Nehru Group of Institutions was established and right from the beginning, the institution has followed a unique approach to serve the community, be it students or the public, in general, with a vision of providing service through education and humanitarian works. Our conglomerate of 20 colleges is one of oldest organizations dedicated in Top MBA Colleges In Kerala that has consistently worked towards empowerment and social change through Aeronautics, Architecture, Arts, Engineering, Science, Medical, Research and Technical education in India.

Being bestowed with the monumental responsibility of leading NGI with such rich heritage is a challenge by itself. I am proud that the rise of our institutions is not from the high rise concrete structures and technological infrastructure, but comes entirely from its intricately intertwined learning process and human resources, which has been the focus on education during its 50 years of existence.
Contact Details:
Phone:  +91 04884 - 281670
Email: [email protected]
Address: Near Lakkidi Rly. Station, Pampady, Thiruvilwamala
Thrissur - 680 597, Kerala, India
Website: https://nehrucolleges.com/
7. Dist
De Paul Institute of Science and Technology (DiST), Angamaly, is an ISO 9001:2008 Certified professional college run by De Paul Education Trust and owned by Marymatha Province of Vincentian Congregation. Education is one of the most important areas of its activities. The Vincentians hold aloft the sublime values of justice, peace and love and aims at creating a new generation with a difference. The students must prove not only their academic excellence but also show a deep commitment to the society they live in. The college is situated in an eco-friendly and academic-friendly atmosphere amidst a fast developing industrial and business town and sylvan surroundings. Info park Kochi, Cochin International Airport and Smart City are all a stone's throw.
To build up a center par excellence equipped to mould outstanding young professionals in relevant fields integrating the physical, intellectual, emotional and spiritual dimensions of their lives through focused training and person specific career counseling so that they may observe unflinching allegiance to the society.
Contact Details:
Phone: +91 9562911800
Email: [email protected]
Address: De Paul Institute of Science & Technology - DiST De Paul Nagar, Angamaly South-683 573 Kochi , Kerala , India
Website: https://dist.ac.in/
8. G Karunakaran Memorial
G.KARUNAKARAN MEMORIAL CO-OPERATIVE COLLEGE OF MANAGEMENT & TECHNOLOGY was established by the G. Karunakaran Memorial Educational Society, Sopanam Complex, Peroorkada P O, Thiruvananthapuram, Pin 695005. The Society was set up in the year 2007 with the objective of promoting professional education. The society was promoted by philanthropists and academicians who have got the zeal to promote management education in the Top MBA Colleges In Kerala. The society has already established a nursing college under the name and style of  "Co-operative College of Nursing" affiliated to the Kerala University of Health Studies, Thrissur and is successfully conducting the B.Sc. Nursing course. The well reputed Peroorkada Service Co-operative Bank and its branches are run efficiently by the promoters.
Contact Details:
Phone: 755 988 7399
Email: [email protected]
Address: GKMCMT P B No 5, Kakkode, Karakulam P O, Azhicode – Aruvikkara Dam Road Thiruvananthapuram- 695 564
Website: https://gkmcmt.com/
9. Holy Grace B-School
Holy Grace Academy of Management Studies (HGAMS) Top MBA Colleges In Kerala is a fully residential B-School recognized by AICTE New Delhi and affiliated to Calicut University conducting a Post Graduate Program in Business Administration. HGAMS prepares its students to understand key interactions among the functional areas of a business system and apply concepts to arrive at meaningful solutions. HGAMS is the largest residential B-School in Kerala with more than 81,000 Square feet of built in space. Located just 15 KMS away from Kochi International Airport, HGAMS is away from the hustle and bustle of the city amidst lush green and tranquil environment, perfect for preparing tomorrow's career-oriented executive. HGAMS is rated "A" by All India Management Association and is an exclusive co-ed Business school of the State.
Contact Details:
Phone: 9745110089
Email: [email protected]
Address: Mala 680 732, Thrissur District, Kerala State
Website: https://www.holygracebschool.org/
10. Asian School of Business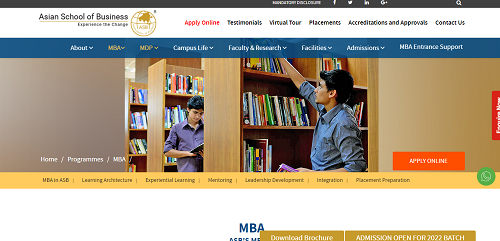 Asian School of Business (ASB), Trivandrum is an autonomous institution offering an intensive Top MBA Colleges In Kerala programme. As an established management that places emphasis on transcending the barriers created by 'Conventional Education', the business School is praised internationally for giving birth to a vibrant students' community. ASB was launched in 2005 and promoted by Mr. George M. Thomas whose passionate approach to enriching on and off-campus lives of students has yielded unmatched success. Placing tremendous stress on the quality of education, Mr. George has been instrumental in developing Kerala's first international school that offers Cambridge A-levels and the International Baccalaureate programme.
Contact Details:
Phone: +91-9961439966
Email: [email protected]
Address: Pallipuram Trivandrum - 695316 Kerala, INDIA
Website: https://www.asb.ac.in/