Gurugram, also known as Gurgaon, is a city located in the Indian state of Haryana. There are several cardiologist hospitals in Gurugram that provide specialized care for patients with heart conditions.
Cardiologist hospitals are medical facilities that have a department or division dedicated to cardiology and have a team of cardiologists, nurses, and other healthcare professionals who are trained to provide specialized care for patients with heart conditions. These hospitals typically offer a range of diagnostic tests, procedures, and treatments for various heart conditions such as angiography, angioplasty, pacemaker implantation, and heart surgery.
They also often have a dedicated cardiac rehabilitation program to help patients recover after treatment. Some examples of well-known cardiologist hospitals include Cleveland Clinic, Mayo Clinic, and Johns Hopkins Hospital. It is always a good idea to check the hospital's reputation, the experience of the medical professionals, the availability of the necessary medical facilities, and the patient's reviews before deciding on a hospital. Some of the notable ones are:
1. Umkal Hospital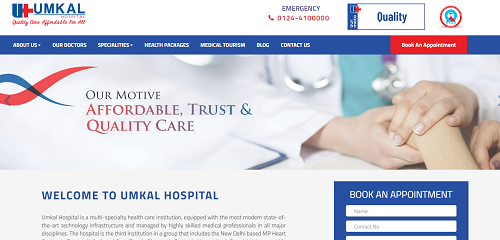 Umkal Hospital is a multi-specialty health care institution, equipped with the most modern state-of-the-art technology infrastructure and managed by highly skilled medical professionals in all major disciplines. The hospital is the third institution in a group that includes the New Delhi based MP Heart Centre; in Greater Kailash and Saru Rimple Diagnostic Centre in Vasant Kunj. Our vision is to provide affordable care for all with the state of the art treatment.
Umkal has taken a very comprehensive approach, which encompasses all aspects of health care ranging from preventive, diagnostic, curative and rehabilitation of patients.
Contact Details
Address : A-520 Sushant Lok-1 (Near IFFCO Metro Station) Gurgaon, Haryana - 122022
Contact : 0124-4666555
Email Id : [email protected]
Website : https://www.umkalhospital.com/
2. Columbia Asia hospital
Columbia Asia is an international healthcare group operating a chain of modern hospitals across Asia. Columbia Asia Hospitals Pvt. Ltd.is one of the first healthcare companies to enter India through 100% foreign direct investment (FDI) route. The Columbia Asia Group is owned by more than 150 private equity companies, fund management organizations and individual investors.

Columbia Asia hospitals are clean, efficient, customer centric, affordable and accessible. The innovative design of the hospitals, from their manageable size to their advanced technology, is focused on creating positive experience for patients.

The first hospital in India commenced operations in 2005 in Hebbal – Bangalore and currently Columbia Asia operates eleven facilities. The group has presence in Bangalore, Mysore, Kolkata, Gurugram, Ghaziabad, Patiala and Pune.
Contact Details
Address : Block F, Gol Chakkar, Palam Vihar, Gurugram, Haryana 122 017
Email Id : [email protected]
Contact : +91 124 616 5666
Website : https://www.columbiaindiahospitals.com/
3. Park Hospital
In 1982, Dr. Ajit Gupta, Chairman, Park Group of Hospitals, envisaged the group to be a collection of medical services and facilities with commitment and compassion to deliver high quality patient-centric healthcare. This journey of social responsibility started with the establishment of the first hospital in Malviya Nagar, South Delhi. The first patient was admitted in 1982 in the 50 bedded hospital. As the good word spread far and wide of the relentless efforts of Dr. Gupta, the hospital grew exponentially with number of patients increasing tremendously. Consequently, asignificant demand for new facilities in the city rose to a crescendo that led to an expansion to the hospital in 1984, with additional beds and multi-super specialties. The response of people was an inspiration for Dr. Gupta to focus on forming a chain of healthcare entities that can deliver high-end services in line with international standards in quality and services. There has been no looking back since then.
Contact Details
Address : H - Block, Palam Vihar, Gurugram, Haryana 122017
Contact : 9891424242
Email Id : [email protected]
Website : https://www.parkhospital.in/
4. Alfaa Health Care
'ALFAA HEALTH CARE' a unit of CPGR HEALTH RESEARCH AND EDUCATIONAL CHARITABLE TRUST, is a pioneer of private health care in Gurgaon located on main FarukhhNagar Road, Vill. Basai Dist. Gurgaon. It was founded by CPGR Health Research and Educational Charitable Trust on 15th April 2016.The Hospital has a total of 25 beds – 21 In-Patient beds and 4 Intensive Care beds. The In-Patient specialties are General Medicine, General Surgery, orthopaedics and Gynaecology. We also have an emergency Care & Trauma Centre incorporating a Local Injuries Unit and Medical Assessment Unit. Hospital is ISO Certified and has a Govt. approved MTP Centre which work under Government rules for MTP act.
Contact Details
Address : Main Farrukhnagar Road , Near Canara Bank , Basai
Contact : +91-81300-10333
Email Id : [email protected]
Website : http://www.alfaahospitals.com/
5. Neelkanth Hospital
Neelkanth Hospital is committed to assure quality across all areas of our Hospital for benefits of patients, medical staff and those with whom we work.
We have a qualified nursing care team available to our patients 24 hours a day. We provide best treatments with best nursing so that patient's care is not sacrificed.
Contact Details
Address : Neelkanth Hospitals Private Limited, 1, Main Mehrauli-Gurgaon Road, D.L.F. Phase-III, Near Guru Dronacharya Metro Station, Gurgaon, HARYANA -122002
Contact : +91-9821948141
Email Id : [email protected]
Website : https://www.neelkanthhospital.com/
6. GNH Hospital
Our hospitals are located in the northern part of India specially in the NCR region comprising New Delhi, Gurgaon, Noida and Faridabad which all are within a distance of 20-50 kms from the New Delhi airport. Our hospitals are super specialty in the fields of Neurosurgery, Cardiology, Joint Replacement, Cancer Care, Liver and Kidney Transplants, Cosmetic Surgery and many other branches of medicine. All our hospitals offer quality treatment and are accreditated by NABH or JCI. For patients coming from other countries our team members would receive you at the airport and escort you to the hospital or the hotel as the case maybe.
Contact Details
Address : JVT, Sector-56, Gurgaon Haryana, India - 122012
Contact : +91-8800188335
Email Id : [email protected]
Website : http://www.gnhhospitals.com/
7. Dr. Nagendra Singh Chouhan
Interventional Cardiologist Gurgaoan - Dr. Nagendra Singh Chouhan has done super specialization in cardiology and postdoctoral fellowship of national board in Interventional Cardiology & Electrophysiology.

He has gained further experience in complex coronary Interventional, structural heart disease intervention and percutaneous aortic valve implantation (TAVI) at Mayo Clinic, and Cedar Sanai hospital, in (USA). He also gained experience in ICD, and CRTD implantation in china and Singapore. He has 15 years of experience in teaching undergraduates, postgraduates and fellows in cardiology and interventional cardiology. His passion is to inculcate practice of evidence based ethical He is a keen researcher with 20 international and 30 national publications and is a Principal investigator in various international trials. He is reviewer for HEART, International Journal of Cardiology and Indian Heart Journal. He has delivered many lectures in national and international forums.
Contact Details
Address : Chamber 13, 3rd floor, Department of Cardiology Medanta The Medicity, Sector 38, Gurugram ,122001.
Contact : +91-9971698196
Email Id : [email protected]
Website : https://www.drnagendrasinghchouhan.com/
8. Dr. Praveen Chandra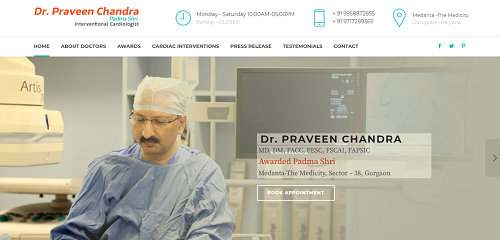 A leading Indian Cardiologist and Chairman of Interventional Cardiology at Medanta Medicity, Gurgaon, India. He is recognized as one of the leaders in Angioplasty in the country and is proficient in a lot of new devices and technologies. He has been awarded for success and achievement in the field of medicine with "Padma Shri" in 2016 by the President of India.
He has also served as Director of Cardiac Cath Lab & Acute MI Services at Max Healthcare and Consultant Cardiologist at Escorts Heart Institute and Research Center, New Delhi.
Contact Details
Address : Medanta - The Medicity Gurugram, Hrayana
Contact : +91 9717289363
Email Id : [email protected]
Website : https://www.drpraveenchandra.com/
9. Jyoti Hospital
Over 30 years, Jyoti Hospital has stood as a symbol of genuine healthcare. We promise a healthcare system that is free of corporate pressures and enables a doctor to practice with freedom. Our doctors are some of the most experiences and most awarded doctors in their respective fields. Our centre is a boutique facility forming a small quality healthcare ecosystem. To know more about our philosophy, our doctors and treatments available browse through these pages.
Contact Details
Address : 28, Ganapati Enclave, Jharsa Rd, Housing Board Colony, Gurugram, Haryana 122001
Contact : 0124 232 2673
Website : http://jyotihospital.co.in/
10. Metro Group of Hospitals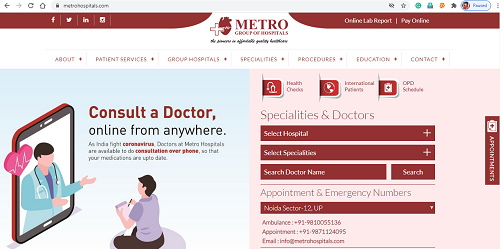 With a vision to provide the utmost level of healthcare to the common man, at the most affordable cost, Dr. Purshotam Lal (Padma Vibhushan, Padma Bhushan and Dr. B.C. Roy National Awardee), a pioneer ofInterventional Cardiology in India, founded Metro Group of Hospitals.
India's large and diverse population warrants an efficient health care infrastructure that should be accessible to all strata's of society. Good quality health care should not be a privilege of the elite only. Metro Group of Hospitals was setup in 1997 by Padma Vibhushan and Dr. B C Roy National Awardee Dr. Purshotam Lal (Chairman), with the vision and endeavors to bring the best possible health care to the masses of India. In order to achieve this, Metro Group of Hospitals has evolved as a committed group which provides advanced medical care at much affordable prices. Their focus has always been on the patients of the lower and middle sections of society, patients who are rejected by the large corporate hospitals, and who cannot afford expensive medical care but definitely deserve empathy. They believe that medicine is a noble profession and sick must not be rejected on monetary grounds.
Contact Details
Address : H - Block, Palam Vihar, Gurugram - 122017, Haryana
Contact : +91 (0124) 4777 000
Email Id : [email protected]
Website : https://www.metrohospitals.com/