A urologist, or urologic surgeon, is a specially trained physician who provides care for the organs and issues of the urinary tract in women, men and children, all of whom can have different urological issues. Urologists also treat problems in the male reproductive system and organs, some issues with female reproductive organs, and disorders of the adrenal glands, which are on top of the kidneys and control the production of hormones in the body.
Urologist Doctors in Chennai address what are known as genitourinary issues, meaning related to the genital and urinary organs in men and women of all ages. Because these systems involve different aspects of a person's health, urologists have extensive knowledge in other fields of medicine, such as gynecology, endocrinology, pediatrics and internal medicine.
List Of Content:
Dr. P.B Sivaraman
Dr. M R Pari
Dr. N. Ragavan,
DR. K. RAMESH
DR. N. ANANDAN
Dr. Muthu Veeramani
Dr. B . Arun Kumar
Dr. Karthik Gunasekaran
Dr. RM.MEEYYPPN
Dr B Subba Rao
1. Dr. P.B Sivaraman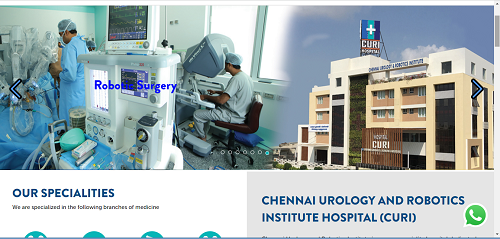 Dr. P.B Sivaraman is a Consultant Urologist, Urological Surgeon at CHENNAI UROLGOY AND ROBOTICS INSTITUTE PVT LTD (CURI HOSPITAL-SINGLE SPECIALITY HOSPITAL CATERING TO RENAL,UROLOGY, URO ONCOLOGY DISEASES ). He is a distinguished and well-known Urologist and as the professor and Head of the Department at Madras Medical College, he has left behind a legacy of urologists trained by him who are leaders in their field of work across the country.
He has worked for 5 years in higher training at various Urology Department centers in the UK. He was also the consultant urologist, at King Khalid Hospital, at Saudi Arabia. He has had training in Cadaver Kidney Transplantation at the Medical Centre and Transplant Laboratory and Polish Academy of Sciences, Warsaw, Poland.
Dr. P.B. Sivaraman is one of the most experienced and respected Senior Urologist in the country.
He is one of the first surgeons to perform cadaver kidney transplantation in a Govt Institution in India. He is credited with nearly 2000 successful kidney transplants, and in appreciation of his yeomen service to poor
Contact:
Phone: 1800 599 4050
Email: [email protected]
Address: 14/16, CIT Colony, 1st Cross Street, Mylapore, Chennai - 600004, Tamil Nadu
Website: https://www.chennaiurologyandroboticsinstitute.com/
2. Dr. M R Pari
Dr. M. R. Pari is a well-known urologist with over 14 years of surgical experience including 9 years of experience in performing endourological procedures, complex urethral reconstruction, surgical treatment for male infertility, and other common urological procedures. Adept at managing Benign Prostate Hyperplasia, his proficiency in performing TURis, LASER Surgery and TURP is profound. He is also one amongst very few urologists to have undergone exclusive training in Andrology and Men's Health.He is one of the best Urologists in Chennai.
Contact:
Phone: +91 99625 99933
Email: [email protected]
Address: No. 52, 1st Main Road, Gandhi Nagar, Adyar, Chennai – 600 020.
Website: https://fortischennai.com/
3. Dr. N. Ragavan,
An alumni of PGI Chandigarh (General Surgery) , Dr. N. Ragavan, trained and worked a senior Consultant Urologist and UroOncologist  in UK. He did his fellowship in Germany under Prof Stolzenburg. He has 15 + years of working in UroOncology with expertise in open, laparoscopy and robotic surgeries for patients with prostate , bladder, kidney , penile and testicular cancers.
He is first in South India to perform novel and pioneering works in Robotics including Extraperitoneal, Radical Prostatectomy Total Intracorporeal Nephroureterectomy Retroperitoneal Lymph Node Dissection (RPLND), Cystectomy with ileal conduit, Boari flap , Culp pyeloplasty and more.
A keen academician, researcher and teacher, Dr Ragavan conducts training programme in UroOncology , mentors Urology trainees and has published 30 papers in international journals.
He is member and faculty of various national and international urology and urooncology societies.
Contact:
Phone: +91 98400 14421
Email: [email protected]
Address: The Chennai Speciality klinic​1/3, Rukmani Rd, Kalakshetra Colony,Besant Nagar, Chennai,Tamil Nadu –  600 090
Website: https://drnragavan.com/
4. DR. K. RAMESH
Dr. K Ramesh is senior consultant urologist and Robotic surgeon at Apollo hospitals, Chennai, India. Dr. K Ramesh completed his medical school and post graduation in general surgery from Kilpauk medical college, Chennai. He has completed his super specialty training in urology from Apollo hospitals, Chennai.
He then travelled widely for further training in urology to United Kingdom, Ireland, Singapore and New Zealand. Having acquired extensive training in various procedures in urology, Dr. K Ramesh joined Apollo hospitals, Chennai since 2007.
He had further training in Robotic surgery at Roswell Park Cancer Institute, Buffalo, United States. He is one of the few urologists who had certified and accredited training in Laser prostatectomy and other laser procedures in urology from Maidstone Hospital, Kent, United Kingdom.
Dr. K Ramesh takes part in many academic activities related to urology. He is a teaching faculty in Super specialty training in Urology in Apollo hospitals, Chennai accredited by National Board of Examination, New Delhi. He is also a teaching faculty for Apollo MEDI skills Courses conducted by Tamil Nadu Dr. MGR Medical University, at Apollo hospitals, Chennai.
He has presented various scientific papers in National and International urology conferences. He has published many scientific papers in urology in peer reviewed urology journals.
He has also contributed to a book chapter-Robotic repair of Vesico-Vaginal Fistula in Practical Approach to Robotic
Contact:
Phone: +64 021 140 4990
Email: [email protected]
Address: Dr. K. Ramesh is on an international assignment and he's available for online consultation ONLY.
Website: https://ashvinclinics.com/docto
5. DR. N. ANANDAN
Dr. N. Anandan's special areas of interests are in Laser Endoscopic Treatment of Urinary Tract Stones, Holmium Laser Enucleation of Prostate (HOLEP), Laparoscopic Urologic Surgery for kidney conditions (Laparoscopic Nephrectomy for tumour, Pyeloplasty for kidney outlet obstruction), Urethral Stricture Surgery (Urethroplasty), Andrological Surgery such as penile implant surgery and correction of penile curvature including Peyronie's disease. Dr. N. Anandan did his Undergraduate medical education at Stanley Medical College and obtained his MBBS degree from University of Madras. He passed his MS General Surgery with distinction and gold medal from the University of Madras. He did his higher surgical training in Surgery and Urology over a period of seven years in United Kingdom.
He got his FRCS from the Royal College of Surgeons of Edinburgh and higher Postgraduate Diploma in Urology from the University of London.
Subsequently he held the post of Assistant Professor of Urology at Ramachandra Medical College (SRMC), Chennai and Consultant Urologist posts at Teaching Hospitals in Kingdom of Saudi Arabia.
After returning from Saudi Arabia, he has been in Urological and Andrological practice in Chennai.
He is a life member of Urological Society of India (USI), Associations of Surgeons of India (ASI), Society International Urology (SIU) and American Urological Association (AUA) and International Society of Sexual Medicine (ISSM).
Dr. Anandan is a regular participant in national and international meetings of Urology and Andrology specialty.
Contact:

Phone: +91- 98402 26637
Email: [email protected]
Address: 41/42, Sathyadev Ave,
MRC Nagar,
Raja Annamalai Puram,
Chennai-600028.
Website: https://www.urologistchennai.com/
6. Dr. Muthu Veeramani
Dr. Muthu Veeramani is an experienced Reconstructive Urologist and Renal Transplant Surgeon having worked in leading urological hospitals in the country. He has visited and performed operative workshops in India and abroad. Consult Our urologist doctor online for video consultation in chennai.
Contact:
Phone: 91 44 4921 1455
Email: [email protected]
Address: (Next to Vadapalani Metro Station)
No.1, Jawaharlal Nehru Salai (100 Feet Road),
Vadapalani Chennai – 600 026,Tamilnadu, India
Website: https://simshospitals.com/
7. Dr. B . Arun Kumar
Dr. Arun Kumar is an accomplished Senior consultant of Urology, working at Apollo Hospitals Chennai for the past 15 years. He undertook his General Surgery training at Sri Ramachandra Medical College and Research Institute, where he was honoured with Dr. Gnanaprakasam Gold Medal for his outstanding work. Subsequently, he also attained his FRCS (Fellowship of the Royal College of Surgeons) in Edinburgh. After completing Mch. Urology at Sri Ramachandra Medical College and Research Institute, he moved to London to pursue further training."
He worked as a Senior Registrar at Whittington Hospital, and received advanced training in Laparoscopy and Endourology. He played an active role in the North London Cancer Network and was involved in many Uro-Oncological procedures at the prestigious University College Hospital and Royal Free Hospital.
He returned to Chennai in 2006 and has since been working as a Senior Consultant, performing over 9000 procedures in Core Urology, Endourology and Uro-Oncology. In 2011 he underwent Robotic Assisted Surgery training with the Da Vinci Surgical System at IRCAD, Strasbourg, France. His vast robotic expertise has made him prominent in performing various Urological Robotic surgeries in Tamil Nadu, being one of the few in the State to do so. As a renowned faculty and educator, he has attended and presented many papers in International meetings.
Contact:
Phone: +91 99400 24638
Email: [email protected]
Address: #18/24, T.T.K Road 1st Cross Street, Alwarpet Chennai-600 018, India
Website: http://arunuroclinic.com/home
8. Dr. Karthik Gunasekaran
Dr.Karthik Gunasekaran is a world renowned Urologist/Urogynecologist and Pelvic Reconstructive Surgeon from Chennai. A gold medalist in Urology from Madras Medical College, his guidance in Urogynecology started under Prof N.Rajamaheshwari at the Govt.Kasturba Hospital Chennai. Having trained for three years there, he left to the USA for further training. He underwent Fellowship training in Urogynecology and Pelvic Reconstructive Surgery from the Cleveland Clinic Foundation and Hospital in Weston, Florida, USA IN 2003.
Contact:
Phone: +91 90928 49786
Address: No. 1, Cres Park St, T Nagar, T. Nagar, Chennai, Tamil Nadu 600017
Website: /urogynecology.in
9. Dr. RM.MEEYYPPN
Dr.RM.Meyyappan M.S(GEN), M.Ch(URO), FICS(URO) is the Professor,HOD of Department of Urology & Renal Transplantation, SRM Medical College Hospital & Research Centre, Kattangulathur, Tamildadu.

He is also the Consultant Urologist, Sooriya Hospital , Vadapalani,Chennai.
Graduated in MBBS from Madurai Medical College,( in 1981), MS General Surgery from Madurai Medical College (in 1984) More
Phone: +91 98400 68248
Email: menauro@gmail.com
Address: No.7,Third Street,Kamaraj Nagar,
Chennai- 600 093.
Website: https://drrmmeyyappan.com/
10. Dr B Subba Rao
Dr B Subba Rao is a medical specialist in the department of Nephrology with 30 years of experience currently working in the Apollo Hospitals. He has won a prestigious award for his excellence in playing a very crucial part in succeeding a number of complicated kidney-related diseases which includes critical care nephrology, kidney biopsies, peritoneal dialysis and haemodialysis. He provides advanced treatments to make the patient's life easier.
Dr P Soundararajan
Dr. Soundararajan is one of the top consultants and among the best nephrologists in Chennai Vijaya Hospital. He has a rich experience of 30 years in this field. He is very knowledgeable and gives his patients undivided attention which makes the patients visit him for getting the best treatment. He questions the patients to understand their problems and treats accordingly by being kind and compassionate in giving them more positivity to overcome the disease.
Contact:
Phone: +91 44 4200 1001
Email: : [email protected]
Address: Old No 9, New No 17, East Spurtank Road, Chetpet, Chennai – 600010.
Website: https://vshospitals.com/contact-us/