A urologist, or urologic surgeon, is a specially trained physician who provides care for the organs and issues of the urinary tract in women, men and children, all of whom can have different urological issues. Urologists also treat problems in the male reproductive system and organs, some issues with female reproductive organs, and disorders of the adrenal glands, which are on top of the kidneys and control the production of hormones in the body.
Urologist Doctors in Thane address what are known as genitourinary issues, meaning related to the genital and urinary organs in men and women of all ages. Because these systems involve different aspects of a person's health, urologists have extensive knowledge in other fields of medicine, such as gynecology, endocrinology, pediatrics and internal medicine.
List of Content
1.Kale urology
2.Dr. Soumyan Dey
3.Dr. Pankaj Maheshwari
4.RG UROLOGY AND LAPAROSCOPY
5. Dr. Mangesh Patil
6. Dr. Pattnaik's
7.Dr. Irfan Shaikh
1.Kale urology
Hi, my name is Dr Nikhil Kale, FRCS Urology (UK). I have previously worked in the UK and have trained as a Urologist at the prestigious Institute of Kidney Diseases, Ahmedabad.
My professional experience and qualifications are as follows:
Worked as a Urologist in Plymouth, UK and London, UK.
Passed FRCS Urology in first attempt.
Worked at RG Stone Urology Hospital, Mumbai
Trained in Urology at the Institute of Kidney Diseases, Ahmedabad and passed DNB Urology
Passed the DNB Entrance Exam for Urology with an All-India Rank 11.
Passed DNB General Surgery in 2011.
Trained in General Surgery at the Western Railway Hospital, Mumbai for 3 years.
Completed medical education from Nair Hospital and TN Medical College.
My sub-specialty interests are Stones and Andrology.
Contact :
Phone: +91 93701 73916
Email: [email protected]
Address: M. G. Road, Naupada, Shivaji Nagar, Thane West, Thane, Maharashtra 400602
Website: http://kaleurology.com/
2.Dr. Soumyan Dey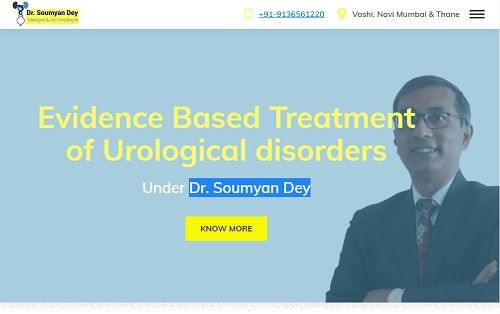 Dr Soumyan Dey, a Urologist who is a super-specialized doctor having a vast experience in various fields of urology.
He is an expert having vast experience in treating cancer of the urinary tract and male reproductive organs. He is specifically and specially trained to treat problems affecting the urinary tract (kidneys, Ureters, bladder, urethra).
Dr. Soumyan Dey is a keen believer in technical innovation and this endeavour of him have been at the forefront of pioneering less-invasive treatment alternatives (where appropriate) for urologic cancers such as active surveillance, cryotherapy, and focal therapy for localized prostate cancer and percutaneous ablative procedures for small renal masses.
Dr. Soumyan is experienced in successfully associating himself with large numbers of partial/radical nephrectomy procedures for kidney cancer, prostatectomy procedures for prostate cancer, cystectomy procedures for bladder cancer, and many retroperitoneal lymph node dissections for testis cancer
Contact :
Phone: +91-9136561220
Email: [email protected]
Address: Dr. Soumyan Dey's Urocare Chamber 23, 2nd floor Mahavir Centre, Sector 17, Vashi, Navi Mumbai, Maharashtra 400703, India
Website: https://drsoumyandey.com/
3. Dr. Pankaj Maheshwari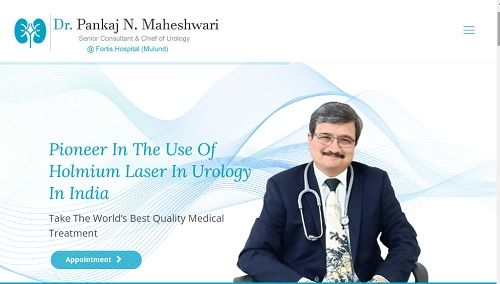 Dr. Maheshwari comes from a family of Doctors; Parents Dr. N K Maheshwari & Dr. Mrs. Tara Maheshwari have been senior physicians at Akola. Wife, Dr. Mrs. Reeta Maheshwari is Associate professor in Physiology. He is blessed with two daughters.
Recipient of Societe Internationale Urology Traveling Fellowship for 1999– 2000, which he utilized for training in Holmium laser in Urology at New Zealand and at New York.
Pioneer in the use of Holmium laser in urology in India. He started performing holmium laser enucleation of prostate for management of Benign Enlargement of Prostate in late 1998.
One of the initial persons to start therapeutic flexible ureteroscopy in India. Started in 1999. He has 50 national and international publications of which eight are quoted in the Campbell's textbook of Urology.
Few unusual surgical procedures were done for the first time in India by Dr. Maheshwari.
Laparoscopy assisted PCNL for large calculi in pelvic kidney (3 cases).
Laparoscopic repair of spontaneous bladder perforation.
He has devised a new technique for placement of CAPD catheter laparoscopically. This significantly reduces the complications of CAPD catheter. (> 100 cases)
Contact :
Phone: +91-8879350085
Email: [email protected]
Address: Mulund Goregaon Link Rd, Industrial Area, Mulund West, Mumbai, Maharashtra 400078
Website: https://drpankajmaheshwari.in/
4. RG UROLOGY AND LAPAROSCOPY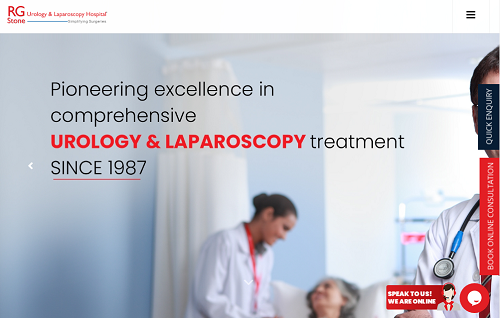 RG Stone Urology & Laparoscopy Hospital at Mulund, Mumbai has room categories including suite, super deluxe, private, semi-private, and general wards. Facilities including cafeteria and canteen are also available for the patients and their attendants.
The team of skilled medical professionals along with support staff work together round the clock to provide individualized care to the needs of the patient. Being the leader in urology and laparoscopy fields, RG Stone holds the capability to offer most advanced treatments available. Our pioneered approaches are now the standards of care over the country. RG Stone has treated over 5,00,000 cases till date from India and abroad.
The center is well equipped with latest technologies, equipment's, and expertise for best diagnostic and treatment techniques.
Contact :
Phone: (022) 61463500
Email: [email protected]
Address: Ahimsa Marg, 14-A, Khar (West)
Mumbai 400052
Website: https://www.rghospitals.com/
5. Dr. Mangesh Patil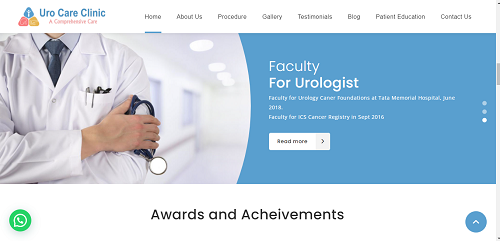 Dr Mangesh Patil is a consultant Urologist and Robotic Uro oncology surgeon at Sir H. N. Reliance Foundation Hospital, Saifee Hospital, Breach Candy Hospital, S. L. Raheja Hospital and runs his own Uro Care Clinic, Andheri.
Dr. Mangesh Patil is a renowned and Best Urologist in Girgaon, he is trained in Endourology and Robotic Surgery, with professional experience of more than 10 years . He completed his urology training at Hinduja Hospital, and has the distinction of conducting over 1000 urological procedures during his training period. He then went to Rosewell Park cancer Institute, for his robotic surgery training.
Contact :
Phone:9870836069
Email:[email protected]
Address:201 B wing / 50 B Sanskriti Park CHS, opposite Canossa school, Next to sacred Heart church, Mahakali road, close to shere Punjab circle, Andheri East, Mumbai.
Website:https://www.drmangeshpatil.com/
6. Dr. Pattnaik's

Dr. Pattnaik's S.S. Hi-tech Urological Hospital is one of the pioneer Urological institutes in the world, which has been providing world class urological and allied treatment to patients of all ages with state of the art technology under one roof since 25 years. The Hospital is backed by the Chief urologist Dr. Prashant K. Pattnaik who is considered as the Pioneer in this field.
With over two decades of experience in treating patients, Dr. Pattnaik's S.S. Hi-tech Urological Hospital' was established in 1996 in the heart of Mumbai and has been providing unparalleled urological care to its patients since then. It is based on the foundations blocks of Honesty, Transparency, Focus, Organization, Patient Care and Community Service.
The Hospital also serves as a tertiary referral center for a number of failed and complex cases. Equipped with the state of the Art technology and skilled professionals in a range of specialties, their team is able to take special care of preliminary and high risk cases of associated diseases.
Phone:(+91) 9637731789
Email:[email protected]
Address:Kakad Apartment, 1st floor, 4 Pali road Opp HSBC bank , Bandra west Mumbai 400050
Website:https://pattnaikurology.com/
7.Dr. Irfan Shaikh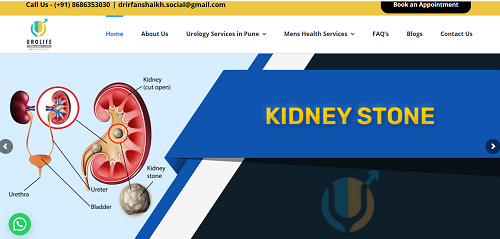 Dr. Irfan Shaikh – Consultant Urologist, Uro Surgeon & Andrologist (MBBS, MS (Gen. Surgery), M.Ch. Urology), is one of the Top Urologists In Pune. A gold medalist in the department of Urology, Dr. Irfan Shaikh specializes in Female Urology in India. He has completed his education at one of the top colleges. He has completed MBBS from Byramjee Jeejeebhoy Government Medical College & Sasson General Hospital in Pune and MS in general surgery from PGI, Chandigarh. Moreover, he has also done M.Ch in Urology from Topiwala National Medical College & BYL Nair Charitable Hospital. Dr.Irfan shaikh has completed all his degrees from prestigious institutes with special recognition, Dr. Irfan Shaikh ensures to treat his patients with all the clinical knowledge & expertise.
With the experience of over 11 years in this field, he is well versed in treating all kinds of diseases related to Urology. Dr. Irfan Shaikh, a leading Urologist in Pune, has been working relentlessly for the past 11 years to provide quality healthcare to his patients. He has founded the Urolife clinic, Pune, it's a one-stop treatment solution for various Urological problems.
Phone:(+91) 8686353030
Email:[email protected]
Address:KD Plaza, 2nd Floor, Above Union Bank, 7 Loves Chowk, Pune, Maharashtra 411042
Website:https://www.urolife.in/