What is an SEO company? What do SEO experts do? And how can you find the right one? Keep reading to find out!
When it comes to managing your website, there is no finish line. Sure, nothing beats the feeling of clinking glasses and raising a toast to a newly launched website that looks fantastic.
But a few weeks or months later, many businesses find themselves asking the same question: Where is all the traffic?
Building a website is only one step in the long journey of maintaining a successful, high-impact website. Joining forces with a top search engine optimization (SEO) company can help your business continue to grow and earn more revenue.
---
What is an SEO company?

The definition of an SEO company is a company that partners with businesses like yours to boost your visibility in search engines. Increased visibility in search engines means more traffic coming to your website and — ultimately more leads, phone calls, and sales.
---
What does an SEO company do?
SEO companies aim to improve your visibility in search results so your business can capture more traffic (and ultimately revenue) from search. Improving search visibility involves multiple tasks for SEO companies, including keyword research, link building, content creation, and more.
---
What should an SEO company's services include?
Breaking down action items that an SEO company is working on can be tough. Every company (whether a local SEO company or eCommerce SEO agency) operates differently, and every campaign is unique as well, so there are a lot of variables at play.
That said, many tactics are similar across companies and campaigns, so we've put together an overview outlining what an SEO company does and key questions to ask:
Research and analyze your website and target market
How well is your website performing currently?
What is working well for competitors in your industry?
What keywords does your target audience search for?
What are reasonable results to expect given your SEO budget?
Make on-page SEO changes
Are page titles and meta descriptions optimized?
Is your website content clear, concise, and SEO-friendly?
Do you talk about your services and value-adds using the right language?
Are pages optimized for the proper keywords and themes?
Make off-page SEO changes
Is your website earning links and mentions around the web?
Does your server configuration work properly?
How fast is your website?
Is your website secure and provides a good UX?
Provide clear communication and frequent updates
How often will you get SEO reports?
What is included in SEO reports?
What are your agreed-upon campaign goals?
How is your SEO company regularly keeping up to date with business changes?
Creating content or working directly with somebody who is
What are existing content opportunities for your site?
What type of content works best for your target market?
How can we ensure content is SEO-friendly?
Does the website content contain strong calls to action?
Conduct experiments and tests
How can we leverage data to make decisions?
What areas of the site can we A/B test?
What key power phrases drive visitors to take action?
What are new/upcoming areas of opportunity?
These six areas provide an overview of key focal points for many SEO companies and some questions that you should be discussing regularly with your SEO partner.
While our six key points are helpful, no campaign can be boiled down to a simple list — and successful SEO campaigns require continual optimization to drive the best results.
You can always capture more traffic and increase the conversion potential of existing site traffic. A good SEO company will have a strong follow-up process that allows for constant testing, adjusting, and tweaking to the strategy behind the campaign and to your website.
Our experience shows that, on average, most companies redesign their websites every three to four years, so view the pages on your site as a living document. Search patterns in your industry are constantly changing, and your SEO campaign needs to remain as agile as possible.
Be sure to find an SEO company that can move as quickly as your business does.
---
The benefits of working with an SEO company
If you are thinking about partnering with an SEO company, you've thought about the obvious benefits already — more qualified website traffic, leads, and revenue, along with a comprehensive website analytics strategy to track and adjust your marketing efforts as needed.
While those are key, overarching benefits, there are plenty of other tangible benefits of working with an SEO company.
We've worked on SEO campaigns across hundreds of different industries over the last few decades and have seen a lot of similarities across our client base with unexpected benefits of our partnership.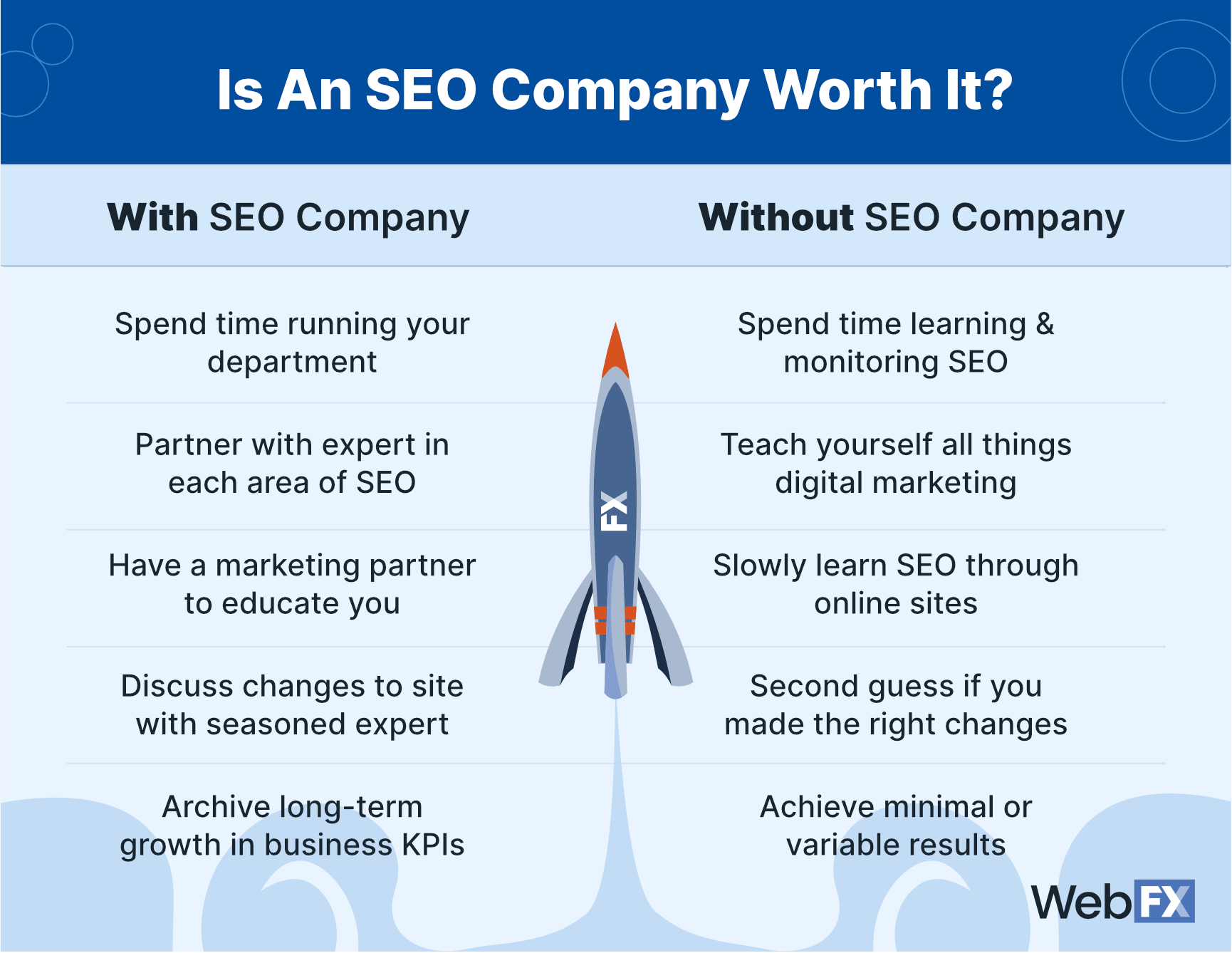 Don't just take our word for it. Check out this SEO case study to learn how we grew organic traffic for a local construction company by 43%.
---
How does an SEO company work?
Every SEO company is unique, but worthwhile SEO companies have a similar goal: To help grow your business.
At the end of the day, an SEO company's job is to partner with you to drive leads, phone calls, store visits, purchases, and more through search.
Just like you hire an accountant to help streamline and improve your books or hire a cleaning company to tidy up the office each week, partnering with an SEO company means you are connecting with a company whose goal is to improve your visibility in search engines.
Let's say you operate a house painting company in Ames, Iowa (Go Cyclones!). You are an expert in all things paint. You spend your day talking all about glosses, finishes, ferrules, and more. You want to earn more leads for your business and hear from your customers that they find local paint contractors through search engines like Google.
Taking the time to learn, implement, and adjust an SEO campaign isn't an option for you. So, you find a trustworthy and reputable SEO company to help manage your web presence in search engines. A few months later, your site starts showing up at the top of Google results for searches like "painters in Ames Iowa" and "exterior painters in Ames."
A beautiful partnership is born! You are busier than ever thanks to leads flowing in from search engines.
Partnering with a quality SEO firm gives you the expertise needed to generate more business from organic searches.
One nice plus of working with an SEO company is that traffic coming from organic (unpaid) searches in Google tends to produce very high-quality leads.
The beauty of SEO is that your marketing efforts allow interested customers to find you online. Most marketing channels require businesses to blast their message out to thousands of customers, with the hope being that a small percentage of them will be qualified prospects.

SEO works in the opposite direction: you make it easier for people to seek out and find your business as they search online. By nature, leads you earn from organic search are self-qualified.
This means people who are already interested in your product or service are looking for you.
At WCS, we track all leads coming in from a website with our free marketing automation software MarketingCloudFX. We see amazing leads all the time from many channels, but in the long run, leads coming in from organic search tend to be the highest quality because it allows interested customers to seek you out.
---
What's it like working with an SEO company?
If you've never partnered with an SEO company, it's natural to wonder what it's like to work with one. What should your business and team expect? For example, how often will the agency require your feedback — or what does your team need to provide to start?
When you work with an SEO company, like WCS, you can expect the following:
1. the Kick-off meeting
Once you've partnered with your SEO firm, you can expect an introduction or kick-off meeting with your team of SEO strategists. While this process varies among SEO companies, it's a seamless step with WCS.

You're introduced and partnered with a dedicated account manager, which ensures you're always working with a familiar face on your SEO strategy.
As one of the Best Places to Work in PA, we maintain a low employee turnover rate, which provides your team with a consistent experience and partner. For your team, this kick-off meeting allows you to:
Share your company's digital marketing goals
Highlight vital information about your business, products, brand, and more
Learn about the next steps for your SEO strategy
Meet your dedicated account manager
Get ready for your kick-off meeting by compiling a list of questions to ask your account manager. If you like, you can also develop a list of must-read company resources, like your brand guidelines, for your account manager.
2. Audit and strategy summary
Another normal part of working with an SEO company?
The results of your SEO audit, plus your SEO strategy. While your account manager may discuss each of these topics on separate calls or meet-ups, they provide your team with a valuable roadmap.

These discussions are also an excellent time to ask questions — and that's another part of what SEO companies do, they educate their clients. At least, they should.
That's why you want to partner with an SEO agency like WCS that values information-sharing. When you chat with your dedicated account manager, you're encouraged to ask questions.
Whether you're unsure about a word, strategy, or decision, our award-winning team's happy to explain. Use your audit and strategy calls to your advantage and ask about everything.
3. Routine check-ins
After you meet with your dedicated account manager, as well as review and approve your SEO strategy, plan for routine check-ins with them.
Depending on your strategy and service package, you may chat with your account manager every week or every month. In most cases, your team should set aside one hour for these check-ins. That way, you have plenty of time to ask questions, review data, and chat with your account manager about anything else.
Aside from these meetings, your company can take a hands-free approach to SEO.
In some cases, however, your account manager may require your input, approval, or assistance to move your strategy forward.
For example, if your business prefers to upload or add content to your website — versus having your SEO agency do it — then you'll need to have a more active role in your strategy. Maximize the results of your plan by deciding early on how much of a role you want.

Depending on your SEO company, you can also monitor the direct results of your SEO. WCS, for instance, provides all its clients access to our proprietary ROI-tracking platform, MarketingCloudFX. IBM Watson, a powerful artificial intelligence (AI) software, powers MarketingCloudFX.
With MarketingCloudFX, you can track the performance of your SEO strategy. Your dashboard, for example, provides a quick summary of the number of calls, as well as revenue, generated by your website. It's a useful tool for not only your team but also your company's decision-makers.
---
When should you hire an SEO company?
No matter your company size, it's important to recognize when you need to hire an SEO agency. While your reasons may vary for partnering with an SEO company, the right agency can make a massive impact on your bottom line. A few reasons to hire an SEO company include:
Grow your business in a competitive or niche industry
Support your recent expansion or product launch
Increase your revenue, sales, and conversion rates
Improve your ranking for valuable search results
Now, when should you hire an SEO company?
When your business doesn't have the expertise
When your team doesn't have the time
When your company doesn't see results
For many companies, it's also more cost-efficient to hire an SEO agency. Depending on your industry, as well as location, it can prove challenging — and expensive — to build a team of digital marketers. With an SEO company, you gain direct access to an experienced team, but without the added in-house costs.
---
3 tips for finding the best SEO company
Now that you are familiar with what an SEO company does, how do you go about researching and choosing the best SEO company?

Good news! You have already taken a crucial first step: familiarizing yourself with SEO. Feel free to use some of the questions above in your early discussions with potential partners.
It can be very difficult to vet an SEO business if you know very little about what they do.
Having even a little bit of SEO knowledge can help you ask good questions and give you an idea of what to look for in an SEO company. Some other key tips as you research firms are:
Look for firms with a strong track record: Agencies with ample customer reviews, case studies, and verified reviews on third-party sites give you a window into how happy their customers are.
Look for firms with experience in your industry: Have they worked with similar websites before? What results were they able to achieve? Do they speak knowledgeably about KPIs and industry-specific information?
Look for firms that align with your campaign goals: Be clear and firm on what business goals you have for your SEO campaign. This is very helpful for a good SEO company, and they can craft a strategy that will get you there. Want more leads from your website? Find a firm like WCS that specializes in lead generation through SEO.

---
Ready to see what an SEO company can do for you?
Finding the right SEO company for your business that has proper alignment with your business can change the trajectory of your company.
Organic search is a powerful marketing channel that continues to grow. Being educated about what an SEO company does and how to find the perfect one for your business is crucial in today's rapidly changing advertising landscape.
If you are interested in learning more about how SEO services can fit into your marketing mix, contact us online or give us a call at +1 778-718-8676.