1.CK Birla Hospital | BMB
BM Birla Heart Research Centre is one of India's foremost and Eastern India's First and Only Cardiac Hospital. BM Birla Heart Research Centre has been ranked as No. 1 hospital in Eastern India and No. 2 in India in the category of super-specialty hospitals. Catering to a wide spectrum of cardiac ailments in children and adults, the hospital has been tendering quality patient care, diagnosis, treatment, and research of cardiovascular diseases for over 30 years.BM Birla Heart Research Centre has been a symbol of trust over the years and has earned a distinctive reputation from its patients for being a safe destination for cardiac treatment. Centrally located in Kolkata with 204 beds and state of the art infrastructure, BMB is awarded ISO 9001:2008, ISO 14001:2004 and OSHAS 18001:2007 for maintaining high standards in healthcare, environmental protection, and occupational safety respectively.
Contact Details
Address : 1/1, National Library Avenue, Alipore Kolkata-700027, West Bengal.
Contact : 033 40884088
Email Id : [email protected]
Website : https://bmb.ckbirlahospitals.com/
2. Charnock Hospital
Charnock Hospital, a part of the SKM group is a 300-bed super speciality premier hospital in Kolkata with tertiary and quaternary care units. The hospital specializes in providing state-of-art facilities with latest technological know-how in Cardiac Science, Neuroscience, high-end Orthopaedics, Critical Care, Transplant Unit, advanced Gastro treatment, Nephrology, Urology and Respiratory medicine. We, at Charnock Hospital firmly believe and stand by our motto "Patient First". Keeping this motto in mind, we have worked hard to ensure in giving highest priority to the correct diagnosis, quality treatment, early recovery, and utmost comfort of our patients. Our work ethic is a perfect blend of old-world values of integrity and honesty along with modern technology and medical science.
Contact Details
Address : BMC195, Teghoria, Biswa Bangla Sarani, Kolkata 700 157, West Bengal, India
Contact : 033 40 500 500
Email Id : [email protected]
Website : https://www.charnockhospital.com/
3. Zenith Super Specialist Hospital
Zenith Super Specialist Hospital (A Unit of J.M.D. Hospital Pvt Ltd) is one of the few hospitals in Kolkata which provides affordable patient care by a team of expert Doctors.
We started in 2008 with a modest number of 40 beds, Zenith Super Specialist Hospital today is one of the Largest and Busiest Hospital in Kolkata. Today the hospital caters to the entire North 24Parganas along with adjoining districts of Nadia and Murshidabad. Armed with the gamut of medical and allied services, this 175 bedded hospital occupying a floor space of 90,000 sq ft across 5 floors is the safe and trusted refuge of this locality.
Contact Details
Address : 9/3, Feeder Road, Rathtala, Belghoria, Kolkata - 700 056
Contact : +91-7605098082
Email Id : [email protected]
Website : http://zenithhospital.in/
4. Woodlands Hospital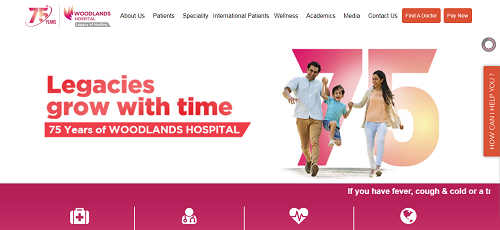 Woodlands Hospital is as old as India herself. Ever since its inception, Woodlands Hospital have nursed a dream of becoming one of the leading healthcare provider of free India by providing global standards with advanced technology

In 1947, we began as a tertiary care unit. And today, we've grown much larger to become a multispecialty hospital. Over the years, our global quality of treatment has enabled us to become the hospital of trust for patients not only of Kolkata and eastern India, but also of neighboring countries.
Contact Details
Address : 9/3, Feeder Road, Rathtala, Belghoria, Kolkata - 700 056
Contact : +91-7605098082
Email Id : [email protected]
Website : http://zenithhospital.in/
5. The Mission Hospital
The Mission Hospital, Durgapur (A Unit Of Durgapur Medical Centre Pvt. Ltd.) is a 360 bedded, state-of-the-art super specialty hospital, with cutting edge technology. Built in an area spanning three acres it offers an array of facilities- digital flat panel cath lab (Philips FD 10c), seven major operation theatres with laminar airflow and HEPA filters, 100 bedded critical care unit, dedicated mother and child care unit, 24 hour accident and emergency department, blood bank and for the first time, a fully computerized pneumatic chute system (Sumetzberger, Germany).
Contact Details
Address : Immon Kalyan Sarani, Sector IIC Bidhan Nagar, Durgapur - 713212, Burdwan, West Bengal
Contact : 8687500500
Website : https://themissionhospital.com/
6. OHIO Hospital
Ohio Medical Centre has a new destination - Kolkata. We are now located at - Plot No. - DG-6, Rajarhat, Newtown, Kolkata – 7000156. We are a premier corporate multi-specialty tertiary care hospital providing an accommodation of approx. 300 beds. Covering an area of sprawling 3 acres overlooking the luscious greenery, Ohio Hospital & Medical Centre is an amalgamation of best services with comfort and affordability.
Contact Details
Address : NewTown, Rajarhat, Kolkata
Contact : 033-66026602
Email Id : [email protected]
Website : https://www.ohiohospital.in/
7. Apollo Hospitals
Apollo Hospitals was established in 1983 by Dr. Prathap C Reddy, renowned as the architect of modern healthcare in India. As the nation's first corporate hospital, Apollo Hospitals is acclaimed for pioneering the private healthcare revolution in the country.
Apollo Hospitals has emerged as Asia's foremost integrated healthcare services provider and has a robust presence across the healthcare ecosystem, including Hospitals, Pharmacies, Primary Care & Diagnostic Clinics and several retail health models. The Group also has Telemedicine facilities across several countries, Health Insurance Services, Global Projects Consultancy, Medical Colleges, Medvarsity for E-Learning, Colleges of Nursing and Hospital Management and a Research Foundation. In addition, 'ASK Apollo' - an online consultation portal and Apollo Home Health provide the care continuum.
Contact Details
Address : 58, Canal Circular Road Kolkata - 700 054
Contact : +91-33-2320 3040
Email Id : [email protected]
Website : https://www.apollohospitals.com/
8. Ruby General Hospital
The Hon'ble Chief Minister Shri Jyoti Basu inaugurated Ruby General Hospital on 25th April 1995. Mother Teresa opened the Cardiac Unit on 28th October 1995.
The motto of Ruby General Hospital is to give honest, caring, compassionate and economical care to the people of Eastern India. The consultants working at Ruby are the best with national repute. The quality of medical care is always monitored so that the patients are assured that medically necessary treatment is only being given to them. There is also a constant inflow of doctors from United States who bring the latest advances of treatment to the patients at Ruby Hospital.
Contact Details
Address : Kasba Golpark, E. M. Bypass, Kolkata, 700 107 West Bengal, India
Contact : +(91)-(33)-66871800
Email Id : [email protected]
Website : https://www.rubyhospital.com/
9. Desun Hospital
Desun Hospital, Kolkata, India is committed to providing efficient, effective and timely healthcare to its patients, through the best medical support in a clean and hygienic environment. Our mission is to continuously improve the quality of the entire range of hospital services and to emerge as the most reputed hospital in the country.
Contact Details
Address : Desun More, Kasba Golpark, EM Bypass Kolkata- 700 107, India
Contact : (033) 71 222 000
Email Id : [email protected]
Website : https://www.desunhospital.com/
10. Peerless Hospital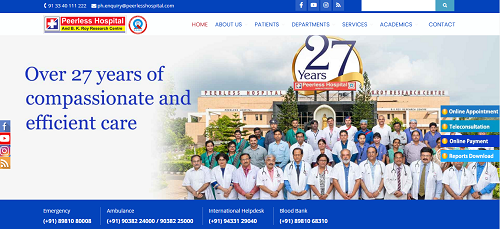 We share Peerless Hospital's experience serving patients that makes you happy, giving service that makes you smile, in passionate pursuit of our mission, showing love and caring in all our actions, to enrich as many lives as we possibly can.
To create and maintain a framework where health care professionals can practice their skills in the right spirit with empathy, pride and passion. To be able to adapt to dynamic changes in health care delivery not only in curing illnesses but also in preserving health.
Contact Details
Address : 360 Panchasayar, Kolkata - 700 094, West Bengal, India
Contact : 91 (33) 4011 1222, 2432 0075
Email Id : [email protected]
Website : https://www.peerlesshospital.com/