A urologist, or urologic surgeon, is a specially trained physician who provides care for the organs and issues of the urinary tract in women, men and children, all of whom can have different urological issues. Urologists also treat problems in the male reproductive system and organs, some issues with female reproductive organs, and disorders of the adrenal glands, which are on top of the kidneys and control the production of hormones in the body.
Urologist Doctors in Hyderabad address what are known as genitourinary issues, meaning related to the genital and urinary organs in men and women of all ages. Because these systems involve different aspects of a person's health, urologists have extensive knowledge in other fields of medicine, such as gynecology, endocrinology, pediatrics and internal medicine.
DR. M. ANIL KUMAR
Dr Mallikarjuna Reddy
Dr.K.V.R PRASAD
Dr.G Purushottam
DR. LALITHA
Dr. Syed Md. Ghouse
Dr.P. Vamsi Krishna
Dr. A. V. Ravi Kumar
Dr.M.GOPICHAND
10. Dr. Y Rama Sanjai
1. DR. M. ANIL KUMAR
Dr. M. Anil Kumar is a urologist in KPHB, KuKatpally and empanelled at the Landmark Hospital in Hyderabad. He has specialised knowledge and skill regarding problems of the urinary tracts and reproductive organs having a good clinical experience in dealing with the same.The treatments handled by Dr Kumar are regarding enlarged prostrate, cancers of the urinary tracts, infertility in men and women, interstitial cystitis , kidney stones, overactive bladder, urinary tract infections and bladder problems. He completed his MS and MCh in urology after his MBBS and has gained a good expertise from his career in his field of work.
Contact:
Phone: 6303928640
Email: [email protected]
Address: Nagar arch, Hydernagar Main road, Kukatpally, Hyderabad - 85
Website: landmarkhospitals.net
2. Dr Mallikarjuna Reddy
Dr Mallikarjuna Reddy is a top urology doctor in Hyderabad currently working as Senior Consultant for Urology at the Citizens Specialty Hospital, Hyderabad. He is an alumnus of the Kakatiya Medical College in Warangal, Telangana and completed his MS in General Surgery from PGIMER Chandigarh. He also holds an M. Ch. in Genito Urinary Surgery from Osmania Medical College, Hyderabad and cleared the DNBE from the National Board of Examinations, New Delhi. He's a fellow of the European Board of Urology and has won numerous awards – at the national & international level – for his exemplary work during the course of his distinguished career.
Contact:
Phone: +91-40 67 19 19 19
Email: [email protected]
Address: 1-100/1/CCH, Near aparna Sarovar, Nallagandla, Serilingampally, Hyderabad, Telangana 500019
Website: https://www.citizenshospitals.com/
3. Dr.K.V.R PRASAD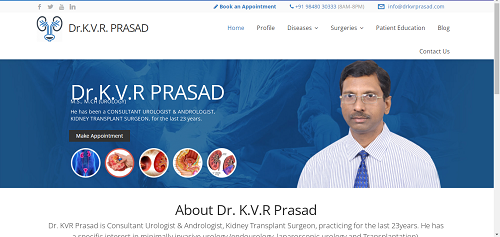 Dr. KVR Prasad is Consultant Urologist & Andrologist, Kidney Transplant Surgeon, practicing for the last 23years. He has a specific interest in minimally invasive urology (endourology, laparoscopic urology and Transplantation).
Contact:
Phone: +91 98480 30333
Email: [email protected]
Address: Road No. 12, Banjara Hills,
Hyderabad - 500034,
Telangana, India.
Website: http://www.drkvrprasad.com/
4. Dr.G Purushottam
r. G. Purushotham is an Urologist in Kothapet, Hyderabad and has an experience of 36 years in this field. Dr. G. Purushotham practices at Sai Sanjeevini Hospitals in Kothapet, Hyderabad. He completed MBBS from Osmania Medical College, Hyderabad in 1980 and MCh – Urology from Osmania Medical College, Hyderabad in 1985.
Some of the services provided by the doctor are: Open Prostatectomy, Ureteroscopy, Urinary Tract Obstruction and
Contact:
Phone: +91-9248045089
Email: [email protected]
Address: Plot No.V–7, NH–9, Narsimhapuri Colony, Kothapet, Saroornagar , Hyderabad – 500035, Telangana.
Website: https://www.saisanjeevinihospitals.org/
5. DR. LALITHA
Dr. Lalitha has done her M.B.B.S. FROM KAKATIYA MEDICAL COLLEGE FROM WHERE SHE HAS PASSED OUT AS THE 'BEST OUTGOING STUDE
OND RANK IN ANDHRA PRADESH STATE POSTGRADUATE MEDICAL ENTRANCE
Contact:
Phone: +91-95023 47362,
Email: [email protected]
Address: Axis Bank Lane,
Opp. Audi Car Show Room,
Road No. 12, Banjara Hills,
Hyderabad - 500034,
Website: http://www.lalithauro.com/
6. Dr. Syed Md. Ghouse
Asian Institute of Nephrology and Urology (AINU) is a world – class, single-specialty, renal sciences hospital in Hyderabad. It was established in the year 2013. AINU is among the few urology and nephrology-focused tertiary care hospitals in South India, offering a full suite of medical and surgical services, day care services and supporting services. It is one of the youngest hospitals in the country to achieve NABH accreditation, within two years from its inception.
The facilities at AINU combine state-of-the-art amenities and world-class service standards. It has 100 beds, 3 operating rooms equipped with state-of-the-art equipment, a 9-Bedded Surgical ICU, a 3-Bedded Day Care Ward, 15-Bedded Hemodialysis Unit and Comprehensive diagnostics support facilities
Contact:
Phone: +91 9167 313131
Email: [email protected]
Address: Behind MORE Megastore,     Erram Manzil Colony, Somajiguda,
     Hyderabad, India- 500082.
Website: https://ainuindia.org/about-us/
7. Dr.P. Vamsi Krishna
Dr. P. Vamsi Krishna is Currently working as a consultant Urologist at CARE Hospitals, Banjara Hills, Hyderabad. He received his M.S(Surgery) degree from PGIMER Chandigarh, a primer teaching institute of National Repute. He then Pursued his M.Ch Course in Urology from BYL, Nair Hospital, Mumbai, a premium high volume centre for Urological surgeries especially Endo-urology. He received special training(Certification Course) in Robotic Surgery provided by Intutive Surgicals (USA). Till date, he got the opportunity to perform around 500 Thulium Laser Prostactomy surgeries and 1500 RIRS(Flexible Ureteroscopic retrieval of Renal Calculi using Holmium laser) procedure apart from some complex Laproscopic & Robotic Surgeries.
He has been an Operative Faculty for various workshops Including Thulium Laser and RIRS workshops at Guntur(Sep 2015), Ahmedabad-Advanced Endourology Conference(Feb-2016), Bangalore(Jul-2016), Ranchi(Jan-2017), Guwahati (Feb-2017) & Hyderabad(July-2017). He attended National Robotic Urology Forum Conference(RUFCON 2018) held at PGIMER, Chandigarh in Feb-2018 as faculty.
Contact:
Phone: +91 6281 185 789
Email: [email protected]
Address: 5-9-30-15A, 1st Floor, Mor Chambers, Landmark: Above MOR Medical Shop, Basheerbagh, Hyderabad.
Website: http://www.drvamsikrishna.com/
8. Dr. A. V. Ravi Kumar
Dr. A.V. Ravi Kumar passion for urology is apparent in his work as the joint secretary of Hyderabad Urology society, during which his efforts are put into establishing endourology centres in more remote areas. He has 25 years of experience, apart from the years he has spent studying urology specializing in children. A published urologist, Dr Kumar now serves as the treasurer for Hyderabad urology society. The doctor is also a member of the world endourological society.
Contact:
Phone: +91 99088 84433
Email: [email protected]
Address: 105, Moghal Marc Building, Opposite Deepak Theater, Lingampally Street Number 8, Chitrapuri Colony, Bagh Lingampalli, Narayanguda, Hyderabad, Telangana 500029
Website: http://www.drraviuro.com/
9. Dr.M.GOPICHAND
Dr.M.Gopichand is an experienced urologist based in hyderabad who believes in professional, advanced, evidence based medical and operative management of all adult and pediatric urologic conditions in a compassionate and patient centered approach. He has experience in the latest minimally invasive robotic ,laser stone & prostate and laparoscopic surgical procedures. Our goal is to provide care and education for our patients illnesses including stone disease, prostate diseases, urological cancers, paediatric urology diseases,impotence, & infertility, and female urology.
Contact:
Phone: 8985325177
Email: urologyhyd@gmail.com
Address: Road No. 4, West Marredpally, Opposite SBI, Secunderabad, Telangana 500026.
Website: http://urologydoctor.in/
10. Dr. Y Rama Sanjai
Dr. Rama is the best urologist in Hyderabad and at Aster Prime hospital. He completed his MBBS in 1991 and MS in General Surgery from Kurnool Medical College, Kurnool in 1995. In 1998,
Dr. Rama Sanjai completed MCh in Urology from Gandhi Medical College, Hyderabad in 1998. Dr. Rama Sanjai is a member of the Urological Society of India (USI), Andhra State Society of Genito Urinary Surgery, and Indian Association for Sexology.
Dr. Rama Sanjai areas of expertise includes vascular surgery, urinary incontinence (UI) treatment, laser prostatectomy, urology consultation, urostomy, blood in urine (Hematuria) treatment, andrology, direct visual internal urethrotomy (DVIU), genitourinary surgery, paediatric urology, cystoscopy, ureteroscopy (URS), laparoscopy, reconstructive urology, and urinary tract infection (UTI).
Contact:
Phone: 040 44569999
Email: [email protected]
Address: Plot No 2 & 4, Satyam Theatre Road Beside, Blue Fox Hotel, Mythrivanam, Ameerpet
Hyderabad, Telangana, 500038
Website: https://www.asterhospitals.in/