Homeopathy is an advanced, effective, and gentle system of holistic medicine that has been successfully used for over two hundred years and on every continent. Homeopathy is not to be confused with herbal medicine or nutritional therapy. The set of principles that guide the selection of medicine make homeopathy a distinct and integral system unto itself. Many doctors are practicing Homeopathy in India for many years.
Homeopathic medicines, called remedies, may be safely and effectively applied in chronic (long-term) conditions, as well as acute (short-term and self-limiting) illnesses and injuries of adults, children, and animals. Homeopathy stands out distinct as compared to other modes of treatment by its fundamental principles directed towards treating diseases at the root level, by addressing the multiple causative factors such as genetic, immunological, metabolic, hormonal, emotional and the like.
As a result, the diseases are treated in totality rather than in parts or as entities separate from the 'whole' of the individual patient. In that sense, homeopathic science believes in the 'holistic' approach.
Every life is precious. Everyone wants to consult the best doctor for their health. Here we bought you the 20 Best Homeopathy Doctors In India for your next doctor visit.
List Of Content:
Dr. Nitish Chandra Dubey
Dr. A.U. Ramakrishnan
Dr. Ajit Kulkarni
Dr. Manoj Homeopathy
Star Homeopathy
Ask Dr. Shah
Dr. Mayuresh Mahajan
Dr. Pooja Bhalke
Dr. Jyotshna Nayak
Dr.Parth Mankad
Dr. Ashwini
Dr. B.T. Rudresh
Dr. Parimal Banerji
Dr Anubha's Homeopathy
Dr Anila Sathish
Dr Meeta
Dr. Sameer Kumar Singh
Dr. Kamlesh Kohli
Dr. Ravi Kiran
Dr. Rakesh Patel
1. Dr. Nitish Chandra Dubey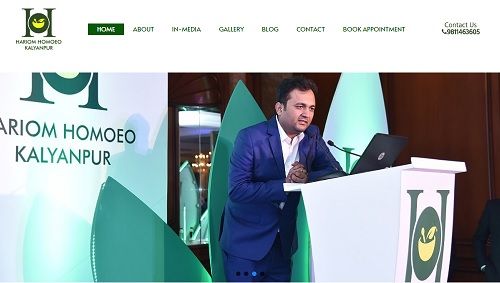 Dr. Nitish Chandra Dubey is Known as one of the best homeopathic doctors in India. Dr. Nitish Dubey runs HariOm Homeopathy clinic with branches throughout the country. His 20 years of experience is respected by both fellow homeopaths and patients who seek to cure their illness through homeopathic treatment.
He has completed his homeopathic education with a BHMS degree from Bhopal. BHMS (Bachelor of Homeopathic Medicine and Surgery) is a compulsory undergrad course in homeopathy. His clients are happy with his treatment because he explains the disease very well and gives extraordinary results, especially in chronic diseases.

His achievements include:
· Honoured by University of West London
· Awarded The Skilled India Award
· Awarded Membership of the governing body of " The temple of Hahnemann Homeopathic Medical College"
· Dr. Nitish Chandra Dubey had been Invited to participate in the 71st world health assembly conducted by the WHO from 21st may to 26th may in GENEVA.
He has authored more than 100 blogs and papers on homeopathic topics. These papers are well-received by the homeopathy fraternity. Due to his extensive coverage in homeopathy, he has treated individuals with different ailments. Below we have mentioned some of the areas where individuals have received transformative treatment from him:
·  Female-specific, male-specific ailments
· Vitiligo or Leucoderma, itchy skin, psoriasis, and other skin issues
· Partial or complete paralysis
· Sexual Disorders
· ADHD, and other Mental health issues
· Child-care issues
· Arthritis and other bone-related problems
Contact Details:
Phone : +91-9811463605
Address: Hariom Homoeo Kalyanpur, B-1, 2nd-floor HO CHI MINH Marg.Opposite of Savetri Cinema&Greater Kailash,Metro Gate-3 Greater Kailash Enclave -2 ,New Delhi 110048.
Email: [email protected]
Website: https://www.hariomhomeo.com/
Timings: Mon-Sat, 9 AM to 6 PM
2. Dr. A.U. Ramakrishnan
Dr. A. U. Ramakrishnan has worked diligently to extend the benefits of homeopathy. He has medically treated or offered educational consultation to thousands of people in India, Europe, Hong Kong, Singapore, Canada and the United States.
Dr. Ramakrishnan M.B.B.S MF Hom (lond) PhD., is an internationally known medical doctor from India. He travels the world lecturing on homeopathy and treating difficult cases. Some areas of his expertise are Cardiac Disease, Cancer, Multiple Sclerosis, Epilepsy, Arthritis and Diabetes. This web page is a work in progress. Check here often for more information on our work. In time we will reference specific syndromes that respond well to his treatment with descriptions of successes, other treatments that complement or contradict homeopathy, calendar of appearances and more. All treatments referred to on the following pages are homeopathic & prescribed classically. It is best to familiarize yourself with this particular field of medicine before you contact us. Many books and websites offer information on this important topic. Unfortunately time and space do not permit us to be an educational resource.
Contact Details:
Address : Dr. A. U. Ramakrishnan M.B.B.S., MF Hom., (Lond)., PhD.,
22, Rajaratnam Street, Kilpauk, Chennai, Tamil Nadu 600010
Phone : +91 95000 39030
Email Id : [email protected]
Website : https://drramakrishnan.com/
3. Dr. Ajit Kulkarni
INTRODUCTION
For finding out a correct Homoeopathic Remedy, lot of information with regard to the (i) Complaints – (a) Main as well as (b) Subsidiary – and (ii) the Person of the patient is required.
Incomplete information will make correct choice difficult. You are, therefore requested to supply all information without keeping back anything as irrelevant or of little importance. The information you supply in the Note forms the basis of further enquiry designed to assist you in the further delineation of the problem. Full co-operation, therefore, is requested. All information supplied is, of course, strictly confidential.
Since the enquiry can be a time consuming process and a lot of information is being collected, we require recording it systematically and, at times, we may find it necessary to administer to you further tests in which you are called upon to write out further. To facilitate this, we have evolved a special procedure in which the preliminary study is carried out by a physician specially assigned to this job and when your Case Record is ready, we examine it to find out if it is sufficient for instituting treatment or it requires further detailed processing of information and study of your case. If so, we give you a further suitable appointment for finalizing the line of treatment.
We are sure you shall be fully co-operating with us in rendering you the best possible service.
Contact Details:
Address : Flat no.4, 2nd Floor, Kachare Classic, Opp. R. P. Vaidya, above Bank of Baroda, near New Karnataka Highschool,  Erandwane Pune – 411004, Maharashtra, India
Phone : +91 9923153007
Email Id : [email protected]
Website : http://ajitkulkarni.com/
4. Dr. Manoj Homeopathy
Dr.Manoj Kuriakose completed his B.H.M.S (Bachelor in Homeopathic Medicine and Surgery) in the year 1990 (Reg No: 321) and has been practicing successfully since then. His father, late Dr.T.M.Kuriakose was a renowned homeopathic physician working for the Central Government Health Scheme. Dr.Manoj started his practice along with his father and has been running Dr.Manojs Homeopathy for the last 25 years.
Dr Manoj has done away with the age-old practice of taking the details of the case of the patient for hours and asking a lot of unnecessary and irrelevant questions. He has developed what could be termed as 'pathological prescription' which means that a medical diagnosis of the case is made supported by the required investigations and then treated according to the diagnosis.This kind of approach has saved a lot of time for the patient and the doctor.
Homeopathy is known to heal the disease from its root which could take a long time.Dr Manoj's aim is to heal his patients in the shortest possible time as he understands that in this modern age with the ever changing trends in lifestyles,time,is the only absolute and most precious commodity.Hence he has developed his unique way of relieving patients of their suffering from the core while maintaining the good old efficacy of homeopathy.
Contact Details:
Address : Dr. ManoHomeopathy Pvt Ltd. 8-2-248/5/A/22/23, #728 'Mandara V Hills, Banjara Hills Rd Number 3, Hyderabad, Telangana, India - 500034
Phone : 09701101010
Email Id : [email protected]
Website : www.drmanoj.com
5. Star Homeopathy
The doctors at our clinic are thttps://youtube.com/rained at prescribing medicines based on classical Homeopathy. The medicines prescribed by our Homeopaths is so efficacious that it retards the recurrence of the diseases, reaches the root cause of the disease and brings back the body to harmony. Star Homeopathy is a team of highly qualified, exclusively trained, and empathetic Homeopaths treating various disorders with high success rate.
Star Homeopathy is a super specialty homeopathic chain founded by a group of highly qualified doctors with a vision to provide the best medical treatment in a scientific and modern way.
Star Homeopathy a multispeciality Homeopathic clinic aims at providing its benefits to the people at an affordable cost.
Contact Details:
Address : Beside Manju Theater, Near CMR Shopping Mall, Patny Center, Secunderabad, Telanagana, India
Phone : +91 8977336688
Email Id : [email protected]
Website : www.starhomeo.com
6. Ask Dr. Shah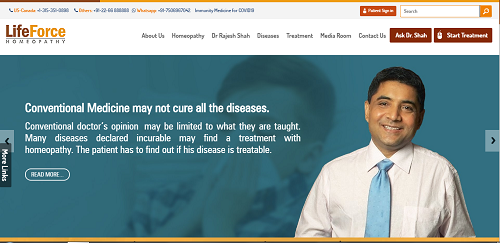 Ask Dr. Shah is one of the Best Homeopathy Doctors in Navi Mumbai. Their mission at there clinic is to develop the best world standards in homeopathic practice and make them available to their patients. Enhancing the potential of homeopathy by research, and bring its benefits to people across the globe. To practice the highest standards of ethics and conduct in medical practice. Everything they do reflects their mission and values. They value integrity, honesty, dedication, commitment, and accountability.
Contact Details:
Address : 42, Shanti Center, 4th Fl., Near Navaratna Restaurant,
Plot No. 70, Sec-17, Vashi, Navi Mumbai - 400703
Phone : +91-22-6688-8888, +91-7208001138
Email : [email protected]
Website : https://www.askdrshah.com
7. Dr. Mayuresh Mahajan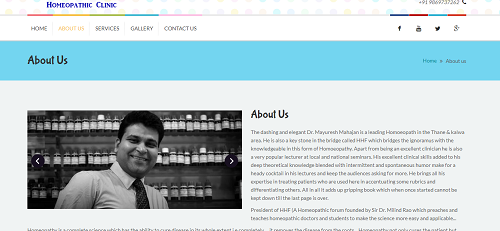 Dr. Mayuresh Mahajan is a leading Homoeopath in the Thane & kalwa area. He is also a key stone in the bridge called HHF which bridges the ignoramus with the knowledgeable in this form of Homoeopathy. Apart from being an excellent clinician he is also a very popular lecturer at local and national seminars. His excellent clinical skills added to his deep theoretical knowledge blended with intermittent and spontaneous humor make for a heady cocktail in his lectures and keep the audiences asking for more. He brings all his expertise in treating patients who are used here in accentuating some rubrics and differentiating others. All in all it adds up gripping book which when once started cannot be kept down till the last page is over.
Contact Details:
Address : 104, New Kailash Park Building, Near Rajmata Wada Pav, Ram Maruti Rd, next to Satyam Collection, Naupada, Thane West
Phone : 9869737262
Email Id : [email protected]
Website : http://www.alliswellhomeopathy.in/
8. Dr. Pooja Bhalke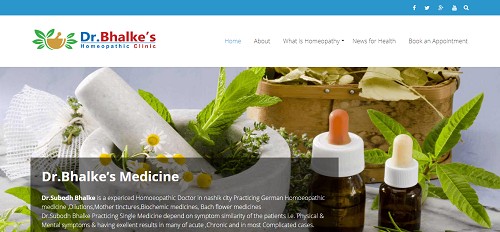 Dr. Pooja Bhalke is a Homoeopath in Rajiv Nagar, Nashik and has an experience of 3 years in this field. Dr. Pooja Bhalke practices at Dr. Bhalke's Homeopathic Clinic in Rajiv Nagar, Nashik. She completed BHMS from Maharashtra Universtity of Health Sciences, Nashik in 2017,MS - Psychology from Motiwala Homoeopathic Medical College in 2017 and MD - Alternate Medicine from Maharashtra Council of Homeopathy Mumbai in 2018.
Contact Details:
Address : Plot No: 73, Shop No. 1, Amit Apartment, Vaibhav Colony, Nr. Source Music Recording Studio, Behind Splendour Hall, Rajiv Nagar, Nashik
Phone : 7798703704
Website : http://drbhalkehomeopathic.com/
9. Dr. Jyotshna Nayak
Dr. Jyotshna Nayak has to her credit an extensive and roaring practice of 30 years. With her exceptional skills, intense research and clinical excellence, she has over 15000 successful cases and has restored health in patients even at terminal stages of their life. During the three decades of her endeavor, countless patients with a variety of ailments have walked out with remarkable relief results.
Dr. Jyotshna Nayak's Curentum Homeopathic Clinic has been endowing wellness since inception. It is a specialty Homeopathy clinic for hair fall, skin diseases, asthma, tuberculosis, pneumonia, diabetes, urine infections, kidney stones, arthritis, cancer, tumors of any kind and many more. We use the best quality of medicines, imported from Germany, that are maintained at the highest standards.
Contact Details:
Address : Zarina Towers, 1st Floor, Opp. Kamat Arcade,
St. Inez, Panjim - Goa
Phone : 8322428777
Email Id : [email protected]
Website : http://www.drjyotshnanayak.com/
10. Dr.Parth Mankad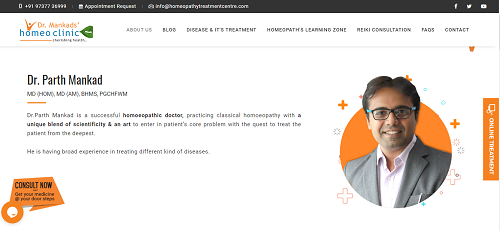 Dr.Parth Mankad is a successful homoeopathic doctor, practicing classical homoeopathy with a unique blend of scientificity & an art to enter in patient's core problem with the quest to treat the patient from the deepest.
He is having broad experience in treating different kind of diseases. He perceives case with gentle inquiry, patience, persistence and sharp observations. He is an M.D. in homoeopathy and M.D in alternative medicines. Dr.Parth Mankad with his experience & knowledge of Homeopathic medicines deals successfully in very critical illnesses like cancer, ITP, Rheumatoid arthritis, Myasthenia crisis, Myopathies, Liver Cirrhosis, Psychiatric emergencies and many more.
Contact Details:
Address : E 702, Titanium City Center, Near Sachin Tower, Beside IOC petrol pump, 100ft. Anandnagar Road, Prahladnagar, Satellite , Ahmadabad, Gujarat 380015.
Phone : 9737736999
Email Id : [email protected]
Website : http://www.homeopathytreatmentcentre.com/
11. Dr. Ashwini
Ashwini Homoeopathy is a leading homeopathic center in India, Specialising in the treatment of Advanced diseases as Cancer, is a premium medical center that specializes in innovative and effective forms of healing. Relentless efforts by Dr.Abhay Patil, who has pioneered homeopathy treatment with astrological insights, have given AHC phenomenal results in overcoming tough medical challenges like Cancer.
Contact Details:
Address: Shop no19,20 JK Chambers, Ground Floor, Next to Golden Punjab Hotel, Sector-17, Vashi, Navi-Mumbai:-400705.
Phone: +91-9820577533, +91-22-27651935
Website: https://ashwinihomoeopathy.com/
12. Dr. B.T. Rudresh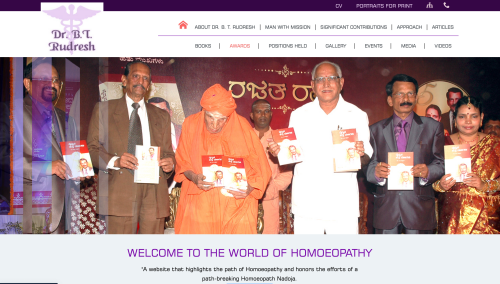 Dr. Belavady Thippeswamy Rudresh, a classical practitioner of Homoeopathy has completed 3 decades of committed service to the multitude who have thronged to him for an effective cure. His affinity for Homoeopathy was founded at a time when the world was yet to crown Homoeopathy with the glory that it holds today. It can be rightly said that his contribution to the system in Karnataka has catalyzed the metamorphosis of Homoeopathy towards acceptance as a scientific system of curing.
At a time when Homoeopathy was at its lowest ebb and was thirsting for worthy proponents to further its cause, Rudresh came as a saving grace. Today Dr. B. T. Rudresh's selfless service at Ashwini Homoeo Clinic, Gandhi Bazaar has benefited lakhs of patients enormously. Most of who take appointments two month in advance, 150 to 200 patient a day, waiting for hours, all this to ensure that they gain a sure cure from the healing touch of Dr. B. T. Rudresh.
Dr. Rudresh initiated his career as a serious student of Homoeopathy, which he continues to be even today. His hands on experience in a leading allopathic hospital, the clarity of knowledge gained while teaching Homoeopathy as a lecturer and his understanding of human nature added to the experience provided by the vast patient populace from all walks of life and chiseled an approach that is noticeably individualistic in him. This has endeared him to all his patients.
Contact Details:
Address : Ashwini Homeo Clinic Opp. Syndicate Bank, D V G Road, Basavanagudi, Bangalore - 560004
Phone : 080-2679-7575
Email Id : [email protected]
Website : http://www.drrudresh.com/
13. Dr. Parimal Banerji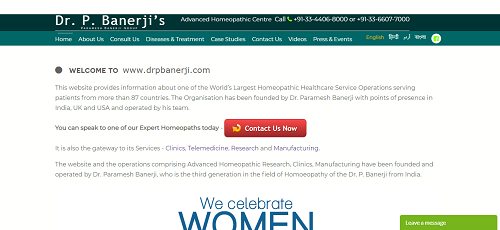 Dr. Parimal Banerji represent absolutely original, unbiased and independent work that has culminated in the creation of a completely new genre for Homoeopathic Science. His colleagues, well wishers and also myself in particular have embarked upon the task of disseminating the benefits of his untiring and so far mostly charitable work to the world at large.
The concept of the Human Constitution - Though proposed and proved by Dr.Banerji several decades ago - it is now supported by the accepted concepts of Human Genome Project. Advanced Homoeopathy has a very sophisticated perspective towards the Human constitution. It successfully addresses the issues of susceptibility to a particular type of disease influence and also the corresponding susceptibility of being relieved by the influence of a particular medicine. In order to make this practically relevant Advanced Homoeopathy has adopted the concept of Parimal Banerji Grouping (PBG) which is a technique of classifying groups of symptoms that have been found to be occurring together most of the time under each medicine.
Contact Details:
Address : 145 Rashbehari Avenue, 4th Floor Kolkata - 700029
Phone : +91-33-4406-8000
Email Id : [email protected]
Website : http://www.drpbanerji.com/
14. Dr Anubha's Homeopathy
Dr Anubha's Homeopathy clinic can be accessed from USA, UK, Canada, Australia, Germany, UAE, Pakistan, India and worldwide though it is based in Hyderabad. Using modern online technology, from the convenience of your home, you can visit Dr Anubha's Online Homeopathic Clinic. This Homeo Care Clinic is a solution for all your health issues under one roof. This is the best place if you are seeking treatment for any diseases. This Homeo Clinic provides a remedy for all ailment. Without exception, it emphasises on the well-being of the sick person and hence, it is undoubtedly one of the unrivalled Homeopathy Clinic in Hyderabad.
If you are in search of the finest Homeopathy Hospital in Hyderabad. Then Dr Anubha's Homeopathy Clinic is the answer. Dr Anubha comprehends and heals her patients in her exclusive manner. She has treated many people and has helped them to get rid of their diseases successfully at her Homeo Care Clinic. If it is not possible for you to visit this Homeo Clinic you can take the advantage of web-based technology and avail Dr Anubha's Online  Homeopathy Hospital, from USA, UK, Canada, Australia, Germany, UAE, Pakistan, India and Worldwide. This is a trustworthy platform where you can acquire the best homeopathy treatment by the best Homeopaths. Therefore, reap the benefit of homeopathy for relishing a sturdy life and end your hunt regarding the most beneficial Homeopathy Hospital when you have this unparalleled Homeopathy  Hospital in Hyderabad where the best treatment is provided.
Contact Details:
Address : Dr. Anubha's Homeopathy Clinic, H.No: 10-3-505, Vijayanagar Colony, Lane beside Andhra Bank, Masabtank, Hyderabad - 500057.
Phone : +91-88017 09712
Email Id : [email protected]
Website : https://www.dranubha.com/
15. Dr Anila Sathish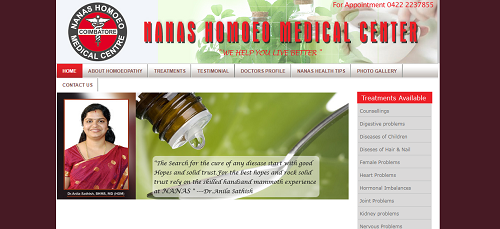 Dr Anila Sathish,the Co-Director of Nanas Medical Centre has done her Graduation from Fr. Mullers Homoeopathic Medical Collage,Mangalore under Rajiv Gandhi University of Health Sciences.She has done her Post Graduation in Homoeopathic Repertory MD.(HOM) from Maharashtra University.She is one of the most efficient of the few lady doctors available in the city. Dr Anila sathish has shown a new way of treatment and hope for numerous female and child complaints. Dr. Anila has her own innovative way of treatment for patients.Dr Anila is popular in the city for the personal care and extra ordinary success she has in treating ailments of children and females. Dr Anila Sathish is also an expert family counselor and has shown light to many of the fragile family problems.
Contact Details:
Address : Ration Shop, Shop No.29,30 Municipal Commercial Complex Near Ram Nagar, Patel Rd, Ramnagar, Ranganathapuram, Coimbatore
Phone : 04222237855
Email : [email protected]
Website : http://www.nanashomoeo.com/
16. Dr Meeta
Dr Meeta emphasises more on the individualistic treatment of the patient. Hence individual case record is maintained for every patient. In that case file all the detailed problems of patient along with the prescribed medicine is mentioned by the doctor. Times to time these records are studied by the doctor to assess prognosis.
Prescription of the given medicine is issued every time. No given medicine is hidden from the patient. All the prescribed medicines are written with their respective potency and doses. No lump sum amount is charged on patient. No exaggerate consultation charge is asked to the patient. Medicines are also given at a discounted price.
Contact Details:
Address : ground floor, New, No 17, Perumal Koil Street, behind Megamart show room, Arumbakkam, Chennai
Phone : 9840348971
Email Id : [email protected]
Website : https://www.drmeeta.com/
17. Dr. Sameer Kumar Singh
Dr. Sameer Kumar Singh has a very strong homeopathic background. He has been practicing homeopathy from past 20 years and got vast experience of treating diseases like: Liver and Gastrointestinal Diseases, Kidney Diseases, Arthritis, Skin Diseases and many more.
A Homeopathic Physician's high and Only Mission Is To Restore the Sick to Health. Now, you no longer need to run around to get an appointment for Online Homeopathic Treatment, no more waiting in long queues at your doctor's clinic for a CT Scan In Kandivali. The services of an expert Homeopath will now be available for you at any time and any place that you desire with NainaHomeo®. NainaHomeo® has an expert panel of doctors available for you to provide quality homeopathic cure and care as is the mission of the clinic. nainahomeo.com is an online portal for those who want to seek homeopathic treatment. This makes it easy for patients to seek homeopathic treatment for their long-standing disease, without the need to consult a doctor in person.
Contact Details:
Address : C-896, Opp. Bank of India, Rahim Nagar Chauraha, near old RTO office, Lucknow
Phone : 9839027820
Email Id : [email protected]
Website : https://nainahomeo.com/
18. Dr. Kamlesh Kohli
Dr. Kamlesh Kohli is a well renowned practitioner in The field of homoeopathy. Dr Kohli has an unrivalled experience of more than 30 years and has remarkably contributed in preserving health through homoeopathy.
She did her medical degree (BHMS) from Delhi University and MD from Bakson college of Homoeopathy. She has been practising homoeopathy since 1987 and has treated a large number of patients, those with both acute and chronic diseases, from various parts of India and abroad.
Being very polite and empathetic, she is very popular amongst her patients and has a good rapport with them.
She follows the classical homoeopathic approach by spending ample time with patients for a complete history, and provides personalized care to every patient.
She has been serving as a senior consultant with Germany-based Roshanlal Reckeweg Clinic for the last 15 years. She has an incredible success rate of treating patients and she has been on a mission to cure as much people as she can.
Contact Details:
Address : Roshanlal Reckeweg Clinic, 4/5, Netaji Subhash Marg, Opp. Moti Mahal, Daryaganj, Delhi-110002
Phone : +91 9818125227
Email Id : [email protected]
Website : https://drkamleshkohli.com/
19. Dr. Ravi Kiran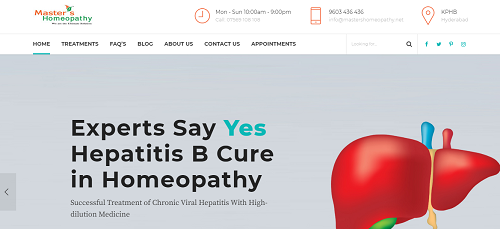 Dr. Ravi Kiran is one of the younger doctors who specialized in achieving success with their talents in the field of medicine. To achieve the goal of making every patient healthy, he contributes his entire time and also getting good satisfaction in medical service. Congratulations give new enthusiasm to all in any field of interest. It is inspired to work with more dedication.
Achievements received from the awards and appraisals or compliments given by patients will further encouraged him towards expansion of services. Recognized by state level, national and international organizations for his tremendous work in healthcare sector- making him role model for young and dynamic doctors today.
Contact Details:
Address : 1st Floor, PKR Complex, Near, Prime Hospital, Rd Number 1,
Kukatpally, Hyderabad
Phone : 7569108108
Email Id : [email protected]
Website : https://mastershomeopathy.net/
20. Dr. Rakesh Patel
Dr. Rakesh Patel has been defined by his creativity, his enthusiasm and practicality. He brings these very characteristics to the handling of all health problems and situations. A Medical Doctor of Homeopathy since 2004 he stays on top of research seminars and networking to provide more fundamental and ideal treatments for each disease. With a history of thousands of successfully treated chronic cases through the application of classical and clinical Homeopathy there is no doubt of his ability to treat any critical condition honestly and genuinely. Kind yet analytical,  He also treats Diabetes, Hypertension, Thyroid Dysfunction, Arthritis, Obesity, Chronic Pain, Renal Calculi, Kidney Failure, Male and Female Infertility and all major life challenging illnesses.
Dr. Patel has a strong conviction of the efficacy of the Homeopathic approach and always explains to his Patients that it is the failure of the Homeopath not Homeopathy if there is no progress in the case. He is a truly dedicated healer and is always ready to do his best as a Homeopathic Doctor to help mankind. His slogan and personal belief is , "I treat. He cures!"
Contact Details:
Address : U1/B, Shakuntal Complex, Near by Sardar Complex, Gujarat Gas Circle, Surat
Phone : 9979915300
Email: [email protected]
Website : http://www.asthahomeopathy.com