A urologist, or urologic surgeon, is a specially trained physician who provides care for the organs and issues of the urinary tract in women, men and children, all of whom can have different urological issues. Urologists also treat problems in the male reproductive system and organs, some issues with female reproductive organs, and disorders of the adrenal glands, which are on top of the kidneys and control the production of hormones in the body.
Urologist Doctors in Nagpur address what are known as genitourinary issues, meaning related to the genital and urinary organs in men and women of all ages. Because these systems involve different aspects of a person's health, urologists have extensive knowledge in other fields of medicine, such as gynecology, endocrinology, pediatrics and internal medicine.
List of Content
DR. CHAITANYA DESHMUKH
Dr. Aditya Kumar Singh
Dr. Swanand Chaudhary
DR. SADASHIV BHOLE
DR SARDA CHILD
Dr. Ved Mahajan
GETWELL
DR JUNED AHMED SHAIKH
ICON HOSPITAL
Dr. Shrikant Mukewar
1. DR. CHAITANYA DESHMUKH
Dr. Chaitanya S Deshmukh in Ramdas Peth is one of the well-known and most preferred urologists in Nagpur. The doctor is known to be highly qualified and gained degree from a reputed educational institute. The medical professional has been flourishing ever since the inception and has plans on expanding the business further, in the years to come. The doctor carries out the treatments with utmost precision and efficiency, ensuring that the patients' health is in safe hands. The urologist has earned a loyal clientele and also has patients residing in India as well as patients from across the globe frequently visiting the clinic. The practices used by the doctor are a one hundred percent ethical, that in no way challenges or defies the medical code of ethics. This place can be easily found as it is in close proximity of Opposite Somalwar High School.Dr. Chaitanya S Deshmukh in Nagpur offers a host of treatments that cater to the various ailments faced by their male and female patients.
Contact US:
Address: 1st Floor, Yugdharma Complex, Cantral Bazaar Road, Ramdas Peth, Nagpur – 440010
Mobile: 97148 85968
Email ID: [email protected]
Website: https://drchaitanyadeshmukh.com/
2. Dr. Aditya Kumar Singh
Awarded the National Merit Scholarship in All India Secondary School Examinations 1999 for outstanding academic performance.
Awarded the Late Smt. Shakuntala Suryawanshi Award for securing the highest marks in medicine in examinations conducted by MUHS, Nashik in 2006-07.
Recepient of Devi Ahilya Vishwavidyalaya University Gold Medal for the MS General Surgery.
"To study the effect of pelvic floor muscle training with biofeedback and electrical stimulation in females with stress urinary incontinence" under the guidance of Dr. Sameer Trivedi, Head, Department of Urology, IMS, BHU, Varanasi
"A Prospective And Retrospective Study of stricture membranous urethra in patients with pelvic fractures with special reference to the type of injury and prognosis" under the guidance of Prof. Dr. R. K. Mathur, Professor and Head, Department of General Surgery, M.G.M. Medical College, Indore
Contact US:
Address: Nikalas Tower, 2nd Floor, Adjacent to Tarun Bharat Press, Central Bazar Road, Ramdaspeth, Nagpur, Maharashtra 440010
Mobile: 7720027788
Website: https://dradityakumarsingh.com/
3. Dr. Swanand Chaudhary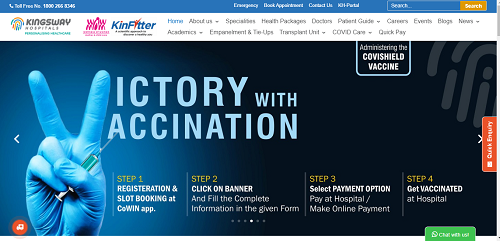 Kingsway hospitals, A unit of SPANV Medisearch Life sciences Pvt. Ltd promoted by SMS group and the eminent doctors of Nagpur, to create a world class speciality health care facility under one roof in central India. This is a seamless initiative taken with an innovative thinking to match the world class Health Care parameters in terms of Infrastructure, Evidence based Clinical practice, all this combined with Quality and compassionate care. Our vision is "To be globally acclaimed for exquisite care with personalised approach and be the most trusted partner of your health & wellness." Our mission is "To honour and empower every life into a healthier one".
We are delighted to share with you that Kingsway Hospitals- a 300+ bedded Multi speciality hospital is going to create the milestone for the tertiary care Health Care services at Nagpur.  The hospital provides facility of  80+ bedded Advance critical care, 9 High end modular OT, equipped for all type of transplant surgery, high end Cath lab, state of the art diagnostic services and all other services which are required to cater the tertiary care facility.
Our specialities encompass Cardiology, Cardiac Surgery, Neurology, Neurosurgery, Emergency and Critical Care Medicine, Endocrinology, Nephrology, Urology, Obstetrics and Gynaecology, Paediatrics and Paediatric Surgery, Orthopaedics, Internal Medicine, Pulmonology, Psychiatry, Surgery including Bariatric Surgery, Ophthalmology, ENT, Oncology and Oncosurgery, Reconstructive and Cosmetic Surgery, Dentistry, Physiotherapy and a comprehensive back up of imaging and diagnostic modalities. We also cater to Palliative and Home Based care which is the upcoming concept and the need of the hour. Our Preventive Health Check-Up Program is well designed and extremely well thought of keeping in mind all sections and strata of society. To top it all Kingsway Hospitals has the most renowned and experienced doctors of the city on its panel.
Located centrally with proximity to Zero Mile, it is just next to Nagpur Railway Station, so provides comfortable accessibility to all. Other ancillary facilities include 600+ seater auditorium, a Multipurpose Hall, spacious parking area and an unmatched ambience of its premises.
Contact US:
Address: SPANV Medisearch Lifesciences Pvt. Ltd., 44, Kingsway, Near Kasturchand Park, Nagpur, Maharashtra
India-440001
Mobile: +91-7126789100
Email ID: [email protected]
Website: https://kingswayhospitals.com/
4. DR. SADASHIV BHOLE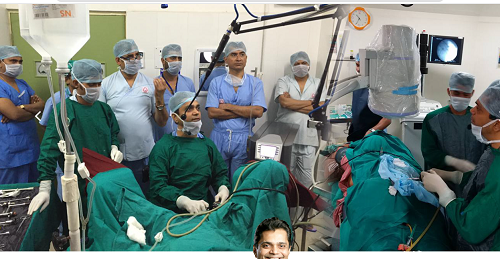 Dr. Sadashiv Bhole completed his M.B.B.S. and M.S. in General Surgery from the well known IGMC, Nagpur. He went on to pursue M. Ch from Grant Medical College Hospital, Mumbai followed by DNB in Genitourinary Surgery. He has also Fellowship in Minimal Access Surgery. With more than 2 decades spanning his starred career thus far and counting, this doyen of the medical field finds special recognition in Central India. His special interests include Laser prostate surgery, Lap & retroperitoneoscopic reconstructive urology.Mentor for Laser Enucleation techniquesInvited faculty at many centres in India and Abroad for training of laser prostate urology surgeries.Conducted various mentoring workshop for Auriga Working with laser for last 5 yrs.Trained Robotic Urology Surgeon & pioneer in establishing Robotic surgery in Nagpur.As a faculty to MEDICON CONFERENCE held at JOHANNESBURG, SOUTH AFRICA, February 2010 for a Lecture on advances in Urosurgery
Invited Faculty for talk on Urinary Tract Infection, Approach to management NIMACON, Nagpur. November 2013.Invited faculty to conduct Live Operative Workshop on Holmium Laser Enucleation of Prostate at Indore, Madhya Pradesh on July 2013.Attended live workshop on female urethroplasty at Norway for W-Z Urology.Invited faculty to AMASICON at Kochi for deliberations on lap. NephrectomyInvited faculty for international Live Operative Workshop on Benign Prostate Hyperplasia at Gujarat University Convention Exhibition Centre, Ahmedabad, Gujarat on
Contact US:
Address: 324/1, Jagnade Square, Great Nag Road, Nagpur-440009 (Maharashtra)
Mobile: 0712-6699899
Email ID: [email protected]
Website: http://www.sadashivbhole.com/
5. DR SARDA CHILD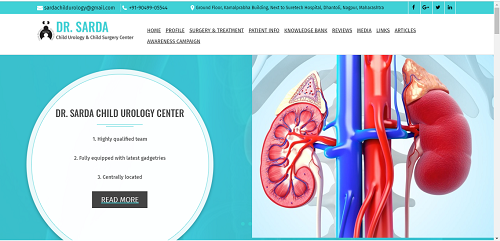 Welcome to the official website of Dr. Dinesh Sarda's Pediatric Urology and Pediatric Surgery Center. It is one of the leading center in Central India which is exclusively dedicated for the children having urology surgical problems. We treat all the congenital (by birth) and acquired urological disorders of newborns, infants, toddlers, children and adolescents (0-18 years of age) Our dedicated team compromising of Pediatric Surgeon (Urologist), Pediatric Nephrologist, Anaesthetist trained and experienced in Pediatric anaesthesia, radiologist, backed uyp by pediatric intensivist and caring paramedical staff trained in handling the kids work as a team and with philanthropic attitude. We all are committed to t
Every child has right to get treated by specialist trained in paediatric services. When your child needs medical treatment you want him or her to be seen by paediatrician and not general physician. Similarly, if your child is suffering from urological condition. You would prefer consulting Pediatric Surgeon (urologist) who is well qualified and well experienced in treating such condition. Pediatric Urology is a highly specialised branch of medicine which exclusively deals with care of
Contact US:
Address: Dr. Sarda Child Urology and Child Surgery Centre, Ground floor, Kamalprabha Building, Next to Suretech Hospital, Behind Sunny Internatiomnal, Dhantoli, Nagpur 440012., MS, INDIA
Mobile: 09049469431
Email ID: [email protected]
Website: http://childurologistnagpur.com/
6. Dr. Ved Mahajan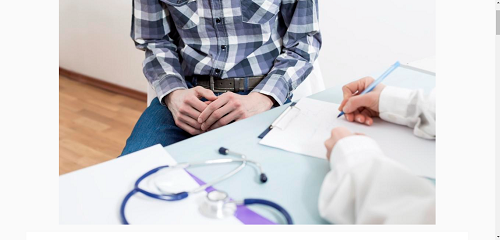 Are you a Doctor, Nutritionist, Pharmacists, Medical Scribe or Para-Medical Professional who is looking for an online platform to showcase their knowledge through content writing? We at doclist.in are offering an opportunity to join our medical board free of cost. This board will allow you to showcase what you know and build your professional profile; moreover, it's also easy to apply to this medical board.

We are very much interested in adding more and more physicians from all medical specialties to our community. We feel that Doclists is where medical professionals from all over the world will come together to stay updated with the latest medical updates and news.The content on doclists.in is not medical advice or a substitute for professional medical care, diagnosis or treatment. See A Medical Professional for Personalized Consultation.
Contact US:
Address: Apollo Clinic, 45b, Great Nag Rd Beside Hotel Orient Taibah, opp. Imambada Police Station, Ganeshpeth Colony, Nagpur, Maharashtra 440018
Mobile: +91-8669621919
Email ID: [email protected]
Website: https://doclists.in/
7. GETWELL

A hospital, which will make any corporate house proud, but without any corporate backing. A hospital created by a group of self made dedicated professionals, each of whom has established himself through sheer hardwork and sincerity. A Hospital which lacks in nothing, when it comes to giving the best healh care available in the country and a hospital which has the widest base of full time dedicated Super specialists who complement each other.A hospital which counts it's earnings, in smiles created rather than the profits earned.
SurgeryHistopathologyMicrobiologyNephrology & Renal TransplantNeuro Surgery & Brain SurgeryNeurologyObstetrician & Gynecology Infertility Specialist, Test Tube BabyOncologist & Cancer Surgery, Laproscopic SurgeryOphthalmologyOrthodonticsOrthopedic SurgeryPathologyPediatric & Neonatal SurgeryPediatrics Intensives & NeonatalPlastic SurgeryRespiratory, Critical Care & Sleep MedicineUrology & Andrology Laparoscopic Urosurgeon
The hospital would not have been a reality without the generous help received from them. The board of directors is deeply indebted to our promoters.
Contact US:
Address: 20/1, Dr. Khare Marg, Dhantoli, Nagpur-440012
Mobile: 0712-6632200
Email ID: [email protected]
Website: http://www.getwellhospitals.com/
8. DR JUNED AHMED SHAIKH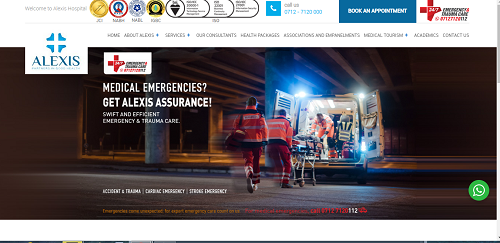 The healthcare landscape across the world is ever changing. Clinicians and researchers strive hard to develop the best care for patients. At Alexis Multispeciality Hospital we believe it is our primary responsibility to keep up with these changes and make the benefits of healthcare evolution accessible to every single healthcare seeker, without any delay. With the same intentions, we have commissioned a signature model multidisciplinary 200 bedded tertiary care hospital at the heartland of India, Nagpur to provide end-to-end comprehensive medical care across various medical facilties.
Alexis Multispeciality Hospital is an offering and initiative of Zulekha Healthcare Group, UAE to help serve the entire central India community by providing the highest quality of medical care across various disciplines.
The Group has contributed richly in recent years to set benchmarks in continuing medical education programmes for the entire Gulf region with its consistent interactive workshops and seminars on various medical and surgical topics.
Contact US:
Address: Survey No. 232, Mankapur , Koradi Road, Nagpur - 440030, Maharashtra, India.
Mobile: 0712 - 7120 000
Email ID: [email protected]
Website: https://www.alexishospital.com/
9. ICON HOSPITAL
The vision to serve all sectors of community, with commitment to deliver the best, through exemplary action and behavior, laid the foundation stones of ICON HOSPITAL 15 years back.Today, ICON HOSPITAL – A Destination for Advanced Health Care – is a 60 beds broad array of superspeciality tertiary healthcare centre providing world class, holistic and affordable services to all sectors of community.We constantly endeavor to provide patients with the latest and most advanced technology for greater accuracy and reduced recovery time.Apart from our financial aid and insurance tie ups, we are empanelled under various government schemes providing beneficiaries with the same quality of care,
irrespective of their social status.Today, true to our mission, we welcome change and creativity, promote teamwork and collaboration to encourage innovation and see better way to achieve our goals.A cherished ambition of my compassionate healthcare organization would have not become a reality through magic, but it took sweat, determination, positive attitude and perfectly synchronised team work.
To change this passion into reality, I stepped outside my comfort zone at the beginning of 21st century. Since then hitherto, the journey has been challenging and filled with exhilaration of victory. With every challenge we faced, ICON as a team always dug in its heels and has overcome the obstacles with enthusiasm to make ICON a compassionate healthcare organization. Building a bond of trust with patients, community, friends, employees and colleagues was as adventurous as launching a space vehicle. Today we are in an ornate, opulent locality with 60 beds futuristic, avant-garde tertiary healthcare organization with the brand "ICON".
Contact US:
Address: K-12 Bharat Nagar Amravati Road,
 Nagpur - 440033, Maharashtra
Mobile: + (91) - 7387421308
Email ID: [email protected]
Website: http://iconhospitalnagpur.com/
10. Dr. Shrikant Mukewar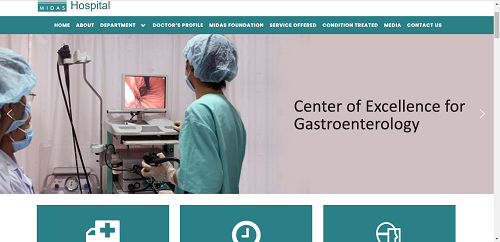 It gives me great pleasure to be completing twelve years at MIDAS. This was possible only due to the whole hearted support which we received from you all.
The Midas Multispeciality Hospital is a venture for comprehensive health care with the philosophy of "complete gastrointestinal care under one roof" at an affordable cost. We have made every effort to develop it into a complete gastroenterology unit.
At Midas, it has constantly been our endeavor to provide best facilities to patients of Central India. It is with this objective that we have carried out certain improvements in our facilities and infrastructure. A host of experts, who have a great desire and potential to excel in their respective field of specialization have joined our family of committed health care professionals. Added to this are, the trained residents and nursing staff who are known for their devotion to services.
Contact US:
Address: MIDAS HEIGHTS, 07, Central Bazar Road, Ramdaspeth, Nagpur – 440010.
Mobile: +91-(0712) 2434242
Email ID: [email protected]
Website: https://midashospital.com/