A urologist, or urologic surgeon, is a specially trained physician who provides care for the organs and issues of the urinary tract in women, men and children, all of whom can have different urological issues. Urologists also treat problems in the male reproductive system and organs, some issues with female reproductive organs, and disorders of the adrenal glands, which are on top of the kidneys and control the production of hormones in the body.
Urologist Doctors in Patna address what are known as genitourinary issues, meaning related to the genital and urinary organs in men and women of all ages. Because these systems involve different aspects of a person's health, urologists have extensive knowledge in other fields of medicine, such as gynecology, endocrinology, pediatrics and internal medicine.
List Of Content
Dr. Santosh Kumar
Dr. Kumar Rajesh
Dr. Apurva Agarwal
DR Shashank
Dr. Sudish Kumar
Dr. Anil Kumar Jha
PARAS
Dr. Bikas Saurabh ,
ASAIAN
Dr. Prashant K. Pattnaik
1. Dr. Santosh Kumar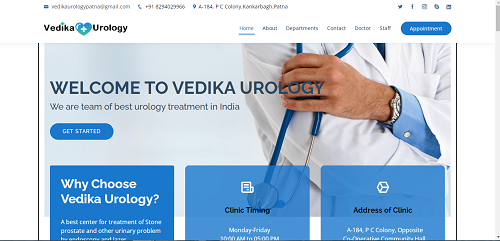 Dr. Santosh Kumar Expert in all of machnism in urology department.Dr. santsoh kumar has done many of surgery by using manual ,lazer,endoscopy very successfully
Cystoscopy is a procedure that allows your doctor to examine the lining of your bladder and the tube that carries urine out of your body (urethra). A hollow tube (cystoscope) equipped with a lens is inserted into your urethra and slowly advanced into your bladder.
The cystoscope has lenses like a telescope or microscope. These lenses let the physician focus on the inner surfaces of the urinary tract. Some cystoscopes use optical fibres (flexible glass fibres) that carry an image from the tip of the instrument to a viewing piece at the other end.Vedika Urology & Stone Clinic have a team of best urologist in Patna having years of experience in Kidney and Gall Bladder Stone Treatment.
Contact US:
Address: A-184, P C Colony, Opposite Co-Operative Community Hall
Kankarbagh,Patna
Mobile : +91 8294029966
Email ID: [email protected]
Website: http://vedikaurology.com/
2. Dr. Kumar Rajesh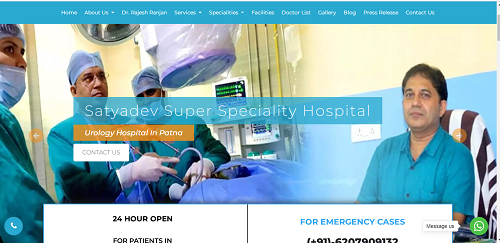 Satyadev Urology is a Kidney Stone & Laparoscopy Hospital established in 2017 by Dr. Kumar Rajesh Ranjan (General Surgeon and urologist) who is also awarded as Icon of Health and pride of Bihar. He is senior urologist, Kidney and Stone Surgeon in Patna. The hospital is an internationally famed and reputed Kidney and stone clinic in Patna. It is famous for Laparoscopic Surgical Process, Endoscopic Urology, Uroflowmetry, Urologic Surgery, Endoscopic, Urology, Endoscopic Surgery, Nephrolithiasis, Post-Operative Nephrology, Urology and lot more.
Being one of the experienced and best urologist in Patna, Bihar, Dr. Kumar Rajesh Ranjan has treated many chronic urology and kidney related diseases. He has a team of expert urologist who take care of patients like their family because their main motive is to cure the disease and help people live a healthy life. They also take care of treatment for Kidney Transplant, Kidney Cancer, Kidney stone, etc., as it is a Dialysis Centre and Kidney Hospital led by one of the reputed  Kidney Stone Specialist and Urologist in Patna.
Dr. Kumar Rajesh Ranjan, a renowned urologist in Patna with the experience of treating critical kidney patients. He has been working relentlessly towards improving the kidney health of the patients and equipping the hospital to provide the same.
Satyadev superspeciality hospital has a team of experienced urologist and diagnosticians team. Under the guidance of Dr. Kumar Rajesh Ranjan they provide quality treatment with utmost care. Reconstructive urology surgery is his speciality performed incorporation with safety, privacy and comfort of his patient. Having more than 15 years of experience, Dr. Kumar Rajesh Ranjan is specialized in providing comprehensive care to diagnose and treat various urological problems in adults as well as children.
Contact US:
Address: Magistrate Colony Main Rd, Magistrate Colony, Khajpura, Patna, Bihar 800025
Mobile : +91 8235152796
Email ID: [email protected]
Website: https://www.satyadevurology.com/
3. Dr. Apurva Agarwal
The Centre is committed to providing affordable, quality health care to patients by incorporating improvement in its day-to-day schedule. Our mission is to decentralize super specialty health care, and deliver it to every doorstep in Bihar, beyond the metropolis and heal patients with dedication, honesty, tender loving care.
Patient care remains our first priority. Each patient will be treated with respect, dignity and treated in a timely and appropriate manner. We deliver patient care of the highest order at the most affordable rates without compromising on quality. Our Focus is always on ethical and service-oriented growth. This Inpatient Guide is a part of our initiative to be more orderly and transparent in rendering our services.With its highly dedicated surgical staff combined with a clean, comfortable environment and outstanding nursing care, the Department Of General Surgery is a top choice for surgical procedures. General Surgeons have specialized skills and training in the diagnosis and management of many diseases and disorders. Because of this broad knowledge, general surgeons are often called upon by subspecialists to assist in the comprehensive care of an injured patient or for the complete care of critically ill patients in the emergency room and intensive care units. Expert treatment from general surgeons is available to treat a wide range of diseases and medical problems. Our surgeons specialize in laparoscopic techniques - minimally invasive approaches that use smaller incisions than traditional surgery and are associated with shorter hospital stays, less pain, and quicker recovery. Department also has modern equipment including harmonic scalpel, enceal for effective easy and fast surgery.The centre is highly experienced in stone surgery.
Contact US:
Address: Metroz Gastro & Laparoscopic Centre
D/153, P.C. Colony, Kankarbagh, Patna - 20
Mobile : 9955815579,
Email ID: [email protected]
Website: https://drapurvaagarwal.co.in/
4. DR Shashank
DR Shashank Abhishek has done his postgraduation (MS) from SCB Medical college Cuttack. He further refined his surgical skills in G B Pant hospital, New Delhi. HE has done his senior residency from AIIMS, New Delhi. He has done his superspeciality DNB Urology training from one of the best institute in world , MuljiBhai Patel Urological Hospital, Nadiad.

He is well versed in Endourology, Laparoscopy and transplant surgery. He has done more than 1000 PCNL in last 2 years. He is routinely doing advanced urological laparaoscopic surgeries like laparaoscopicl nephrectomy, laparaoscopic Pyeloplasty and laparaoscopic VVF (vesicovaginal fistula) repair. He has also done more than 200 arteriovenous fistula (AVF) surgery for dialysis. He is regularly creating radiocephalic (RC), Brachiocephalic (BC) and brachiobasalic (BB) transposition surgeries.

DR Madhu had an extensive experience in the field of ophthalmogy. She has performed thousands of cataract surgeries including Phacoemulsification and childhood and traumatic cataract surgeries. She has operated hundreds of Squint and lid surgeries.
She has a keen interest in dry eye and chemical injury.
Contact US:
Address: Gola Rd, S. K. Puram, Danapur Nizamat, Danapur, Bihar 801503
Mobile : +91-870 967 3776
Email ID: [email protected]
Website: http://www.nuec.in/
5. Dr. Sudish Kumar
Among the finest Urology and Andrology in the city, Dr. Sudish Kumar (sanjeevani Lifecare) in Sheikhpura, Patna is known for offering excellent patient care. The clinic is located centrally in Sheikhpura, a prominent locality in the city. It stands close to Near Kendriya Vidyalaya which not only makes it convenient for people from the vicinity to consult the doctor but also for those from other neighbourhoods to seek medical guidance. There is no dearth of public modes of transport to reach the clinic from all major areas of the city. The doctor is an esteemed member of Permanent member, Urological Society of India, Member, Urological Society of India East Zone, Full member and Hon Treasure, Bihar Urological Society and this only adds to the credibility of the doctor.
The clinic is located near Patna Airport, a prominent locality in the city. It stands close to Kendriya Vidyalaya which not only makes it convenient for people from the vicinity to consult the doctor but also for those from other neighbourhoods to seek medical guidance. There is no dearth of public modes of transport to reach the clinic from all major areas of the city.
Contact US:
Address: Sanjeevani Life care, Riding Road, Sheikhpura, Patna
Mobile : 9304809630
Email ID: [email protected]
Website: https://www.sanjeevanilifecare.com/
6. Dr. Anil Kumar Jha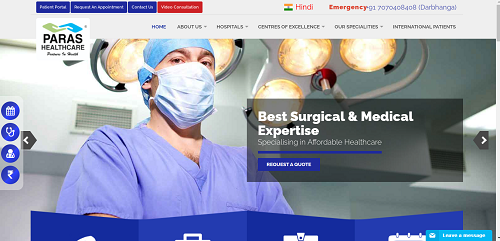 Dr Anil Kumar is a reputed neurologist in Patna with over 16 years of specialization in Epilepsy, Migraines and Headaches. He also specializes in managing patients with neuro degenerative disorders such as Autism, Parkinson's Disease and Alzheimer's. Over the years he has treated numerous patients for memory loss and paralysis successfully. He is also a part of the emergency stroke response team and is also a part of the clinical team that provides stroke rehabilitation. His areas of expertise also include movement disorders, neuro-endocrine tumors and brain tumor detection & management through medical therapy.Paras HMRI Hospital is an initiative of the Paras Healthcare. It is the first corporate hospital of Bihar & Jharkhand. The 350 bedded multi-specialty tertiary care institute with over 25 medical and surgical disciplines has been commissioned in accordance to the vision of Paras Healthcare- providing affordable healthcare facilities and expertise where the same is inaccessible or scarce. The hospital is the state of the art facility with hi-tech latest infrastructure and equipments, offering clinical services in the fields of Oncology, Cardiac Sciences, Neurosciences, Orthopedics & Joint Replacement, Nephrology, Emergency Care to name a few.
Spread across an area of 3,25,000 sq ft, the hospital is the first in the region to provide a third generation comprehensive oncology treatment centre to the community. Paras HMRI is the first hospital of the region (Bihar & Jharkhand) to have a LINAC (Linear Accelerator) and PET CT. The hospital has a full-fledged cancer treatment facility that provides all treatment modalities- surgical, medical & radiationtherapy.
Contact US:
Address: NH 30, Bailey Road, Raja Bazar, Patna, Bihar 800014 (INDIA)
Mobile : +91 612 710 7788
Email ID: [email protected]
Website: https://www.parashospitals.com/
7. PARAS
Paras Institute of Urology at Paras HMRI Hospital Patna is a specialized unit with comprehensive care facilities to diagnose and treat urological ailments in both adults and children (pediatrics). The team of urologists of national and international repute are supported with state of the art technology and medical infrastructure to provide treatment and management for Urologic Oncology – kidney cancer, bladder cancer, prostate cancer, testicular cancer, penile cancer, ureteral and renal pelvic cancers, retroperitoneal and pelvic sarcomas, Wilms' tumors, pediatric sarcomas, and other cancers.
Paras Institute of Urology at Paras HMRI Hospital Patna also specializes in Pediatric Urology and has treated numerous children in urological ailments including voiding dysfunction, reconstruction of the urinary tracts and corrective surgeries for the urinary tract along with urologic cancers.
The team of urologists at Paras Institute of Urology, Patna also provide specialized minimally invasive, laparoscopic and key hole procedures for kidney stone treatment and urinary tract stone treatment. The Institute is well supported with supported with ultrasounds, MRI, CT scans and other radiology technology to diagnose the urological ailments.
Paras Institute of Urology at Paras HMRI Hospital Patna also has expertise to treat neurourology and reconstructive urology treatment. The experts specialize in providing reconstructive surgery to the people who have experienced trauma or injury to the urinary tract.
Along with the genito-urinary cancers, the team of urologists also specialize in treatment a wide range of men's health issues including sexual dysfunction, penile issues, prostatic hyperplasia, voiding dysfunction, urinary incontinence, and prostate cancer screening and prevention.
Contact US:
Address: NH 30, Bailey Road, Raja Bazar, Patna, Bihar 800014 (INDIA)
Mobile : +91 612 710 7788
Email ID: [email protected]
Website: https://www.parashospitals.com/
8. Dr. Bikas Saurabh ,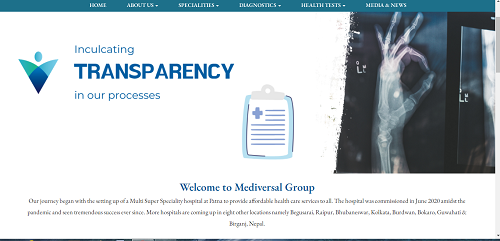 Mediversal Group is led by a team of Healthcare Experts, Management Professionals, Technologists, highly experienced Doctors and Nurses. We are aiming to build a chain of Hospitals and Health Centres in selected Tier 1, Tier 2 and Tier 3 cities and Towns of India where healthcare service is still largely unfulfilled. The core team consists of the Best Brains of Healthcare industry and is tremendously skilled, passionate and committed.
We are planning to initiate our services in Eastern and North Eastern parts of India where Human Development Index (HDI) is still very low. Therefore, we are incorporating grass root entrepreneurs with regional sensibilities within our team in order to reach rural people by setting up multiple Primary Health Care centres in villages. We are in the process of creating a unique Hub and Spoke model for expansion of healthcare network in order to ensure healthcare service of high ethical standards imbibing trust, transparency and care as its core values.To ensure accessible and affordable quality healthcare by compassionate and highly skilled medical professionals to rural areas of our countryTo be the centre of excellence for medical research and academics.To cultivate an environment of trust, honesty and ethical medical facility all across the country:To evolve as a benchmark in quality healthcare available to our country people.To demonstra
Contact US:
Address: Mediversal Multi Superspecialty Hospital
Doctors' Colony, Kankarbagh, Patna - 800 020, Bihar
Mobile : 0612-3500010
Email ID: [email protected]
Website: https://www.mediversal.in/
9. ASAIAN
The Asian Centre for Renal Disease and Urology is known for treating diseases across the spectrum of kidney and urinary tract related diseases. With the most sophisticated technology available at the centre, our highly recommended kidney specialists in Patna accurately diagnose and treat your medical concerns related to kidney and urinary tracts. You get the highest level of cure and care at Asian City Hospital Patna's.
The kidney hospital in Patna's state-of-the-art technology allows doctors to perform several high-level procedures related to the kidneys (urology) and urinary system (nephrology). Furthermore, the hospital adheres to international standards of patient care and surgeries to keep our patients safe and comfortable throughout.
When your kidneys fail to perform some of their key functions, dialysis is needed. Since kidney failure is usually permanent, dialysis is often a lifelong support system for patients. Thus, the doctors strive to keep them as comfortable as possible.Dialysis helps your body prevent waste, excess water and salt from increasing in your body. It also helps control your blood pressure while keeping a safe level of chemicals in your blood. The Asian Centre for Renal Disease & Urology offers the following dialysis treatments:The hospital is set to offer comprehensive healthcare service in an ultra modern set up to the people in the entire region of Bihar, Eastern UP and neighboring states. After the success of Dhanbad's first Super Speciality hospital by Asian, this hospital will significantly improve healthcare delivery in the region.
Contact US:
Address: Behind P & M Mall, Patliputra
Industrial Area, Patna - 800 013,
Mobile : +91 612 226 0177
Email ID [email protected]
Website: https://asianpatna.aimsindia.com/
10. Dr. Prashant K. Pattnaik
Dr. Pattnaik's S.S. Hi-tech Urological Hospital is one of the pioneer Urological institutes in the world, which has been providing world class urological and allied treatment to patients of all ages with state of the art technology under one roof since 25 years. The Hospital is backed by the Chief urologist Dr. Prashant K. Pattnaik who is considered as the Pioneer in this field.
With over two decades of experience in treating patients, Dr. Pattnaik's S.S. Hi-tech Urological Hospital' was established in 1996 in the heart of Mumbai and has been providing unparalleled urological care to its patients since then. It is based on the foundations blocks of Honesty, Transparency, Focus, Organization, Patient Care and Community Service.
The Hospital also serves as a tertiary referral center for a number of failed and complex cases. Equipped with the state of the Art technology and skilled professionals in a range of specialties, their team is able to take special care of preliminary and high risk cases of associated diseases.
Contact US:
Address: Kakad Apartment, 1st floor, 4 Pali road Opp HSBC bank , Bandra west Mumbai 400050
Mobile :(+91) 9637731789
Email ID: [email protected]
Website: https://pattnaikurology.com/