If you are in need of a urologist in Varanasi, you have come to the right place. In this article, we will discuss the role of urologists and provide you with a list of top urologists in Varanasi.
What is a urologist? A urologist is a medical doctor who specializes in the diagnosis and treatment of disorders of the urinary tract and male reproductive system. This includes conditions such as urinary tract infections, kidney stones, incontinence, prostate problems, and infertility.
Why might you need to see a urologist? There are many reasons why you might need to see a urologist. Some common symptoms that may indicate a need for a urologist include:
Frequent urination
Painful urination
Blood in the urine
Difficulty urinating
Pain in the lower back or abdomen
Erectile dysfunction
Infertility
If you experience any of these symptoms, it's important to see a urologist as soon as possible. Early diagnosis and treatment can help prevent more serious health problems down the line.
Urologist Doctors in Varanasi address what are known as genitourinary issues, meaning related to the genital and urinary organs in men and women of all ages. Because these systems involve different aspects of a person's health, urologists have extensive knowledge in other fields of medicine, such as gynecology, endocrinology, pediatrics and internal medicine.
Here is a list of some of the top urologists in Varanasi:
Dr. Vikash Kumar


With over 7 years of experience in urology, Dr. Kumar is a dedicated and caring surgeon. He has been trained in two of the most prestigious institutes of India and has a special interest in uro-oncosurgery, dealing with all urological cancers.
Contact US:
Address: Near V Mart, R S Katra (Libaas Tailor), Paharia, Varanasi, Uttar Pradesh 221002
Mobile: +9180042 17420
Website: https://www.urologistvaranasi.com/
2. SAH SPECIALITY CLINC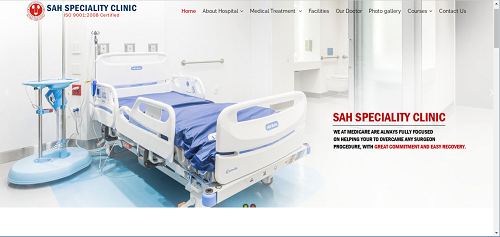 Sah urological center was started with a vision to offer modern specialized, latest, non-operative endourological treatment for Kidney and Urinary Tract & Genital diseases. The center was started in 1995 at Sah Nursing Home, Bulanala, Varanasi (UP), a hospital dedicated to medical services since 1959. The aim was to provide high quality, cost-effective, minimally invasive treatment for Kidney and Urinary Tract Diseases in the eastern part of UP. The center started the first extracorporeal shock wave Lithotripsy(ESWL) in eastern UP for non-surgical treatment of renal stones. The center is also a pioneer in Percutaneous Nephrolithotomy(PCNL), URL & RIRS with Laser. In 2008 the center was shifted to its new premises.
The nephrology department is well equipped with hemodialysis machines. Hospital is well equipped with all the diagnostic facilities like X-ray, Mobile X-ray, Ultra Sonography, Echocardiography, Colour Doppler, E.C.G., Pathology Laboratory with Autoanalyzer, Cell counter, Electrolyte analyzer, ELISA and CLIA for hormone assay and tumor markers.
Our goal is to provide new technology and keep updated in the field. To work as per ISO Standard to minimize errors and provide quality health care services with dedicated Medical, Surgical and Paramedical Staff.
Hospital has gained a reputation not only in Varanasi and neighboring districts but also Bihar, Jharkhand, M.P., Chhattisgarh and Nepal.
Contact US:
Address: Lane No-17, Ravindrapuri, Colony Durgakund, Near Gopi Radha Inter College, Varanasi
Mobile: 919336902622
Email ID: [email protected]
Website: http://www.sahspecialityclinic.com/
3. Dr. A.K Tandon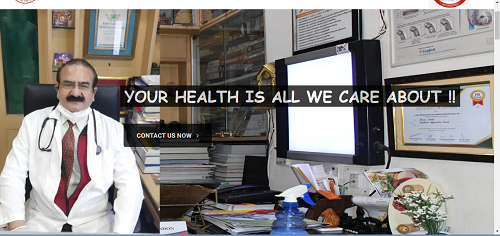 Jamuna Sewa Sadan and Research Centre Hospital is NABH Accredited (Patient Safety & Quality of Care) hospital which providing the quality base treatment and Medical services to patients. Jamuna Sewa Sadan and Research Centre has been referral centre for last 23 years for all kind of serious patient. JSS is Multispecialty Jamuna Sewa Sadan and Research Centre is dedicated and committed to have highly Competent, Proficient, Trained and Supervised Professional medical and Paramedical staff. We fulfil all statutory requirements for hospital, Nursing home and hospices.
This hospital begins its journey on 2004 and with very less time it made an impact for itself as proved by an average bed occupancy of 80%. Jamuna SewaSadan And Research Centre hospital is very organised corporate multidisciplinary super-speciality hospital of the region. The Hospital from its inception has had a strong focus on distinguished Medical Faculty, State of the Art Diagnostic services and an ingrained culture of ethical practise.
Though the building at shivpur remains much the same, the medical technology being used to provide services has been continuously upgraded. We take pride in offering the services of the only NABL Accredited Lab in this part of the country, the most updated Radiology department; at par with the best hospitals (be it corporate medical services) in Purvanchal..
At Present this Hospital is a 100-bed unit that includes Cardiac Care Unit, Intensive Care Unit (both Medical & Surgical), High Dependency Unit along with General Ward (Air Cooled), General AC, Semi Private, Private Deluxe and Super Deluxe rooms. This hospital has facilities for Dialysis, Modern Modular Operation Theatre, Labour Room and Day Care Unit.
Contact US:
Address: S 15/47, Panchkoshi Road (Behind Thana Shivpur),
Shivpur, Varanasi-221003
Mobile: +91-9118-191-943
Email ID: [email protected]
Website: http://www.jamunasewasadan.org/
4. Dr. Shwetank Mishra
Oriana literally means the first rays of the rising sun. We at Oriana believe that these rays have healing powers and can completely cure a person giving him a healthy and longer life.
Following the path we have taken upon it as our duty to heal and provide all those in need with a healthier and disease free life. Medicinal as well as spiritual treatment is done at Oriana where all healing powers of nature come together at one place and making a positive environment ideal for treating and rejuvenating.
We at Oriana are at a constant effort of providing the best facilities at best price. Oriana is a Best Urologist hospital in Varanasi, Uttar Pradesh. We aim at providing highly qualified Professionals and Medical experts. With a joint team our main goal is to provide effective and efficient service to our patients.
Contact US:
Address: Ravindrapuri Extension, Lanka,
Varanasi - 221001
Mobile: 9517544488,
Email ID: [email protected]
Website: https://orianahospital.com/
5. Dr. Pratap Bhadur Singh
A president gold medal winner and a renowned urologist, Dr. Pratap Bahadur Singh was instrumental in establishing a well-equipped department of Urology with all subspecialties. With his pioneering efforts, he successfully established a renal transplant programme at Banaras Hindu University in Varanasi. He is an influential member of the Indian Society of Organ Transplantation, Indian Society of Lymphology, SIU, Urological Society of India, East & North Zone Chapter of Urological Society of India and British Transplant Society. He was a Common Wealth Medical Fellow at the Transplant Unit in Cardiff Royal Infirmary in UK. He was also a fellow at the International College of Surgeons. During his academic years, he pursued MBBS from Banaras Hindu University and went on to pursue MS (General Surgery), M.Ch (Urology). He was also a fellow at the International College of Surgeons. Before becoming the Director of Max, he has been a senior resident of surgery and a professor and head of Urology at Institute of Medical Sciences (Banaras Hindu University) in Varanasi.
We help and hand hold patients looking for medical treatment in India so that they get a seamless service right from their first contact with us. An international patient looking for medical care in another far off country is anxious and has so many questions and concerns. SafeMedTrip promises to help by its expertise and speed and quality of response. From arranging opinion from India's best hospitals, hospital appointment bookings, travel and hotel accommodation, we manage our customer's needs efficiently. The best part of our service is, we are based in India where overseas patients need support the most and are just a phone call away. In simple we make Medical Travel to India easy
Contact US:
Mobile: +91-9899993637
Email ID: [email protected]
Website: https://safemedtrip.com/
6. ROYAL HOSPITAL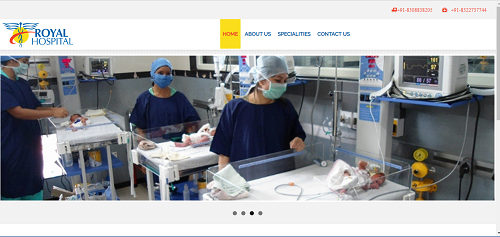 Royal Hospital is a speciality and superspeciality hospital which extends medical care to patient in a very friendly and homely environment. We at Royal Hospital believe that any person in need of medical help comes to doctor / hospital with high expectation, hoping that he will be relieved of distress and treated with compassion and care.
At Royal Hospital, we treat every patient in a manner any doctor will treat his own family member in need of medicare attention.
With this commitment in mind we are willing to walk that extra mile and keep patient trust in the hospital.A multi-speciality hospital situated at Margao.We have best facilities for our customers. our care strives towards your good health and happiness. Genuine Care and Concern for the Patients and their Families touching lives for many years now and more to come
Contact US:
Address: Off Power House RoadAquem ,Margao, Goa( South ) 403601
Mobile: +91-8322737744
Email ID: [email protected]
Website: http://www.royalhospital.in/
7. Dr. Pravin Govardhane
Dr. Pravin Govardhane is highly experienced, skilled and award-winning Urologist having more than 16 years of remarkable experience. He is the Best Urologist in Nashik, working as consultant Urologist and Transplant Surgeon at Apollo Hospital, Nashik since last 3 years. He is an expert in managing stone disease as well as prostate disease through minimally invasive urology (Mini PCNL, RIRS, Bipolar TURP, Laser prostatectomy) and has gathered vast experience in this field. Also, he has great experience of managing complicated urology and general surgical cases at Raipur which is only government tertiary referral centre in Chhattisgarh. After post-graduation, he has worked as Senior Resident doctor at prestigious Goa Medical College, which is the oldest medical college in Asia. He was part of the team for the first renal transplantation in Goa Medical College.
"Penile Fractures – Tertiary Referral Center Experience and a Review of the Literature" in Uro Today International Journal, Volume 5 – August 2012"Giant Liposarcoma of the spermatic cord- a rare entity" in Apollo Medicine, March 2013, Vol 10, Issue 1"Melanotic Schwannoma of the adrenal gland – a rare entity" " in Apollo Medicine, March 2013, Vol 10, Issue 1
Contact US:
Address: Apollo Hospitals Nashik, Plot No 1,waminarayan Nagar, Aurangabad Naka,Panchavati,, Nashik, Maharashtra 422003
Mobile: +91 87909 13636
Email ID: [email protected]
Website: https://www.urologynashik.com/
8. Dr. Abhishek Jina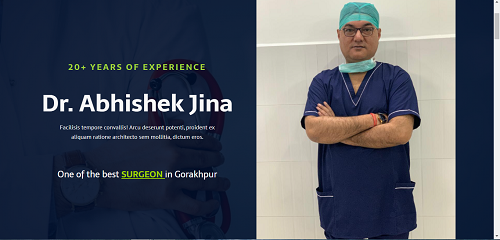 I am Working since 1992 as a Nutritionist, Voluptatibus Cras molesiosqu possimus rutrum aliquip netus alias aspernatur laboriosam, nulla blanditiis nec, mauris doloribus? Aliquet rutrum aptent totam, aliqua cubilia tristique vivamus? Iaculis sociosqu rerum unde officiis? Inventore taciti proin, ratione suscipit duis quos, magni tortor,tristique vivamus ore, ad natoque Mollitia rem a platea commodo ut. Eos iste eum adipiscing ratione dolore habitasse mini, lectus soluta nobis per, pretium repellat aliquip eum.

Rem at excepturi numquam alias lectus orci esse expedita! Voluptates exercitation praesentium mollit eligendi? Esse montes! Perferendis mna,lectus soluta nobis per, pretium repellat aliquip eum,imperdiet officiis montes? Est! Volutpat occaecat primis eget impedit blandit
Contact US:
Address: Rapti Nagar,
Phase 3, Shahpur Thana Road,
Gorakhpur, Uttar Pradesh 273004
Mobile : +91-9936421122
Website: https://drabhishekjina.com/
9. RACHIT
Rachit hospital is one of the best and committed hospitals with expert specialists in the field of urology and nephrology. We have state-of-the-art technology and holistic urological care at our hospital. We ensure a high-tech system and minimally invasive techniques for urological and nephrological surgeries. We have the highest success rate in critical programs like kidney transplants.Rachit Hospital is a super speciality hospital that aims to be Gorakhpur's first state-of-the-art quaternary care facility.The multi-bed hospital, which was designed with cutting-edge, eco-friendly technology, brings together a rare mix of the best medical expertise, the most innovative diagnostic and therapeutic equipment and technology as well as the best practises and processes to deliver to patients.While making sure the quality of service and patient care is not compromised, we aspire to make this world-class facility accessible to people from all walks of life. Patients can select from a variety of shared, twin, and single rooms as well as an optimal combination of Emergency, department-specific intensive care, and department-specific day care beds, all of which are designed with the providing the best treatment to patients in mind. Hospital is equipped with central air conditioning and heating. Each tap has hot and cold water supply.Considering our responsibility towards environment this has water harvesting system and sewage treatment plant installedDedicated cardiac, medical, and surgical ICUs are available 24 hours a day, seven days a week, as well as Emergency and trauma services such as cardiac, neuro, and orthopaedic care, along with specialised life support ambulances.
All cardiac treatment modalities: non-invasive, interventional, and surgical cardiac treatment modalities Medical, surgical, and radiation therapy,both options for cancer care are available.Both radiological diagnostics, including MRI and CT scans, are available at the region's first green hospital, built with environmental friendly materials and uses solar energy to meet the bulk of its electricity needs.This is the hospital for complex neurosurgical operations and management with state of art ICU, high end ventilators, a dedicated team of devoted paramedics, OT technicians, physiotherapists, doctors and lead by senior neurosurgeon with his legacy of performing difficult surgeries including large brain tumours, aneurysms, spinal cord tumours and complex craniovertebral anomalies for the past 16 years in the city.
Contact US:
Address: Rachit Multispeciality Hospital , Near BRD Medical College , Medical College Road , Moglaha, Gorakhpur-273013
Mobile : 9076609888
Website: https://rachithealthcare.com/
10. DR. JITENDRA PRATAP SINGH
An Urologist , Andrologist , and Renal Transplant Surgeon in JYANA UROLOGY CLINIC..Indra Nagar(Near sector 25, Power House chauraha , Opposite Sherwood College of Management ). He has experience of over 17 years in the field of Urology. Did M.B.B.S in 2003 from I.M.S Banaras Hindu University. Did M.S (Gen.Surgery) in 2008 from I.M.S Banaras hindu University. Senior Resident in Urology at Dr. Ram Manohar Lohia Institute , New Delhi
Contact:
Phone: +91 9838263147
Email: [email protected]
Address: ing Road, Sec-25, power House Chauraha(In Front Of Sherwood Management College), Indra Nagar Lucknow.
Website: http://topcdw.online/