Varanasi also knows as Banaras or Kashi. Do you know that apart from Baba Kashi Vishwanath temple there are many other temples famous for tourist attraction in Varanasi city? Baba Vishwanath Temple is one of the famous Shiva Temple in India Varanasi.
People are trying to find out how many Temple is in Varanasi? Well, it's hard to answer how many temples are in Varanasi. The question sounds like how many droplets are there in a gallon of water. You can find temples at every nook and corner of the city. The more you visit the city, the more you discover the temples.
List of Temples in Varanasi Small & Famous
Baba Kashi Vishwanath
Shree Sankat Mochan Hanuman Temple
Kaal Bhairav Mandir
Sheetla Mata Mandir
Maa Annapurna Mandir
Nepali Hindu Temple
Vishalakshi Mandir
Sarnath
Bharat Mata Temple
Tulsi Manas Mandir
Kardmeshwar Mahadeva
New Vishwanath Temple
Tridev Temple
Purabmukhi Shani Dev Mandir
Man Mandir Ghat
1. Baba Kashi Vishwanath
Kashi Vishwanath Temple is dedicated to Bhagwan Baba Vishwanath, one of the incarnations of Lord Shiva and he is regarded as the patron deity of Varanasi. The Baba Vishwanath Jyotirlinga Temple at Varanasi has high religious significance and is the center of faith for millions of Hindus and also for other cast people.
The temple was visited by many great saints including Saint Ramakrishna Paramhansa, Shree Swami Vivekananda, Saint Maharishi Dayanand Saraswati, Swami Goswami Tulsidas, Adi Shankaracharya, and Gurunanak Dev. Baba Vishwanath is considered to the supreme origin of the spiritual truth and strengthens the bonds of universal brotherhood.
It is believed that a single darshan of Baba Vishweshwara Jyotirlinga is considered to auspicious more than the darshan of other jyotirlingas in India.
Kashi Vishwanath Pooja Timings: Mangala Aarti: 3:00 AM to 4:00 AM (Morning)
Bhoga Aarti: 11:15 AM to 12:20 AM (Day)
Sandhya Aarti: 7:00 PM to 8:15 PM (Evening)
Shringara Aarti: 9:00 PM to 10:15 PM (Night)
Shayana Aarti: 10:30 PM ti 11:00 PM (Night)
2. Shree Sankat Mochan Hanuman Temple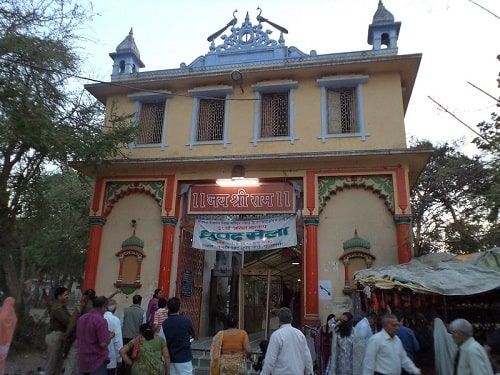 Shree Sankat Mochan Hanuman Temple is dedicated to the Lord Hanuman who is considered to be the remover of dangers of devotees.
The Shree Sankat Mochan Hanuman Temple is located in the southern part of Varanasi. It was built by Pandit Madan Mohan Malviyaji who is also credited to have planned Banaras Hindu University ( BHU ) and Birla temples.
The uniqueness of the temple one can notice themselves once entered to Shree Sankat Mochan Hanuman Temple. There is an abundance of monkeys. You can see squeaking, shrieking, snatching, mimicking, and fighting monkeys either among themselves or with devotees. Hanuman Jayanti is one of the big processions is taken out which comes in the month of April. People offer laddoos as Prasad and sindoor (vermilion) to Hanumanji. It is said that once Lord Hanumanji rubbed all sindoor on his body after seeing that Mata Sita put sindoor on the head to get the love of Lord Shree Rama. Since then vermilion is offered to Lord Hanuman as an offering.
Another unique thing, besides mimicking monkeys is that this temple has Lord Hanuman sitting before Lord Rama, in the same form as he is said to have done throughout his life for Lord Rama as devotion to him.
3. Kaal Bhairav Mandir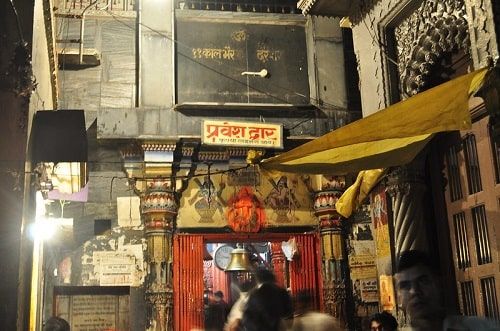 Kaal Bhairav Mandir is one of the oldest Shiva temples in Varanasi, India. Situated in Bharonath, Vishweshwarganj, this temple has great historical and cultural importance in Hinduism; especially amongst the locals.
Bhairav is one of the Avatars of Shiva. Bhairav is Eleventh Rudra Avatars and has  Eight Manifestations.
There is an end number of Kaal Bhairav Mandir available across India but Kaal Bhairav Mandir in Varanasi is the most powerful and oldest one. Kaal Bhairav Mandir is located in Visheshar Ganj in Varanasi. Temple door open in Morning 5 am after Vishesh Aarti and close at 9.30 evening. during the day the end number of people visit mostly Sunday and Tuesday is full of crowds.
4. Sheetla Mata Mandir
Sheetla Mata Temple is situated in Adalpura, 5 km from Chunar, on the banks of the holy river Ganges. It is one of the most revered Shakti peeths of the presiding deity, Sheetla Devi. The temple is visited by a large number of peoples daily. Big congregations are held during Navratras in Chaitra (April) and Ashwin (October) months. Adalpura Sheetla Mata Temple is 25 km from Varanasi, adalpura is a renowned religious place dedicated to Goddess Sheetla.
5. Maa Annapurna Mandir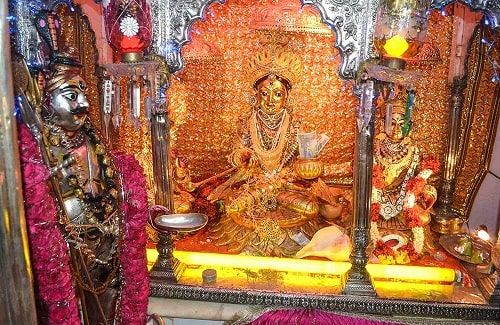 If we talk about Sai Baba of Shirdi or Tirupati Balaji , then the devotees make an online booking for their darshan, but there is a temple in Kashi for which the devotees have to wait for the whole year. This is the temple of Mata Annapurna where devotees get the treasure of the year-long prosperity and prosperity. This temple opens only on the day of Dhanteras.
The temple of Mata Annapurna in Kashi is such that if the devotee keeps the lavas and coins found in the treasury in his house with full devotion, then the blessings of Mata Annapurna remains in her house. In this temple, on the day of Dhanteras, the offerings of native and foreign devotees' mother Annapurna are kept in line for hours to collect the treasure.
The story behind the treasure
Mahanta Rameshwarpuri of Mata Annapurna Temple states that it is written in the Puranas that at one time there was such a severe famine in Kashi that Lord Shankar himself was distracted by the announcement of his devotees' Tri Maam. To get rid of this problem, he himself went to the shelter of Mata Annapurna and asked for alms to save people from famine. Then pleased, Mata Annapurna promised Lord Shankar that from now on, no one will be hungry in Kashi and with my vision only And my treasured offerings will bring happiness and prosperity to the people.
What do the faithful say
Suresh Bhai Modi, who comes from Gujarat every year, said that "I have come to collect coin and lava from the treasury of Mata for the last ten years. Once there was an opportunity to see Mata on the occasion of Dhanteras, then the happiness in the house- Prosperity. "
At the same time, Reena Aggarwal, who came from Dubai, lying in the line from 7 am, said that earlier when she went to live in Dubai with the whole family, her business had gone into a loss. When the coin of the mother's treasure is brought and kept in the house, there is profit in the business.
6. Nepali Hindu Temple
Kashi and Kathmandu are known as the "sister cities" as they share a deep-rooted bond between them.  Kashi is situated on the banks of the river Ganga whereas Kathmandu is situated on the banks of the river Bagmati. Kashi and Kathmandu have a similarity between them which many people are not aware of and it is that there is a temple of Pashupatinath in Varanasi itself too. Yes, you read it right! "It is the replica of the temple of Kathmandu and is known as the Nepali Temple here."Located at Lalita Ghat this temple is considered to be one of the oldest temples of Kashi. This temple is dedicated to Lord Shiva and is built in Nepalese architecture. This temple holds greater religious significance as well.
King of Nepal, Rana Bahadur Shah, after being exiled from Nepal (1800-1804) came to Kashi and named himself as Swami Nirgunananda and at the same time, he decided to make a replica of the Pashupatinath's temple of Kathmandu in Kashi. Construction of the temple took 30 years to complete the temple.During this time period, King Rana Bahadur Shah had to return to Nepal and there, he was killed by his stepbrother Sher Bahadur Shah.
After his death, his son Vikram Shah completed the construction of the temple within 20 years of the time period.Currently, adjacent to the temple is a Dharamshala where the students of Sanskrit and spiritual learning reside together. This temple carries an image of the Pashupatinath temple of Kathmandu as it is its replica. Right from the gate to the walls, the wooden carvings on them are very beautiful and appealing.
7. Vishalakshi Mandir
The Devi Purana describes 51 major Shakti Peethas of Mother Shakti. According to mythology, Shakti Peethas were constructed wherever the body parts and ornaments of Mother Sati fell.
It is believed that these places themselves have the effect of the energy of mother power, where the wishes of all the devotees are fulfilled.
One such Shakti Peeth is Vishalakshi Shakti Peeth. Let us know interesting facts, history and all the information of Vishalakshi Shakti Peeth in Sanskrit
Complete information about the back of Vishalakshi Shakti
History of Vishalakshi Shakti Peeth
Many ancient texts like Devi Purana, Tantra Sagar, Tantrachaudamani describe Vishalakshi Shakti Peeth. Here Shakti is seated as Goddess Gauri.
Visalakshi means big eyes.
Where is the Vishalakshi Shakti Peetha?
This Shakti Peeth is situated on the banks of the Mir Ghat of the Ganges River in the city of Benaras, Uttar Pradesh. This place is just a short distance from the Kashi Vishwanath temple.
Near this temple is Manikarnika, the famous crematorium of Banaras.
Why is the Vishalakshi Temple considered a Shakti Peetha?
It is believed that the coil of Mother Sati's eyes and right ear fell here.
How is worship and important festivals
Devotees take a dip in the Ganges before worshiping in this temple. Mata Parvati is worshiped with the pronunciation of mantras. In this temple, devotees donate according to their reverence. Virgin girls fast for sixteen Mondays to get a suitable husband. Childless couples also get the happiness of children by the grace of mother.
Statue of Visalakshi Devi Mata
The sanctum sanctorum of this temple has two idols of Mother. The idol made of small black stone is called Adi Vishalakshi. Another large statue was later installed here with this smaller statue.
After visiting this temple, devotees also visit Kashi Vishwanath and Annapurna Mata.
Kajali Teej is the main festival here. This festival is celebrated in the month of Bhadrapada (August). On this day, devotees from abroad come to visit the mother.
mythology
Goddess Sati was the daughter of Prajapati Daksha. According to the destiny, Goddess Sati married Lord Shankar. Prajapati was the son of Lord Brahma. Prajapati did not want to get his daughter Sati married to Shankar.
Once King Daksha performed a yagna. In this yagya, all the gods and goddesses were invited but Sati and Shiva were not invited.
But even then Sati went to join the yagna. There, King Daksha insulted Sati and abused Shankar.
She could not tolerate this insult Sati and jumped into the tank and gave her life.
When Lord Shiva came to know about this news, he became furious and destroyed the sacrifice of King Daksha.
Fearful, Sati began to orgy with the dead body and wandered in the sky.
Shrishti was destroyed by Shankar's Tandava dance. Seeing this, the gods sought help from Lord Vishnu. Vishnu destroyed Lord Shankar by cutting 51 pieces of the body of Goddess Sati to get him out of the mourning of Sati.
Shakti Peetha was constructed wherever the body parts and ornaments of Mother Sati fell on the earth.
8. Sarnath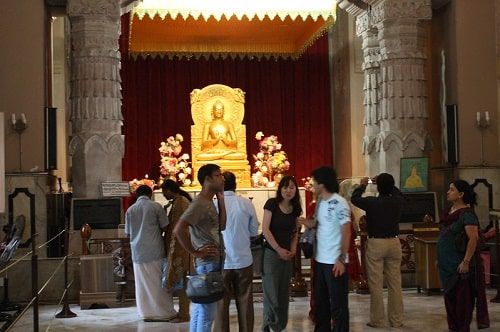 Sarnath is the place where Gathama Buddha gave his first sermon. So, it holds special significance as an important Buddhist pilgrimage center. It is considered to be one among the four holy places that a Buddhist pilgrim must visit. Located 13 kilometers away from Varanasi, Uttar Pradesh is also variously known as Sarnath, Mrigadava, Migadaya, Rishipattana and Isipatana.
It is here that Lord Buddha set his first Dharma chakra or wheel of Dharma into motion and is also the place where the Buddhist Sangha came into existence. Sarnath is also famous for India's tallest Buddha statue with a height of 80 feet, built in an area of 2.5 acres and with a little more than 800 stones. It is also a very important pilgrimage destination for the Jain as, Singpur, a village a little away from Sarnath, is the birth place of the eleventh Jain Tirthankar Shreyansanath. There is a temple dedicated to him.
9. Bharat Mata Temple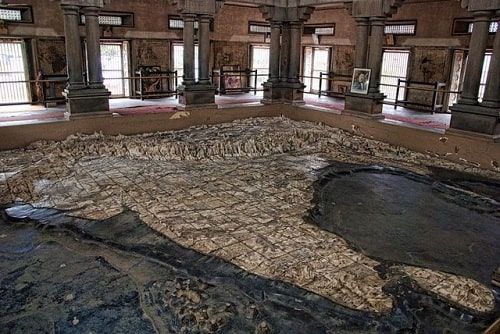 This temple, established in the year 1936, has become a 'temple of reverence' for innumerable Indians of various religions due to its specialties. The Indians buried under the British envisaged this grand and unique temple and it was built by the Rashtravratna Shivprasad Gupt, the nobleman of Kashi, at a cost of about 10 lakh rupees.
10. Tulsi Manas Mandir
Shri Tulsi Manas Mandir is located at Sapt Sarover, Bhoapatwal road in Haridwar. Tulsi Manas Mandir is one of the famous temples of Haridwar. The Temple was constructed by Swami Shri Arjun Puri Ji Maharaj. Sri Tulsi Manas mandir is made up of the white marble and looks very attractive and has a beautiful garden. The Temple is dedicated to Lord Ram. Inside the temple, you can explore the beautiful statue of Ram, Sita, Lakshman, and Hanuman. In Manas Mandir, the other side of you could also visit the beautiful Lord Shiva Shivling which is worshiped every day.
The main attraction of this temple is the wall of the temple which shows the various scenes from the Ramacharitmanas. Overall the temple entrance and beauty of the temple are amazing and your heart will push you to see the temple.
11. Kardmeshwar Mahadeva
When God Shiva was coming to Varanasi his first step was in kandwa Varanasi. kandwa is located in varanasi distric in Uttar pradesh.
Kardameshwar Mahadeva Temple is located at the outer-skirt of the city about 5–6 km from Banaras Hindu University Main Gate. The temple is surrounded by a beautiful pond. Kardameshwar Mahadeva Temple is situated in Kandwa.
12. New Vishwanath Temple
The new Baba Vishwanath Temple in Varanasi is also know as Birla Temple which is the main attraction in Varanasi city. This temple dedicated to god Shiva and its located inside the BHU (Banaras Hindu University), another landmark in the Varanasi. Possessing the tallest temple tower in the world, this temple has a grand view even from a distance. The old Shri Kashi Vishwanath Temple was time and again reconstructed mainly by Muslim rulers.
It is in the year 1930s that Pandit Madan Mohan Malviya thought of making a replica of the old Shri Kashi Vishwanath Temple on the university campus. Thus, the construction of the new temple was undertaken and started by the Birla family in 1931, and it was completed in 1966. 77 meters high, temples mostly made with marble. Although the main deity in this temple is Lord Shiva, there are other gods and goddesses worshiped here. There are nine temples within one temple, and walls of this temple are designed with illustrations of extracts from sacred Hindu scriptures.
13. Tridev Temple
14. Purabmukhi Shani Dev Mandir
15. Man Mandir Ghat