Borivali also is known as Vegas of the East minus the vibrant nightlife is an affluent coastal suburb of Mumbai and is located at its north-western end. Recent real estate statistics show Borivali holds its recorded position as the primary residential zone of Mumbai.
Things to do near Borivali
Places to visit near Borivali
1. Essel World
Ready for a one day vacation with your friends or family. Head over to Essel World one of India's largest amusement theme parks located in Borivali. It is the best place to visit for a day picnic with kids in Mumbai. The Island of fun is located on the coastal Gorai village in northwest Mumbai, a scenic setting injected with wholesome thrill and entertainment. You can reach Essel from Borivali via Ferry from Goria Khadi.
2. Water Kingdom
Besides Essel World, next to it is its neighbour Water Kingdom which is considered as Asia's largest water-based theme park. It is a family-friendly water park featuring high-speed slides, wave pools, lazy river & kiddie attractions.
3. Global Vipassana Pagoda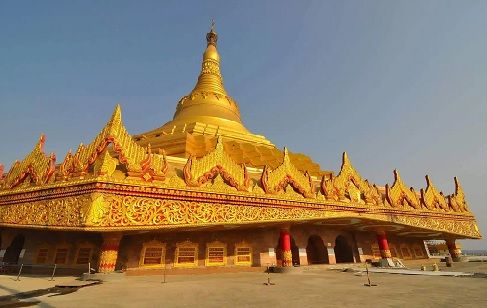 One of Mumbai's global attractions is the Pagoda. The Global Vipassana Pagoda is considered as a landmark of peace and the abode of tranquility. This monument is a tribute to the philosophies of Lord Gautama Budda and draws in thousands of visitors annually.
4. Fish Park
No matter which part of the city you belong to, you definitely have at least one friend from the very popular IC Colony. If you're a wildlife lover, we give you one more reason to visit Borivali. IC Colony is home to Mumbai's first fish park that has eight gigantic aquarium tanks inside it and so many different species of fish.
5. Sanjay Gandhi National Park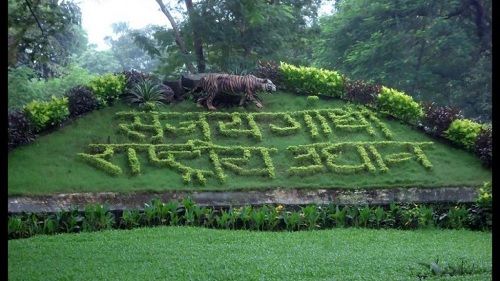 Looking for nature places in crowded locations like Mumbai. Head over to National Park located in Borivali east and enjoy the beautiful view of nature and start exploring. Lion and Tiger Safari is a must when you visit here.
6. Kanheri Caves
The Kanheri Caves are a group of caves and rock-cut monuments cut into a massive basalt outcrop in the forests of the Sanjay Gandhi National Park, on the island of Salsette in the western outskirts of Mumbai, India. When one visits the Kanheri Caves, there is a lot to see, in terms of what the caves have to offer and even around the caves. There are about 34 unfinished paintings of Buddha within the Caves. Apart from the paintings, one should also visit the 'Vihara' (prayer hall) and the different monasteries around the cave for a glimpse of former Buddhist occupation and life.
7. Gorai Beach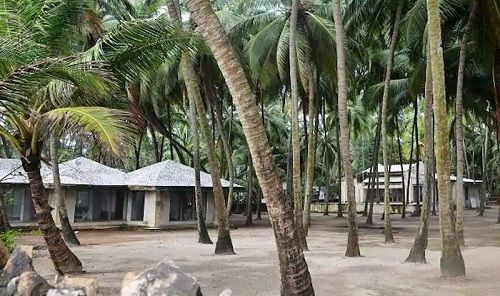 Extensive sand beach & picnic area with services, a popular day-trip destination for Mumbaikars.Extensive sand beach & picnic area with services, a popular day-trip destination for Mumbaikars. Dotted with beautiful palm trees and an all-around clean environment, the place is a hot favorite among tourists who want to spend a day away from the chaos and din of the city.
8. Shilonda Trail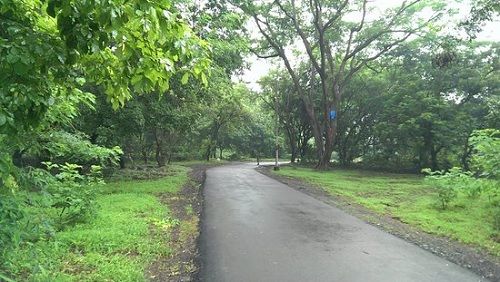 Commence on an exciting trail to Shilonda in Mumbai and experience the most amazing treks in Sanjay Gandhi National Park. It is one of the activities that are a pleasure to embark upon no matter what the season! While in monsoons it offers the stunning view of the descending clouds, in winters it is full of birdlife that is a delight to explore.
9. Veer Savarkar Udyan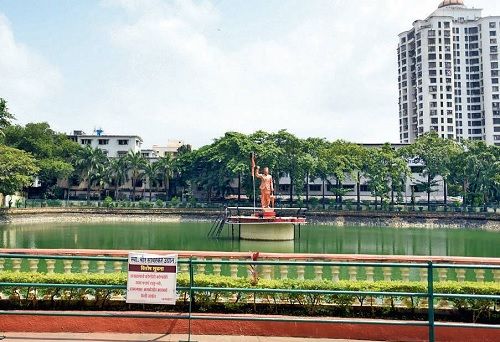 The Veer Savarkar Uyan is named after the great revolutionary freedom fighter Vinayak Damodar Savarkar, who played a crucial role in India's struggle for independence. It is a lush green park where children can play and youngsters and elders can have nature walk, sit and relax. Its main attractions are boating, mini aquarium and children's play area.
Places to eat in Borivali
1. Shreeji Snacks
The Shreeji stall in Borivali includes cheese in everything, even chaat! They have fusion chaats, where Italy meets Mumbai! This is an unusual hybrid that combines chaats like pani-puri and sev puri with the likes of pizza and Panini. These unique dishes are a delight because they are so cheesy, you will be left in a cheese-coma for a bit!
2. 90ft Above
90ft Above in Borivali is a roof-top exotic dining restaurant with uniquely interesting dishes for you to enjoy. The Watermelon Pizza is a dish with the base as a big slice of watermelon along with raisins, fruits and lots of rabdi. It might look all fruity and fun, but it can get extremely heavy for one.
3. Simply Saraswat
Head to Simply Saraswat in Borivali, Mumbai for some authentic vegetarian Saraswat cuisine. Oh! And the pollos (dosas) here are just awesome! Simply Saraswat in Borivali brings a part of Mangalore alive in this chaotic yet fun city of Mumbai.
4. The Fushion Kitchen
Despite its simple furnishings, The Fusion Kitchen is an extremely popular place in Borivali. The light pink painted walls and casual chairs and tables make the impression that the restaurant is just another average eatery. But the huge crowd often found cramming the place is a definite give-away to how popular the restaurant truly is with the residents of the city.
5. Mangesh Vadapaav
Mangesh Pandit's Vada Pav joint has been tickling Borivali's taste buds for over 20 years now. What sets them apart is their special meetha chutney that's made of dates, jaggery, tamarind, and green chillies. Believe it or not, their first set of Vada Pavs gets lapped up as soon as the shop is opened.
6. Banana Leaf
Banana Leaf was established with a vision to provide authentic South Indian cuisines in a comfortable fine dining ambiance. Since Banana Leaf exhibits the cultural richness of South India, we at the restaurant make sure that our patrons feel the essence of South India right from our food, the serving, the ambiance, the staff, etc.
7. Borivali Biryani Center
Borivali Biryani Centre (better known amongst its customers as BBC) is famous for its delicious biryani and varied Mughlai cuisine. Established in 1998, on a humble scale, by the Udeshi family, BBC now has 5 outlets to its credit with some exciting plans for future growth.
8. Khichdi Garden
Khichdi garden is a family restaurant very famous for its 101 types of khichdi and Gujarati and kathiyawadi food. They serve delicious and mouth-watering different types of khichdis. It has a good ambiance and the atmosphere is very soothing and relaxing.
9. Banjara Dhaba
Amidst the hustle-bustle of the city get authentic Dhaba feels from Banjara Dhaba located in IC Colony, Borivali. With musical instruments and wall paintings adorning the walls, the perfectly lit place offers a wide range of Biryanis, Kebabs, Paneer delicacies, and drinks.
10. The Burger Pit
If you're craving burgers, head to the Burger Pit. They've got a long list of options, and we love that typical all-American Diner-Esque ambiance.
Schools and Colleges
AIG Academy ( Online, Regular & Distance Learning University )
Build a career filled with great opportunities with an MBA degree by AIG Academy in Mumbai. Whether you are a student looking to continue your
studies or a working professional desiring for a degree along with a job, Online MBA in Borivali by AIG Academy can fulfill your every need. You can pursue this MBA course sitting at your comfort zone. Distance MBA with an AIG Academy comes with various specializations. The best part of AIG Academy is that it also offers an MBA in one year degree where you can save your year gap and pursue your degree in just one year.
2. Dr. Pillai Global Academy
The Dr. Pillai Global Academy (DPGA) is a "maximum opportunities" learning environment, designed to impart an education that empowers your child to pursue a globally challenging career. The focus will be on activity-oriented teaching and beyond-the-classroom methods.
3. St. Lawrence High School
St. Lawrence High School is a secondary school located in Borivali, a suburban area located in the north-west section of Mumbai island, in the Indian state of Maharashtra. It is a co-ed school belonging to the St. Xavier's group of schools founded by Mr. Pinto.
4. St. Francis D'Assisi High School
Saint Francis D'Assisi High School is a school in Borivali West, Mumbai, India. It is managed by the Franciscan Missionary Brothers, a Catholic religious society founded by Rev. Bro. Paulus Moritz, a German Missionary. The school is recognized by the State Government of Maharashtra.
5. Swami Vivekanand International School
Swami Vivekanand International School situated at Gorai, Borivali is run by Swami Vivekanand Sikshan Vikas Mandal Trust. The school was established in 1995 having classes up to Standard X. Both the Trusts are registered under the Bombay Public Trust Act, 1950. The schools are affiliated to Maharashtra State Board of Secondary and Higher Secondary Education.
6. Mary Immaculate Girls' High School
Mary Immaculate Girls' High School, is a minority institution affiliated to the Maharashtra State Board of Secondary and Higher Secondary Education.  They are Catholic schools, established and administered by the Mission Sisters of Ajmer, members of an Indian religious congregation.
7. Bhausaheb Vartak College
It was the dream of Late Prin. T. A. Kulkarni to have a college in Mumbai which was fulfilled by establishing Gokhale Education Society's Arts, Commerce and Science College, in 1979, at Borivli, North West Suburb of Mumbai.
8. MJ Junior College
M.J.J.C.S is an H.S.C board affiliated college with proposed bifocal subjects like Computer Science, Electronics, Electrical Maintenance and Information Technology.
9. St.Rocks College of Commerce, Science & Law
The location of St. Rocks College is Borivali West, Mumbai Suburban. There are 4 dedicated and professional faculty members who impart quality education to children in this State Board school.
10. Atharva College
Atharva College of Engineering was founded by Atharva Educational Trust in 1999 at Borivali, Mumbai. Atharva Educational Trust through its curriculum and co-curricular actives aims at all-round development of students.
11. St. Xaviers Junior College
St. Xavier's High School & Junior College is one of the oldest English language schools in Mumbai. It is a Minority Catholic English Medium High School for boys and girls, affiliated to the Board of Education, Government of Maharashtra
Car Repair Company
Carfixo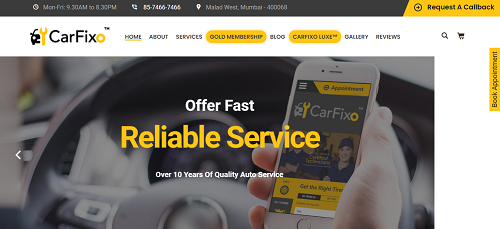 CarFixo is a leading professional Multi Car Workshop and Automotive Service Company known for providing a full range of top-quality car repairs and world-class maintenance services in Mumbai, Navi Mumbai, and Thane.
At CarFixo, we are backed by an adept team of highly-skilled and well-trained automobile engineers and experienced technicians who employ cutting-edge technology and advanced equipment to deliver seamless and reliable car services.
We are a one-stop solution for all your Car Repair In Borivali and maintenance needs. Experience true comfort and convenience by getting a free car inspection and diagnosis at your doorstep and our contactless and free pickup and drop-in services.
Contact Details
Mobile No : 85-7466-7466
Website : https://carfixo.in/
Pest Control Service
1. Mumbai Pest Control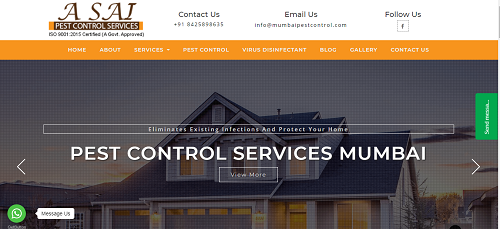 When A Sai Pest Control Services Borivali began their herbal pest control business decade ago, they had two goals in mind: To provide quality herbal pest control services in Mumbai, Thane, Navi Mumbai, Kalyan and furnish superior customer service. Today, over a decade later, A Sai Pest Control Mumbai, Thane, Navi Mumbai is still committed to that mission. It is the name you can trust to protect your business or home against pests like rodent control, termite treatment, bed bugs treatment, birds and mosquitoes control, cockroach and ants control treatment.
As the trusted commercial pest control company in Mumbai, A Sai Pest Control Thane has provided peace of mind against pests ever since we opened our doors for business from last 18 years.
Contact US
Address : Shop No.6, 1st Floor, Rajiv Gandhi Market,Khopat, Thane (West) - 400601
Mobile : +91 8425898635
Email ID : [email protected]
Website : https://www.mumbaipestcontrol.com/
SSD Pest Control Service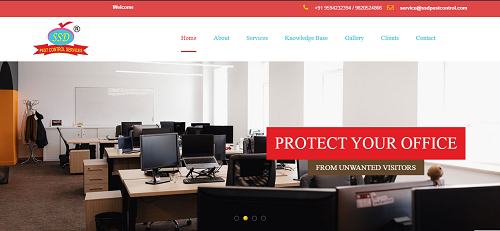 Established in the year 2018, we, SSD Pest Control In Borivali, are engaged in providing effective services for pest control. we have specialized in offering residential, commercial, marina and corporate pest control services. SSD Pest Control Services Company, is looking to set new global standards in providing all sort of facility management services at affordable cost by developing innovative pro-environmental superior technologies. Every dwelling is entitled to get facility management services to improve quality of living and to have quality time in their family and business. We wish to equip ourselves to serve every dwelling in the Globe.
The experienced and dedicated service team offers customer friendly service which is technically superior and environment friendly. With continuous research and developmental activities we are at process of developing eco friendly low cost technologies for pest control.
Contact Details
Mobile No : 9594232394
Email ID : [email protected]
Website : https://ssdpestcontrol.com/
Top Companies
1. IDZ Digital
3. Vaishali Pharma
4. Brand Witty
5. Raj Computers
Hospitals and Medical Centers
1. Vcare Imaging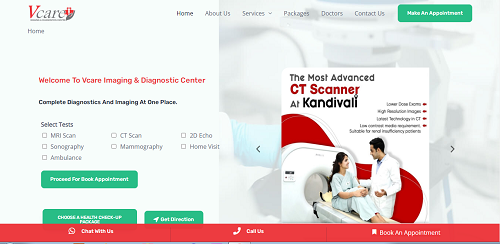 Our mission is to provide world-class facilities and strive to provide timely & accurate reports with compassion & care. Our Radiologists work hand in hand with our highly trained technologists to ensure you are at ease during your routine.
A Premier Health Care Provider with Multiple Diagnostic & Imaging Services Under One Roof.
Fully Automated Computerized Laboratory with End to End Diagnostic Center In Borivali and Imaging Solutions Under One roof.
Our Experienced and Dedicated Team Make Sure You Receive the Most Effective Treatment in Those Times of Worry.
Contact Details
Address : Row House No. 3, Crystal Lawn Society, Near Suruchi Hotel Thakur Complex, Kandivali (E), Mumbai-400101
Mobile No : 9819577304
Email ID : [email protected]
Website : https://vcareimaging.in/
2. Apex Hospital
3. Arihant Heart Clinic & Nursing Home
4. MM Hospital
5. Shree Ganesh Multispeciality Hospital
6. Bhagwati Hospital
7. Punit Orthopedic Hospital
8. Sanghvi Hospital & ICU
9.  HCG Cancer Center
10. Karuna Hospital