Homeopathy is an advanced, effective, and gentle system of holistic medicine that has been successfully used for over two hundred years and on every continent. Homeopathy is not to be confused with herbal medicine or nutritional therapy. The set of principles that guide the selection of medicine make homeopathy a distinct and integral system unto itself. Many doctors are practicing Homeopathy in India for many years.
Homeopathic medicines, called remedies, may be safely and effectively applied in chronic (long-term) conditions, as well as acute (short-term and self-limiting) illnesses and injuries of adults, children, and animals. Homeopathy stands out distinct as compared to other modes of treatment by its fundamental principles directed towards treating diseases at the root level, by addressing the multiple causative factors such as genetic, immunological, metabolic, hormonal, emotional and the like.
As a result, the diseases are treated in totality rather than in parts or as entities separate from the 'whole' of the individual patient. In that sense, homeopathic science believes in the 'holistic' approach.
Every life is precious. Everyone wants to consult the best doctor for their health. Here we bought you the 15 Best Homeopathy Doctors In Chennai and Best Ayurvedic Doctors in Chennai for your next doctor visit.
1. Dr. A.M. Reddy
Dr A.M. Reddy has a Master's degree in Homeopathy from Gulbarga University. Right from the childhood he had a unique interest and passion in pursuing this alternative medicine system. He started his career in his native of Kurnool district where he had first visited nearly 300 villages and conducted a survey on the kinds of health problems and ailments they had been suffering from.
Dr. A.M. Reddy founded Positive Group which includes the chain of Dr Positive Homeopathy and Positive Dental clinics across India in the year 2005. He is known to be one of the renowned Homeopaths in India and has been practicing Homeopathy since decades. He not only played a pioneering role in the development of Homeopathy in India, but also took every measure possible to ensure that its significance and awareness has reached millions of people across the nation. Now Positive Group is considered one of the leading chains of clinics in India characterized by its great percentage of success rate in treatments.
Contact Details:
Address : D. No 338/8 H Block, Sunshine Apartment, 2nd Avenue, Z Block, Anna Nagar,, next to santhosh super market, Chennai
Phone : 7337557851
Email Id : [email protected]
Website : https://drpositivehomeopathy.com/
2. Dr Sushaanth
Sushaanth Homoeo Clinic was established in the year 2011.
Sushaanth homoeo Clinic is a super speciality clinic which treats all kinds of health disorders in most gentle & permanent manner without any side effects. To provide complete mental, physical and spiritual well-being for all the patients. We work in the same way as conventional doctors do. History taking, examination and investigation are all important in establishing the diagnosis. However, as well as asking about your symptoms, we will be interested in you as an individual and the unique way in which your symptoms affect you.
Our medicines are manufactured by repeatedly diluting and succussing (shaking) a preparation of the original substance, mainly plants and minerals, in water and alcohol. After dilution the medicine is added to lactose tablets or pillules.
Contact Details:
Address : 30-B, Iyyan Enclave, Madambakkam Main Road,
Rajakilpakkam, Chennai – 600 073.
Phone : 97907 31224
Email Id : [email protected]
Website : http://homeopathyclinic-sushaanth.com/
3. Dr. Sharadha Kumari
Dr. Sharadha Kumari started practicing Homeopathy. With more than 30 years of Happy Cure for our patients, today we hold a good reputation in the society. We give our patients authentic and genuine medicine which are mostly imported from the Best Homeopathic Medicine Manufacturing Brands across the world. We get patients from different walks of life, from different age groups and different parts of the world. Foreigners, NRIs, Indians travelling abroad for education/ job take consultation through Skype/ Phone Call and the medicines are sent through parcel services or through friends/ relatives.
What cures you may not necessarily cure your family members or friends having the same disease! We are specialized Homepathy treatment and Ayurvedic Doctors for thyroid, infertility, sexual disorders and hormone problems in chennai.  At Dr. Sharadha's Homeopathy, we give complete attention and care to each and every patient.
A lot of time is spent in studying your Symptoms, Reactions to Physical and Mental Environments, Behavioral Characteristics, History of Diseases, Genetic influences, Investigations and finally understanding your Body Constitution.
Contact Details:
Address : 11/19, Pasumarthy Street, 2nd Lane, Kodambakkam, Chennai
Phone : 9884137492
Email Id : [email protected]
Website : http://www.drsharadhas.com/
4. Dr Meeta
Dr Meeta emphasises more on the individualistic treatment of the patient. Hence individual case record is maintained for every patient. In that case file all the detailed problems of patient along with the prescribed medicine is mentioned by the doctor. Times to time these records are studied by the doctor to assess prognosis.
Prescription of the given medicine is issued every time. No given medicine is hidden from the patient. All the prescribed medicines are written with their respective potency and doses. No lump sum amount is charged on patient. No exaggerate consultation charge is asked to the patient. Medicines are also given at a discounted price.
Contact Details:
Address : ground floor, New, No 17, Perumal Koil Street, behind Megamart show room, Arumbakkam, Chennai
Phone : 9840348971
Email Id : [email protected]
Website : https://www.drmeeta.com/
5. Dr. Batra's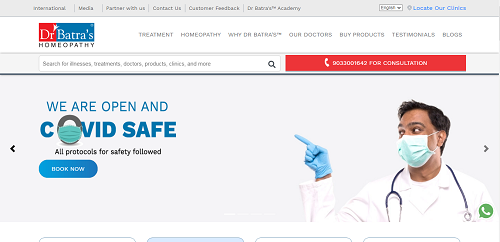 Considered as one of the top Homeopathy Doctors in Mumbai, Dr. Batra specializes in Homeopathy for the cure of many diseases. They believe that a job is not simply about getting to office every day, finishing routine stuff by the end of the day and then packing off without any take-home feeling. They believe that this is the place where you spend most of your waking time so why not make it worthwhile! That is why we take all the care to see that you get the best while you give your best at your job at Dr. Batra's.
Contact Details:
Address : 88, T. T. K. road, Near Ethiraj Kalyan Mandapam, Alwarpet, Chennai - 600018.
Phone : 9033001642
Website : https://www.drbatras.com/
6. Dr. Uma Jayakumar
Dr. Uma Jayakumar is wife of Dr. N.R. Jayakumar. She was inspired by her husband to take up homoeopathy and wished to aid him. Her passion showed as she completed the 5 1/2year course as a full time student and thus stands apart! Today Madan Homoeo clinic at Nanganallur stands testimony to her sheer enthusiasm and hard work. She is specialized in treating cases of obesity, female disorders(menstrual, Fibroid, Pcod ,Leucorrhoea gastric, asthmatic ailments etc.Dr. Uma Jayakumar is also a Homoeopath, she had completed B.H.M.S. in Sri Sairam homoeopathic Medical College, Tambaram, chennai. She had also sacrificed her lifetime for the study of 5½ years B.H.M.S courses, after her previous qualification of M.Sc Biochemistry, and after a mother for two boys and also she is helping to Dr.N.R. Jayakumar for his dedicated services of Homoeo practice.
Contact Details:
Address : No.1, Padmvathy Avenue, (Near Touch N Glow), Thirumalai Nagar Annexe, Perungudi, Chennai - 600 096
Phone : 9677093336
Website : http://www.madanhomeoclinic.com/
7. Dr. Senthil Kumar Dhandapani
Dr. Senthil Kumar Dhandapani – Homeopathy Consultant & Psychologist, He is the Chief consultant of Vivekanantha Homeopathy Clinic, Ayurvedic Clinic & Psychological Counselling Centre with excellent clinical experience since year 2000. He has a flourishing homeopathic clinical practice in Chennai, Panruti & Pondicherry, Tamilnadu, India, with patients consulting him from many countries worldwide.
We are taking only minimum number of patients per day. We are allotting 40 to 50 minutes for new patients & 15 to 20 minutes for follow-ups. So please report to the clinic minimum 15 minutes before your appointment time. We concentrate more to patient's privacy, so we are allotting 40 to 50 minutes/client – "so be there at time" We treat Many Diseases, so no one can know for what problem you are taking the treatment – So feel free to talk with Doctor and visit the Clinic.
Contact Details:
Address : GKB Opticals Upstairs, B-12, Second Floor, Paramount Park (Dr Plaza) - B Block Direct Opposite to Saravana Stores, Velachery Main Rd, Vijaya Nagar, Velachery, Chennai
Phone : 9786901830
Email Id : [email protected]
Website : https://homeoall.com/
8. Dr. Jayesh V Sanghvi
Dr. Jayesh V. Sanghvi M.D. (Hom) is a third-generation celebrity Homoeopathic  physician. The scion of a dynasty of royal physicians from Gujarat, he has over three decades of  experience. He  is based in Chennai as Director of  Dr  Sanghvi's Nature Clinic,  but has an international clientele.
Tele-consultation is his forte. As much as 25 percent of Dr. Sanghvi's patients have been treated for  a whole range of  issues, from chronic conditions to deathbed emergencies, without ever having met him.  His clinical research on 'Memory Enhancement Therapy' focusing on improving the academic performance of students is a pioneering work. Dr. Sanghvi has also done research into the ability of Homeopathy to help a patient on the deathbed to attain not only a peaceful but a spiritual end, and his  patients consider him  a 'miracle man'.
Dr.  Sanghvi's patients include the families of  various Presidents of the country, members of erstwhile royalty in  India, heads  of   religious  institutions,  politicians, industrialists, bureaucrats,  professionals, medical practitioners, and members of the film fraternity.
Contact Details:
Address : Dr. Jayesh V Sanghvi's NATURE CLINIC,20/1, 1st Street Wallace Garden, Nungambakkam, Chennai - 600006
Phone : +91-9003010099
Email Id : [email protected]
Website : http://www.natureclinic.co.in/
9. Dr. L Kannan
Dr. L. Kannan completed B.H.M.S(Bachelor of Homeopathy Medicine and Surgery) in 1997  from GHMCH, Thirumangalam, Madurai, India. He has an experience of 23 yrs. He is well versed in Tamil, English and Telugu.
Contact Details:
Address : Old Number 26/1, New Number 92, Dr Ramaswamy Salai, Landmark: Opposite Amman Koil, Chennai - 600078, Tamil Nadu, India
Phone : +91 9444301226
Email Id : [email protected]
Website : https://drkannanhomeo.com/
10. Dr. k Deivamani
First I would like to thank the peoples who are concerned and happy about looking my professional and personal growth (my parents all my professors, my wife ,all my friends ,doctors of allopathic , homeopathy and sidha my relatives and VIPs (patients)etc..)When I have started my carrier I was worked in multi speciality hopsital. During this period i have exposed more number of cases met so many doctors and get trained how to handle the patient.And after completing my BHMS I was joined in homeopathic medical college as medical officer and tutor with running my own clinic.
Contact Details:
Address : New No 52, Near Krishnan Temple, South West Bogh Road, Thiyagaraya Nagar, Chennai - 600017.
Phone : +91 98400 83149
Email Id : [email protected]
Website : http://www.drminks.com/
11. Vijay Homoeo Clinic
Drug means to heal, at times rather aggravates the symptom of the patient. Dr. Hahnemann tried to avoid these unwanted side effects by reducing the dosage. He observed that the smaller dosages may have the same effect but without side effects.
B.H.M.S. The Tamilnadu Dr.M.G.R. Medical University, Chennai.
M.D (Homeopathy) The Hemachandracharya University, Gujarat.
M.Sc. in Psychology from the Madras University Chennai.
M.Phil. in Psychology from the Tamil Nadu Open University, Chennai.
Deputy Director - Sri Sairam Homoeopathy Medical College.
Professor and The Head of The Depatment - in the Dept of Homoepathic Pharmacy, Sri Sairam Homoeopathy Medical College & Research Centre.
Contact Details:
Address : Dharma Towers, 88, Nelson Manickam Rd, Opp to bank of baroda, West Namasivaya Puram, Aminjikarai, Chennai, Tamil Nadu 600094
Phone : 03- 74965976
Website : http://www.vijayhomoeoclinic.com/