Homeopathy is an advanced, effective, and gentle system of holistic medicine that has been successfully used for over two hundred years and on every continent. Homeopathy is not to be confused with herbal medicine or nutritional therapy. The set of principles that guide the selection of medicine make homeopathy a distinct and integral system unto itself. Many doctors are practicing Homeopathy in India for many years.
Homeopathic medicines, called remedies, may be safely and effectively applied in chronic (long-term) conditions, as well as acute (short-term and self-limiting) illnesses and injuries of adults, children, and animals. Homeopathy stands out distinct as compared to other modes of treatment by its fundamental principles directed towards treating diseases at the root level, by addressing the multiple causative factors such as genetic, immunological, metabolic, hormonal, emotional and the like.
As a result, the diseases are treated in totality rather than in parts or as entities separate from the 'whole' of the individual patient. In that sense, homeopathic science believes in the 'holistic' approach.
Every life is precious. Everyone wants to consult the best doctor for their health. Here we bought you the 10 Best Homeopathy Doctors In Visakhapatnam for your next doctor visit.
1. Dr. Srikant Morlawar
Dr. Srikant Morlawar, an eminent homeopath started Homeocare International, a chain of homeopathy clinics in Visakhapatnam spread in and across South India. Homeocare International comes forward with a holistic approach to treat patients with personalized Constitutional Homeopathic Treatment that serves to be far better than the conventional treatments. It consists of top and well experienced group of Homeopathic doctors who happen to be experts in their particular line of fields. Homeopathy is the most trusted natural form of medicine that till date is being used by millions of people worldwide. Homeopathy runs on the objective that "the body can cure itself," and with this particular idea.
Contact Details:
Address : 1st Floor, G K Towers, Opp. Kalanikethan Dwaraka Nagar,
Visakhapatnam – 530016
Phone : 9535000022
Email : [email protected]
Website : https://www.homeocare.in/
2. Dr Vamsi Krishna
Dr Vamsi Krishna  was graduated from HKE'S Homoeopathy Medical College & Hospital,Gulbarga,Karnataka.He worked as Homoeopathic consultant at reputed corporate chain of clinics in Hyderabad and Visakhapatnam. He was inspired by teachings of MASTER E.K  and conducted many free medical camps for the poor and needy people in and around Visakhapatnam.For his selfless service he received best service award in the year 2014.He has a vaste knowledge in Classical Homoeopathy and 10 years of clinical experience.His areas of interest is in treating and managing life style diseases like Arthritis,Diabetes,Obesity ,Psoriasis,Thyroid disorders etc..
Contact Details:
Address : 58-1-343/3,Baaji Junction,Opp:Bank of Baroda, NAD K Road, Visakhapatnam
Phone : 9642395960
Email : [email protected]
Website : https://www.sunhomeocare.in/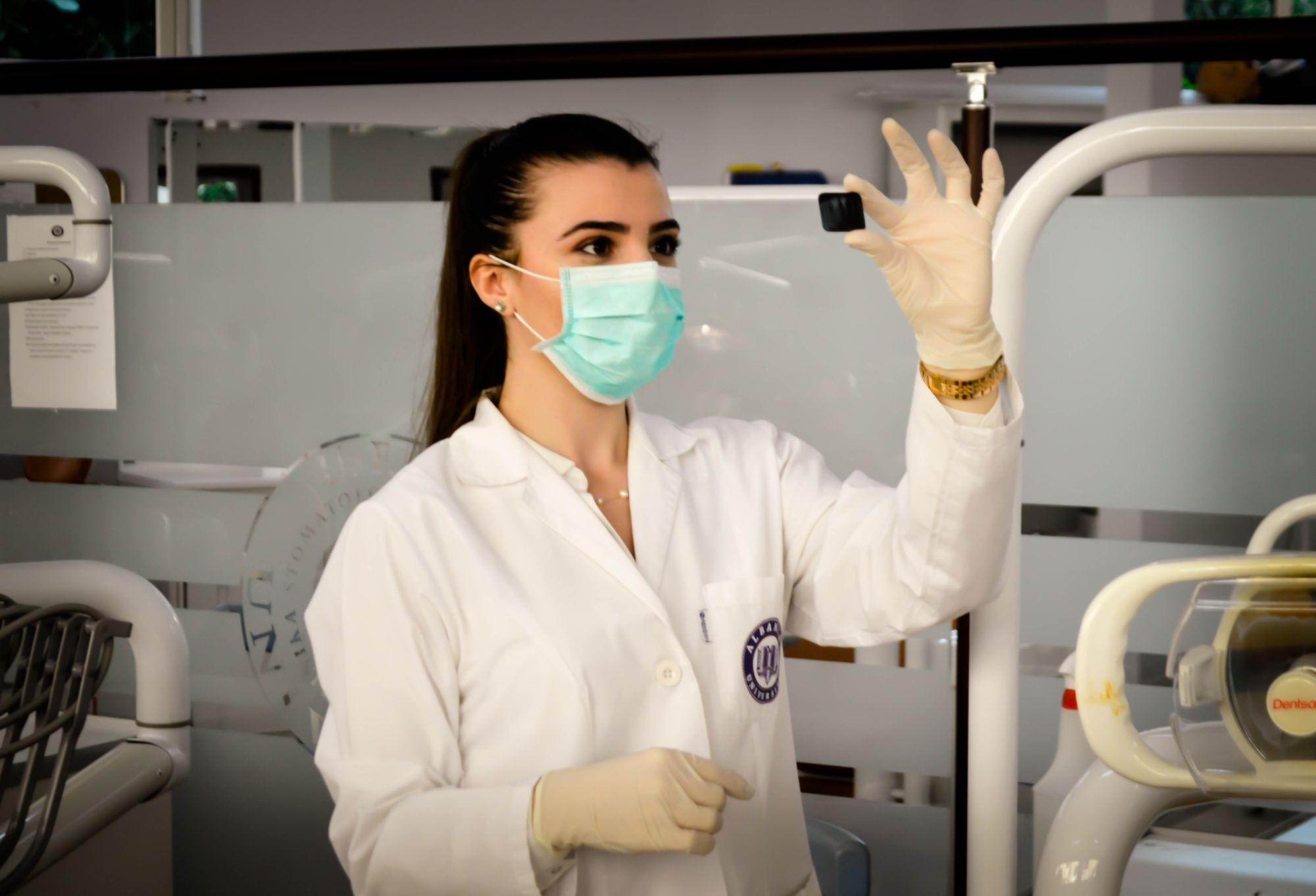 3. Dr Sridevi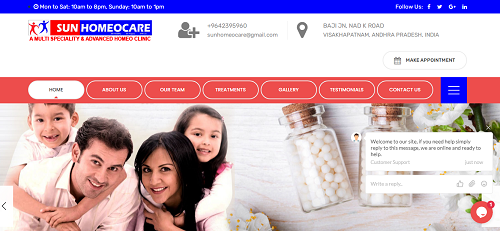 Dr Sridevi holds MD in Homoeopathy from JSPS Homoeopathic Medical College,Hyderabad.She deals with Homoeopathic management for various types of gynaec related problems.Her areas of interest is in treating hormonal abnormalities , PCOD, Menstrual irregularities and menopausal issues. In this busy world ...people run with time for their future..forgetting to live in the present...which leads to many life style diseases example allergies, diabetes, hypertension, thyroid problems, IBS,menstrual disturbances in females,insomnia,obesity etc...Homoeopathy offers the best solution for these problems without any side effects.
Contact Details:
Address : 58-1-343/3,Baaji Junction,Opp:Bank of Baroda, NAD K Road, Visakhapatnam
Phone : 9642395960
Email : [email protected]
Website : https://www.sunhomeocare.in/
4. Dr. Kiran Kumar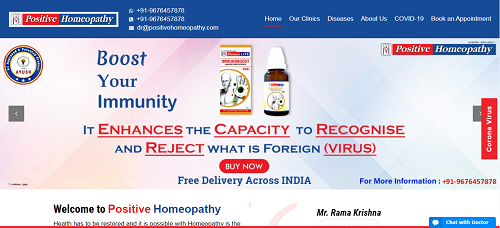 Dr. Kiran Kumar is a self motivated, strong willed, kind-hearted and ambitious person with a positive attitude whose pioneering efforts have contributed to a healthy society. He graduated from the Gulbarga University two decades ago. His aim is to spread and dedicate homeopathy which is the best and affordable treatment even to the economically backward. The advent of the new age medicine coincided with the rapid strides our country has been making in science and technology, all the while ignoring the best method of constitutional therapy. Viewing evolutionary scenario in the medical field, which is a mirage to the common man. Thereafter, Dr. Kiran embarked upon a remarkable journey as a homeopath to start a medical domain wherein the institution can contribute maximum the society.
Contact Details:
Address : 50-81-36/1, Sree Balaji Chambers,
Seethampet Bazar, Vishakapatnam
Phone : 9676457878
Email : [email protected]
Website : https://www.positivehomeopathy.com/
5. Dr. Batra's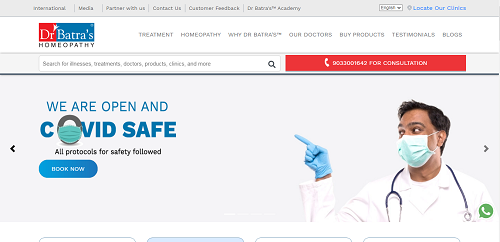 Considered as one of the top Homeopathy Doctors in Visakhapatnam, Dr. Batra specializes in Homeopathy for the cure of many diseases. They believe that a job is not simply about getting to office every day, finishing routine stuff by the end of the day and then packing off without any take-home feeling. They believe that this is the place where you spend most of your waking time so why not make it worthwhile! That is why we take all the care to see that you get the best while you give your best at your job at Dr. Batra's.
Contact Details:
Address : D.NO. 47-15-10, 303, 2nd Floor, V R C Complex, Station Road, Landmark: Besides Andhra Bank ATM, Opp.TSR Complex, Dwarkanagar, Visakhapatnam
Phone : 9033001642
Website : https://www.drbatras.com/
6. Dr. Manu
Manu's Homeopathy embraces to serve all people through its exemplary health care, education, research and community service hallmarked by the finest medical skills in an extensive network of clinics and physicians. Expertising in specialty care for a vast spectrum of medical disciplines, Dr. Manu's homeopathy encompasses 14 running multi-specialty homeo clinics with several more already in the agenda, integrating specialty care. Our team approach across many locations, communicating and collaborating, takes advantage of resources to make a difference in the lives of our patients.
Dr. Manu's Homeopathy prides an unwavering commitment in bestowing the highest quality of personal patient care transcending the realm of holistic cure.The clinics are proven to be the birthplace for many firsts which fostered innovations for an improved healthcare, bringing you the 21st century medicine.
Contact Details:
Address : Emandi Lakshmi Towers, Ground Floor, Suryabagh,
Near Jagadamba Centre,Visakhapatnam
Phone : 9030030012
Email : [email protected]
Website : http://drmanushomeopathy.com/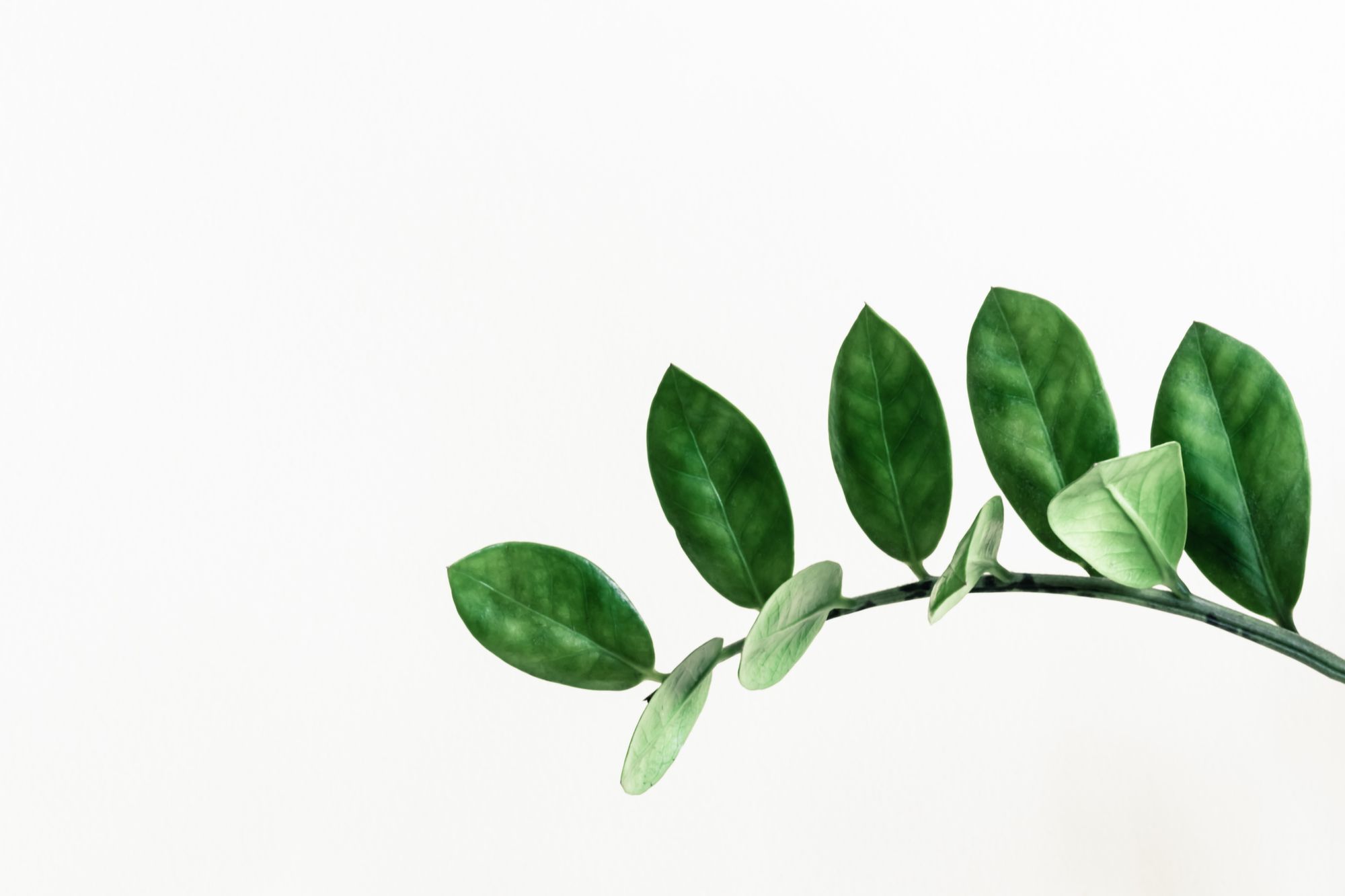 7. Srikanth Homoeo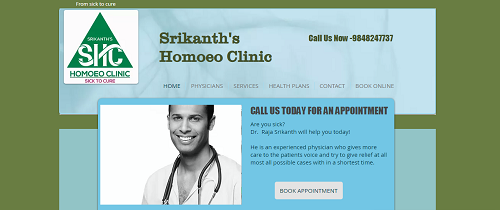 When you are suffering from an unexpected illness or injury, or when you simply require general medical attention without waiting for an appointment, we are the provider you need. Our professional team of board-certified physicians, nurses and technicians is equipped to handle a comprehensive range of urgent medical conditions and injuries, routine illnesses, and general medical services. Medical services are provided and billed by Medical Clinic. Our providers participate in most all of the major health insurance plans in the region. Following are the health plans which we currently accept. If your plan is not listed, we will be unable to file a claim on your behalf. However, we can provide you with a form that you can submit to your insurance company to instruct them to send reimbursements directly to you.
Contact Details:
Address : opp sanghvi jewelrs ,near asilmetta, Visakhapatnam
Phone : 9848247737
Website : https://www.srikanthshomoeoclinic.in/
8. Dr Poonam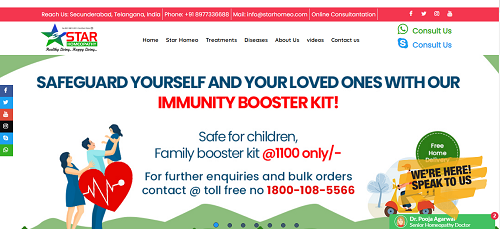 The doctors at our clinic are trained at prescribing medicines based on classical Homeopathy. The medicines prescribed by our Homeopaths is so efficacious that it retards the recurrence of the diseases, reaches the root cause of the disease and brings back the body to harmony. Star Homeopathy Doctor In Visakhapatnam is a team of highly qualified, exclusively trained, and empathetic Homeopaths treating various disorders with a high success rate. Our Mission is to establish and follow an exclusive training procedure to train the doctors on a continual basis to maintain standards uniformly across all branches centers or clinics. We stand to cure, care, comfort, and last to improve quality of life.
Contact Details:
Address : Emandi Lakshmi Towers, Ground Floor, Suryabagh,
Near Jagadamba Centre,Visakhapatnam
Phone : 8977336688
Email : [email protected]
Website : https://starhomeo.com/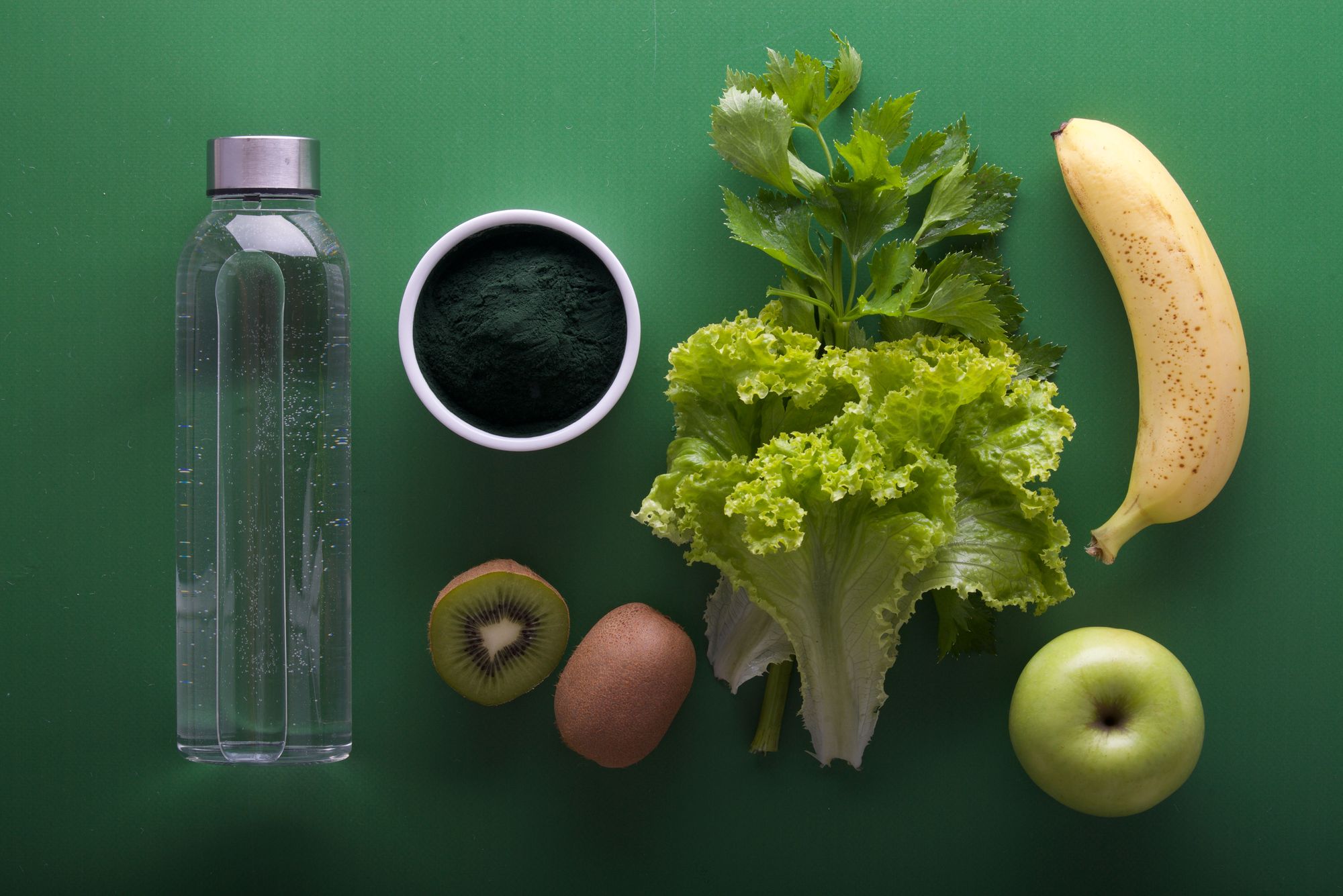 9. Dr. A.M. Reddy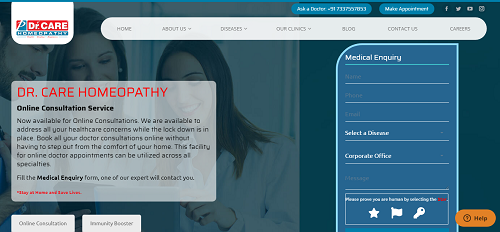 Dr. A.M. Reddy founded Dr.Care Homeopathy Group which includes the chain of Dr.Care Homeopathy and Dental clinics across India in the year 2005. He is known to be one of the renowned Homeopaths in India and has been practicing Homeopathy since decades. He not only played a pioneering role in the development of Homeopathy in India, but also took every measure possible to ensure that its significance and awareness has reached millions of people across the nation. Now Dr.Care Homeopathy Group is considered one of the leading chains of clinics in India characterized by its great percentage of success rate in treatments.
With this expertise, experience, and leadership, he has developed Dr.Care Homeopathy into one of the most successful clinics in India. He has been a role-model to the young and aspiring Homeopaths who have also been a crucial part of Dr.Care Group and contributing to its all-round success in offering top class treatments for all diseases.
Contact Details:
Address : Door No: 47-10-1/3, Bhuvaneswar Plaza,
Opp: Fortune Sree kanya Hotel, Near Diamond Park Road,
Dwaraka Nagar, Visakhapatnam
Phone : 73375 57853
Website : https://drcarehomeopathy.com/
10. Dr. Ravi Kiran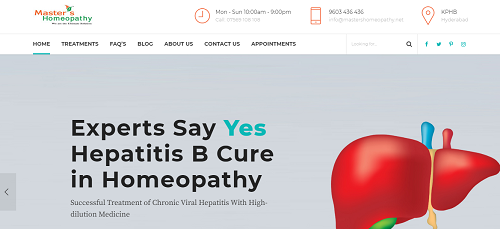 Dr. Ravi Kiran is one of the younger doctors who specialized in achieving success with their talents in the field of medicine. To achieve the goal of making every patient healthy, he contributes his entire time and also getting good satisfaction in medical service. Congratulations give new enthusiasm to all in any field of interest. It is inspired to work with more dedication.
Achievements received from the awards and appraisals or compliments given by patients will further encouraged him towards expansion of services. Recognized by state level, national and international organizations for his tremendous work in healthcare sector- making him role model for young and dynamic doctors today.
Contact Details:
Address : 48-8-7, Dimond Apartments, Flat No-201, opposite V Hotel, Dwaraka Nagar, Visakhapatnam
Phone : 9063436436
Email Id :[email protected]
Website : https://mastershomeopathy.net/