Homeopathy is an advanced, effective, and gentle system of holistic medicine that has been successfully used for over two hundred years and on every continent. Homeopathy is not to be confused with herbal medicine or nutritional therapy. The set of principles that guide the selection of medicine make homeopathy a distinct and integral system unto itself. Many doctors are practicing Homeopathy in India for many years.
Homeopathic medicines, called remedies, may be safely and effectively applied in chronic (long-term) conditions, as well as acute (short-term and self-limiting) illnesses and injuries of adults, children, and animals. Homeopathy stands out distinct as compared to other modes of treatment by its fundamental principles directed towards treating diseases at the root level, by addressing the multiple causative factors such as genetic, immunological, metabolic, hormonal, emotional and the like.
As a result, the diseases are treated in totality rather than in parts or as entities separate from the 'whole' of the individual patient. In that sense, homeopathic science believes in the 'holistic' approach.
Every life is precious. Everyone wants to consult the best doctor for their health. Here we bought you the 15 Best Homeopathy Doctors In Coimbatore for your next doctor visit.
1. Dr. Srikant Morlawar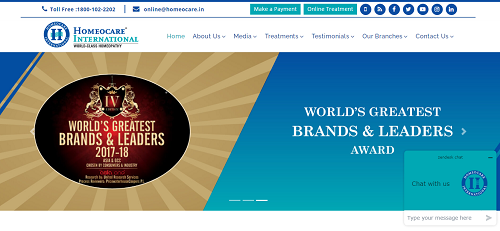 Dr. Srikant Morlawar, an eminent homeopath started Homeocare International, a chain of homeopathy clinics spread in and across South India. Homeocare International comes forward with a holistic approach to treat patients with personalized Constitutional Homeopathic Treatment that serves to be far better than the conventional treatments. It consists of top and well experienced group of Homeopathic doctors in Coimbatore who happen to be experts in their particular line of fields. He says, My medical profession started with the passion to better the lives of the people. Throughout my initial days of practice I've felt immense satisfaction deep in my heart for choosing the profession of a physician. Years passing by, the urge in me to serve broader section of the society grew stronger and with this zeal, I found this institution Homeocare International that treats its patients with the utmost care and personalized homeopathic treatments and shall have a great impact on their health and lives
Contact Details:
Address : 126 Ground floor, Rajaji Rd, beside Bata Shoe Store & Sri Krishna Sweets,Near Kannan Dept Stores,Opposite to Dhanalakshmi Bank, Peranaidu Layout, Ram Nagar, Coimbatore
Phone : 9248090251
Email : [email protected]
Website : https://www.homeocare.in/
2. Dr. A.M. Reddy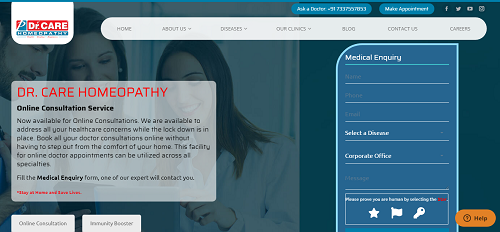 Dr. A.M. Reddy founded Dr.Care Homeopathy Group which includes the chain of Dr.Care Homeopathy and Dental clinics across India in the year 2005. He is known to be one of the renowned Homeopaths in Coimbatore and has been practicing Homeopathy since decades. He not only played a pioneering role in the development of Homeopathy in India, but also took every measure possible to ensure that its significance and awareness has reached millions of people across the nation. Now Dr.Care Homeopathy Group is considered one of the leading chains of clinics in India characterized by its great percentage of success rate in treatments.
With this expertise, experience, and leadership, he has developed Dr.Care Homeopathy into one of the most successful Homeopathy clinics in Coimbatore. He has been a role-model to the young and aspiring Homeopaths who have also been a crucial part of Dr.Care Group and contributing to its all-round success in offering top class treatments for all diseases.
Contact Details:
Address : 574-A, Diwan Bhadur Rd, Vayaluran Tower, R.S. Puram, Coimbatore
Phone : 7995312168
Website : https://drcarehomeopathy.com/
3. Dr. Batra's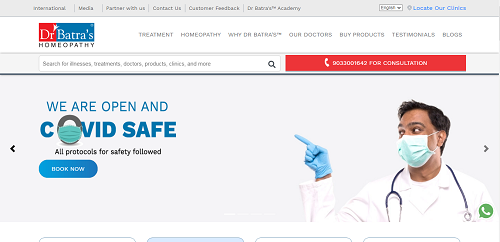 Considered as one of the top Homeopathy Doctors in Coimbatore, Dr. Batra specializes in Homeopathy for the cure of many diseases. They believe that a job is not simply about getting to office every day, finishing routine stuff by the end of the day and then packing off without any take-home feeling. They believe that this is the place where you spend most of your waking time so why not make it worthwhile! That is why we take all the care to see that you get the best while you give your best at your job at Dr. Batra's.
Contact Details:
Address : 2nd floor, 150-151, Above Shri Ganapathi Stores, Landmark: Opp. to ICICI Bank, Coimbatore
Phone : 9033001649
Website : https://www.drbatras.com/
4. Dr Jemz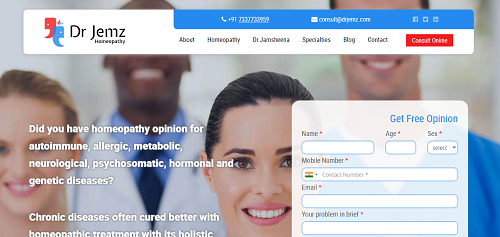 Dr Jamsheena, a dedicated and dynamic homeopath graduated from RVS Homeopathic Medical College. She has clinical experience of over 9 years in her field and known for providing best homeopathic treatment. She is a trusted professional possessing an empathic, patient-centered philosophy of care. Her expertise extends in the areas of autoimmune diseases, women & child health, endocrine disorders. She keeps herself abreast of up-to-date medical science advancements and an active member of IHK. Her good interpersonal communication skills help to find out the genuine solution for her patients. She consults patients from India and from different parts of the world both online and in clinic. Over the last few years we have helped thousands of people.Consult Online.
Dr Jemz Homeopathy provides genuine and effective homeopathic treatment at your comfort after detailed interactions via email, whatsapp or over the phone. The data including photographs and personal information needed for your treatment purpose will be safe and secure with us.
Contact Details:
Address : Textool feeder road, V.G RAO Nagar Phase1, Athipalayam Pirivu, Subhash Nagar, Ganapathypudur, Coimbatore
Phone : 7337733959
Email : [email protected]
Website : http://www.drjemz.com/
5. Dr Anbu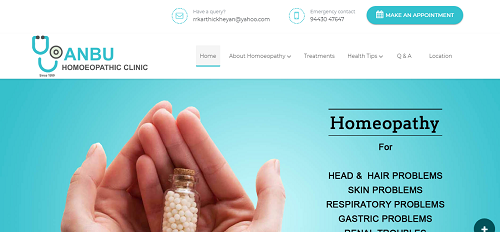 Anbu Homoeopathic Clinic was established in the year 1999. Anbu Homeopathic Clinic is a super specialty clinic which treats all kinds of health disorders in most gentle & permanent manner without any side effects.
Compassion: We offer world-class treatment by providing care and supportive environment for our patients. Empathy: We understand the patient's condition and feelings from their perspective. Service: We strive to exceed our patients' expectations for comfort and convenience. Integrity: We adhere to high moral principles and professional standards by a commitment to honesty, confidentiality, trust, respect and transparency. Quality: We maintain the highest standards and achieve them by continually measuring and improving our outcomes. Ethics: We strictly follow the ethics by sticking on the principles of homoeopathy. Innovation: We welcome change, encourage invention and continually seek better, more efficient ways to achieve our goals.
Contact Details:
Address : #92, T.M. House, West Thiruvenkadasamy Road R.S Puram (West), Opp to Nilgris, below Central Bank of India and Giri Trading Centre, Coimbatore
Phone : 9443047647
Email : [email protected]
Website : http://anbuhomeopathy.com/
6. Dr Dinesh Samuel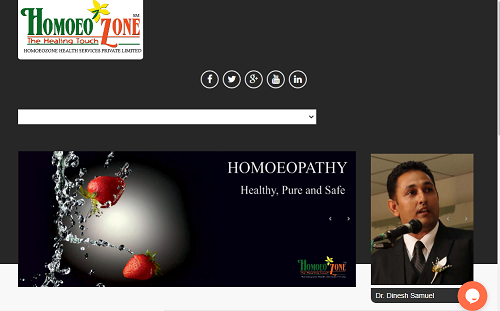 To be the best healthcare institution that serves the community with the highest standards of respect, patient safety and clinical excellence. To inspire hope and contribute to health and well-being by providing the best care to every patient through integrated clinical practice, education and research.
At Homoeozone we strive to popularize homoeopathy which is a field of medicine that is easily palatable with no known side effects. The efficacy of which is seen in millions of patients ranging from allergies to cancers. It is a joy to show the world what homoeopathy can do at Homoeozone!!
Contact Details:
Address : No.23, 6th Street, Tatabad, Gandhipuram, Coimbatore - 641 012.
Phone : (0)422 249-7858
Email Id : [email protected]
Website : www.homoeozone.com
7. Aram health care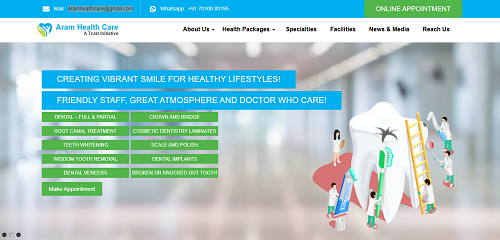 Aram healthcare at residential area of Townhall in the heart of Coimbatore. Prevention is better than cure so goes a saying. With this thought, Aram is giving emphasis on preventive health care. Hence, we do have a lot of Wellness packages for every individual.
In our endeavour to provide preventive health care at the most nascent stage, we conduct regular medical and dental health check-up camps for children.
Recently, with a holistic approach in mind, we have started with a homeopathic medicine department. Welcome to the Aram Multi specialty clinic, located in a residential area of Townhall in the heart of Coimbatore. We are providing best treatments for all major diseases. Our clinic includes pharmacy and clinical diagnosis center.
Contact Details:
Address : 86/1, 1st Floor Vysial Street, Above Axis Bank, Coimbatore - 641001,
Tamil Nadu, India
Phone : +91 70100 83195
Email : [email protected]
Website : https://www.aramhealthcare.in/
8. Dr Anki Reddy's
Dr. Ankireddy's (Sneha Homeopathy Clinic) includes homeopathy as a combination of psychology, communications and medical "Art". Here the doctors able to get close to people, deeply understand and address their psychological and physical, economical & social problems.
Dr. Ankireddy's clinic treats Chronic, deep-seated health problems from cold to cancer, an autoimmune disorder with his own approach. Dr. Ankireddy's (Sneha Homeopathy Clinic is the ocean with Astonishing unbelievable results, here Miracle will happen every day of "Rheumatoid Arthritis, SLE'S, Infertility, Thyroid, Testimonials Before & After". Here we provide the Homeopathy Medicine a safe, natural system of medicine that works with your body to restore overall balance – relieving symptoms and promoting long-term good health.
Here we provide Homeopathy remedies that include minimum dose and are gentle, subtle and powerful. They are nonaddictive and safe for all ages from pregnant women and newborns to the elderly. More than 90000 cases and Lakhs of patients benefited from treatment provided by Sneha Homeopathy Clinic.
Contact Details:
Address : Shop No 11, Model Tower, Near Warangal Rice Stores, Brig Syed Rd, Bapuji Nagar, Bowenpally, Secunderabad, Telangana – 500011
Phone : +91 9515869820
Email : [email protected]
Website : https://www.drankireddy.com/
9. HomoeoCare
HomoeoCARE is essentially an organization with a heart. The spirit of HomoeoCARE is one of compassion, sensitivity, and caring.HomoeoCARE has been created to reach out to the many children (and families of these children) suffering from allergies and behavioral problems. They are the very reason we exist.
Driven by the conviction that a healthy, happy childhood is the fundamental right of every child, curing these children and leading them back to the mainstream of life is our sacred commitment. HomoeoCARE is a super specialty pediatric clinic that focuses on eradicating disease from the very root. With our own unique approach to the processes of healing, we strive relentlessly to alleviate the suffering/ helplessness and the anxiety of their families.
Contact Details:
Address : 103-104, 1st Floor, Crystal Heights, Madhavdas Pasta Road, Dadar (E), Mumbai-14
Phone : 9867367671,
Email : [email protected]
Website : https://www.homoeocare.co.in/
10. Dr Basil Homeo Hospital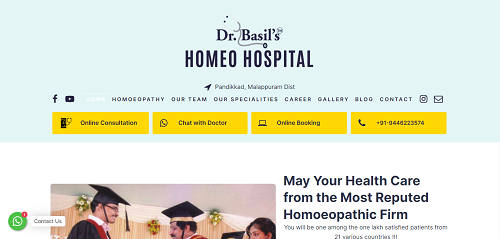 Dr. Basil's Homeo Hospital is one of the Leading Homeo Hospitals in India with more than 1 lakh cured patients from over 21 countries. We are using latest Europian Softwares to Diagnose disease and Exact Medicines are prescribed that suites the patient. All our Potency Medicines are Directly imported from Germany, Mother land of Homoeopathy. We are Providing Online Consultation throughout the world. We are proud to be the First IHRC Accredited Homeo Hospital in India.
Homoeopathy is a Medical system developed in 1796 by Dr.C.F. Samuel Hahnemann, based on his doctrine of like cures like (similia similibus curentur), means substance that causes the symptoms of a disease in healthy people would cure similar symptoms in sick people.
Contact Details:
Address : Near Supplyco Supermarket, Opp.Bus Stand, Pandikkad, Malappuram. Kerala
Phone : +91 9847535540
Email : [email protected]
Website : https://drbasilhomeo.com/