Homeopathy is an advanced, effective, and gentle system of holistic medicine that has been successfully used for over two hundred years and on every continent. Homeopathy is not to be confused with herbal medicine or nutritional therapy. The set of principles that guide the selection of medicine make homeopathy a distinct and integral system unto itself. Many doctors are practicing Homeopathy in India for many years.
Homeopathic medicines, called remedies, may be safely and effectively applied in chronic (long-term) conditions, as well as acute (short-term and self-limiting) illnesses and injuries of adults, children, and animals. Homeopathy stands out distinct as compared to other modes of treatment by its fundamental principles directed towards treating diseases at the root level, by addressing the multiple causative factors such as genetic, immunological, metabolic, hormonal, emotional and the like.
As a result, the diseases are treated in totality rather than in parts or as entities separate from the 'whole' of the individual patient. In that sense, homeopathic science believes in the 'holistic' approach.
Every life is precious. Everyone wants to consult the best doctor for their health. Here we bought you the 10 Best Homeopathy Doctors In Coimbatore for your next doctor visit.
1. Dr. Srikant Morlawar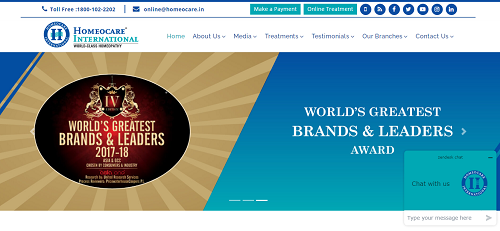 Dr. Srikant Morlawar, an eminent homeopath started Homeocare International, a chain of homeopathy clinics spread in and across South India. Homeocare International comes forward with a holistic approach to treat patients with personalized Constitutional Homeopathic Treatment that serves to be far better than the conventional treatments. It consists of top and well experienced group of Homeopathic doctors in Coimbatore who happen to be experts in their particular line of fields. He says, My medical profession started with the passion to better the lives of the people. Throughout my initial days of practice I've felt immense satisfaction deep in my heart for choosing the profession of a physician. Years passing by, the urge in me to serve broader section of the society grew stronger and with this zeal, I found this institution Homeocare International that treats its patients with the utmost care and personalized homeopathic treatments and shall have a great impact on their health and lives
Contact Details:
Address : 126 Ground floor, Rajaji Rd, beside Bata Shoe Store & Sri Krishna Sweets,Near Kannan Dept Stores,Opposite to Dhanalakshmi Bank, Peranaidu Layout, Ram Nagar, Coimbatore
Phone : 9248090251
Email : [email protected]
Website : https://www.homeocare.in/
2. Dr. A.M. Reddy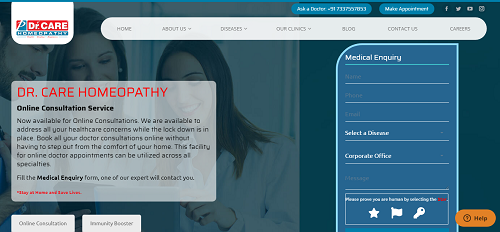 Dr. A.M. Reddy founded Dr.Care Homeopathy Group which includes the chain of Dr.Care Homeopathy and Dental clinics across India in the year 2005. He is known to be one of the renowned Homeopaths in Coimbatore and has been practicing Homeopathy since decades. He not only played a pioneering role in the development of Homeopathy in India, but also took every measure possible to ensure that its significance and awareness has reached millions of people across the nation. Now Dr.Care Homeopathy Group is considered one of the leading chains of clinics in India characterized by its great percentage of success rate in treatments.
With this expertise, experience, and leadership, he has developed Dr.Care Homeopathy into one of the most successful Homeopathy clinics in Coimbatore. He has been a role-model to the young and aspiring Homeopaths who have also been a crucial part of Dr.Care Group and contributing to its all-round success in offering top class treatments for all diseases.
Contact Details:
Address : 574-A, Diwan Bhadur Rd, Vayaluran Tower, R.S. Puram, Coimbatore
Phone : 7995312168
Website : https://drcarehomeopathy.com/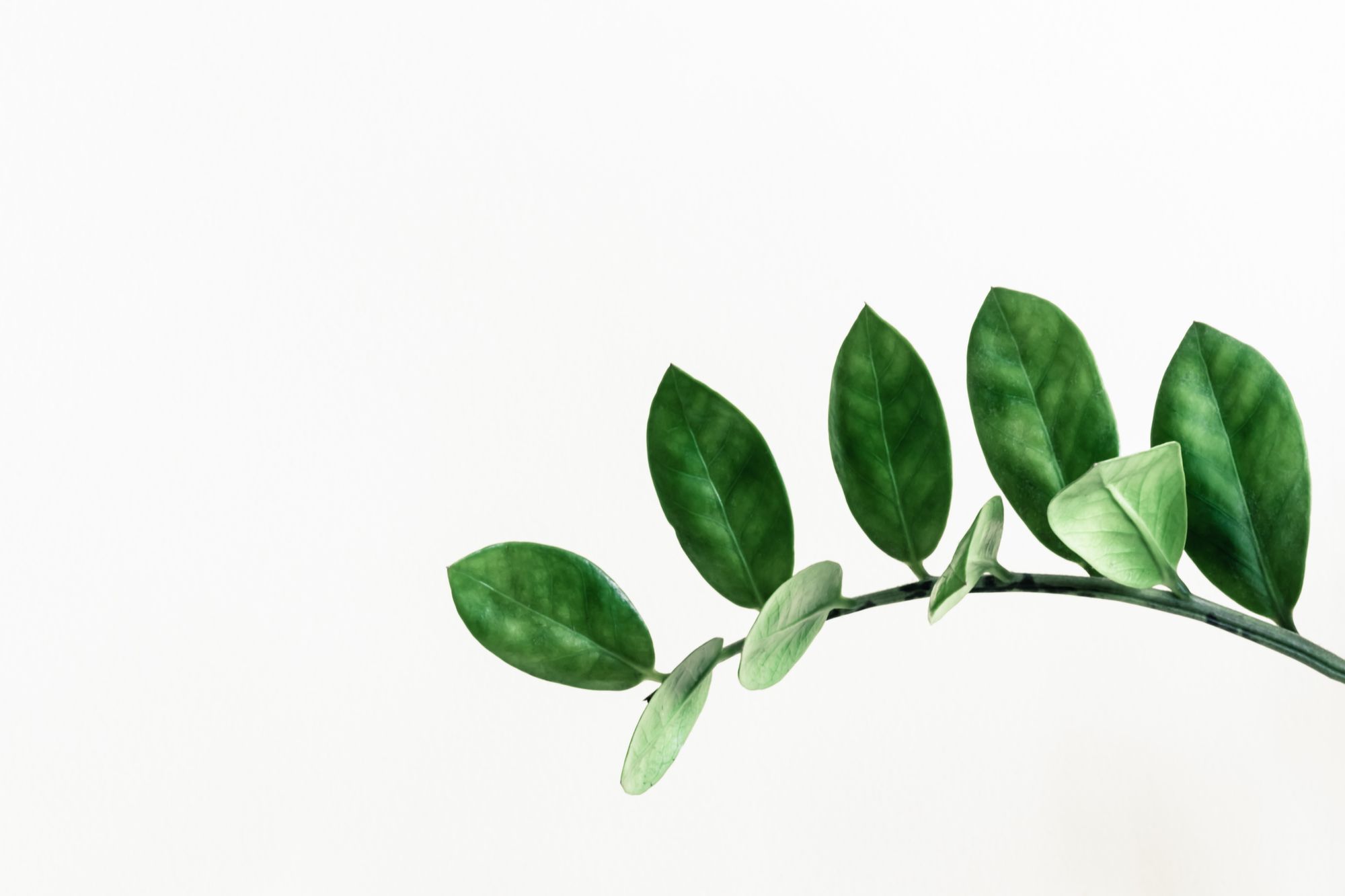 3. Dr. Batra's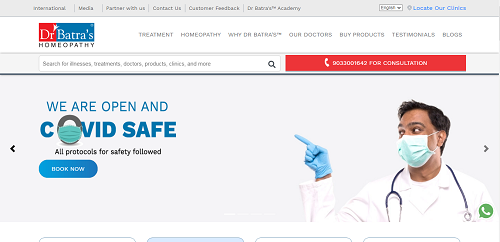 Considered as one of the top Homeopathy Doctors in Coimbatore, Dr. Batra specializes in Homeopathy for the cure of many diseases. They believe that a job is not simply about getting to office every day, finishing routine stuff by the end of the day and then packing off without any take-home feeling. They believe that this is the place where you spend most of your waking time so why not make it worthwhile! That is why we take all the care to see that you get the best while you give your best at your job at Dr. Batra's.
Contact Details:
Address : 2nd floor, 150-151, Above Shri Ganapathi Stores, Landmark: Opp. to ICICI Bank, Coimbatore
Phone : 9033001649
Website : https://www.drbatras.com/
4. Dr.N.Unnikrishnan
Dr.N.Unnikrishnan is the Founder Director of Nanas Homoeo Medical Centre.Dr Unnikrishnan is a pioneer in the feild of Homoeopathy. He has a vast experience of 38 years in the feild of homoeopathy. Dr Unnikrishnan has served Government of Kerela under the Department of Homoeopathy for 25 yrs before retiring as Cheif Medical Officer (CMO) from the district hospital of palakkad,Kerela state. Dr Unnikrishnan holds an official license issued by the Ministry of Health (MOH) under His Highness Royal Sultan Of Dubai,U.A.E to practise Homoeopathy independently on their soil. Dr Unnikrishnan has also worked as the cheif consultant in the Al-Bayaan medical centre in Karama, Dubai.
Contact Details:
Address : Ration Shop, Shop No.29,30 Municipal Commercial Complex Near Ram Nagar, Patel Rd, Ramnagar, Ranganathapuram, Coimbatore
Phone : 04222237855
Email : [email protected]
Website : http://www.nanashomoeopathy.com/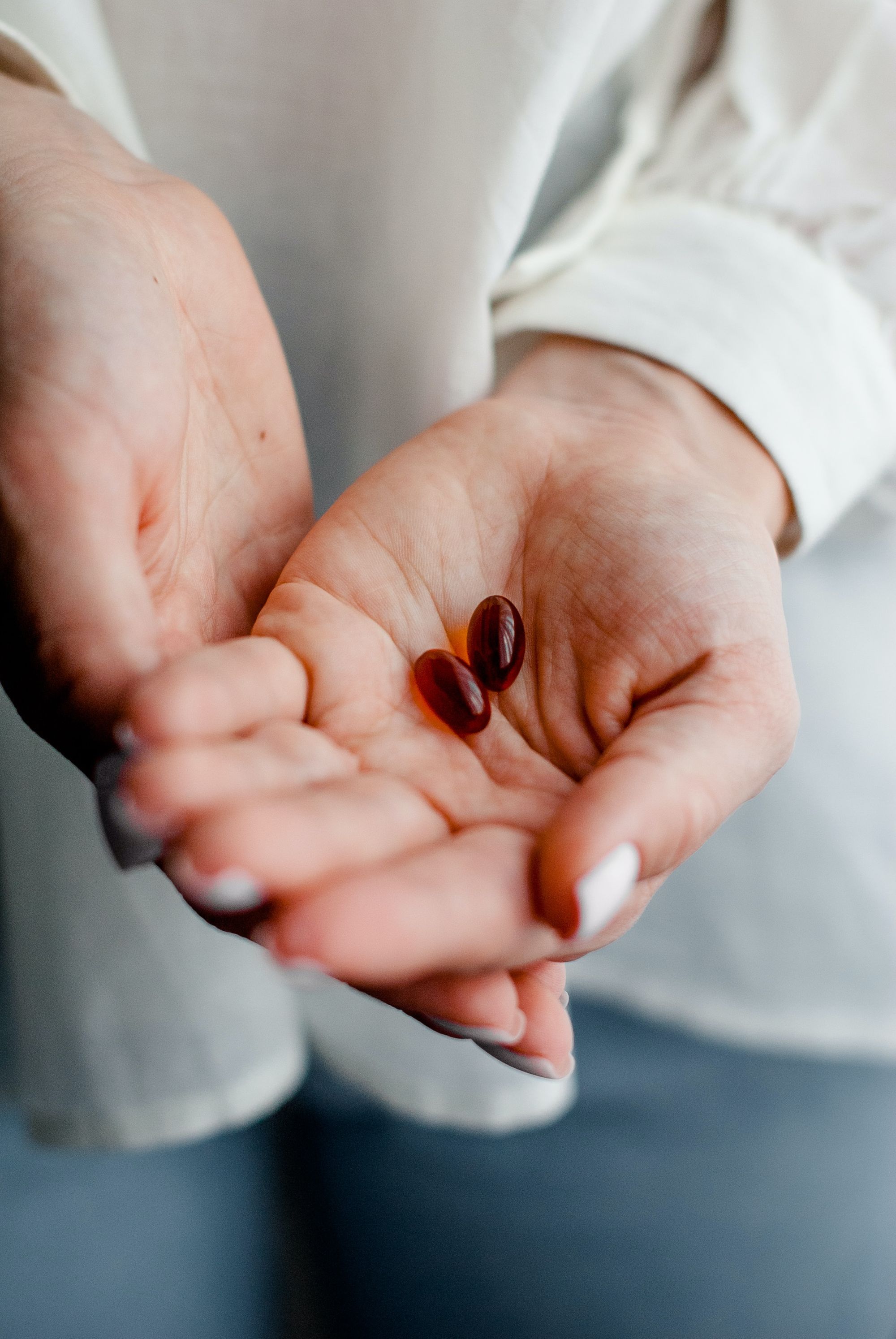 5. Dr Sathish Aurobindo
Dr Sathish Aurobindo BHMS,MD(HOM) is the Director of Nanas Homoeo Medical Centre.Dr sathish has done his BHMS degree from Fr.Mullers Homoeopathic Medical College,Mangalore,Karnataka which is affiliated to Rajiv Gandhi University of Health Science( R.G.U.H.S. ) Bangalore, Karnataka. Dr sathish has specialised in homoeopathic repetorisation and has MD.(HOM) Degree from Dakshin Kesari Muni Mishrilalji Homoeopathic Medical college ( DKMM ),Aurangabad,Maharashtra which is affiliated to Maharastra University of health sciences( M.U. ).Dr Sathish is an iconic figure among the new generation homoeopathic doctors. Following the footsteps of his father and guide Dr.N.Unnikrishnan, Dr sathish has made a mark of himself in the elite panel of Homoeopaths. Dr sathish is one of the most leading practioner of homoeopathy in the city. He has set a new standard in classical homoeopathic treatment. Dr.sathish is specialized in treating chronic diseases. Dr sathish's success in treating chronic diseases has earned him patients pouring from all parts of the state and even from the neighbouring states.
Contact Details:
Address : Ration Shop, Shop No.29,30 Municipal Commercial Complex Near Ram Nagar, Patel Rd, Ramnagar, Ranganathapuram, Coimbatore
Phone : 04222237855
Email : [email protected]
Website : http://www.nanashomoeopathy.com/
6. Dr Anila Sathish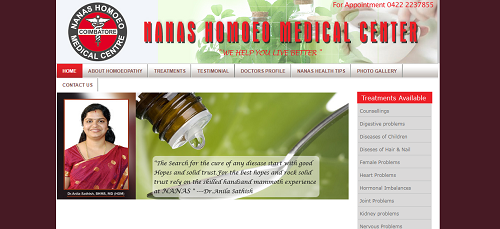 Dr Anila Sathish,the Co-Director of Nanas Medical Centre has done her Graduation from Fr. Mullers Homoeopathic Medical Collage,Mangalore under Rajiv Gandhi University of Health Sciences.She has done her Post Graduation in Homoeopathic Repertory MD.(HOM) from Maharashtra University.She is one of the most efficient of the few lady doctors available in the city. Dr Anila sathish has shown a new way of treatment and hope for numerous female and child complaints. Dr. Anila has her own innovative way of treatment for patients.Dr Anila is popular in the city for the personal care and extra ordinary success she has in treating ailments of children and females. Dr Anila Sathish is also an expert family counselor and has shown light to many of the fragile family problems.
Contact Details:
Address : Ration Shop, Shop No.29,30 Municipal Commercial Complex Near Ram Nagar, Patel Rd, Ramnagar, Ranganathapuram, Coimbatore
Phone : 04222237855
Email : [email protected]
Website : http://www.nanashomoeopathy.com/
7. Dr Jemz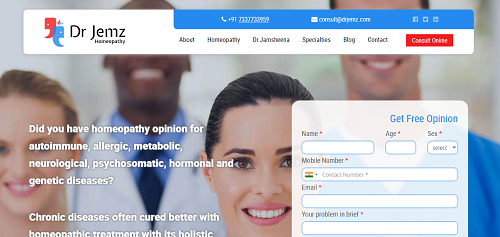 Dr Jamsheena, a dedicated and dynamic homeopath graduated from RVS Homeopathic Medical College. She has clinical experience of over 9 years in her field and known for providing best homeopathic treatment. She is a trusted professional possessing an empathic, patient-centered philosophy of care. Her expertise extends in the areas of autoimmune diseases, women & child health, endocrine disorders. She keeps herself abreast of up-to-date medical science advancements and an active member of IHK. Her good interpersonal communication skills help to find out the genuine solution for her patients. She consults patients from India and from different parts of the world both online and in clinic. Over the last few years we have helped thousands of people.Consult Online.
Dr Jemz Homeopathy provides genuine and effective homeopathic treatment at your comfort after detailed interactions via email, whatsapp or over the phone. The data including photographs and personal information needed for your treatment purpose will be safe and secure with us.
Contact Details:
Address : Textool feeder road, V.G RAO Nagar Phase1, Athipalayam Pirivu, Subhash Nagar, Ganapathypudur, Coimbatore
Phone : 7337733959
Email : [email protected]
Website : http://www.drjemz.com/
8. Dr Vijay
Dr Vijay, Our service through homeopathy has been satisfying more than a span of 40-50 years down the lane. We have been conducting, organizing numerous free medical camp over the outskirts of Coimbatore. Also creating awareness in a social responsibility About the benefits of homeopathy. to change. Therefore the public addressing of homoepathy at school and colleges is carried out meticulously. We have a complete setup of homoepathic pharmacy with clinical laboratory.
There's saying there is no gain without pain. Here through his homoepathic treatment, people only gain without any pain. We will serve our patients and their families, physicians, staff and communities with dignity and respect. Our mission is to provide consistently excellent and accessible healthcare services with minimal side effects and complete mental, physical and spiritual well being of each individual who consults us. We will also strive to offer best preventive medication to the society.
Contact Details:
Address : #23 Sai complex, 147 Thadagam road opposite Avila convent,Venkatapuram, Coimbatore-641025
Phone : 9894277789
Email : [email protected]
Website : http://homeojunction.com/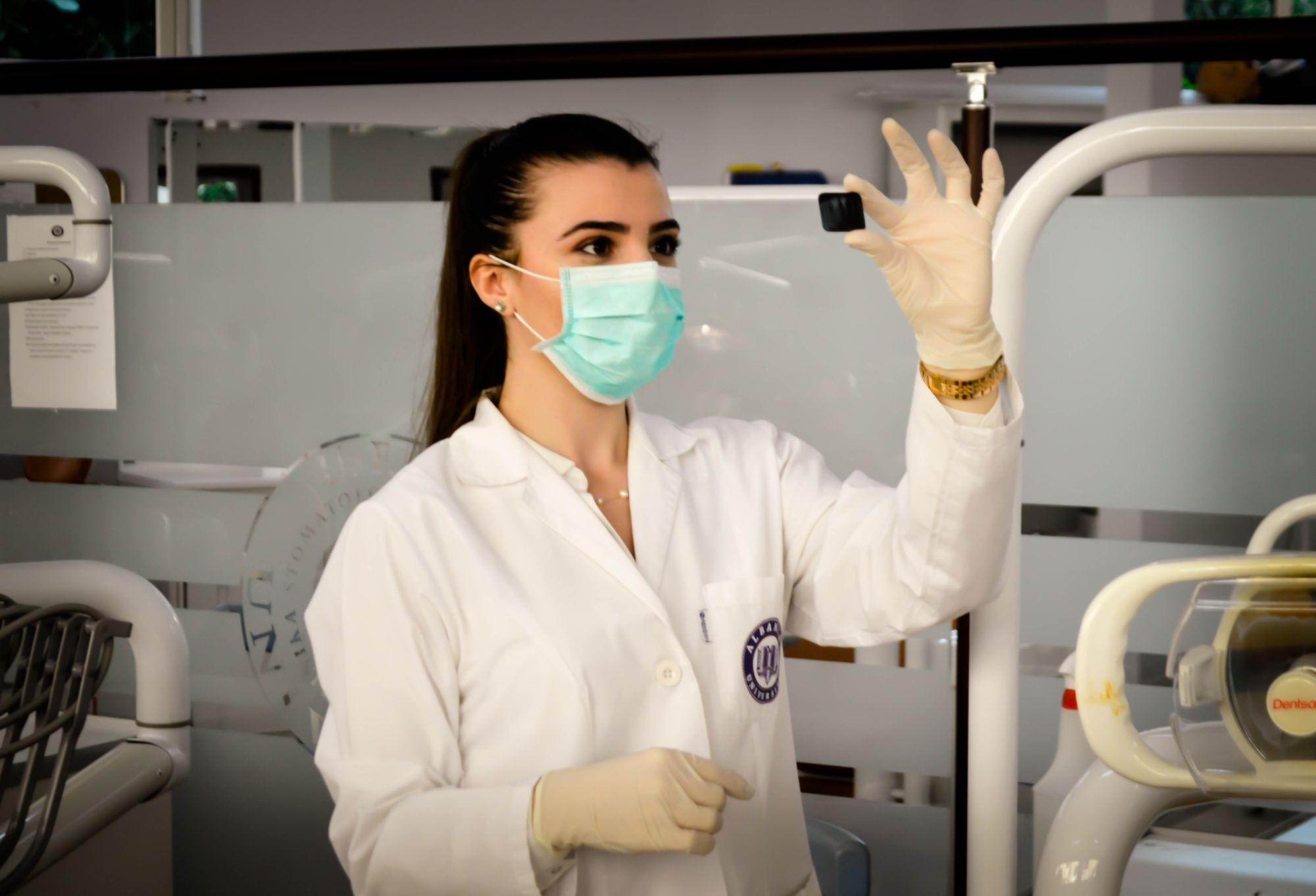 9. Dr Anbu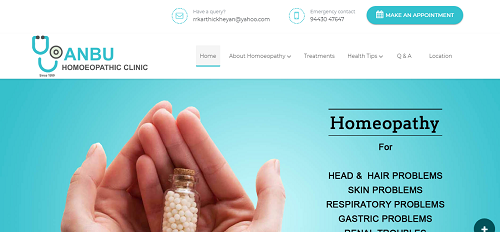 Anbu Homoeopathic Clinic was established in the year 1999. Anbu Homeopathic Clinic is a super specialty clinic which treats all kinds of health disorders in most gentle & permanent manner without any side effects.
Compassion: We offer world-class treatment by providing care and supportive environment for our patients. Empathy: We understand the patient's condition and feelings from their perspective. Service: We strive to exceed our patients' expectations for comfort and convenience. Integrity: We adhere to high moral principles and professional standards by a commitment to honesty, confidentiality, trust, respect and transparency. Quality: We maintain the highest standards and achieve them by continually measuring and improving our outcomes. Ethics: We strictly follow the ethics by sticking on the principles of homoeopathy. Innovation: We welcome change, encourage invention and continually seek better, more efficient ways to achieve our goals.
Contact Details:
Address : #92, T.M. House, West Thiruvenkadasamy Road R.S Puram (West), Opp to Nilgris, below Central Bank of India and Giri Trading Centre, Coimbatore
Phone : 9443047647
Email : [email protected]
Website : http://anbuhomeopathy.com/
10. Dr. Suneeth Mathew
Dr. Suneeth Mathew has completed his BHMS from The Tamilnadu Dr.MGR Medical University, Chennai and he did his M.Sc and M.Phil in clinical psychology from The Bharathiar University, Coimbatore. He also completed his PG Diploma in Criminology and Forensic science from The Annamalai University and FCECLD in Learning Disability from The Rehabilitation Council of India. He is trained in Cognitive Behavioral Therapy in Sexual Dysfunctions and Emotional Disorders from National Institute of Mental Health and Neuroscience (NIMHANS) Bangalore.
Dr Suneeth Mathew is a regular contributor to various health portals and magazines and has also authored two books, "Goodbye Diabetes" and a travelogue in Malayalam. He has presented many scientific papers at various places. He served as the national secretary for Indian homeopathic medical association(IHMA) from 2005 to 2007. He was also one of the editors of Homeopathic Medical panorama (2005 to 2010).
Contact Details:
Address : Perumal koil stop, PN Pudur, Coimbatore
Phone : 9486382600
Website : http://www.holykings.info/