Homeopathy is an advanced, effective, and gentle system of holistic medicine that has been successfully used for over two hundred years and on every continent. Homeopathy is not to be confused with herbal medicine or nutritional therapy. The set of principles that guide the selection of medicine make homeopathy a distinct and integral system unto itself. Many doctors are practicing Homeopathy in India for many years.
Homeopathic medicines, called remedies, may be safely and effectively applied in chronic (long-term) conditions, as well as acute (short-term and self-limiting) illnesses and injuries of adults, children, and animals. Homeopathy stands out distinct as compared to other modes of treatment by its fundamental principles directed towards treating diseases at the root level, by addressing the multiple causative factors such as genetic, immunological, metabolic, hormonal, emotional and the like.
As a result, the diseases are treated in totality rather than in parts or as entities separate from the 'whole' of the individual patient. In that sense, homeopathic science believes in the 'holistic' approach.
Every life is precious. Everyone wants to consult the best doctor for their health. Here we bought you the 15 Best Homeopathy Doctors In Hyderabad for your next doctor visit.
1. Dr. Srikant Morlawar
Dr. Srikant Morlawar, an eminent homeopath started Homeocare International, a chain of homeopathy clinics spread in and across South India. Homeocare International comes forward with a holistic approach to treat patients with personalized Constitutional Homeopathic Treatment that serves to be far better than the conventional treatments. It consists of top and well experienced group of Homeopathic doctors who happen to be experts in their particular line of fields. Homeopathy is the most trusted natural form of medicine that till date is being used by millions of people worldwide. Homeopathy runs on the objective that "the body can cure itself," and with this particular idea.
Contact Details:
Address : S.P. Road, Begumpet, Hyderabad
Phone : 9535000022
Email : [email protected]
Website : https://www.homeocare.in/
2. Dr. Kiran Kumar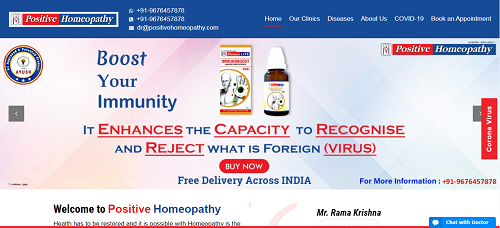 Dr. Kiran Kumar is a self motivated, strong willed, kind-hearted and ambitious person with a positive attitude whose pioneering efforts have contributed to a healthy society. He graduated from the Gulbarga University two decades ago. His aim is to spread and dedicate homeopathy which is the best and affordable treatment even to the economically backward. The advent of the new age medicine coincided with the rapid strides our country has been making in science and technology, all the while ignoring the best method of constitutional therapy. Viewing evolutionary scenario in the medical field, which is a mirage to the common man. Thereafter, Dr. Kiran embarked upon a remarkable journey as a homeopath to start a medical domain wherein the institution can contribute maximum the society.
Contact Details:
Address : 1-73/JH/4 & 11, 4th floor, Challa's arcade,
Beside Chandana Brothers, Gachibowli, Hyderabad
Phone : 9676457878
Email : [email protected]
Website : https://www.positivehomeopathy.com/
3. Dr Poonam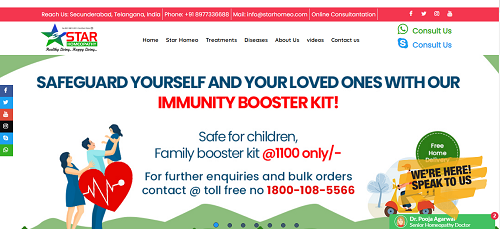 The doctors at our clinic are trained at prescribing medicines based on classical Homeopathy. The medicines prescribed by our Homeopaths is so efficacious that it retards the recurrence of the diseases, reaches the root cause of the disease and brings back the body to harmony. Star Homeopathy is a team of highly qualified, exclusively trained, and empathetic Homeopaths treating  various disorders with a high success rate. Our Mission is to establish and follow an exclusive training procedure to train the doctors on a continual basis to maintain standards uniformly across all branches centers or clinics. We stand to cure, care, comfort, and last to improve quality of life.
Contact Details:
Address : Metro Station, 1st floor, Pirgal Electronics Building Beside J.C Brothers, Near KPHB, Kukatpally, Hyderabad
Phone : 8977336688
Email : [email protected]
Website : https://starhomeo.com/
4. Dr. Batra's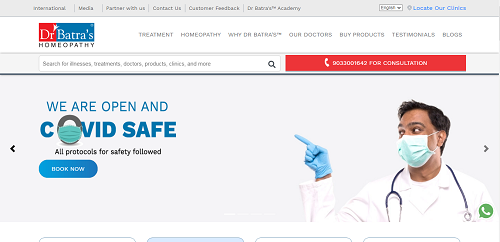 Considered as one of the top Homeopathy Doctors in Mumbai, Dr. Batra specializes in Homeopathy for the cure of many diseases. They believe that a job is not simply about getting to office every day, finishing routine stuff by the end of the day and then packing off without any take-home feeling. They believe that this is the place where you spend most of your waking time so why not make it worthwhile! That is why we take all the care to see that you get the best while you give your best at your job at Dr. Batra's.
Contact Details:
Address : PNR-SSV Complex, First Floor, Door No. 1-19-71/A-13/102, Landmark: Above KFC, A. S. Rao, Hyderabad - 500062
Phone : 9033001649
Website : https://www.drbatras.com/
5. Dr. A.M. Reddy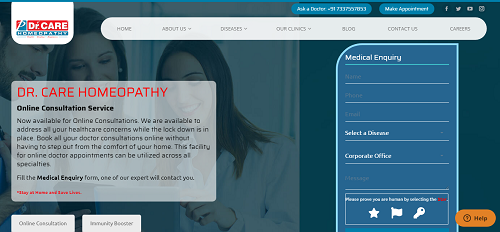 Dr. A.M. Reddy founded Dr.Care Homeopathy Group which includes the chain of Dr. Care Homeopathy and Dental clinics across India in the year 2005. He is known to be one of the renowned Homeopaths in India and has been practicing Homeopathy since decades. He not only played a pioneering role in the development of Homeopathy in India, but also took every measure possible to ensure that its significance and awareness has reached millions of people across the nation. Now Dr.Care Homeopathy Group is considered one of the leading chains of clinics in India characterized by its great percentage of success rate in treatments.
With this expertise, experience, and leadership, he has developed Dr.Care Homeopathy into one of the most successful clinics in India. He has been a role-model to the young and aspiring Homeopaths who have also been a crucial part of Dr. Care Group and contributing to its all-round success in offering top class treatments for all diseases.
Contact Details:
Address : No. 69-1, 2nd Floor, Park View Enclave,
Road No. 1, Jubilee Hills, Near TV5, Hyderabad
Phone : 73375 57853
Website : https://drcarehomeopathy.com/
6. Dr. Ravi Kiran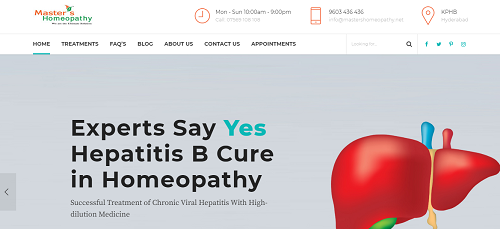 Dr. Ravi Kiran is one of the younger doctors who specialized in achieving success with their talents in the field of medicine. To achieve the goal of making every patient healthy, he contributes his entire time and also getting good satisfaction in medical service. Congratulations give new enthusiasm to all in any field of interest. It is inspired to work with more dedication.
Achievements received from the awards and appraisals or compliments given by patients will further encouraged him towards expansion of services. Recognized by state level, national and international organizations for his tremendous work in healthcare sector- making him role model for young and dynamic doctors today.
Contact Details:
Address : 1st Floor, PKR Complex, Near, Prime Hospital, Rd Number 1,
Kukatpally, Hyderabad
Phone : 7569108108
Email Id : [email protected]
Website : https://mastershomeopathy.net/
7. Dr. Anil Nanduri
Dr. Anil Nanduri, Bachelors in Homeopathic medicine and surgery and a Masters in Science (in nutrition from Indiana State University, USA).
His interest in consulting in Homeopathy over the Internet came in response to a growing number of patients who had been contacting him from overseas.  He has treated patients in Europe, North America, the Middle East, and Japan.  In many cases the patients are referrals and a personal meeting has not been possible, so interview, diagnosis and treatment have all happened at a distance.  This creates different demands on the doctor and different responsibilities for the patient, and this web site is the result of his experience treating patients over the Internet.
Contact Details:
Address : 1-2-412/4/B Gaganmahal colony,
Domalguda near police out post, Hyderabad 500029
Phone : 9989057925
Email Id : [email protected]
Website : http://www.drnanduri.com/
8. Dr. Vira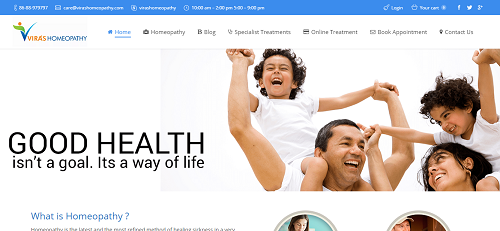 Homeopathy is the latest and the most refined method of healing sickness in a very effective, economical and safe way. It is the science with rational philosophy which is useful for all ages of both sexes. The remedies and methods of treatment are non toxic, non addictive and effective in relieving sufferings without any side effects and can be administered orally in the form of medicated sugar pills in sub physiological doses either independently or along with conventional therapy.
Contact Details:
Address : 1st floor, 2-66/3/A, Next to BATA Show Room
Hitechcity Road, Madhapur, Hyderabad – 500081
Phone : 8688979797
Email Id : [email protected]
Website : http://www.virashomeopathy.com/
9. Dr. Anubha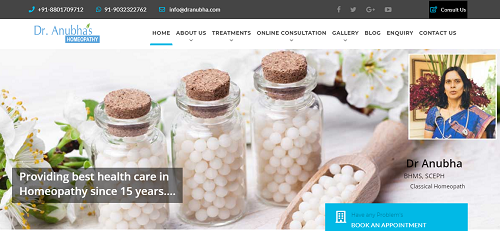 Dr. Anubha understands and treats patients in a unique way. She has cured many diseases successfully in her Kushal Homeo Clinic. She has done Bachelor of Homoeopathic Medicine and Surgery (BHMS) from Government Homeopathic Medical College, Bhopal (M.P.) and Master Clinician Degree in Classical Homeopathy and Best Ayurvedic Doctors in Hyderabad. She has attended several seminars and conferences of predictive Homeopathy.
She has initiated her practice in 2001 and progressed herself to be an expert in assessing patient's health by documenting complete case history, test reports and prescriptions to be used during the course of the treatment.
Contact Details:
Address : H.No: 10-3-505, Vijayanagar Colony, Lane beside Andhra Bank, Masabtank, Hyderabad - 500057
Phone : 8801709712
Email Id : [email protected]
Website : https://www.dranubha.com/
10. Dr. Manoj
Dr. Manoj has developed his 'unique preparation of homeopathic remedies' which have been extremely effective in treating numerous patients world over. Dr.Manoj is open to all other systems of medicines and healing. He believes that every system of medicine/healing has it's own advantages and limitations & hence complements each other and can work together keeping only the well-being of the patient in mind. For those wanting to consult Dr. Manoj in person, it would be our pleasure that they visit our clinic with a prior appointment during the clinic hours.
During the 30 years of our endeavor, countless patients with a variety of ailments have walked out with remarkable relief results. This ensures Dr.Manoj's Homeopathy to be a trustworthy and effective name in Homeopathy today.
Contact Details:
Address : 6-3-248/3/A/6, 6th,Banjara Avenue, Road No:1, Banjara Hills, Hyderabad 500034
Phone : 9395354501
Email Id : [email protected]
Website : https://www.drmanoj.com/
11. Delphis
Delphis Complementary Medicine and Therapies Private Limited (Delphis) is one of the trusted healthcare providers in Hyderabad offering holistic health services through Homeopathy Medicine; Nutrition Counseling; Psychology and Counseling; and Anthroposophic Medicine. Our treatments are carefully devised and monitored to relieve you of your ailments and help you live a more comfortable life. We take into consideration, the patients' body type, emotional and psychological framework, diet and nutrition to help them heal in a sustainable way.
Delphis has come into being with an intention to reach more people with experienced and committed doctors, led by Dr. N. Srinivasa Rao as The Medical Director. With the reputation of curing all kinds of diseases, Delphis is being recognized as one of the best Homeo Clinics.
Contact Details:
Address : 1st Floor, H.No. 8-2-269/A/6, Adj. Lumbini Mall & Mayfair Apts, Road No. 2, Banjara Hills, Hyd - 500034.
Phone : +91 7901077111
Email Id : [email protected]
Website : https://delphishomeopathy.com/
12. Dr. D Baswanandam
Eshwarappa Homeo Clinic is a chain of world class Homeopathy Clinics started by Dr.Dandepu Baswanandam an Eminent Homeopath with 25years of rich experience, expertise and practice. Eshwarappa Homeo Clinic is an outcome of strong and dedicated efforts for making Homeopathy a truly global organization that will provide the widest range of treatment for any sort of disease with good and positive results. Dr. Dandepu Baswanandam, is a homeo Physician from Rustumpet village, has organised about 200 free medical camps and is planning to hold more camps for distributing medicines for sunstroke
Contact Details:
Address : Door No 1-1-213/A,Near Chandana Brothers, Beside Andhra Bank.
Main Road, Chikkadpally, Hyderabad - 500020
Phone : +91 9440930317
Email Id : [email protected]
Website : https://www.eshwarappahomeopathyclinics.com/
13. Positive Homeopathy
Homeopathy is a safe and holistic medicine used to heal the symptoms and improve overall health conditions. Homeopathy principle is based on "like treats like" and used to treat acute illnesses like ear infections, colds, migraines, and sore throats and chronic conditions like asthma, autism, depression, and arthritis. It was developed and introduced by a German physician Dr. Samuel Hahnemann, in 1796. Homeopathic medicines, known as remedies are made from natural resources like minerals and plants and are extremely safe to use. It has been verified clinically and experimentally for 200 years.
Contact Details:
Address : No. 69-1, 2nd Floor,Park View Enclave,Road No. 1, Jubilee Hills, Near TV5, Park View Enclave, Jubilee Hills, Hyderabad, Telangana – 500033
Phone : +91 7337557851
Email Id : [email protected]
Website : https://drpositivehomeopathy.com/