Homeopathy is an advanced, effective, and gentle system of holistic medicine that has been successfully used for over two hundred years and on every continent. Homeopathy is not to be confused with herbal medicine or nutritional therapy. The set of principles that guide the selection of medicine make homeopathy a distinct and integral system unto itself. Many doctors are practicing Homeopathy doctor in Kanpur India for many years.
Homeopathic medicines, called remedies, may be safely and effectively applied in chronic (long-term) conditions, as well as acute (short-term and self-limiting) illnesses and injuries of adults, children, and animals. Homeopathy stands out distinct as compared to other modes of treatment by its fundamental principles directed towards treating diseases at the root level, by addressing the multiple causative factors such as genetic, immunological, metabolic, hormonal, emotional and the like.
As a result, the diseases are treated in totality rather than in parts or as entities separate from the 'whole' of the individual patient. In that sense, homeopathic science believes in the 'holistic' approach.
Every life is precious. Everyone wants to consult the best doctor for their health. Here we bought you the 10 Best Homeopathy Doctors In Kanpur for your next doctor visit.
1. Dr. S.K. Pathak
Dr. S. K.Pathak a recognized Homoeopathic Doctor With more than 35 Years experience. He is running clinic named HOMOEOPATHICA. the only Homoeopathic repertorizing centre in up. Homoeopathica Clinic is a pioneering clinic in the Homoeopathy aims at supporting the evidence based Homoeopathy. He strive hard to make Homoeopathy and affordable therapy for all. he gives proper time to his patients to listen their problems. he uses multi disciplinary approach of Homoeopathy and other complementary therapies to treat the 'whole' person.
Dr. S.K. Pathak is also recognized Homoeopathy Doctor in Kanpur & Consultant for : Skin Problems, Kidney Problems, Bones & Joints Problems, Pediatric Problems, Gastro-Liver Diseases, Mental & Emotional Problems, Cancer, Psoriasis, Acne, Asthma, Constipation, Spondylitis Etc.
Contact Details:
Address : 104 P 4, Neelkanth Market, Ramadevi kanpur 208007
Phone : 8932099000
Email Id : [email protected]
Website : http://www.homoeopathicaclinic.in/
2. Dr. Batra's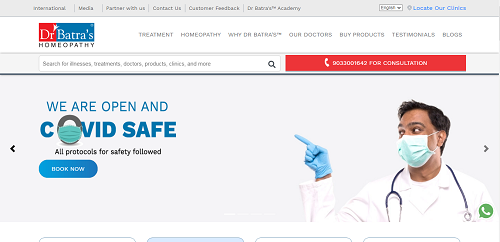 Considered as one of the top Homeopathy Doctors in Kanpur, Dr. Batra specializes in Homeopathy for the cure of many diseases. They believe that a job is not simply about getting to office every day, finishing routine stuff by the end of the day and then packing off without any take-home feeling. They believe that this is the place where you spend most of your waking time so why not make it worthwhile! That is why we take all the care to see that you get the best while you give your best at your job at Dr. Batra's.
Contact Details:
Address : Kan Chambers, Ground Floor, Office No. 4.14/113, Landmark: Near Green Park Stadium, Opp. Kangaroo Kids School, Kanpur - 208002
Phone : 6393809619
Website : https://www.drbatras.com/
3. Dr. Sudeep Chauhan
Dr. Sudeep Chauhan, a visionary entrepreneur, has deftly combined professional excellence and personal achievement with social commitment and contribution. Being a philanthropist, he established Classical Homoeopathy to help the society.
Classical Homoeopathy has been making a profound difference to the lives of disappointed people who lost their hope of getting rid of their diseases. Today Homoeopathy is viewed as a modern, progressive, efficient and effective medical option. Today people from all over the country visit Classical Homoeopathy to experience the benefits of homoeopathic treatment for any and all kinds of ailments by personal consultation. Measuring the degree of customer satisfaction was the fundamental concept on which this homeopathic institute's commitment to being a patient-driven institution was built.
Contact Details:
Address : 117/H-1/196, Pandu Nagar, Near Beema Hospital Kanpur - 208005
Phone : 9335388283
Email Id : [email protected]
Website : http://www.classicalhomoeopathy.in/
4. Dr Arunim Maheshwari
Dr Arunim Maheshwari, a recognized consultant and doctor for Homeopathic. The patients who were treated with homeopathy used fewer medications, had better health, fewer days off sick, fewer visits to medical specialists, less time in the hospital than patients of conventional physicians. Moreover, there are no costs associated with complications due to adverse medication effects.
Contact Details:
Address : 117 / H2 / 159, Pandu Nagar (Opp. Panacea Hospital), Kakadeo kanpur, Kanpur
Phone : 8935035948
Email Id : [email protected]
Website : http://godavarihomeoclinic.com/
5. Dr. Pooja Gupta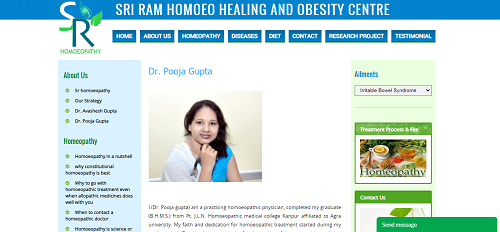 I (Dr. Pooja gupta) am a practicing homoeopathic physician, completed my graduate (B.H.M.S.) from Pt. J.L.N. Homoeopathic medical college Kanpur affiliated to Agra university. My faith and dedication for homoeopathic treatment started during my study period. Day by day my curiosity for the action of homoeopathic medicine increases and promoted me to work harder.
Beside a homoeopath, I had also done  diploma course in dietetics and nutrition (D.C.D.N) and also working as a diet expert for over a decade. As I believe that diet and disease process have a close connection. Diet management for infectious or noninfectious diseases may speed up the recovery. Obesity and hormonal problems are prominent life style disorders these days; I am successfully treating such patients with the help of homoeopathy and diet management.
Contact Details:
Address : R- 102 kali puja chauraha yashoda nagar (near P.N.B.):Kanpur
Phone : 08574735087
Email Id : [email protected]
Website : http://srhomoeopathy.com/
6. Dr. Sandeep Kumar Mishra
Best Specialized Homeopath in Kanpur. Your way to Holistic Health from chronic ailments as Asthma, Hair Fall, Spondilitis, Stones, Depression. Experience – Knowledge and Confidence to help you and/or guide you in the right direction. Doctor of Medicine (MD) Homeopathy, National Institute Of Homoeopathy, University of Calcutta, Kolkata  A homoeopathic consultant,I.I.T. Kanpur. was Visiting Faculty S.S.N. P.G.I. Homoeopathic College, Allahabad.
The results of treatment can be considered exclusive. We maintain World-class homeopathic standards using safe & standardized medicines. Being happy is a much required pre- requisite for health, especially in adults and elderly. Therefore when evidence of Mental & Emotional stress is observed, they are attended to and also counselled adequately. Each remedy is dispensed in presence of the patients and are duly labeled. Also if one desires, they can buy remedies from other pharmacies as we provide legible prescription.
Contact Details:
Address : Sanatan Dharam Mandir Building, wali gali, Kaushalpuri, Darshan Purwa, Kanpur
Phone : 9839114138
Website : http://thehomoeopathykanpur.blogspot.com/
7. Dr. Nishant Srivastava
Dr. Nishant Srivastava, M.D. (Hom.), PhD (SCHOLAR) Is One Of The Leading Homoeopathic Practitioner In Lucknow, India. He Has The Highest Degree In The Field Of Homoeopathy And Has Studied Homeopathy Intensively For Over Twenty Years. Dr. Nishant Is A Well Known Nationally And Internationally Acclaimed Physician, Researcher, And Teacher. His Patients Spread Over 25 Countries Around The World. Dr Nishant Is Well Know Speaker In Various National & Inter National Seminar .
Dr. Nishant Not Only Treats His Patients But Also Conducts Clinical Research On Various Diseases In His Clinical Setting. Thus He Is A Not Only A Homoeopathic Consultant But Also Researcher Of Homoeopathy. Dr Nishant Represents  Modern And Scientific Face Of Homeopathy Who Is Re-Defining Homoeopathy. His Roaring Practice Supported By Clinical Research Based Data, Statistics, And Scientific Documentation, Makes It Unique In The Homeopathic World.
Contact Details:
Address : L.G.F 69,70,71,79 Adarsh Complex Engineering College Chauraha Jankipuram Kanpur
Phone : 9956007700
Email Id : [email protected]
Website : http://drnishantgeetanjalihomoeopathy.com/
8. Dr. Ravi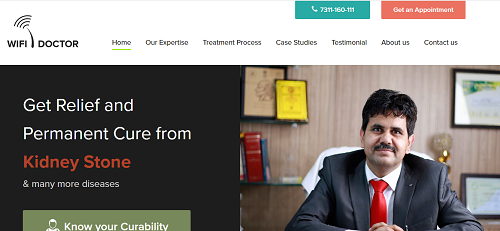 Dr. Ravi has successfully treated patients suffering from severe acute and chronic health issues across the world. His expertise lies in giving you a permanent cure. Let's discover how we can help you in living your life fully again.
Our expertise lies in to 'not just treat the disease in person, but the person in disease' which means helping patients to start living their life fully again and re-engage with their normal day-to-day activities by treating their body as whole. Our approach towards treatment is to first identify the root cause of the disease and then provide suitable medication using a single medicine. From normal cold to cancer, including skin diseases, acne, warts, herpes, eczema, hair loss, Uterine fibroid, Infertility, brain tumor, paralysis, etc., we were able to give hope and cure patients not just in India but abroad using our unique medication process of medicine energy transmission through hair.
Contact Details:
Address : D- 1012/1 Near Polytechnic Flyover Old Picnic Spot Road
Opposite Dwarika Puri Colony, Indiranagar, Kanpur
Phone : 7311160111
Email Id : [email protected]
Website : https://raviclinic.com/
9. Dr. Sandeep Mishra
The Homeo Clinic is an initiative of Dr. Sandeep Kumar Mishra who is a well known and established doctor of Homeopathy. He completed his B.H.M.S. from the world known institute of India, National Institute of Homoeopathy, Kolkata, in 2000.Kolkata is also known as the motherland of homoeopathy in India. He has also successfully completed his M.D. degree in 'Repertory' from the National Institute of homoeopathy, which is acknowledged as the Mecca of Homoeopathy in India. In Kolkata, Dr Sandeep Kumar Mishra, came in contact with many legends of Homoeopaths. At present he is a homoeopathic consultant in a world famous technical institute, the Indian Institute of Technology, Kanpur. He is also managing two of his clinics, in a very posh area of Kanpur City.
Contact Details:
Address : 118/222, Sanatan Dharam Kaushal Puri, Gumti No.5 Mandir Marg Sarvodaya Nagar Kanpur, Uttar Pradesh 208012India
Phone : 063890 30030
Website : https://the-homoeopathy-drsandeep-mishra.business.site/
10. DR.BRIJESH GUPTA
Dr. Brijesh Gupta is in few of the Consulting Homoeopaths Practising Classical Homoeopathy in the city of kanpur. Born and Brought up in Uttar Pradesh,done schooling from Allahabad and Secured BHMS Degree from Agra University in the year 2012.
Dr. Brijesh Gupta received his training for Classical Homoeopathy initially under guidence of Dr. Surmeet Singh, Mavi Founder & President of HERF Jalander Dr. Mavi is an international Speaker and world reknowned classical Homoeopath.
Contact Details:
Address : 111/214-a Harsh Nagar (Behind A.n.d. College Infront Of - Easy Day Lane, Kanpur Uttar Pradesh, 208012
Phone : +91 8127175804
Email Id : [email protected]
Website : https://drbrijeshhomoeopathy.com/