Homeopathy is an advanced, effective, and gentle system of holistic medicine that has been successfully used for over two hundred years and on every continent. Homeopathy is not to be confused with herbal medicine or nutritional therapy. The set of principles that guide the selection of medicine make homeopathy a distinct and integral system unto itself. Many doctors are practicing Homeopathy in Mysore for many years.
Homeopathic medicines, called remedies, may be safely and effectively applied in chronic (long-term) conditions, as well as acute (short-term and self-limiting) illnesses and injuries of adults, children, and animals. Homeopathy stands out distinct as compared to other modes of treatment by its fundamental principles directed towards treating diseases at the root level, by addressing the multiple causative factors such as genetic, immunological, metabolic, hormonal, emotional and the like.
As a result, the diseases are treated in totality rather than in parts or as entities separate from the 'whole' of the individual patient. In that sense, homeopathic science believes in the 'holistic' approach.
Every life is precious. Everyone wants to consult the best doctor for their health. Here we bought you the 10 Best Homeopathy Doctors In Mysore for your next doctor visit.
1. Dr. Kiran Kumar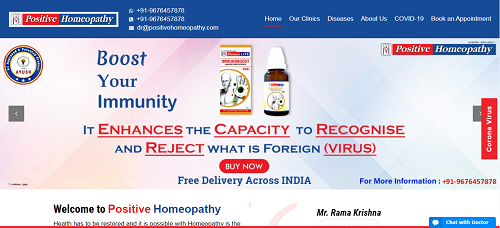 Dr. Kiran Kumar is a self motivated, strong willed, kind-hearted and ambitious person with a positive attitude whose pioneering efforts have contributed to a healthy society. He graduated from the Gulbarga University two decades ago. His aim is to spread and dedicate homeopathy doctor in Mysore which is the best and affordable treatment even to the economically backward. The advent of the new age medicine coincided with the rapid strides our country has been making in science and technology, all the while ignoring the best method of constitutional therapy. Viewing evolutionary scenario in the medical field, which is a mirage to the common man. Thereafter, Dr. Kiran embarked upon a remarkable journey as a homeopath to start a medical domain wherein the institution can contribute maximum the society.
Contact Details:
Address : No 45,1st Floor, KR Circle, AVNS Building, Devaraj URS road,
Mysore-570001
Phone : 9676457878
Email : [email protected]
Website : https://www.positivehomeopathy.com/
2. Dr. Srikant Morlawar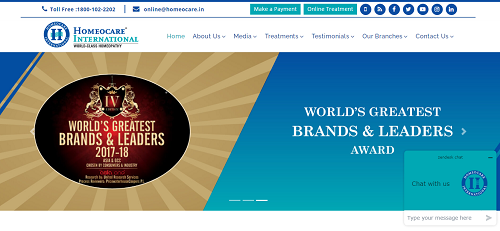 Dr. Srikant Morlawar, an eminent homeopath started Homeocare International, a chain of homeopathy clinics spread in and across South India. Homeocare International comes forward with a holistic approach to treat patients with personalized Constitutional Homeopathic Treatment that serves to be far better than the conventional treatments. It consists of top and well experienced group of Homeopathic doctors who happen to be experts in their particular line of fields. He says, My medical profession started with the passion to better the lives of the people. Throughout my initial days of practice I've felt immense satisfaction deep in my heart for choosing the profession of a physician. Years passing by, the urge in me to serve broader section of the society grew stronger and with this zeal, I found this institution Homeocare International that treats its patients with the utmost care and personalized homeopathic treatments and shall have a great impact on their health and lives
Contact Details:
Address : Dodda Gadiyara, Opp:, Ashoka Rd, above Corporation Bank - Main Branch, Mysore
Phone : 99248090251
Email : [email protected]
Website : https://www.homeocare.in/
3. Dr. Batra's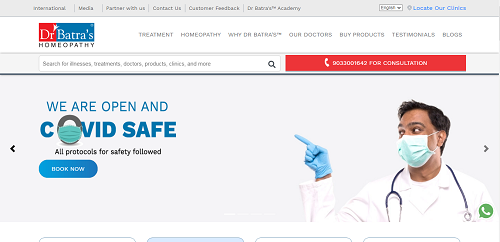 Considered as one of the top Homeopathy Doctors in Mysore, Dr. Batra specializes in Homeopathy for the cure of many diseases. They believe that a job is not simply about getting to office every day, finishing routine stuff by the end of the day and then packing off without any take-home feeling. They believe that this is the place where you spend most of your waking time so why not make it worthwhile! That is why we take all the care to see that you get the best while you give your best at your job at Dr. Batra's.
Contact Details:
Address : Shop no – 36 / 37, 1st Floor, Landmark: Above Reliance Jewels, DD Devraj Urs Road, Devraj Mohalla, Mysore - 570 001
Phone : 9033001649
Website : https://www.drbatras.com/
4. Namma Homeopathy
Namma Homeopathy treats every patient according to their individual health statistics and induces additional care with minute recuperation process, keeping in mind the totality of symptoms present. Our Homeopaths maintain high standards, hygiene and specifications for nature of the medication approved by Food & Drug Administration (FDA) and international Homeopathic organisations like the Homœopathic Pharmacopœia. Over a number of years, Namma Homeopathy's Homeopathy, has successfully treated more than 10,000+ patients and have given them safe treatment and medical procedures that have had early recovery and impact on them.
To deliver advanced Homeopathic treatment and medication, Namma Homeopathy's Homeopathy centre is located in 15+ cities all over India. The wide multi-network in Homeopathic Health Care Systems aims to reach and treat. With years of experience, each of Namma Homeopathy's Homeopaths are specialized in various categories and arenas of health in advanced homeopathy i.e. Hormones, Respiration, Cardiovascular.
Contact Details:
Address : No.27/1, 1st Floor, Opp. Small Clock Tower, Shivarampet, Mysuru
Phone : 9900091777
Email Id : [email protected]
Website : https://nammahomeopathy.com/
5. Dr. Daisy Bagchi
Bong Homoeo Care is a homeopathic clinic opened by Dr. Daisy Bagchi in the heart of India's IT hub - Bangalore. They aim to provide treatment to the patients & educate everybody about the dynamic medicines of homeopathy. Bong Homoeo Care wants to show everybody how effective homeopathic treatment can be and how it can cure diseases when all other pathies give up.
Bong Homoeo Care will not only provide treatment for the diseases, but they will also share the knowledge of how they can be prevented. We dream to see us as a nation free of any diseases.
Contact Details:
Address: #3DM-356, Mahi Arcade, 1st Floor, 3rd D Main, 4th Cross, Near Shiva Parvathi Kalyana Mantapa, OMBR Layout, Banaswadi, Mysore
Phone: 9379905956
Email: [email protected]
Website: http://bonghomoeocare.com/
6. Dr. Deepa Raje Nimbalkar
Dr. Deepa Raje Nimbalkar is a founder of Lifetron Healthcare. Lifetron Healthcare is a specialized clinic in homeopathic treatments for women and children healthcare. This is one of the best Homeopathy Clinics in Mysore. Lifetron is amongst Bangalore's specialized homeopathic clinics currently treating patients from across various age groups, cultures and professions.
Contact Details:
Address: 411, First Floor, San-Man Complex, 24th Main Road, Sector 2, HSR Layout, Mysore
Phone: 9902571444
Email ID: [email protected]
Website: http://www.lifetron.in/
7. Ask Dr. Shah
Ask Dr. Shah is one of the Best Homeopathy Doctors in Mysore. Their mission at there clinic is to develop the best world standards in homeopathic practice and make them available to their patients. Enhancing the potential of homeopathy by research, and bring its benefits to people across the globe.
To practice the highest standards of ethics and conduct in medical practice. Everything they do reflects their mission and values. They value integrity, honesty, dedication, commitment, and accountability.
Contact Details:
Address: Jyothi Plaza, 1st Floor, Building No. 25, 5th Cross Lane, Next to Idea Showroom, Malleswaram Circle, Mysore
Phone: +91-80-43748881, +91-80-43748882
Email ID: [email protected]
Website: https://www.askdrshah.com/
8. Bhadra Homeopathy Forum
Bhadra Homoeopathic Forum is a Registered Charitable Trust (We Have Recognition Under u/s 80G(5)(VI) and 12A. Donations to our Trust is exempted from income tax for the donors), providing free computerized consultation and treatment for different types of chronic and acute diseases and also engaged in the enlistment of Homoeopathy and its Classical approach. They have treated a large number of chronic cases like asthma, rheumatism, hypertension, diabetes, HIV, and Cancer.
Contact Details:
Address: No 17/8 (24), "Nandanam", Ramaiha Lane, 3rd Main (Church Road ), Murugeshpalaya, Mysore
Phone: 9241764294
Email: [email protected]
Website: https://bhadrahomeo.com/
9. Dr. Shilpa Manohar
Homeopathy is a medical science known famously as the system of natural medicine for the treatment of diseases in mankind and animals. Homeopathy was founded and developed by a German physician , Dr.Christian Friedrich Samuel Hahnemann in 18th century. The word "Homeopathy" implies , 'Homoeo = similar' and 'pathos = suffering.
According to Homeopathy, a person gets sick only when the vitality of that person is weakened. And the whole body is governed by a dynamic force called called vital force or vital principle. Homeopathic philosophy further states that it is the derangement in the mind that shows the effect on body which lead to diseases of mind and body in human beings. Therefore, whenever the person's mind is weakened due to various physical and mental impressions, the vitality is weakened and that person becomes sick and needs treatment.
When any person becomes sick, Homeopathic philosophy teaches us that the symptoms of the sickness or disease should match with any of the homeopathic medicines and the medicines are to be dispensed which stimulates the vital force to bring back the balance in the body to restore the health of that person. This is known as Law of Similars , one of
Contact Details:
Address: No 45,1st Floor, KR Circle, AVNS Building, Devaraj URS road,Mysore-570001,India.
Phone: +91-9676457878
Email: [email protected]
Website: https://www.positivehomeopathy.com/
10. Dr Shreeji
We, Shreeji Homoeopathy, situated at Vesu, Surat, Gujarat provide perfect care to the patients with homeopathy and help them to get rid of the problem through which they are suffering from. Our objective is to deal with various health problems encountered by number of people. We are very proficient in our service. Our clinic has achieved eminence in this industry because of our client's belief and trust. Book an appointment today for a healthier tomorrow!
Contact Details:
Address : Shop No. UG-47, VIP Plaza, Near Shyam Mandir, Vip Road, Vesu, Surat, Gujarat 395007
Phone : 8690426654
Website : http://www.shreejihomoeofertility.com/