Lakshmi Puja, or the worship of the goddess of prosperity and wealth, is the main event on Diwali in North and West India. It is believed that Goddess Laxmi visits everyone during Diwali and brings peace and prosperity to all.
It is s extremely important to keep the house spotlessly clean and pure on Diwali. Goddess Lakshmi likes cleanliness, and she will visit the cleanest house first. This is also the reason why the broom is worshiped on this day with offerings of haldi and kumkum (turmeric and vermilion). Lamps are lit in the evening to welcome the goddess. They are believed to light up her path. here is the things which you need to care.
1: Clean your House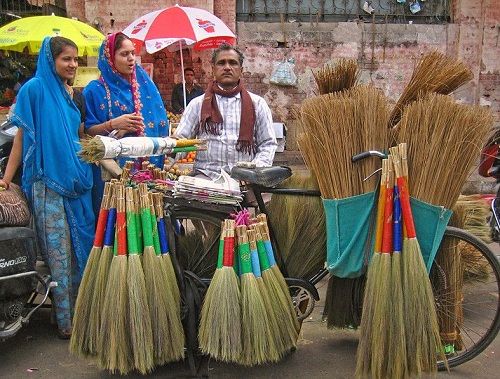 Cleaning house is not only Dust but also old stuff and useless stuff which you hardly use like old cloths, old Shoe, Toys, old DVD, and many more. you can give your old cloths to someone who really need this. Now its time to donate and recycle?
2. Purify your house
Gangajal is most important holy water in Indian tradition and its compulsory for you to purify you house with Sprinkle Gangajal.
3. Stage Decoration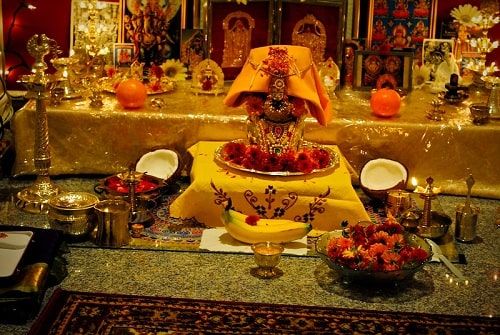 Most of us is making stage in Ganesh Chaturthathi or Navratri, But we do laxmi puja without stage. Make Stage for Laxmi Puja and Decorate because Maa Laxmi ( Money ) is coming to your House.
4. Place Kalash With Aam Pallav ( Mango Leaf )
When the urn of worship ( Kalash) is prepared, then the leaves of the mango tree are also applied on it.without Aam Pallav you Kalash will not be good.
5. Swastik Scratch with Rice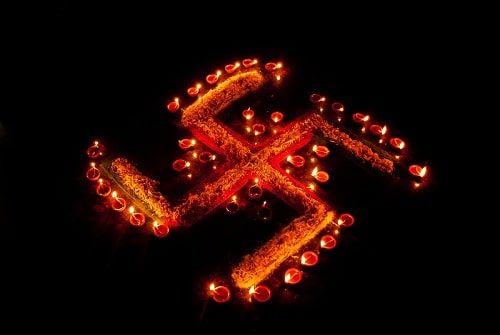 Swastik is indian word and in Indian Tradition Swastik is most important in pooja so Make Swastik from Rice. now you can place your Kalash in Mid of Swastik Nishan.
5. Goddess Lakshmi & Ganesha Idol
As Per Hindu astrologer in India Ganesha is given first importance in Puja. So make sure your Ganesh Idol in right of Kalash and Maa Laxmi Idol in Left side of Kalash.
Important Items needed during the Pooja :
Lakshmi and Ganeshji Photo(Lakshmiji in sitting posture with open palm mudra and coins flowing from the palm).
01 ghee diya/lamp.
01 mustard lamp- must forLaxmiji.
Handful of green coriander seeds, kamalgatta, white supari, majishta, lahi, battasa, green unshelled moong dal and puffed rice/poha. Buy Kamal Gatta mala here.
05 gomti chakra(optional) to be kept at the altar.
Kamal Gatta Mala- Lotus seed rosary
01 copper or silver kalash
Mango leaves
Unshelled coconut
Glass with water and dipped mango leaf
Roli thread
Garland of cotton beads
Attar-perfume
Lotus flowers
Seasonal fruits like banana, especially wood apple or sitaphal
Laxmi Ganesh yantra at the Pooja altar
Keep the Shri Laxmi Kuber Yantra at the altar. Apply turmeric and vermillon to it.
Loose flowers- rose petals, marigold etc
Sweets such as laddoo, pedha or some other. If you can, then petha is best for Laxmiji
Panchamrit.
Akshat- white rice mixed turmeric and red kumkum
Turmeric, vermillon, abeer, gulal, saffron paste
Silver coins
Books and accounting stationery along with kalam and dawat, ie pen and ink
How to Start
First, identify a West or South-West facing wall or corner where you will perform the Pooja. The first important step for the Goddess Lakshmi Puja is cleanliness. According to Puranas, Goddess Lakshmi likes neatness and visits the houses which are kept clean. That is why the broom is also worshipped on the day with offerings of turmeric and vermilion.
Clean the house/office and the place where Lakshmi puja is performed. Rangoli designs can be drawn to welcome Goddess Lakshmi Devi. Take a chauki (raised wooden platform) and place 02 cloth over it – one white and one red. The white cloth will represent Ganeshji and Navagraha Poojan, whereas the Red Cloth will represent Lakshmiji.
Take a Copper or Silver Kalash and drop a supari and 01 Re coin in it. Now place a whole coconut, unshelled with a swastik made of kumkum with a colorful roli thread tied around it on the mouth of the Kalash. Also place mango leaves under the coconut. Keep another cloth and put a handfulof rice grains on it and place the Kalash on the rice.
On the chauki divide the left side with white cloth and put the red cloth on the right side. Seat Laxmi Ganeshji photo on the right side and make a navagraha representation with mauli tied around supari and placed on 9 mounds of rice on the white cloth.
Clean the silver coins, apply kesar or saffron paste on it and prepare it on a plate in front of Laxmiji.
Light the lamp and now start your inovcation for first Ganeshji with the mantra.
Vakratunda Mahakaya Surya Koti Samaprabha, Nirvighnam Kurume Devo Sarva Karyeshu Sarvada.