For the academic session 2021-2022, we are providing the list of Top MBA colleges in Lucknow. The list is comprised of all the government, public & private universities/institutions. In these colleges, candidates can pursue full time & part time Master of Business Administration (MBA) program in different specializations.
Lucknow has many top MBA colleges or Business schools (B-schools) which produce entrepreneurs and business leaders of tomorrow. Here is our list of the top 10 best MBA Colleges In Lucknow.
List of Content:
1. SHRI RAMSWAROOP
2. BABU BANARAIS DAS UNIVERSITY
3. IISE
4. TECHNO INSTITUTE
5. IMRT
6. LAI BAHADUR SHASTRI
7. R.R. GROUP
8. SRI  SHARDA
9. MAHARISHI UNIVEERSITY
10. ITM LUCKNOW

1. SHRI RAMSWAROOP
The Master of Business Administration (MBA) is an internationally recognized two-year post graduate degree, designed to develop the skills required for careers in business and management. SRMU offers MBA in CBCS Pattern which provides autonomy to the students to select courses of their choice, take additional courses, obtain more than the required credits, and adopt interdisciplinary approach to learning. MBA in SRMU focuses on application-based learning with emphasis to prepare students into competent and effective managers and responsible citizens. The broad objective of the MBA course is to introduce career and market-oriented, skill enhancing value - additions that have utility for job, self-employment and empowerment of the students.
It is designed to cultivate the leadership and the decision making skills necessary to tackle the challenges of today's global businesses. In second year, students are provided with specialization choices in Human Resource, Marketing, Finance, International Business, Operations Management and Entrepreneurship & Family Business Management.
Contact Details:
Phone: 9838904666
Email: [email protected]
Address: Shri Ramswaroop Memorial University
Lucknow Deva Road, Barabanki
Website: https://srmu.ac.in/
2. BABU BANARAIS DAS UNIVERSITY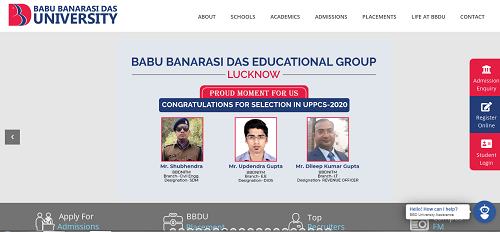 The stated purpose at the best MBA college in Lucknow like BBDU  is to impart business management education based on the foundations of entrepreneurship, retail management, and rural management to leverage on this fast growth. The Institute has twin locational advantage of being close to the business hub of NCR region as well as being at the heart of the largest consumer base in India. The thrust is to cater to the domestic demand in the semi-urban and tier II cities – as these cities are slated to be the next frontier for growth.
This offers a unique and exciting opportunity for young MBA students and the School of Management promises to convert this dream into reality.The School of Management of BBDU in Lucknow is committed to developing business leaders of tomorrow by creating an environment of self-learning – by encouraging MBA students to think on their feet, exchange ideas from faculty members and their colleagues, to experiment and learn by doing. The emphasis is both on theoretical concepts as well as practical life examples to ensure a holistic development of the mind and heart. The typical teaching methodology consists of – working on a real-life case study, live projects, group assignments, role plays, presentations, debate, group discussions et.c.
Contact Details:
Phone: 0-(522)-6196300/301/302
Email: [email protected]
Address: BBD City, Faizabad Road, Lucknow Uttar Pradesh - 226 028 India
Website: http://www.bbdu.ac.in
3. IISE
The IISE Society was registered in the same year, i.e., 1991 with the mission: "to settle in life through Management and IT education, primarily the poor disabled people (free education) and the normal people of India and the world
IISE, one of the best college in Lucknow is proud to have a strong team of qualified and experienced individuals, whose sole objective is to create future managers and leaders. The education that our faculty provides to the students makes us one of the top colleges in Lucknow. We not only provide good education but, IISE College fees is also very low. IISE Group Continuing with its Excellent Placement Track Record, Lucknow Business Institute of Management is proud to announce yet another quality placement, IISC 100% placement every year.
Contact Details:
Phone: +91-522-2750620
Email: [email protected]
Address: Kanchana Bihari Marg, Off Ring Road via Kalyanpur, LUCKNOW - 226022 (UP
Website: www.iiseindia.com
4. TECHNO INSTITUTE
Techno is one of the Best MBA Colleges in Lucknow, We believe that education is the key to business reforms and progress. Management education is the panacea through which the society can organize its resources and shape itself to face challenges and identify the direction in which it wishes to move.
At TECHNO we strive to develop creative thinking in the students. A lot of care is taken to develop the four most critical skills, Technical, Conceptual, Human and Communication, which helps them to make leaders –managers.
We don't just give students an education and experiences that set them up for success in a career. We help them succeed in their career—to discover a field they're passionate about and dare to lead it.
Contact Details:
Phone: +91- 7897123111
Email: [email protected]
Address: 331, Near Indira Canal, Faizabad Road, Lucknow – 226028
Website: https://tims.edu.in/
5. IMRT
MBA college in lucknow IMRT With the unique features of systems orientation and a blend of creativity and analytical problem-solving skills, MBA program Full Time is aimed to develop holistic managers who internalize a synthesis of conventional and modern management – thinking and who can comfortably adapt to changing business requirements. The MBA program provides the students with various routes to the industry, matching its requirements with their skills and predispositions.
Contact Details:
Phone: 8417000710
Email: [email protected]
Address: Management Park, Vipul Khand - VI Gomti Nagar, Lucknow - 226010
Website: https://imrt.edu.in/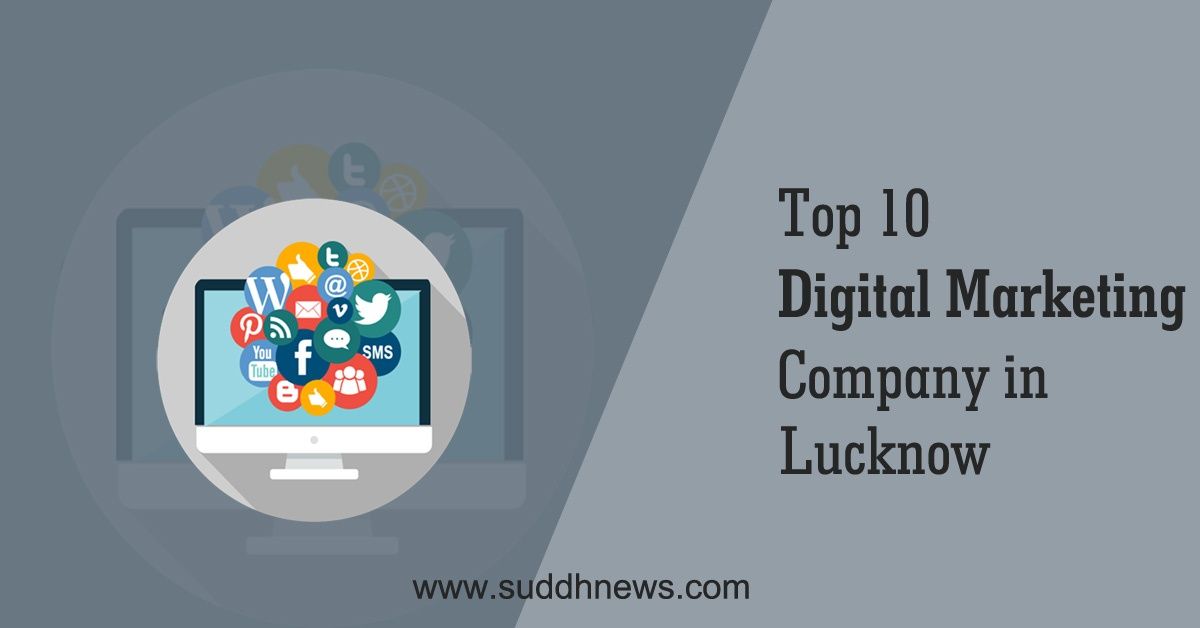 6. LAI BAHADUR SHASTRI
A professional institute is not merely a centre of education. It is actually a gateway of career & life. One of the best AKTU affiliated Colleges, Lal Bahadur Shastri Institute of Management & Development Studies, Lucknow, a unit of Lal Bahadur Shastri Group of Institutions, recognizes this very well. This is why the institute which is one of the oldest institute in Northern India & the first few Colleges to be affiliated to AKTU, has been able to build a strong reputation in last 39 years of its inception.The primary objective of the institute is to serve the industrial sector of the country in various fields of Management & Information Technology. It's a centre of education established away from the hustle and bustle of the city.
Contact Details:
Phone: 8090049238
Email: [email protected]
Address: Lal Bahadur Shastri Institute of Management And Development Studies
Website: www.lbsimds.ac.in
7. R.R. GROUP
The Master of Business Administration (MBA) degree grows those skills & abilities in an individual which are required for building their future. It is always better to have clarity on "why should you pursue an MBA degree" and about the career benefits rather than choosing an MBA degree because everyone else is doing the same. Let us examine some of the compelling factors on Why should you go for an MBA:
There are several avenues through participation in teams, clubs, exercises, extra-curricular and community initiatives where students can gain soft skills such as teamwork, leadership, and negotiations.Hard skills: MBA programs usually are structured around the core and elective courses in the leading colleges. Typically, core courses enable students to develop a holistic foundation in business disciplines such as finance, accounting, marketing, and operations.
Contact Details:
Phone: 8756008853
Email: [email protected]
Address: NH-24, Bakshi Ka Talab, Sitapur Road, Lucknow-226201 (UP) India
Website: https://rrimt.ac.in/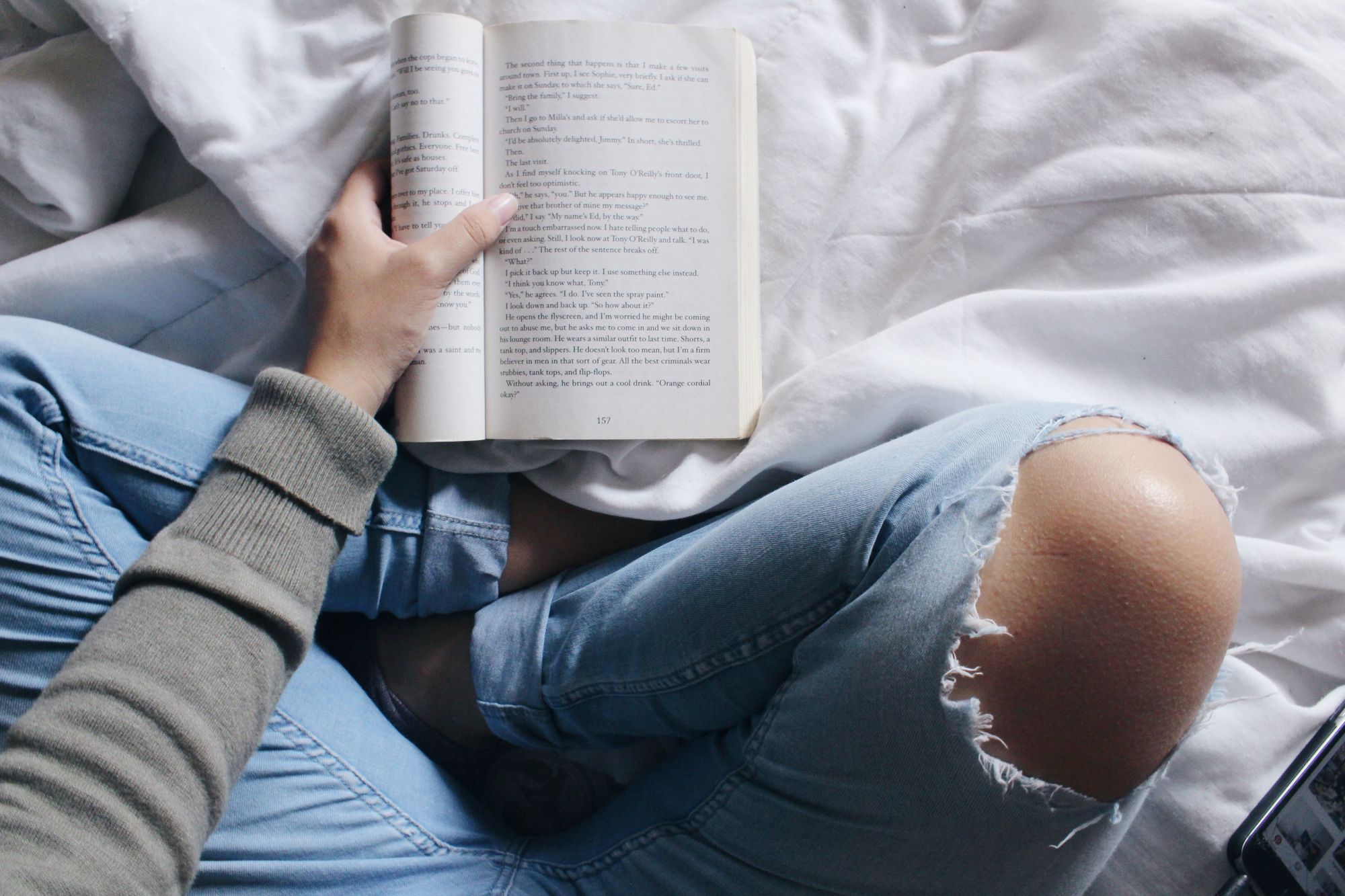 8. SRI  SHARDA
The loftier the building, the deeper must the foundation be laid. At Sri Sharda Group of Institutions, deep reverence for human values underlines every management principle we teach our students. We make sincere efforts towards creating the most optimal environment for professional education and training in management, which begins with a plan. Hence a structured approach in selection of the best faculty, world class facilities, educational practices, maximum access to information and knowledge that goes beyond academic into the regimen of practical world of corporate governance have given us a distinct edge in the field of management education.
Contact Details:
Phone: (+91) 9621030000
Email: [email protected]
Address: Plot No-677, Management Village, Gosainganj, Lucknow, Uttar Pradesh - 227125 ,(India)
Website: https://ssimt.edu.in/
9. MAHARISHI UNIVEERSITY
The Masters program in Business Administration (MBA) imparts knowledge and exposure through understanding of the business and economy, beyond the daily management of an organization. The program can train students in developing a global perspective towards business, thereby tapping the tremendous opportunity in different parts of the world. Besides acquiring managerial skills it also imparts the entrepreneurial skills. It aims to create and disseminate knowledge, and to ensure continuous supply of knowledgeable, active and professionally committed adminisartors, who look for new innovative and creative strategies in order to meet competitive threats positively and effectively for achieving competitive excellence.
Contact Details:
Phone: +91-80689 72233
Email: [email protected]
Address: Sitapur Road, P.O-Maharishi Vidya Mandir, Lucknow-226013 (UP)
Website: https://www.maharishiuniversity.ac.in/
10. ITM LUCKNOW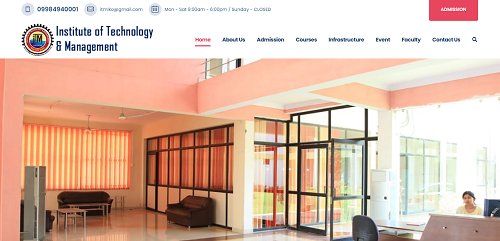 To foster and effect all round development of the students, Institute of Technology & Management (Approved by AICTE New Delhi and Dr. A.P.J. Abdul Kalam Technical University Uttar Pradesh, Lucknow is the premier technical education project of the leading Educational Society, Murli Dhar Ram Narain Educational Trust.The well-qualified and highly motivated staff of the Institute; a well equipped library, round the clock internet connectivity, commitment to assist students find appropriate placements together with the ambience of the environment of the Institute help in students' acquiring the necessary theoretical and practical knowledge in all engineering and other related disciplines.
In years to come, we dream of an Institute proud of its students for their intrinsic human values and their inquisition to explore, struggle and succeed.
Contact Details:
Phone: 09984940001
Email: [email protected]
Address: NH-24, Bakshi Ka Talab, Sitapur Road, Lucknow. (U.P.) [INDIA]
Website: https://itmlucknow.com/