Nepal, a small country in the Asian continent has been ranking in the spot of one of the top tourists' destinations in the world. Nepal ranks 48th in terms of the population consisting of around 26.4 million people and is the 93rd largest country. This small country is mainly located in the Himalayas and has established itself as a travelers and backpacker's destination, exhibiting its breathtaking landscapes, pristine lakes, and rivers, mighty mountains, diverse cultures and traditions affixed by peace and harmony. The country has been now famous for thrilling adventures and Trekking Places in Nepal.
Tourism is the biggest industry of the country and tourism in Nepal has been growing day by day and is becoming tourists' favorite holiday destination. Nepal is a hot spot destination for mountaineers, rock climbers, trekkers and people seeking adventure. Nepal is also home to the 8 of the world's 10 highest mountains. Since this country is famous for the hilly region, Nepal offers a wide variety of trekking destinations from beginners trek including Everest base camp treks whose difficulty is moderate to high difficulty treks taking up to 20-25 days of trekking.
Choosing the type of treks:
One can choose from an easy beginner trek to a high difficulty trek spot in Nepal. Choosing the type of difficulty of a trek will depend on his/her choice. An easy trek will be preferred for tourists, a large group of friends and families who are here for fun, have some relaxing and also are a beginner to trekking or haven't done trekking yet. These easy treks will offer amazing views from the top, glimpses of the local culture and the most important thing is that they will be time-saving taking maybe up to a week and their prices will be under your budget.You may take the help of a trekking guide company in Nepal for your trekking in Nepal as you will be needing professional advice and help for emergencies and for having a
safe journey.
Here, Trending News Wala has made a List of Top places for Trekking in Nepal:
1. Mt.Everest Base Camp Trek
The Everest Base Camp Trek is the best option for those looking for easy trekking in Nepal & to relish the spectacular close up views of the world's highest mountains. Everest Base Camp Trek is one of the most famous treks in the world. No doubt, Everest Base Camp Trekking is a dream trek for any travel enthusiasts. This trek will take you to the lap of the world's highest mountain, Mt. Everest (8,848 m) from where the surreal view of the Himalayan mountains and gorgeous scenery can be observed. The trek takes you to the eastern part of Nepal in the Khumbu region where some of the highest mountains in the world are situated.
Everest Base Camp Trek will present you captivating beauty of the Himalayan scenery, beautiful rivers, streams, picturesque villages, dense forests of rhododendron, fir, and conifer along with panoramic views of Mt. Ama Dablam (6,812 m), Mt. Nuptse (7,861 m), Mt. Thamserku (6,623 m), Lobuche East (6,119 m), Lobuche West ( 4,940 m), Taboche Peak (6,501 m), Mt. Kangtega (6,782 m), Khumbutse (6,665 m), Pumori (7,161 m), and numerous other mountains.
Trip Details:
Duration: 12-14 days
Difficulty: Moderate
Elevation: 5364 M
Base Camp: Lulka
Highlights:
Walking past the memorial in Gorakshep
Explore the Everest Base Camp
Hike to Kala Patthar vantage point
Witness irresistible beauty of the Himalayan landscape
Get to experience ancient culture and tradition of Sherpas & many more..
2. Annapurna Base Camp Trek
Annapurna Base Camp (ABC) Trek is one of the most popular treks in Nepal. It is quite easy and shorter trek than other high altitude treks in Nepal. The major attracting factor in this amazing trek is that in a small-time, it shows you the allure of nature that ranges from glistening peaks to densely forested trails. Our 11-days Annapurna Base Camp Trekking package is professionally designed choosing the best route that follows the ancient trekking trail, which commences from Nayapul and leads to the majestic Annapurna Base Camp. Annapurna I (8,091 m) holds an almost fatal attraction for mountaineers. It has the highest fatality ratio among the eight-thousanders. This formidable aura apart, the ABC trek holds several treasures for the mountain lover.
Trip Details:
Duration: 11 Days
Difficulty: Moderate
Elevation: 4,130 m
Base Camp: Pokhara
Highlights:
Trekking inside the forests of the Annapurna Conservation Area.
A peek into Nepali culture.
Explore the dark corners of Davis falls.
Explore the beauty of Machhapuchhre Base Camp.
Witness spectacular views of snowy mountains like Mt. Annapurna, Mt. Fishtail, Mt. Nilgiri, Mt. Dhaulagiri, etc from Annapurna Base Camp.
3. Manaslu Circuit Trek
The Manaslu Circuit Trek is a remarkable trek flaunting amazing panoramas of the peaks on the Nepal-Tibet border. The trek goes around the stunning Mount Manaslu, the 8th highest mountain in the world. The trail is less crowded in comparison with other famous trails of Nepal and visited by only a handful of travelers every year. There is a lot to explore in the Manaslu region. Embarking on Manaslu Circuit Trek 19-days is the best way to explore pristine and extremely raw nature.
Trip Details:
Duration: 19-21 days
Difficulty: Technical & Challenging
Elevation: 5,135 m
Base Camp: Soti Khola/Besisahar
Highlights:
Trek along through the virgin, rough, and off-beaten trail
Walking through the dense forests of rhododendron, oak, pines, and hemlock
Observe traditional village lifestyle and culture
Get to see the beautiful Himalayan landscape.
Witness stunning views of Mt. Manaslu, Nagdi Chuli, Simnang Himal, Cheo Himal, Himlung Himal, Annapurna II, Gyaji Kung, Kang Guru, and many other snow-capped mountains.
5. Langtang Valley Trek
Surrounded by tranquil rural landscape. The trek offers exposure to the unique Tamang culture and a chance to walk past the beautiful glaciers at a quite low altitude. Less crowded, easy, and accessible, Langtang Valley Trek takes you through the beautiful Langtang region. You will pass through the beautiful forest trail, high alpine meadows, and yak pastures. You will also get a close look into the ancient Buddhist culture of Langtang. Langtang Valley Trekking is an impressive journey that will present you with the unique blend of cultures, landscapes, stunning mountains, diverse wildlife and vegetation in one place.
Trip Details:
Duration: 8-9 days
Difficulty: Easy
Elevation: 3,817 m
Base Camp: Syabrubesi
Highlights:
Experience the local lifestyle and culture.
Explore Langtang Valley- "Valley of Glacier"
Scenic drive to Syabrubesi
Visit ancient Kyanjin Gompa
Enjoy spectacular views of Mt. Annapurna, Mt. Manaslu, Ganesh Himal, Langtang Himalayas, and Gosainkunda range.
6. Ghorepani Poon Hill Trekking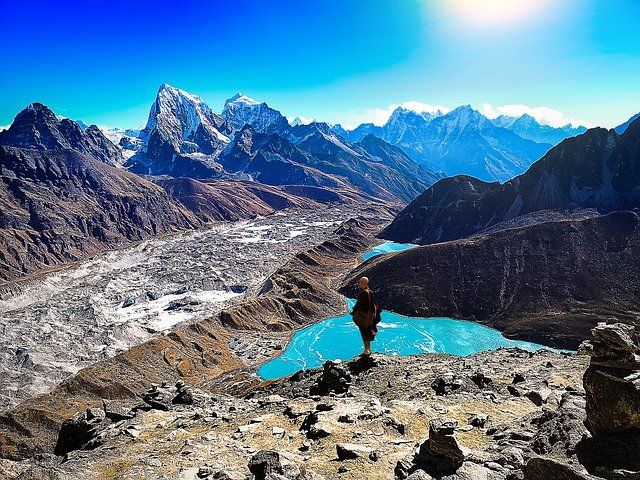 Ghorepani Poon Hill Trek is much easy and short trekking. The trek is quite beautiful during the spring when the rhododendron forest is in bloom. Plus, the panorama of the high mountains on the vista is no less alluring. Ghorepani PoonHill Trek has other popular names as well. Some are Annapurna Sunrise Trek and Annapurna Panorama Trek. It is ideal for individuals looking for a comfortable trekking experience in Nepal.
Trip Details:
Duration: 8 days
Difficulty: Moderate
Elevation: 3,210 m
Base Camp: Tikhedhunga/Nayapul
Highlights:
One of Nepal's most famous short treks—and for good reason
Enjoy views of alpine lakes, fields, and mountains—including Annapurna South
Explore beautiful Ghandruk and Ghorepani villages
Get to see gorgeous sunrise from Poon Hill
See superb scenery throughout the trail
7. Pulchowki – Namo Buddha Trek
This short trek is named after the main highlights of the trek- the holy pilgrim sites of Namo Buddha and Phulchowki Temple. Both these places lie on hills which are the ideal places for bird watching and panoramic views. From Phulchowki, you can enjoy your time bird watching. It is a great place to spot more than 50 species of migratory birds that visit the area on different occasions. The trek also allows you to see the rare flora, species of butterflies, and mammals.
This trek takes you to the outskirts of the capital valley, i.e Kathmandu city. Yet, you can have a taste of the rural agricultural and business activities of the locals.
Trip Details:
Duration: 6-8 days
Difficulty: Easy to Moderate
Elevation: 2765 m
Base Camp: Namobuddha/Phulchoki
Highlights:
A glimpse of bird watching, rare flora, mammals
Settlements of local of different ethnic background
Phulchowki Temple
Beautiful view of Kathmandu city