About Prabhadevi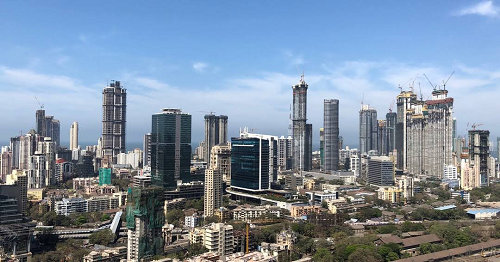 Prabhadevi is a small up-scale southern neighborhood of Mumbai, situated between the Dadar to the north, Worli to the south and the Arabian Sea to the west. It starts at Sayani Road Junction and ends at Babasaheb Worlikar Chowk. It is also a railway station which was earlier called as Elphinstone Road.
Prabha Devi is a largely residential area, consisting mostly of newly built apartments and high rises. One of Prabhadevi's most important landmarks is Siddhivinayak Temple, which attracts hundreds of devotees every day, Tuesday is the main day of prayer.
Things to do Near Prabhadevi
Places to visit in Prabhadevi
1. Dadar-Prabhadevi Beach
The Dadar-Prabhadevi Beach is a part of the larger Mahim Bay. It extends from Worli Village to Bandra Fort. Hangout with your friends at family on this beautiful spot.
2. Siddhivinayak Ganpati Temple
One of the famous destinations all-over Mumbai, this temple is located in Prabhadevi. Nearly thousands of devotees visit this temple every day. A must-visit religious destination.
3. National Book Trust
National Book Trust Is a Heaven For All Broke Nerds. The infrastructure is almost in tatters with the staircase reminding you of a downtrodden single-screen theatre.
4. Worli Sea Face
Just a Few km from Prabhadevi comes to the beautiful Worli Sea Face. Worli Sea Face is where you can have a spectacular view of the Arabian Sea, either in the morning or the sunset and the cold breeze in the evening.
5. Shivaji Park
Located at a few km distances from Prabhadevi, Shivaji Park is a historical place in Dadar, Mumbai. A huge playground open for all attracts a lot of people. The atmosphere around here is very pleasant, a good place to have an early morning walk.
Places to eat Tasty food near Prabhadevi
1. Modakam
Dine At This Place Without Burning A Hole In Your Pocket! t's a small Pocket-Friendly restaurant which offers a variety of fresh and delicious food, and lots of options in Modak as the name suggests Modakam!!
2. Koldplay
Chocolate Heaven At This Cute Icecream Parlour
3. China Valley
Traditional red decor & sectional seating in a restaurant serving Chinese & other Asian meals.
4. Chai Pe Charcha
Chai Pe Charcha Is The Perfect Place For Every Broke College Kid. Have some tasty snacks with some fun board games and yes a cup of Chai.
5. Shashi Coastal Treat
Recommended for seafood lovers. It has a good ambiance and serves really tasty food.
6. Viking Pizza
Pizza lovers head over to this place.  At Viking Pizza, they strive to serve you fresh and handmade pizzas, salads and baked goods.
7. Crave
For the ones who love chocolate and pizza. This Belgian Chocolate Pizza In Prabhadevi Is Molten, Buttery And Perfect.
8. Ashok Vadapaav
The vada pav is iconic to Mumbai, and Ashok Vada Pav at Prabhadevi has time and again been declared as the best in the city.
9. Hotel Chaitanya
Another hotel which is popular among sea-food lovers. Its a must-visit place for down to earth priced super tasting seafood.
10. Vision Cafe
Cafe Vision has an old English-style ambiance, the cafe is really spacious, has comfortable seating and is a well-lit spot on Prabhadevi. They specialize in Italian cuisines.
Car Repair Company

Carfixo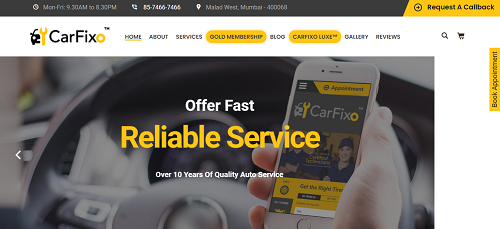 CarFixo is a leading professional Multi Car Workshop and Automotive Service Company known for providing a full range of top-quality car repairs and world-class maintenance services in Mumbai, Navi Mumbai, and Thane.
At CarFixo, we are backed by an adept team of highly-skilled and well-trained automobile engineers and experienced technicians who employ cutting-edge technology and advanced equipment to deliver seamless and reliable car services.
We are a one-stop solution for all your car repair and maintenance needs. Experience true comfort and convenience by getting a free car inspection and diagnosis at your doorstep and our contactless and free pickup and drop-in services.
Contact Details
Mobile No : 85-7466-7466
Website : https://carfixo.in/
Hospital & Medical
1. Vcare Imaging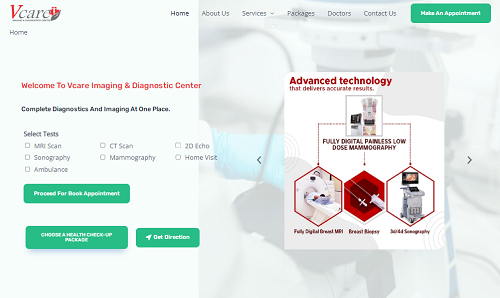 Our mission is to provide world-class facilities and strive to provide timely & accurate reports with compassion & care. Our Radiologists work hand in hand with our highly trained technologists to ensure you are at ease during your routine.
A Premier Health Care Provider with Multiple diagnostics lab near me & Imaging Services Under One Roof. Fully Automated Computerized Laboratory with End to End Diagnostic Centre In Prabhadevi and Imaging Solutions Under One roof. Our Experienced and Dedicated Team Make Sure You Receive the Most Effective Treatment in Those Times of Worry.
Contact Details:
Phone: 9819577304
Email: [email protected]
Website: https://vcareimaging.in/
Pest Control Service
1. Mumbai Pest Control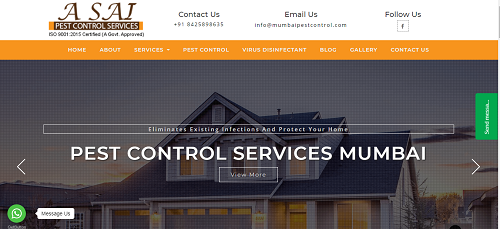 When A Sai Pest Control Services Prabhadevi began their herbal pest control business decade ago, they had two goals in mind: To provide quality herbal pest control services in Mumbai, Thane, Navi Mumbai, Kalyan and furnish superior customer service. Today, over a decade later, A Sai Pest Control Mumbai, Thane, Navi Mumbai is still committed to that mission. It is the name you can trust to protect your business or home against pests like rodent control, termite treatment, bed bugs treatment, birds and mosquitoes control, cockroach and ants control treatment.
As the trusted commercial pest control company in Mumbai, A Sai Pest Control Thane has provided peace of mind against pests ever since we opened our doors for business from last 18 years.
Contact US
Address : Shop No.6, 1st Floor, Rajiv Gandhi Market,Khopat, Thane (West) - 400601
Mobile : +91 8425898635
Email ID : [email protected]
Website : https://www.mumbaipestcontrol.com/
2. Eco Friendly Pests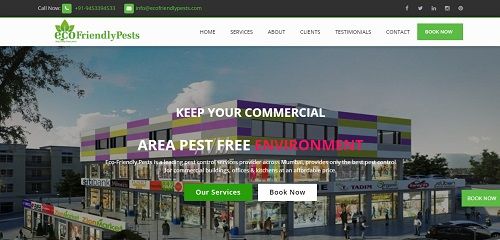 EcoFriendlyPests is the most popular pest control company that provides Pest control services in Prabhadevi. It's started a pest control business in Mumbai and later move to other locations such as Thane, Navi Mumbai, and Pune many years ago. Our mission is very clear, straightforward, and direct that we will help us to provide you a hygienic pest control services near your place. Also, anyone can get our best pest control services at an affordable price and 100% safe for your family member, pets, and environment at your places. EcoFriendlyPests continuously provide organic pest control solutions through our best and experienced pest control technicians team.
EcoFriendlyPests is an in-house pest control experts team who has been many years of experience, expertise in his field, and the most important thing is a well-behavior and very simple. Our team will visit your place once you request a pest treatment and they do a complete inspection. After that, as per the investigation of the place and the required pest control treatment, they decide which will be the best possible way to eradicate dangerous pests from your home. We use government-approved chemicals and spry to eradicate all kinds of dangerous pests at your place. Our chemicals are safe for humans, pets, children, and pregnant women at your home. EcoFriendlyPests provides Pest control services in Prabhadevi for both commercial and residential places.
Contact US
Address : D.N. Dube Road, Rajesh Compound, Dahisar East
Mobile : +91-9453394533
Email ID : [email protected]
Website : https://ecofriendlypests.com/
3. Elix Pest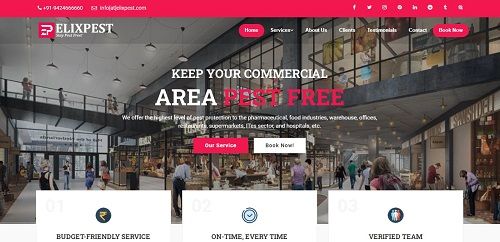 Elix Pest is a leading pest control company in Prabhadevi. We're a team of experienced professionals, police verified, and intensively trained members in-house. We use high-quality and goverment-approved chemicals and eco-friendly gel and safe spray.
We're playing a vital role in the Pest control service in Prabhadevi, Maharashtra, and other locations such as Navi Mumbai, Thane, Pune, India. We're an ISO-certified company, our professional's pest technicians are verified by Government (Police Verified), highly qualified, intensively trained team, and provide eco-friendly and safe pest control at an affordable price. Customers are happy with our pest services, commitments, working process, and behavior of our professional pest control team.
We're partnering with prominent pest control companies across Prabhadevi such as Pepcopp.co.in and other reputed pest control companies to do the best pest services to our clients.
Contact US
Address : Room No 4, D. N. Dube Road, Ratan Nagar, Dahisar, Mumbai 400068.
Mobile : +919424666660
Email ID : [email protected]
Website : https://elixpest.com/
SSD Pest Control Service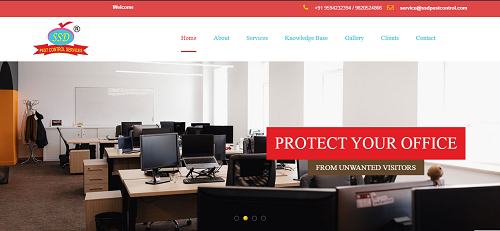 Established in the year 2018, we, SSD Pest Control In Prabhadevi , are engaged in providing effective services for pest control. we have specialized in offering residential, commercial, marina and corporate pest control services. SSD Pest Control Services Company, is looking to set new global standards in providing all sort of facility management services at affordable cost by developing innovative pro-environmental superior technologies. Every dwelling is entitled to get facility management services to improve quality of living and to have quality time in their family and business. We wish to equip ourselves to serve every dwelling in the Globe.
The experienced and dedicated service team offers customer friendly service which is technically superior and environment friendly. With continuous research and developmental activities we are at process of developing eco friendly low cost technologies for pest control.
Contact Details
Mobile No : 9594232394
Email ID : [email protected]
Website : https://ssdpestcontrol.com/
Schools & Colleges near Prabhadevi
AIG Academy ( Online, Regular & Distance Learning University )
Build a career filled with great opportunities with an MBA degree by AIG Academy in Mumbai. Whether you are a student looking to continue your studies or a working professional desiring for a degree along with a job, Online MBA in Prabhadevi by AIG Academy can fulfill your every need. You can pursue this MBA course sitting at your comfort zone. Distance MBA with an AIG Academy comes with various specializations. The best part of AIG Academy is that it also offers an MBA in one year degree where you can save your year gap and pursue your degree in just one year.
2. Convent Girl's High School
3. Adarsh English High School
4. Little Stars English High School
5. Holy Cross High School
6. Sunrise Play School
7. Rachana Sansad Architecture College
8. Rachana Sansad College Of Applied Art And Craft
9. A C Patil College Of Engineering
10. Montfort Junior College
Hospitals and Medical Centers
1. Siddhivinayak Health Care Pvt. Ltd
2. Dr. Alvas Clinic
3. Shreedhar Hospital
4. Satellite Health Care
5. Sarghran Nursing Home
6. Asha Surgical Maternity Home
Companies & Business Centers
1. Bajaj Allianz General Insurance Company
3. NeoSOFT Technologies
4. Aeries Technology Group
5. Rx Infotech Private Ltd