Recruitment consultants in India are professionals who help businesses find and hire qualified candidates for open positions. They work with companies to understand their staffing needs and then identify and recruit suitable candidates through a variety of methods, including advertising job openings, conducting interviews, and using online recruitment platforms.
Many recruitment consultants in India specialize in a particular industry or type of job, such as IT, engineering, or finance.
Here is the list of Placement & Recruitment Consultants in India who will help you to find your first job.
ABC Consultants
Randstand
Michael Page
Shella Consultants
Morpheus Human Consulting
Dewan Consultants
Multirecruit
Adecco
Mgheewala
Sampoorna Consultants
1. ABC Consultants
Founded in 1969 by Dr Bish Agrawal, ABC Consultants is the pioneer of organized recruitment services in India. Over the past five decades, we have acted as preferred talent acquisition partners to multinationals and leading Indian businesses to emerge as the leading talent solutions provider in India. This combined with our role as trusted consultants for Indian professionals translates into our core capability - Building Careers. Building Organisations.
ABC's roots in management consulting bring a unique approach to recruitment at senior and middle management levels .
We recruit across various industry sectors for multinational corporations as well as leading Indian business houses and have helped shaped the careers of over 1,65,000 professionals in our 50 year history.
Our network includes 9 offices spread across 8 major Indian cities. We have over 465 consultants who have over 2800 man years of experience with leading Indian and international companies and operate within domain-specialist teams spread across the country, providing customized talent solutions across 25 industry practices.
Contact Details:
Address: 1st Floor, Eros Corporate Tower, Nehru Place, New Delhi 110 019
Phone : +91 11 4934 3900
Email ID: [email protected]
Website : https://www.abcconsultants.in/
2. Randstad
At Randstad, we not only help match our talent to the right jobs, but also helping businesses reach their organizations' goals. We do this with the help of a set of management tools, business principles, policies that enable accountability for all elements of our sustainability framework - 3P's: People, Planet, Profit.
We provide specialised HR solutions and recruitment services for the widest range of skill sets and business sectors. We have a global footprint that is powered by our local expertise.
To find out more about how we can support your talent or career needs, get in touch with us.
Randstad India, an ISO 9001:2015 certified company, is a wholly owned subsidiary of Randstad Holding nv, a € 23.3 billion global provider of HR services.
With a legacy of over 30 years in the Indian market, Randstad is today one of the leading players in the Indian recruitment ecosystem. We believe in combining our passion for people with smart investments in intelligent technology to help organizations and talent realise their true potential. Employing over 800 specialist recruiters across our 20 office locations, Randstad India provides a full range of solutions including temporary and permanent staffing, outsourcing and other workforce solutions in the areas of engineering, finance and accounting, human resources, IT, manufacturing and logistics, and sales and marketing.
Contact Details:
Address: randstad india private limited, old no 5 & 5 a , new no 9, randstad house, pycrofts garden road 600 006 chennai
Phone : 044 - 66227000
Email ID: [email protected]
Website : https://www.randstad.in/
3. Michael Page
Since our start as a two-man operation in London in 1976, Michael Page has grown and expanded globally. Now, after more than 40 years in the recruitment market, we have secured our position as leaders in international recruitment and hiring. We currently have 139 offices that create a network that spans 37 countries around the world, with strong opportunities for more growth within Asia Pacific.
We opened our first office in Asia in 1994, and have developed our presence into many of the main business hubs in the region since then. Our team in Asia has global connections, regional knowledge and local market experience; ideally positioning us to partner with multinational blue-chip companies and local firms alike, and with today's global professionals.
Over time, our founding mission has remained unchanged: to bring the world's best companies and brightest professionals together, helping each side reach their maximum potential and capabilities. We offer a unique, consultative approach to recruitment, tailoring every solution to specific requirements and offering long-term support.
Through experience, growth and consistently high standards, we have become one of the most recognised and respected recruitment brands in the world.
Contact Details:
Address: randstad india private limited, old no 5 & 5 a , new no 9, randstad house, pycrofts garden road 600 006 chennai
Phone : 044 - 66227000
Email ID: [email protected]
Website : https://www.randstad.in/
4. Shella Consultants
Devoted to commenced and preserve an optimistic difference to your staffing needs, we at Shella Consultants, are a headhunting and manpower recruitment firm of high repute and recognition. We have gained this recognition by providing exemplary customer service and competent employees to diverse corporates, of all sizes; in India, Gulf, Europe, U.K, U.S.A as well as other parts of the globe.

Our firm enthusiastically performs its work in acceptance to cater your manpower necessities, procuring the candidate with the desired profile and building trusting relationships. Owing to our industry expertise, we comprehend that firm's today have need of more than an able candidate; they reach for employees who are productive, exhibit a positive attitude and have the ability to become a member of their team.

Apart from customary practices to source candidates (like advertising in newspapers), we also include pioneering means to procure accurate professionals. Our experts influence the power of technology-based recruitment and focus on online media to make sure that our clients receive the most suitable candidates for their organization.
Contact Details:
Address: 1203, Universal Majestic, Ghatkopar Mankhurd Link Road, Chembur West, Mumbai - 400043, Maharashtra, India
Phone : 08048954300
Email ID: [email protected]
Website : https://www.shellaconsultants.com/
5. Morpheus Human Consulting
Morpheus Human Consulting Pvt. Ltd. is the leading recruitment consultancy in India. With more than 18 branches and around 150+ consultants empanelled in our recruiting team in India and the Middle East, we cover close to all industry sectors. Morpheus is focused on hiring the right people for your organization. Our satisfied customers include leading MNCs and large Indian firms across industries.
At Morpheus Human Consulting, we understand that to achieve the big dream, you first need a dream team. Keeping this in mind we use our expertise to identify the skills sought by employers across industry verticals. Alongwith a reputation of consistently delivering results, having a clear understanding of the client requirement and high standards of quality, we also service our clients with a host of HR solutions, encompassing recruitment, corporate training, contractual or deputation services and compensation. Also our MHC academy partners with client organizations in building enduring relationships.
Contact Details:
Address: 508, A Wing, Sagar Tech Plaza, Sakinaka Junction, Andheri Kurla Road, Andheri (E), Mumbai 400072, India
Phone : +91 022 40649800
Email ID: [email protected]
Website : https://mhc.co.in/
6. Dewan Consultants
Having operated internationally for over four decades, Dewan Consultants prides itself on having set the standards for world-class recruitment both in India and globally. With offices split across the three major global hubs for manpower: India, Dubai, and Saudi Arabia, Dewan Consultants has pioneered fast and efficient recruitment and remains the accolade for being the leading Indian consultancy providing personnel Globally.
From sourcing to screening to interviewing up to immigration, Dewan Consultants has perfected the art of effective and targeted labor recruitment services for global multinational businesses across a plethora of industries.
Some of these industries include hospitality, manufacturing, banking and construction, oil & gas, aviation, and automotive, to name a few.
At our consultancy, we maintain a dynamic and intelligible database of experienced professionals based on their qualifications, experience, and track records. With this precise information, we ensure the expeditious selection of the ideal candidates after a series of screening processes including interviews, medical checks, trade tests, and so on. Additionally, as a complete solutions provider, we take care of all the documentation, medical and orientation needs to ensure that their transfer to the destination country and company is seamless.
Our successes have helped us maintain a credible leadership position in manpower solutions globally, while simultaneously humbling us to never stray from the human in Human Resources. With that in mind, we, at Dewan Consultants, have continually provided assurance of exemplary and client-centric solutions and will continue to do so.
Contact Details:
Address: A-618, Sagar Tech Plaza, Sakinaka Junction, Andheri (East), Mumbai-400072, India.
Phone : +91 22 42146700
Email ID: [email protected]
Website : https://www.dewanconsultants.com/
7. Multi recruit
Multi Recruit is your end-to-end Recruitment specialist. We create branding, provide market insights, customise recruitment solutions and provide the right talent to fill positions at all levels.
Multi Recruit was established in 2013 by D.K. Praveen Kumar and Shashank A Vagale who conceptualised the idea of Customised Recruitment Solutions with talent from India.
D.K. Praveen – As an accomplished Management Professional with approximately 18+ years of experience in the domestic and international market (UK) who worked in Digital, Print Advertising and FMCG Market recognized the woes of SMBs and Start-ups having budget and manpower constraints amongst other challenges.
Shashank – Has an overall 10+ years of HR industry experience with strong stakeholder management skills and is adept at driving Talent Acquisition team across gamut of skills and Industries.
Headquartered and spread across 2 offices in Bangalore, Multi Recruit has a strong team of 30+ Recruitment Professionals, who are adept, trained and equipped with years of experience to understand and deliver the most critical of requirements with its clients. Additionally, over 50 contractual employees have been deployed onsite on various projects and shuffled upon need.
Contact Details:
Address: #103, 2nd Floor, Bull Temple Road, Bangalore - 560019
Phone : +91 888 042 4000
Email ID: [email protected]
Website : https://www.multirecruit.com/
8. Adecco Group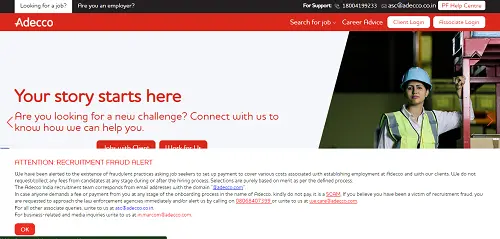 The Adecco Group, India, does not collect any fee/s from the candidate for recruitment agency in India. The Adecco Group, India employees, do not ask for any fee/payment; they are not allowed to or authorized to collect any fees from the associate, candidate, or client. The selection of a candidate/associate is purely based on merit as per the defined process. In case anyone demands a fee or payment from you at any stage of the onboarding process, kindly alert us by calling on 08068407399 or write to us at [email protected].
If your query is related to PF, write to us at [email protected]
For all other associate queries, write to us at [email protected]
For business related and media inquiries write to us at [email protected]
Contact Details:
Address: 4th Floor, Unit No. - 19, Chowringhee Court 55/1, Chowringhee Road, Kolkata – 700071.
Phone : +91 33 - 40357070
Email ID: [email protected].
Website : https://www.adecco.co.in/
9. Mgheewala
Linking the fine talents of candidates with great opportunities available within an organization is matchmaking at its best international job consultants in Mumbai, India. At M.Gheewala Global HR Consultants, we transform this into an art worth emulating. Blending the needs of recruiters with the aspirations of job seekers, M.Gheewala Global provides a platform where both sides come close, identify each other's requirements and make informed decisions.
M.Gheewala Global HR Consultants, an ISO Certified 9001: 2008, Government of India Approved & Recognized Overseas Recruitment Agency, was founded by Mr. Mehmood M.Gheewala, who is also the Managing Director of the Company. M.Gheewala, a promising young go-getter, honed his skills by working with one of India's best-known recruitment companies and gained an unparalleled understanding of the distinct recruitment needs of organizations in the Middle East. The MD applied the same high principles and values at the time of starting M.Gheewala Global.
At M.Gheewala Global clients and candidates can benefit from the four-decade strong recruitment track record of an experienced team that strictly follows a 'Zero-Compromise' approach in every aspect of the recruitment procedure.
Under M.Gheewala's able leadership and experienced team's support, M.Gheewala Global has evolved into a result-driven organization focusing on fulfilling the distinct needs of business establishments that approach the organization for its services.
No wonder M.Gheewala Global has emerged as a preferred Human Resources Consultant for organizations in the Middle East and across the globe.
M.Gheewala Global HR Consultants promises and delivers the quality services of Overseas Recruitment to clients and candidates through Integrity innovate and partnership.
Contact Details:
Address: 202, 2nd Floor, Bombay Market, Tardeo Road,Mumbai 400034, INDIA
Phone : +91-22-61666555
Email ID: [email protected]
Website : https://www.mgheewala.com/
10. Sampoorna Consultants
Sampoorna Consultants is a pioneer in IT Recruitment in India. Established in 1990, we provide consultancy exclusively in recruitment of IT & Telecom professionals. We are a Mumbai-based company with offices in Bangalore, Chennai, Delhi, Hyderabad and Pune.

At a PAN-India level, we take pride in having one of the largest data bank of IT professionals. This means that we have access to a pool of candidates with niche IT skills who may not otherwise be available on public databases. The database is extensively automated to enable advanced skill matching.

We have worked with companies of all scales, ranging from startups to small product companies to large IT services leaders as well as MNCs setting up operations in India for the 1st time. Our deep domain expertise in IT recruitment coupled with a large multi location team means that we can work on positions at all levels from freshers all the way upto the CEO. We have the capability to close a large number of IT positions within a short time as well as the ability to find candidates with hard to hire niche skills.

Our HO has created a recruitment system which has been certified for ISO 9001:2015 by Bureau Veritas India. We are the first IT & Telecom specialist recruitment company in India to get this certification. Sampoorna is a founder member of ERA (Executive Recruiters Association) which is India's Recruitment Agency's Industry Organisation
Contact Details:
Address: G-11/12, Nahar & Seth Ind. Estate, Near P & G Plaza, Chakala Road ,
Andheri (East) Mumbai - 400 099
Phone : 022-6767 6000
Email ID: [email protected]
Website : https://www.sampoorna.com/