Studying abroad is an excellent opportunity to explore new cultures, learn new languages, and gain valuable academic and professional experience. However, navigating the complex process of studying abroad can be overwhelming, especially for those who are new to the process. That's where study abroad consultants come in. Study Abroad Consultants In Chennai provide students with guidance, support, and assistance in every aspect of the study abroad process, from selecting a program to preparing for departure.
Chennai, the capital of Tamil Nadu, is a bustling city in southern India with a vibrant academic scene. There are many study abroad consultants in Chennai, each offering unique services and expertise to help students achieve their academic and personal goals abroad. In this article, we will highlight the top 10 study abroad consultants in Chennai, based on their reputation, experience, and success rate.
1. Canam Consultants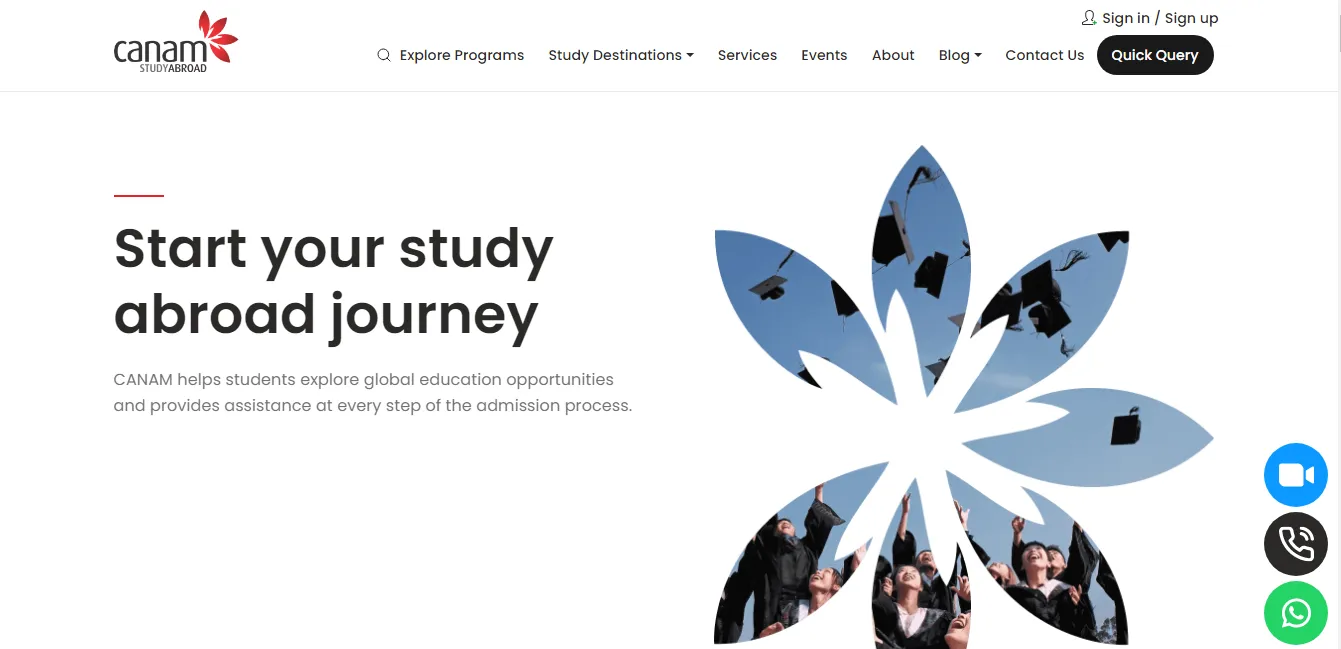 Canam Consultants is a Study Abroad Consultants In Chennai, India with branch offices in multiple cities including Chennai. The company has been providing study abroad services for over 20 years and has helped thousands of students to study in top universities and colleges across the world.
Canam Consultants offers a wide range of services including admission guidance, visa assistance, pre-departure orientation, financial assistance, travel assistance, and more. The company has partnerships with over 700 universities and colleges across the world, including in countries like USA, Canada, Australia, New Zealand, UK, and more.
Canam Consultants has a team of experienced and qualified consultants who provide personalized guidance to students based on their interests, academic background, and career aspirations. The company also conducts various events and seminars to help students gain knowledge about various study abroad options and visa requirements.
Contact Details
Address: Kakani Towers, 3rd Floor New No. 17 (above Bombay Dyeing) Nungambakkam High Road, Chennai 600034 Tamil Nadu India
Contact Number: 044 40010400-414
E-mail: [email protected]
Website: https://www.canamgroup.com/
2. Santamonica Study Abroad Pvt. Ltd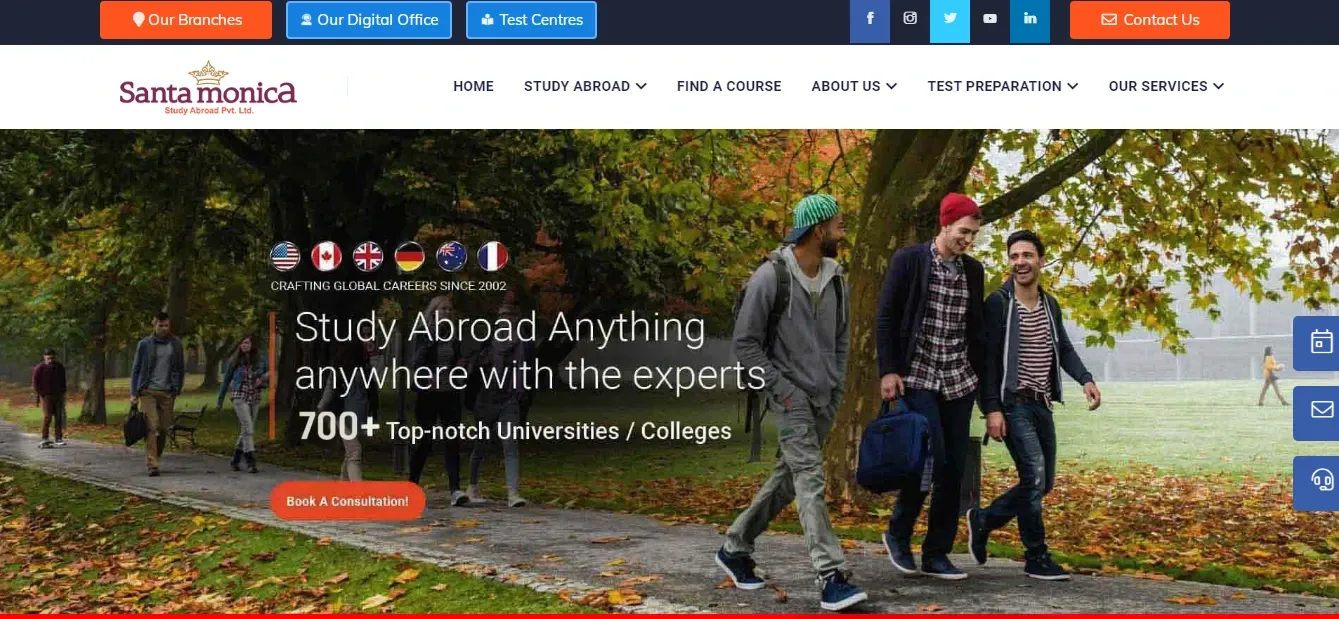 Santamonica Study Abroad Pvt. Ltd, established in the year 2002 is a premier overseas education facilitator, headquartered in Kochi, Kerala, India , headed by its founder and Managing Director Mr. Denny Thomas Vattakunnel an astute businessman, illustrious Author, Blogger, philanthropist social worker and sports administrator.
The Study Abroad Consultants In Chennai offers end to end study abroad facilitation services. It's the authorized representative of 600+ top-notch Universities/ Colleges from over 20+ countries, with branches and associate offices in virtually all districts/ cities of Kerala and key Indian cities. The brand today has become synonymous with quality and reliability for hand -holding students wishing to study abroad in the best of overseas educational institutions across the globe, paving the way to phenomenal international academic success and rewarding careers for thousands of students which has earned unwavering trust and patronage of students and parents alike.
Complementing the management is a team of highly trained motivated professionals with years of experience and skill with international exposure . Team Santamonica owes its success to the unwavering dedication, ethics, professional practices, continuous investment in staff training, the use of state of the art technology, and above all to its ''client first'' policy".
Contact Details
Address: Flat No: 6, 3 rd floor, Diamond flats, 995-P, 2nd avenue, H west block, Anna Nagar, Chennai
Contact Number: 9176666752
E-mail: [email protected]
Website: https://santamonicaedu.in/
3. Edwise International
Edwise International is a global Study Abroad Consultants In Chennai that assists students in pursuing higher education abroad. Established in 1991, Edwise has 24 offices across India and represents over 725 universities and colleges from countries such as the United States, Canada, United Kingdom, Australia, New Zealand, Singapore, Ireland, France, Germany, Switzerland, Dubai, and Malaysia.
The company offers services such as counseling, test preparation, visa assistance, and travel arrangements to students who wish to study abroad. Edwise also organizes education fairs and events, providing students with the opportunity to meet university representatives and gain insights into studying abroad.
Edwise has been recognized by various organizations for its work in the education consultancy field, including the 'Outstanding Contribution to International Education' award from the British Council and 'Best Overseas Education Consultancy in India' award from the Times of India.
Contact Details
Address: 1st Floor, Pioneer Sudarshan Plaza, 9 Mohan Kumaramangalam Street, Nungambakkam High Road, Chennai - 600034, Tamil Nadu, India
Contact Number: 9884711600
E-mail: [email protected]
Website: https://www.edwiseinternational.com/
4. Victory Overseas
Victory Overseas is an international professional Study Abroad Consultants In Chennai, with several years of experience in placing number of desired students in the right universities.
Students want to see the world and they want to explore! And we firmly believe and feel that they gain a lot from what they experience abroad. The most important thing is that the student will develop on a more independent basis. Global education is fast transforming itself into being an integral part of one's career goals.
We deliver value to you using streamlined processes, a focus on quality, a highly skilled team, and an extensive knowledge base. It is our mission to work continuously toward better education.
Contact Details
Address: No.22, 3d, First Floor, Ashika Chambers(Jamals Building), Chamiers Road, (Near G.K. Moopanar FlyOver), Teynampet, Chennai-600 018.
Contact Number: +91 95000 08008
E-mail: [email protected]
Website: https://www.victoryoverseasedu.com/
5. Zista Overseas Consultant
Zista Overseas Consultant, one of the leading study Abroad Consultants in Chennai. For the past five years Zista Overseas Consultant plays a cardinal role as best overseas education consultants in chennai to help students to pursue their dream of studying abroad and chase their careers at the appropriate overseas institutions such as USA, Canada, UK, France, Australia, Netherland, Germany, Denmark, New Zealand, Singapore, Dubai, Europe, Philippines, Japan, China, and so on.
Zista has been employing firmly as an open hearted consultancy and providing flair education since its inception. The consultancy progressing students into gleaming engineers, doctors, accountants, scientists, pilots, tutors by providing supercilious education by adroit professors in the field of banking, finance, medicine, engineering, science, marketing and information technology.
Contact Details
Address: No. 37, TTK Road, Alwarpet, Chennai - 600018
Contact Number: 9940610832
E-mail: [email protected]
Website: https://www.zistaoverseas.in/
6. Manya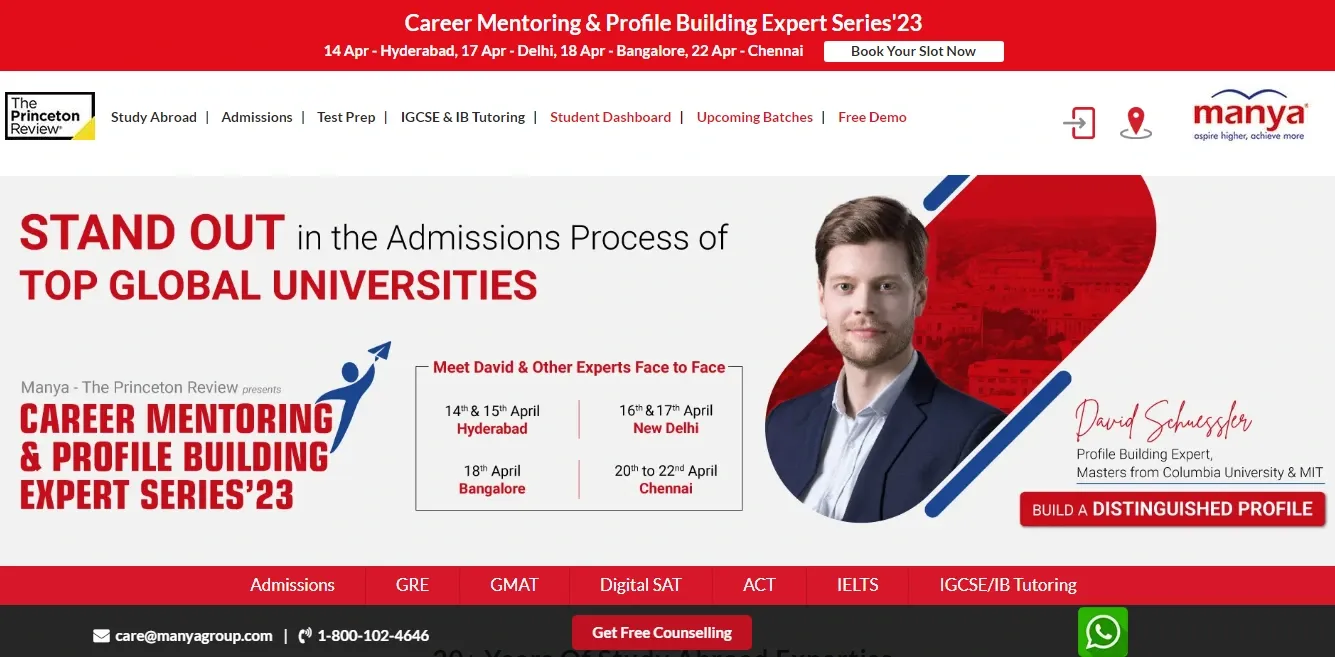 Good exam results and great academic record alone will not get you into your dream university in today's competitive environment. You'll need a powerful profile, a well-thought-out list of universities, a winning essay, relevant LORs, SOP, and confident interview preparation to get you through, don't worry Manya – The Princeton Review have got you covered!
Manya – The Princeton Review considers a variety of criteria such as your ability, finances, post-employment options and anticipates any concerns by linking you with education loan providers, obtaining relevant scholarships, and assist you with pre-departure plans.
Manya – The Princeton Review gives every student who is interested in studying abroad with comprehensive overseas education counselling and solutions. It specializes in international university admissions and helps students choose schools, prepare for exams, and obtain visas. Manya – The Princeton Review's Chennai location has a track record of helping students with admissions counselling and test preparation for the GMAT, GRE, Digital SAT, ACT, IELTS, and TOEFL. Anyone looking for study abroad consultants in the United States, the United Kingdom, Canada, Australia, or Germany is welcome to visit the centre.
Contact Details
Address: No.169, 1st Floor, Kumaran Nagar, Old Mahabalipuram Road, Semmenchery, Chennai – 600119, Chennai-600119
Contact Number: 9159122111
Website: https://www.manyagroup.com/
7. Intelligent Overseas Education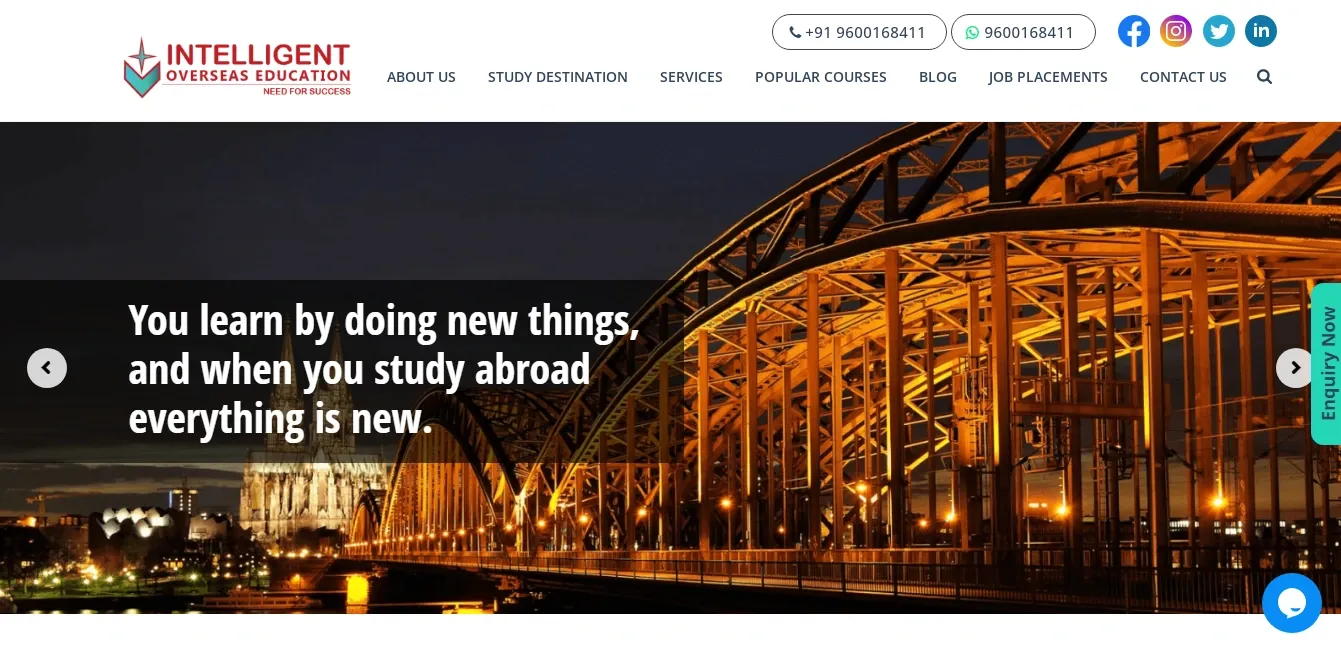 Intelligent Overseas Education is one of the fastest growing companyproviding effective study abroad counselling to the aspiring students who would want to learn in excellent environment with multicultural experience and great lifestyle. We provide professional guidance for higher studies in Australia, New Zealand, UK, USA, Canada, and many other countries. Our counsellors are well trained and highly qualified. Our partners are UK/Australian graduates, PIER Certified and Migration Registered Agents. They are sincerely dedicated to assist students with updated information on institutions and courses.
We deal considering the students' uniqueness with different qualities, interests, and abilities. We acknowledge the pitfalls and challenges which may arise at various stages of student's application. We take the time to get to know about the student, their current circumstances, and ultimately their goals, to direct them towards the most viable option. We believe our comprehensive service and reliable guidance will help students to fulfill their dream.
Contact Details
Address: 86 Paper mills road , Perambur , Chennai – 600011
Contact Number: +91 9600168411
E-mail: [email protected]
Website: https://intelligentoverseaseducation.com/
8. For Ed
We support our students by initially counseling them and giving them all information's regarding the various options available for higher education across the globe. Help them to choose the university which meets their academic and financial requirements; give them the details of the necessary documents required for the application process Assist them with test preparations, as in GRE or GMAT , as required by the universities, English language preparations and the German language certification if required.
Assist them with the application documents like the sop and the LOR by giving them sample copies of the same and also edit the documents for any grammatical and syntax errors. Help them fill up the application, whether online or hard copy, assist for the scholarship and the financial documents required by the university. Finally guide them through the visa , and the pre-departure processing
For Ed overseas , assist and guide through the application process for courses at all levels, right form the diploma to the PhD, and give continuous support to out students at all levels. We ensure that the students apply to institutions which are thoroughly assessed  in order to meet their requirements, thus, making the study abroad as easy as possible, so that, students have to only think about their education there, rest will be taken care by us.
Contact Details
Address: #28, Natesh Building, Ground Floor, 100 Feet Bypass Road, Venkateswara Nagar, Velachery, Chennai – 600 042 Tamilnadu, INDIA
Contact Number: +91-6369991084
E-mail: [email protected]
Website: https://foredoverseas.com/
9. KCR Consultants
We started small, as a recruitment agency certified by the then Labour Ministry of India in 2001. Since then, we have provided career counseling and recruitment services to various professionals and skilled personnel to relocate to the UK, Europe, and many other countries till 2008.
KCR Consultants is now a full-fledged education management company registered under the company act of India's Ministry of corporate affairs. We are focused on the international education services that include the admission process & student recruitment, and career counseling.
We are in a position to process applications with any university the student like to study. As for our consultancy gives much importance to the academic background, the interest in studies, and the applicant's plan. At the same time, the Universities are weighed as per how a particular course is taught, the strength of the faculty, infrastructure, and other facilities available to help students to have a healthy learning atmosphere, and finally, the outcome of the course – what significant change and growth that can make in the academic and career prospects of the student in future.
Contact Details
Address: #3 McNichols Road, Asirvad Apartments, Chetpet, Chennai - 600031. Tamil Nadu, India
Contact Number: (+91) 9840 947 417
E-mail: [email protected]
Website: https://kcrconsultants.com/
10. Reya Consultancy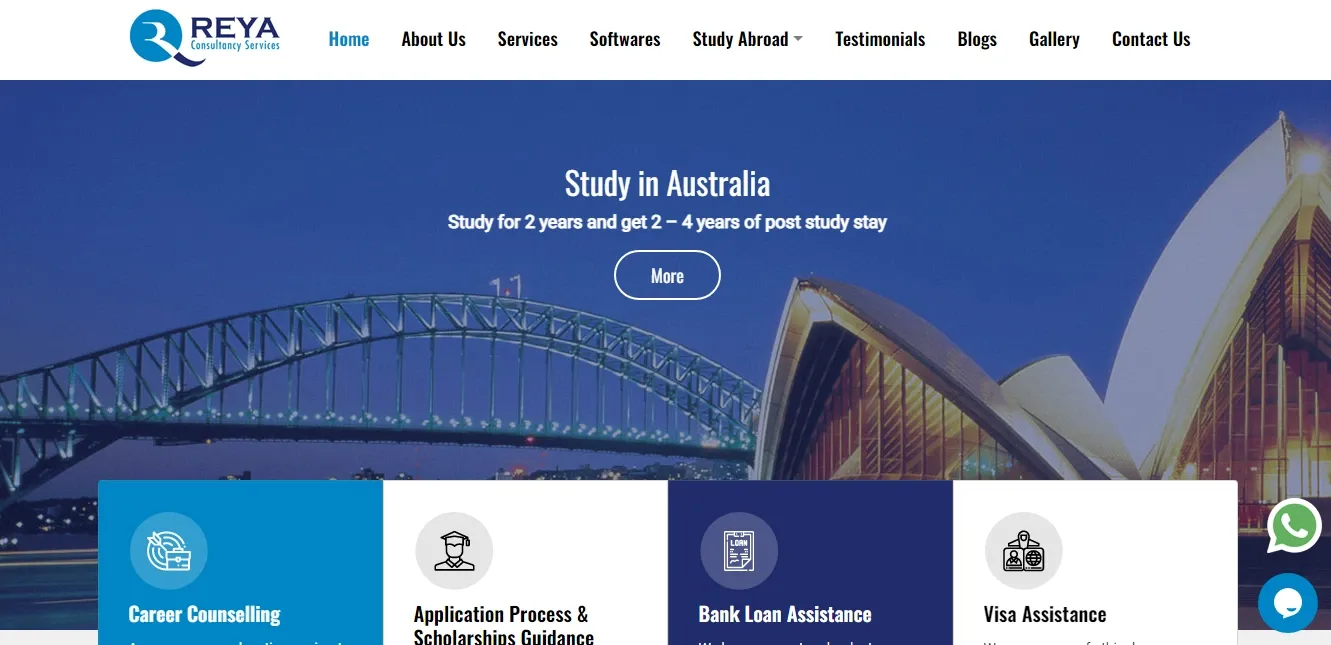 Reya Consultancy is an Study Abroad Consultants In Chennai for candidates who wish to pursue their studies abroad. We guide students to select the right course and carve out a career map for them by matching them with the right destination and University according to their skill sets.
A large number of international students are vying for admissions in top institutions. One needs an expert in the area of overseas education to propel their candidature and get the cutting edge.
We strongly believe in the concept of one stop solutions for students who approach us for our services. Our team of overseas education experts will take you through the entire process of getting into overseas education. We provide counselling services for students who wish to study in USA, UK, Australia, New Zealand, Canada and Ireland. Reya offers tailor-made solutions to students wishing to study at all levels.
Our global partner relationships around the globe and our team of professional counselors help aspiring students choose their desired education path. Since 2011, we have been developing strong partnerships with universities globally and give our best shot in landing the students the right scholarships and education. We take care of all the paperwork for you from the scratch till the time you set foot in your destination.
Contact Details
Address: 2400-A, AK Block, 11th Main Road, Anna Nagar, Chennai - 600040
Contact Number: 9342206092
E-mail: [email protected]
Website: https://www.reyaconsultancy.com/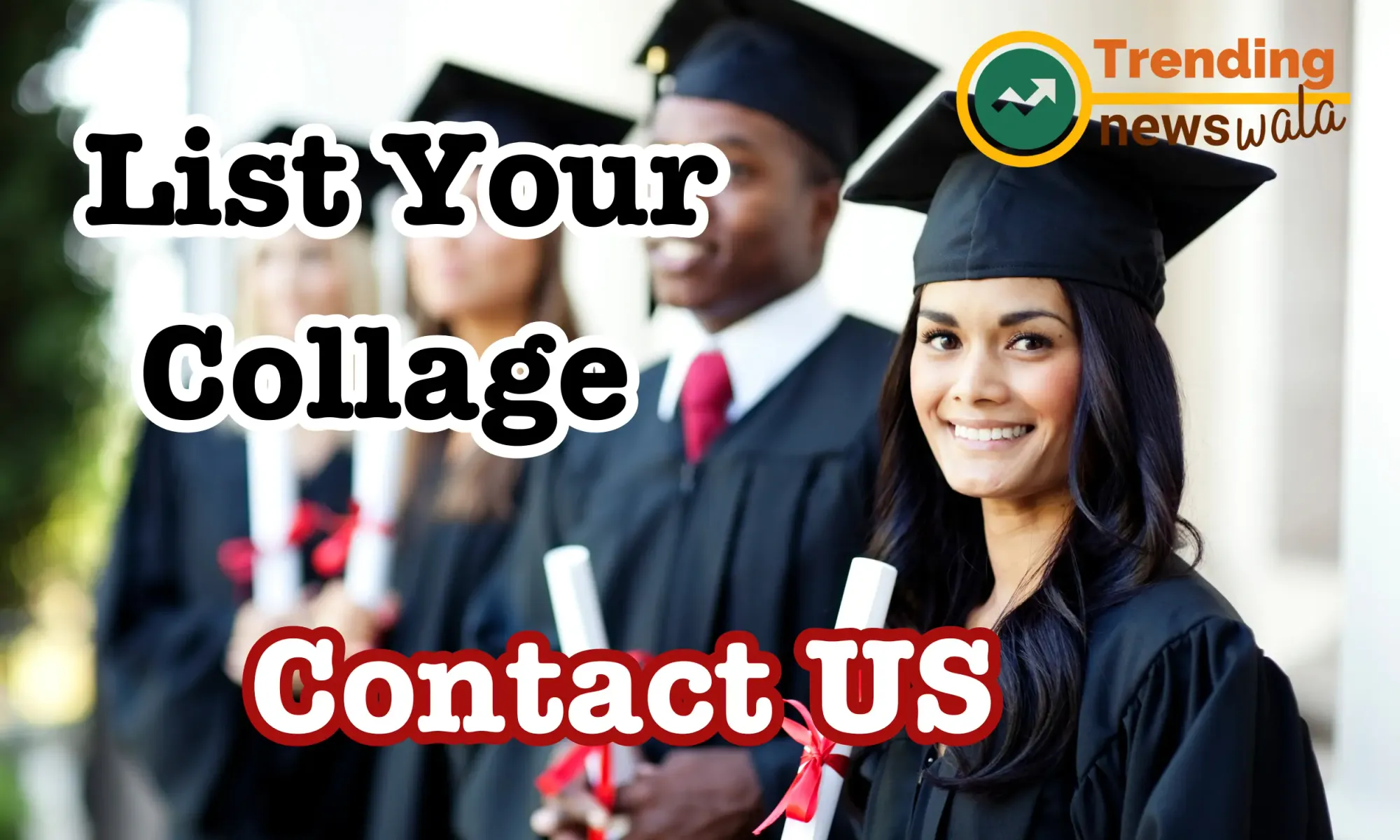 invaluable support they provide to students aiming for international education.
The Global Educational Landscape:In an era of globalization, the desire for international education has grown significantly among Indian students. Pursuing degrees abroad offers exposure to diverse cultures, access to world-class institutions, and a holistic academic experience. Chennai, with its educational institutions and cosmopolitan atmosphere, is at the forefront of this trend.
The Role of Study Abroad Consultants:Study abroad consultants in Chennai act as indispensable guides, helping students navigate the complexities of international education. Their multifaceted role encompasses several key aspects:
Guidance and Counseling: Consultants provide personalized guidance and counseling, assisting students in identifying their academic goals, career aspirations, and the most suitable courses and destinations.
University Selection: Navigating through the plethora of international universities can be overwhelming. Consultants assist students in shortlisting and selecting institutions that align with their academic preferences and financial considerations.
Application Assistance: The application process for international universities is intricate. Consultants aid students in preparing application documents, ensuring adherence to admission requirements, and presenting a compelling case.
Visa Support: Understanding visa procedures and requirements is crucial for a seamless transition. Study abroad consultants guide students through the intricacies of the visa application process, ensuring compliance with immigration regulations.
Financial Planning: Studying abroad often involves significant financial considerations. Consultants provide insights into funding options, scholarships, and financial planning, making international education financially viable for students.
Test Preparation: Many international universities require standardized test scores. Consultants collaborate with reputable test preparation centers to assist students in achieving competitive scores.
Cultural Transition: Adapting to a new culture is a critical aspect of studying abroad. Consultants offer support and resources to ease cultural transitions, ensuring students feel confident and comfortable in their new academic environment.
Local Expertise in Chennai:Study abroad consultants in Chennai bring a unique advantage by understanding the local context and specific needs of students in the region. They are well-versed in the academic landscape, cultural nuances, and the aspirations of Chennai's diverse student community.
Building Global Citizens:Beyond academics, studying abroad fosters personal growth, resilience, and adaptability. By facilitating international education opportunities, study abroad consultants in Chennai contribute to the development of well-rounded individuals prepared to thrive in a globalized world.
Conclusion:In Chennai, where tradition meets modernity, study abroad consultants act as facilitators for educational journeys that transcend borders. Their expertise, guidance, and support empower students to embark on enriching academic experiences abroad, contributing to the city's legacy of fostering knowledge and global perspectives.
Frequently Asked Questions (FAQs) - Study Abroad Consultants in Chennai
What is the role of study abroad consultants in Chennai?
Study abroad consultants in Chennai play a crucial role in guiding and assisting students who aspire to pursue higher education abroad. They provide comprehensive services, including guidance on universities, application assistance, visa support, financial planning, and cultural transition guidance.
How can study abroad consultants in Chennai help in choosing the right university?
Consultants assist students in understanding their academic goals, preferences, and budget constraints. They provide insights into suitable universities, considering factors such as course offerings, location, and reputation, to help students make informed decisions.
Do study abroad consultants in Chennai assist with the application process?
Yes, study abroad consultants streamline the application process. They help students prepare necessary documents, ensure compliance with admission requirements, and present a compelling application to increase the chances of successful admission.
Can study abroad consultants assist with visa applications in Chennai?
Absolutely. Study abroad consultants in Chennai guide students through the intricacies of the visa application process. They provide information on visa procedures, documentation requirements, and ensure compliance with immigration regulations.
How do study abroad consultants help with financial planning in Chennai?
Consultants offer insights into funding options, scholarships, and financial planning for studying abroad. They help students understand the costs involved and explore opportunities to make education abroad financially viable.
Do study abroad consultants provide test preparation assistance in Chennai?
Yes, many consultants collaborate with reputable test preparation centers. They guide students on preparing for standardized tests required for admission to international universities, ensuring competitive scores.
What cultural support do study abroad consultants offer in Chennai?
Study abroad consultants provide resources and support to ease cultural transitions. They offer guidance on adapting to a new culture, understanding local customs, and ensuring students feel comfortable and confident in their new academic environment.
Can study abroad consultants in Chennai help with post-arrival support?
While their primary focus is on pre-departure preparations, many consultants offer advice and resources for students to navigate post-arrival challenges. They may connect students with local support networks or provide information on essential services.
How do I choose the right study abroad consultant in Chennai?
To choose the right consultant, consider factors such as their reputation, experience, services offered, and client testimonials. Personal recommendations and thorough research can help you make an informed decision about the consultant best suited to your needs.
Are there any community initiatives for study abroad in Chennai?
Community initiatives may include seminars, workshops, or awareness campaigns organized by study abroad consultants or educational institutions in Chennai. These events aim to educate students and parents about the benefits and processes of studying abroad.