There are several study abroad consultants in Pune that can help you with the process of studying abroad. These consultants offer services such as assisting with university selection, visa application, test preparation, and more.
Studying abroad can be an exciting and life-changing experience. Not only does it offer you the chance to explore new cultures, but it also allows you to gain an international education, which can be a great advantage in today's global economy. However, the process of choosing the right study abroad program and applying to universities overseas can be overwhelming. That's where study abroad consultants come in. They can help you with everything from choosing the right university to visa application and beyond.
Here, we've compiled a list of the top 10 study abroad consultants in Pune to help you make the best decision for your future.
1. AdmitCart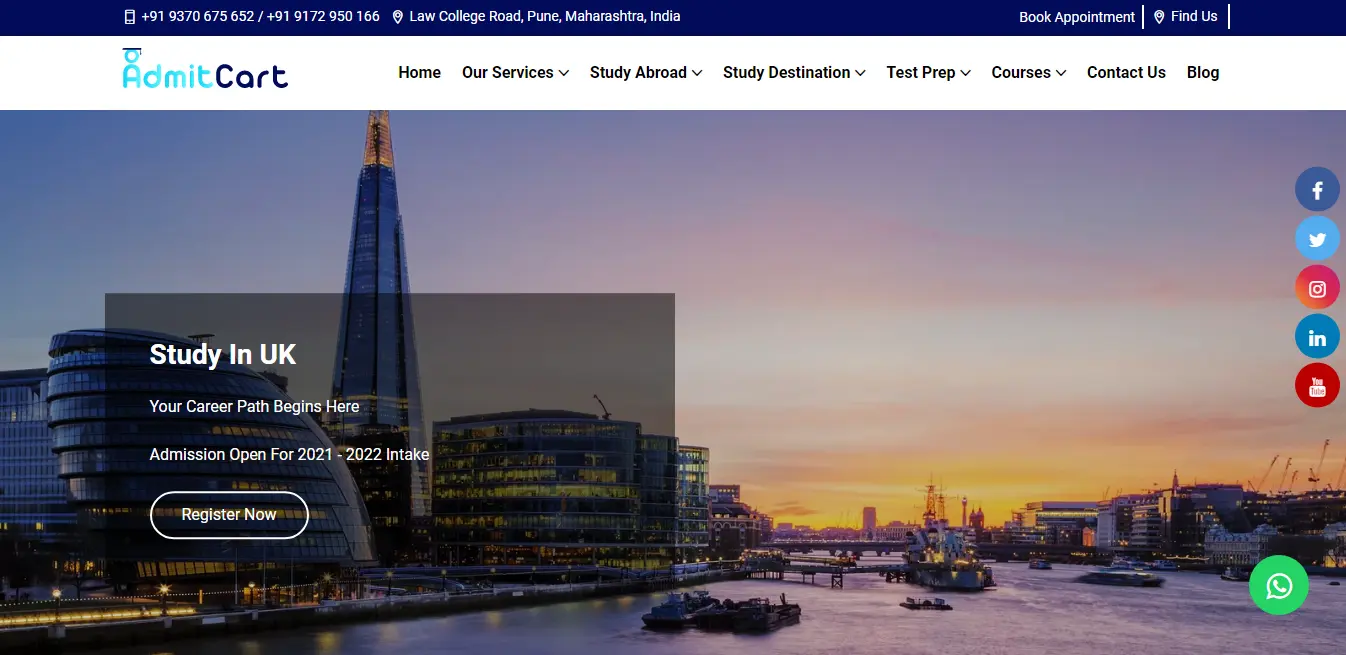 AdmitCart is India's most trusted and rapidly growing study abroad consultant in Pune. AdmitCart have guided more than 5000+ students to acquire admission to their dream universities around the globe. AdmitCart specializes in providing personalized experiences to every student to choose the perfect institution for their career in almost all countries.
Their team of professionals assists students in university shortlisting, drafting SOPs and LORs, university applications, scholarship applications, visa assistance, and post-landing services. We also provide guidance and coaching for standardized tests like IELTS, TOEFL, PTE, GRE, GMAT, SAT, and ACT.
Contact Details
Address: AdmitCart, 304, Business Guild, Complex, Law College Rd, opp. to Wadeshwar, Shanti Sheela Society, Apex Colony, Deccan Gymkhana, Pune.
Email: [email protected]
Contact number: 93706 75652
Website: https://www.admitcart.com/
2. Edwise International
Edwise is the one stop solution for all your international study needs. We have been India's Leading Overseas Education Consultancy In Pune since 1991 and have a command on education opportunities worldwide.
Our core activity lies in assisting students to make the right choice with regard to pursuing education in overseas educational institutions. Edwise provides information regarding higher education in various countries such as UK, USA, Canada, Australia, New Zealand, Singapore, Ireland, France, Germany, Dubai, Switzerland, Malaysia and many more.
Contact Details
Address: 321, Sohrab Hall, 3rd Floor, Sassoon Road, Pune - 411001, Maharashtra, India
Email: [email protected]
Contact number: 9175620359
Website: https://www.edwiseinternational.com/
3. KC Overseas Education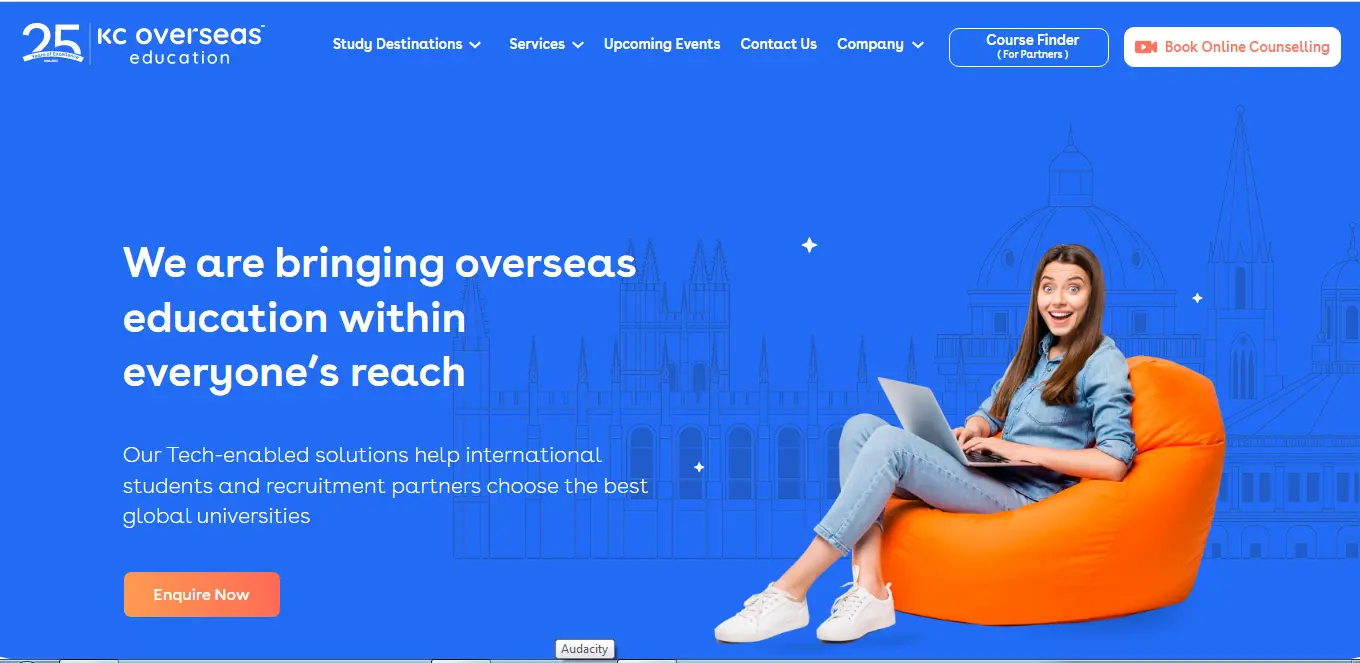 Since its inception in 1998, KC Overseas has evolved into one of the most respected and valued brands in the overseas education arena. What began as a start-up venture two decades ago is now an established organization with over 65+ offices across 11 countries and 2 continents.
Our growth was smooth over the first decade and half but has skyrocketed with the launch of our EdTech platform 'Course Finder' in 2017, the year that marked the amalgamation of our years of industry expertise with some high-end technology, and we have been rapidly expanding across length and breadth of South Asia, South-East Asia & Africa ever since.
This rapid expansion has been made possible by our strategic acquiring of crucial university tie-ups across countries and continents, values of integrity and honest business practices that are strongly rooted in our system and by always putting our customers and stakeholders first.
Our vision is to make a transformative impact on Study Abroad Service Sector through continual innovation in student services by connecting institutions, recruiters, and students across the globe.
Our mission is to create a global EdTech ecosystem wherein our universities can showcase the best they have to offer and partners and students can choose what suits them the most. We are bringing global education within everyone's reach and we are accomplishing it in a very unique way – by using our ultra-efficient online platform employing high-end technology, but with a human touch that sets us apart. We are transcending international boundaries everyday and are assisting more and more stakeholders leverage our market reach and expertise to achieve and exceed their business goals.
Contact Details
Address: UG-16, East Court (Phoenix Market City), Viman Nagar, Pune – 411014
Email: [email protected]
Contact number: 7969071400
Website: https://www.studies-overseas.com/
4. AECC Overseas Consultants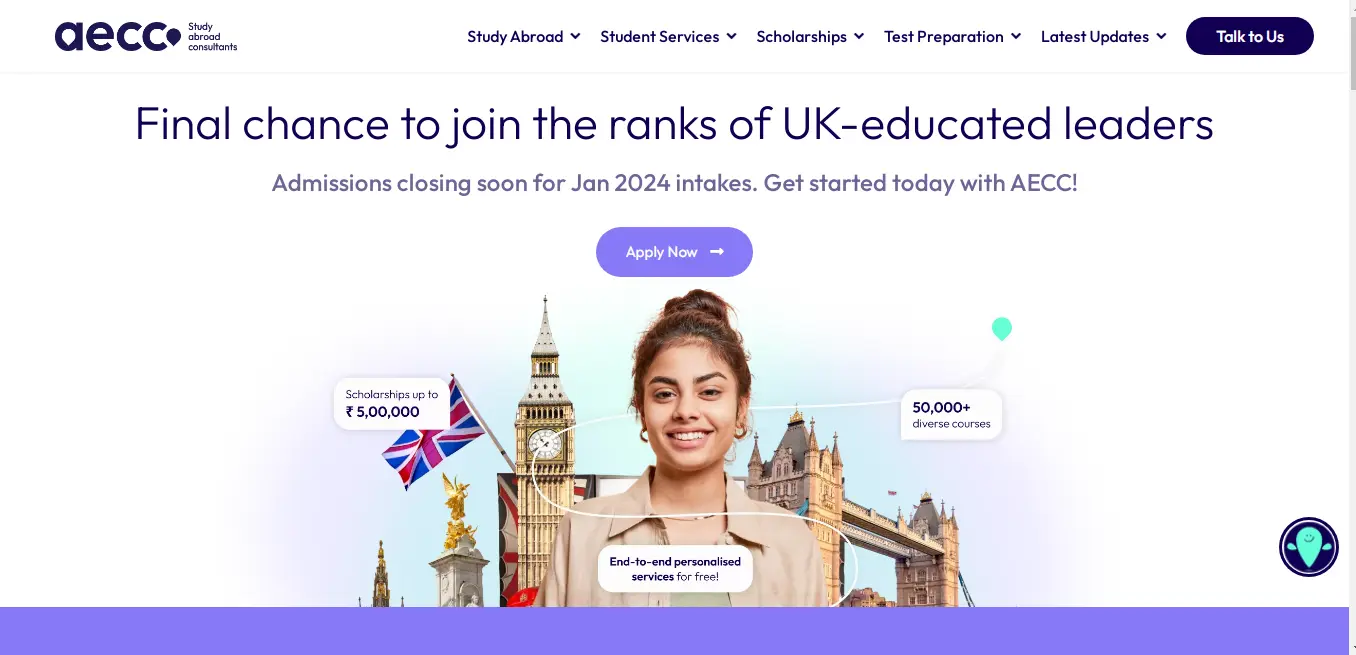 Large number of students in India are increasingly becoming aware of the brilliant opportunities to study abroad. In order to pursue higher education overseas, the young and aspiring students of our country must possess a clarity of the global universities and educational institutions that offer courses and post-study opportunities that best match their requirements and areas of interest.We are on a mission to make overseas education accessible since our inception in 2008.
Our global footprint spans 15 countries and as you will discover we are truly different.We have dedicated teams of richly experienced professionals to help students like you across the globe in choosing the best courses that are available in international universities suitable to not only your interests but also your aptitude.We first understand your education and career goals and then provide you with the proper guidance. Here's why you need to speak with us:
We've got first-hand experience in international education and have helped hundred of students
Our qualified team of experts will guide you through each step of the admission process right from identifying your goals to applying for a course and institution of your choice
We can offset education cost by finding right scholarships and a lot of universities will waive off application fees when you apply through us
We represent 500+ Top universities and institutes globally offering courses in vast subject areas.
Contact Details
Address: 101-102, 1st floor, Mosaik Commercial Complex, above Starbucks Coffee, Opp- Fergusson College Main Gate, Shivaji Nagar, Pune - 411004.
Email: [email protected]
Contact number: 81308 39777
Website: https://www.aeccglobal.in/
5. Global Opportunities
One of the most difficult decisions is whether or not to study abroad. In addition, choosing the right country and university to apply to and attend in order to complete higher education is even more challenging. It can be difficult to choose a college and country that is right for your profile and goals. Your friends and family might help you but they may not be able to assist you with the entire application process as they may lack the necessary expertise. The process of studying abroad includes lots of steps like visa application, course selection, and admission process, which can be done accurately only through the help of study overseas consultants in Pune.
Therefore, when planning to study abroad, it is always a good idea to consult any study abroad consultants in Pune, with a lot of experience in the field. They will give you the right direction, which is the most important thing.
In today's time, students from all over the world are leaving their countries in search of fine education and career opportunities. Leaving your country for higher studies might be very challenging for young students, but it has a lot of benefits attached to it. Read the points below and explore more about the advantages of studying overseas
Contact Details
Address: 1st floor, 18 & 19, Aditya Centeegra, Fergusson College Road, Next to Mantri House, Pune - 411005
Email: [email protected]
Contact number: +91 20 66664999
Website: https://www.global-opportunities.net/
6. Jamboree
Jamboree is the oldest institute in India and the best of its kind, which offers comprehensive classroom preparation programs for tests such as GMAT®, GRE®, SAT®, TOEFL™ and IELTS™. Jamboree has 35 centers located in India and Nepal. Each center follows a uniform curriculum and has outstanding faculty, all of whom are trained at our head office. Each center offers the same teaching standards and syllabus.
At Jamboree, the most trusted name in India for education abroad, we help you give shape to your career and dreams. Founded in 1993, Jamboree attempted to fill the information gap on education abroad. Back then, the only information available on education abroad was through friends and family living or studying abroad. Thus, only a small percentage of interested students had access to information. Jamboree attempted to fill this information gap. Now when we in 'Team Jamboree' reflect on the past few years, we see thousands of our students on the thresholds of careers that would not have been possible without the right guidance at the right time.
Jamboree, known for its thorough research and professionalism, is a one-stop shop for education abroad.Jamboree makes the entire process of studying abroad, from preparing to joining a foreign university, a smooth process. In recent years, the inclusion of several value-added services such as discounted couriers, educational loans, and pre-departure orientation has made Jamboree Education a one-stop solution center for all your study abroad requirements.
Contact Details
Address: Office No. 83 & 84, 5th Floor, C Wing, Shreenath Plaza, Dyaneshwar Paduka Chowk, FC Road, Pune-411005
Email: [email protected]
Contact number: +91-8929900791
Website: https://www.jamboreeindia.com/
7. GeeBee Education
GeeBee Education has become one of the leading study abroad consultancies in Pune and throughout India over the last two decades, assisting more than 250,000 students in achieving their international study goals.
The process of pursuing overseas education involves numerous challenges, including university and course selection, applications, documentation, admission assistance, test preparation, visa guidance, accommodation, post-arrival formalities, finance, and more. As a result, it is critical to receive guidance from experienced mentors, and GeeBee Education is proud to have established a network of over 3,500 recruitment partners, 850 partner universities, and thousands of expert counsellors in the past 21 years.
We provide 100% transparent and hassle-free solutions for all of your international study requirements, with a tailored admission counselling process that is customized to each student's individual needs. Rather than creating a rigid path for our students, we help them identify their goals and provide them with the information they need to achieve them.
If you're looking to study in the top colleges in Canada, the UK, the US, Australia, New Zealand, Ireland, or elsewhere, select GeeBee, the finest study abroad consultant in Pune.
Contact Details
Address: Office No 301, Nandadeep Commercial Complex, Fergusson College Rd, Sud Nagar, Shivajinagar, Pune, Maharashtra 411005
Email: [email protected]
Contact number: +91-8087412776
Website: https://www.geebeeworld.com/
8. Study Smart Overseas Education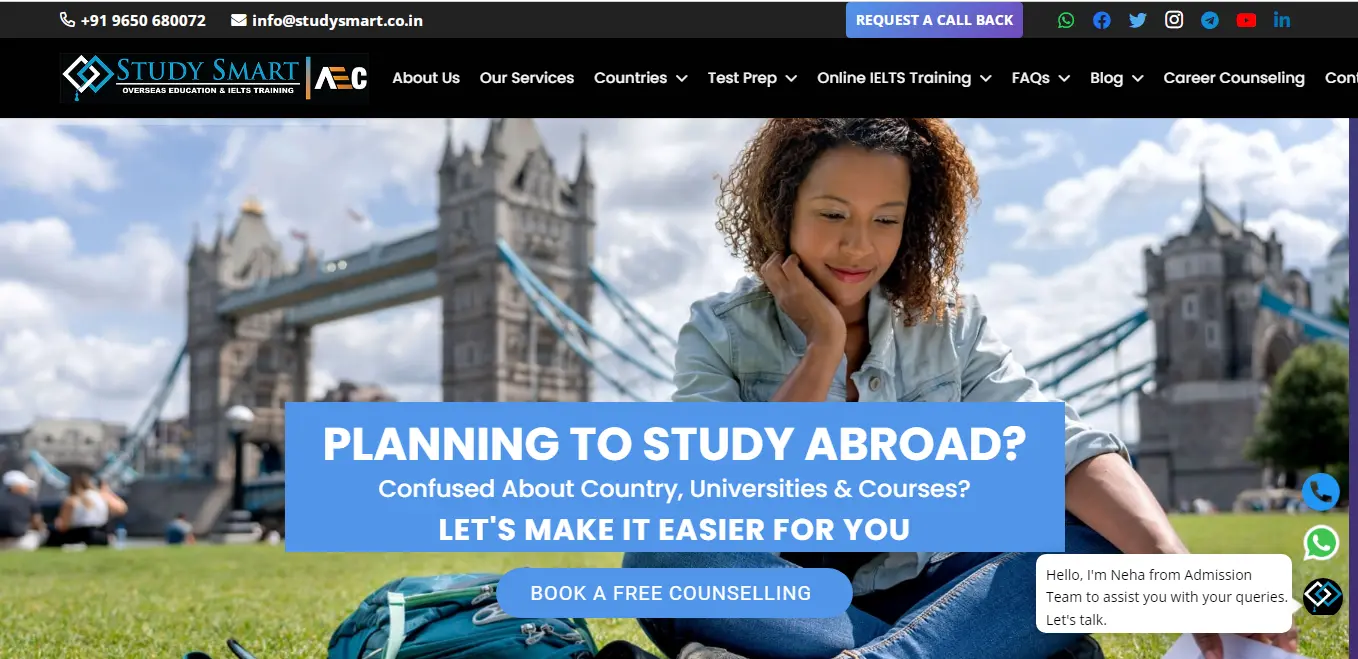 Study Smart is the principal education consultant in Pune, helping the students to get placed in the top international universities and colleges in countries such as Canada, Australia, the UK, New Zealand, the USA, and more. We hold years of proficiency and experience when it is a question of guiding the students in picking up the courses and universities.
We are becoming popular among the students as the top study abroad consultants in Pune as we offer free counselling. This counselling session becomes beneficial for those searching for ways to enrol in an international degree. Our experts introduce the students to the specific ways and necessities of enrolling in the study abroad courses.
Study Smart assists the student in the profile assessment and selection of the perfect study courses in internationally recognized universities. We also help them clear the documentation, admission, and application process.
Contact Details
Address:Office no 23, 3rd Floor, Gold Field Plaza, Opp Wadia College, 45 Sassoon Road, Pune 411001
Email: [email protected]
Contact number: +91 9650680072
Website: https://www.studysmart.co.in/
9. Global Tree
Global Tree offers immigration services to professionals who are planning to settle abroad, from job search to flight boarding along with overseas education services in Pune. For many Indians, settling overseas is still a dream, due to lack of right guidance and it often become a challenge. If you are seeking immigration assistance in Pune, Global Tree can be your best option.
Studying abroad may significantly boost a student's professional prospects, propelling them to the next level. A degree from a foreign university may also give global exposure and increase the degree's international legitimacy. When it comes to job hunting, studying abroad in countries like the United States, Canada, the United Kingdom, Australia, Germany, and Ireland may carry a lot of weight and have a solid reputation for signalling a high level of education.
In Pune, our professional trainers for study abroad admission exams such as IELTS, GRE, GMAT, SAT, TOEFL, PTE, and Duolingo provide expert advise on effectively getting high marks. Global Tree is Pune's premier abroad consultancy, offering professional training, study materials, sample papers, individual one-on-one trainig, practise questions, past test papers, mock examinations, and expert faculty recommendations to students seeking higher education overseas. Here are the list of services from best study abroad test training in Pune,
Contact Details
Address: Level 2, Connaught Place Bund Garden Road Pune Maharashtra – 411001
Email: [email protected]
Contact number: +91-8142-826-826
Website: https://globaltree.in/
10. Scholar's Abroad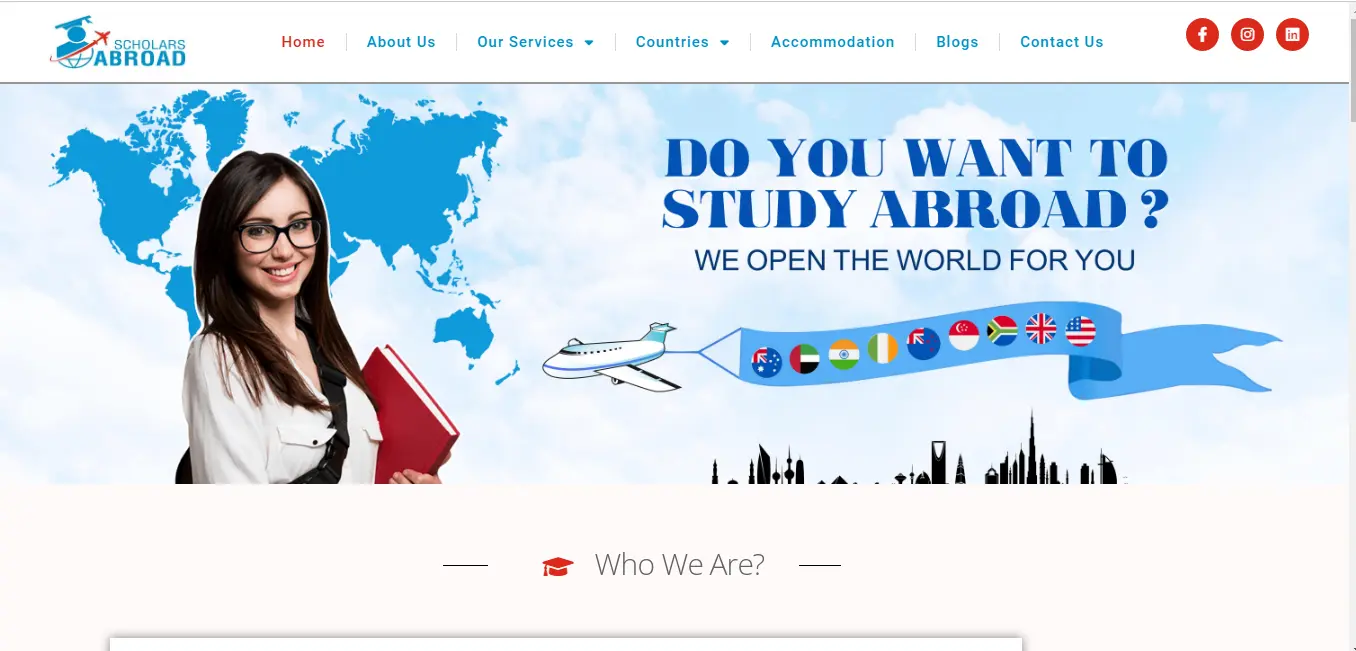 Scholar's Abroad is run by a team of education professionals who will be guiding you at every step, starting from choosing the right college to meeting all legal formalities.
We are connected with the students and staff of various colleges in the UK, the US, Australia, Canada, New Zealand, Germany, Ireland, Dubai, India, South Africa and Singapore.
Benjamin Franklin once said, "An investment in knowledge pays the best interest". We therefore, ensure that when this investment is committed, it offers the maximum returns. When you decide to study in a foreign university the initial questions that arise in a student's mind are "Which course, which college and which country?"
At Scholar's Abroad we ensure that these questions don't become a hindrance but become a stepping stone to make a wise decision.
With a well-connected network of staff members and our placed students at various colleges in the UK, the US, Australia, Canada, New Zealand, Germany, Ireland, Dubai, India, South Africa and Singapore, we help you to gather relevant information related to universities and courses so that you end up getting the best option based on your priorities.
We are a student-centric firm offering students with the right mix of options for overseas studies, hence assisting them towards the path of a brighter future. Studying abroad comes with lots of questions and; do's & don'ts, which starts with identifying the right college and the relevant course. Once the student identifies the right course and shortlists a university based on our recommendation, we then provide information on term of the course, involved costs, best fit accommodations, scholarships, visa requirements and job prospects. Next, we assist the student in filling the applications forms with relevant documents.
In the process, our in-house content writers assist the students in preparing important documents such as "Statement of Purpose (SoP)", which indeed leaves an impression and helps getting the students accepted in reputed foreign Universities. We offer this service free of cost to our students.
We have our offices in India (Pune and Ranchi) where the students are not just assisted to seek admissions in their desired institutes, but are guided throughout their education lifecycle abroad.
In collaboration with our allied associates, we offer guidance to the students in preparation of tests like IELTS, TOEFL, GRE, GMAT along with VISA Consultancy across UK, Ireland, US, Australia, New Zealand and Canada.
Contact Details
Address: C-29, Shreenath Plaza, Dnyaneshwar Paduka Chowk, Fergusson College Road, Pune - 411005
Email: [email protected]
Contact number: +91 8698786251
Website: https://www.scholarsabroad.com/
Pune, often referred to as the "Oxford of the East," is not only a cultural and educational hub but is also witnessing a growing trend of students aspiring for global education. In this dynamic city, study abroad consultants in Pune are playing a pivotal role in shaping the academic journeys of students seeking international exposure. This article delves into the significance of study abroad consultants in Pune and the invaluable support they provide to those aiming for education on a global scale.
The Global Educational Landscape:In an era marked by globalization, the desire for an international education has become a prevalent choice among Indian students. Pune, with its renowned educational institutions, is witnessing a surge in students seeking to broaden their horizons, experience diverse cultures, and gain access to world-class academic opportunities.
The Role of Study Abroad Consultants:Study abroad consultants in Pune serve as expert mentors, guiding students through the complexities of international education. Their multifaceted role encompasses several crucial aspects:
Guidance and Counseling: Consultants provide personalized guidance and counseling, assisting students in identifying their academic goals, career aspirations, and the most suitable courses and destinations.
University Selection: Navigating the vast array of international universities can be overwhelming. Consultants assist students in shortlisting and selecting institutions that align with their academic preferences and financial considerations.
Application Assistance: The application process for international universities is intricate. Consultants aid students in preparing application documents, ensuring adherence to admission requirements, and presenting a compelling case.
Visa Support: Understanding visa procedures and requirements is crucial for a seamless transition. Study abroad consultants guide students through the intricacies of the visa application process, ensuring compliance with immigration regulations.
Financial Planning: Studying abroad often involves significant financial considerations. Consultants provide insights into funding options, scholarships, and financial planning, making international education financially viable for students.
Test Preparation: Many international universities require standardized test scores. Consultants collaborate with reputable test preparation centers to assist students in achieving competitive scores.
Cultural Transition: Adapting to a new culture is a critical aspect of studying abroad. Consultants offer support and resources to ease cultural transitions, ensuring students feel confident and comfortable in their new academic environment.
Local Expertise in Pune:Study abroad consultants in Pune bring a unique advantage by understanding the local context and specific needs of students in the region. They are well-versed in the academic landscape, cultural nuances, and the aspirations of Pune's diverse student community.
Building Global Citizens:Beyond academics, studying abroad fosters personal growth, resilience, and adaptability. By facilitating international education opportunities, study abroad consultants in Pune contribute to the development of well-rounded individuals prepared to thrive in a globalized world.
Conclusion:In Pune, where tradition meets innovation, study abroad consultants act as facilitators for educational journeys that transcend borders. Their expertise, guidance, and support empower students to embark on enriching academic experiences abroad, contributing to the city's legacy of fostering knowledge and global perspectives.

In conclusion, studying abroad can be a great opportunity for personal and academic growth. However, navigating the complex application process can be overwhelming. That's where study abroad consultants come in. With their expertise and experience, they can guide you through the process and help you make the best decision for your future. The top 10 study abroad consultants in Pune listed here are all reliable and experienced, and can provide you with the support and guidance you need to make your study abroad dream a reality.
Q: What are study abroad consultants?
A: Study abroad consultants are professionals who offer guidance and assistance to students who are interested in studying abroad. They provide information on various study programs, universities, and countries, as well as offer assistance with admission and visa processes, financial aid, and other important aspects of studying abroad.
Q: Why should I consider studying abroad?
A: Studying abroad offers several benefits, including exposure to different cultures, broadening your perspective, improving your language skills, gaining international work experience, and enhancing your resume. Additionally, studying abroad can provide opportunities for personal growth and development.
Q: How can study abroad consultants help me?
A: Study abroad consultants can help you in several ways, including providing information on study programs, universities, and countries, offering advice on the admission process, providing guidance on visa applications, and helping you to secure financial aid.
Q: How can I choose a study abroad consultant?
A: When choosing a study abroad consultant, you should consider factors such as the consultant's experience, reputation, services offered, fees, and success rate. You should also read reviews and testimonials from other students who have worked with the consultant.
Q: What services do study abroad consultants offer?
A: Study abroad consultants offer a range of services, including counseling, university selection, application assistance, visa application guidance, coaching services for standardized tests, financial aid guidance, and more.
Q: How much do study abroad consultants charge?
A: The fees charged by study abroad consultants vary depending on the consultant, the services offered, and the location. Some consultants charge a flat fee, while others charge a percentage of the total cost of studying abroad.
Q: Can study abroad consultants guarantee admission to a university?
A: No, study abroad consultants cannot guarantee admission to a university, as the admission process is determined by the university and varies from program to program. However, consultants can increase your chances of admission by providing guidance on the application process and helping you to present your application in the best possible way.
Q: How long does it take to work with a study abroad consultant?
A: The duration of working with a study abroad consultant varies depending on the services offered and the timeline of the student's application. It is recommended to start working with a consultant at least six months before the desired start date of the program.
Q: What documents do I need to provide to a study abroad consultant?
A: The documents required by study abroad consultants vary depending on the program and country of study. Typically, you will need to provide academic transcripts, test scores, letters of recommendation, a personal statement, and a passport.
Q: Are there any scholarships available for studying abroad?
A: Yes, there are several scholarships and financial aid options available for students who want to study abroad. Study abroad consultants can help you find and apply for these scholarships and financial aid options.