1. Pulse Super Speciality Hospital
Pulse has been a pioneer and the most trusted name in Jharkhand in Imaging and Diagnostics service for 8 years, serving lakhs of patients satisfactorily.Now, through our NEWLY OPENED Pulse Super Speciality Hospital, at Bariatu, Ranchi we are ready to serve our people with a mission to enhance healthcare facilities in Jharkhand at par with global standards and to positively impact people's lives.
Be it providing the best in medical technology, world class infrastructure or clinical care combined with 24*7 emergency service , we at Pulse are committed to provide affordable health care, delivered with love and care, to you.
Our Team of Doctors are pioneers in their respective field with years of experience and are ready to serve you in all major Super Speciality branches like Cardiology, Cardiac Surgery, Orthopaedics, Neurology, Gynaecology, General Surgery, Endocrinology, Paediatrics, Nephrology etc along with a 24x7 operational Critical Care, Trauma and Emergency services with our expert team of nursing staff, paramedics and technicians.
Contact Details
Address : Opposite Petrol Pump, Near Harihar Singh Road, Bariatu, Ranchi, Jharkhand 834009
Contact : 9572319889
Email Id :[email protected]
Website : https://pulsehospitalranchi.com/
2. Paras Healthcare
Paras Healthcare was established in 2006, with the mission of providing specialized tertiary medical care services at affordable prices to under served communities across the country. This private healthcare provider stands apart from others in it's vision of making healthcare for all a reality for ordinary people in rural and remote regions. Every single individual working in a 'Paras' Hospital- from doctors to nurses and the management- is united in the endeavor to deliver top quality healthcare to all. Paras Healthcare is a leader in establishing specialized hospitals in places that lack access to healthcare, specifically super specialty tertiary care. Each of it's initiative is based on three tenets of healthcare- Affordability, Accessibility & Quality.
Contact Details
Address : Sector 3, Dhurwa, Near JSCA Stadium, Opp: Prabhat Tara School, 834004 (INDIA)
Contact : 0651-7107400
Email Id : [email protected]
Website : https://www.parashospitals.com/
3. Maa Ram Pyari Super Speciality Hospital
Maa Ram Pyari Super Speciality Hospital is a Multi Speciality Healthcare center located in Ranchi. The hospital and research center is equipped with state of the art medical equipment, a modern healthcare facility and some of the finest doctors in the country.
The hospital first opened its doors to patients on 17 September, 2018, as an initiative of Maa Ram Pyari Ortho Hospital Research Center Pvt Ltd, a medical organization with a strong track record - spanning over 20 years.
Contact Details
Address : Harihar Singh Road, Near RIMS, Bariatu, Ranchi - 834009, Jharkhand
Contact : +91 92644 43201
Email Id : [email protected]
Website : https://rpochospital.com/
4. Santevita Hospital
Santevita Hospital an NABH accredited multispecialty hospital located at the heart of the city of Ranchi. It was commissioned in August 2012 and has since successfully treated thousands of patients. It is a centrally air conditioned hospital with modern clinical and surgical facilities comparable to the best, it has been designed and commissioned by Hosmac Consultants, Mumbai, one of the leading hospital consultants of India. With the state-of-the art building infrastructure and tastefully done interiors, Santevita has world class patient rooms fitted with equipments like the latest nurse call system and motorized beds.
Contact Details
Address : 1 H. B. Road (Near Firayalal Chowk), Ranchi-834001, Jharkhand, India
Contact : +91 73600-33390
Email Id : [email protected]
Website : https://www.santevitahospital.com/
5. Alam Hospital & Research Centre Pvt. Ltd.
Alam Hospital & Research Centre was founded by Surgeon Dr. Majeed Alam in the year 1985. It is a reputed 150 bedded Super Specialty Hospital stated in the heart of the city of Ranchi. It is a hospital which boasts of a highly qualified team of Doctors and well trained Nurses. The hospital is well equipped with state of the art facilities & equipments. The hospital has association with Fortis Escorts Heart Institute, New Delhi to provide services for the Departments of Cardiology and Cardiothoracic Surgery.
The Hospital has facilities of an ultra modern Cath Lab, Modular Cardiac OT Complex along with well equipped CCU, ITU, ICU, HDU, 10 Bedded Dialysis Unit, Trauma Unit and 24 x 7 services of Emergency and Ambulance. We have the latest integrated Hospital Information System for patient billing to maintain complete transparency for the patient party in the billing matters.
Contact Details
Address : Bariatu, Ranchi - 834009 (Jharkhand)
Contact : (+91) 7070991111
Email Id : [email protected]
Website : http://www.alamhospital.in/
6. Samford Hospital
We would like to acknowledge the trust & confidence that the people of the state have shown to us up till now. During our small journey of one and half years, the hospital has emerged as a comprehensive Health-Care Provider in Ranchi and would like to thank all our patients, Corporate Houses & Referring Physicians, who have extended their whole hearted support to us so far. Being one of the most modern tertiary care hospitals in eastern part of the country, this 200 bedded hospital is functional with all major Super Specialty Departments.
The hospital offers advanced yet affordable healthcare services to the patients by the team of highly skilled and professional Doctors, trained nurses and paramedics.
Contact Details
Address : H.B. Road, Kokar Chowk Ranchi, Jharkhand, 834001, INDIA
Contact : +91 7360080040
Email Id : [email protected]
Website : https://samfordhospital.com/
7. Shivay hospital
Shivay Hospital was set up in Oct 2014 in Deoghar, Jharkhand with the aim of providing quality healthcare services. Our endeavour is to help people be healthy so that they can be productive members not only of Deoghar society but we also strive to provide the same quality of healthcare services to all strata of society.
Shivay Hospital is a Multi-Speciality 50 beded hospital, equiped with latest equipments in the town of Lord Shiva, Deoghar. The Hospital running under the expert guidence of Dr. Sanjay Kumar is one of the biggest multispeciality hospital in Deoghar. The hospital offers facilities of ICU, Dialysis, NICU, Well equipped OT, Endoscopey, General Ward, AC / Non AC Rooms, Advance Petho Lab, Digital X-Ray, Round – O – Clock doctors, Trained staff, 24 Hours Ambulance Service
Contact Details
Address : Shivganga Muhalla, Near Tower Chowk, Shyamganj Road, Deoghar - 814112 Jharkhand (India)
Contact : 7091570524
Email Id : [email protected]
Website : https://www.shivayhospital.com/
8. Asarfi Hospital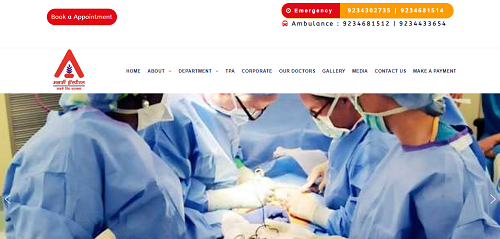 Healthcare system is the consortium of people, institutions and resources that deliver healthcare services. Healthcare around the world have been grappling with the challenges of meeting the ever-increasing demand for better care. Innovation and technological advancements have played a key role in improving care. While care providers have continued to adopt modern technologies in the form of modern medical devices and newer treatment approaches.
Asarfi Hospital is serving people since last 10 years and is continuously evolving simultaneously to improve its services for the benefit of people of Dhanbad. Asarfi Hospital is bridging the gap between people of Dhanbad and Innovative Healthcare. Our Hospital has brought an economical and affordable healthcare to the people in Dhanbad. With our top class CATHLAB we have been able to provide critical care services to the people in and around Dhanbad. We are an empaneled with Govt of Jharkhand for MGBUY, East Central Railway, Coal India Limited, ISM, CIMFR, CMPF all leading TPAs and many reputed Govt Agencies for providing cashless benefits to the people who need healthcare.
Contact Details
Address : Asarfi Hospital Baramuri, B Polytechnic, Dhanbad, Jharkhand 828130
Contact : 9234302735
Email Id : [email protected]
Website : https://www.asarfihospital.com/
9. Orchid Medical Centre
Orchid Medical Centre is a state of the art, Super-specialty hospital located in H.B. Road, Ranchi. The hospital aims to provide quality patient care with unrelenting attention to clinical excellence and patient comfort at an affordable cost.
Competing with some of the best medical facilities of India, Orchid Medical Centre is a 130 bedded ISO 9001:2008 Certified Super specialty hospital, spread over 7 floors, and is equipped to cater to all medical requirements.
Contact Details
Address : H.B. Road, Ranchi,Jharkhand, India.834001
Contact : [email protected]
Email Id : 0651-7-100-100
Website : http://www.orchidmedcentre.com/
10. Narayana Health
At Narayana Health, we are convinced that 'quality' and 'lowest cost' are not mutually exclusive when it comes to healthcare delivery. In fact, we are well on our way to demonstrate that we are not running our institution as just another number-only business, but are attractively placed to create an affordable, globally-benchmarked quality-driven healthcare services model.
At Narayana Health, we will continue to trust what has worked for us in the past. We will keep our model predominantly asset-light; we will reinvest our accruals; we will engage with governments for land and help them achieve affordable healthcare promises made to their constituencies; we will rent premises from private owners and create small-to-large clinics within existing hospitals. As a result of this flexible approach, we will commission hospitals, medical facilities, and clinics across the breadth of this country, getting closer to patients and taking the promise of quality affordable healthcare to the doorstep of the country's millions.
Contact Details
Address : Sharda enclave, H No. 151/152 SNP Area, Dhalbhum Road, Sakchi , Jamshedpur, Jharkhand - 831001
Contact : 186 0208 0208
Website : https://www.narayanahealth.org/