1. Shri Ram Hospital
Shri Ram Hospital is ISO 9001-2000 registered 150 bedded multi-specialty surgical hospital of West Rajasthan. Since its inception in 2005 the institute is continually strive to provide evidence based high quality and focused approach to patient care. We commenced operations in NOV 2003/5 and since then have been a familiar, trusted and comforting presence, ministering to the healthcare needs not only of the immediate community but also of inclusive patients. The kind of confidence, trust it has developed on strong foundation of the state of the art facilities, best medical expertise, education and research. Our medical team continues to work to develop and implement minimally invasive procedures that reduce surgical risk and speed patient's recovery. Our professionals remain dedicated to humanizing treatment and all members of hospital work together and assure to produce optimum medical and lifestyle outcomes for our patients.
Contact Details
Address : PAL ROAD BRANCH In front of Hanuwant School, Jodhpur
Rajasthan, INDIA-342001
Contact : 0291-2772111
Email Id : [email protected]
Website : http://shreeramhospital.com/
2. Daukiya hospital
Daukiya hospital made its humble beginning about 8 years back. Over the years, it has transformed itself into a hospital providing comprehensive health solution comparable to the best hospitals in india. Daukiya hospital team comprises physicians, surgeons and other healthcare professionals of the highest calibre and experience.
We are committed to achieve patient satisfaction by providing our services, at reasonable cost, on humanitarian and compassionate grounds. Our hospitals have state-of-the-art infrastructure, large spectrum of clinical services, highly experienced and qualified professionals, dedicated staff and a patient friendly organizational culture.
Contact Details
Address : Daukiya Hospital & Medical Research Center, Plot No. 22-23, Infront of Pratap Nagar Chungi Naka, Near To Railway Crossing, Sursagar Road, Jodhpur, Rajasthan - 342003
Contact : +91 73400 31493
Email Id : [email protected]
Website : http://daukiyahospital.com/
3. Vasundhara Hospital
This endeavor led the establishment to one of the best regional level multispecialty hospital in Rajasthan-Vasundhara Hospital. Formerly known as Vasundhara Hospital and Fertility Research Centre; has set a benchmark in the field of Infertility Management offering couples access to advanced medical diagnosis and treatment options in Western Rajasthan. The Centre has been credited with the first IVF pregnancy, first egg donor pregnancy, ICSI pregnancy and has also been recognized as the best Infertility Centre and best Women & Child Care Hospital in Western Rajasthan.
Contact Details
Address : Nandanvan, Sector 11, Near Central Academy School, Chopasni Housing Board, Jodhpur, Rajasthan 342008
Contact : +91-291- 2709001
Email Id : [email protected]
Website : https://vasundharahospital.com/
4. Manidhari Hospital and Maloo Neuro Centre
MANIDHARI HOSPITAL AND MALOO NEURO CENTRE (MHMNC) located in the heart of Jodhpur was established in 2001 by Dr. J. C. Maloo with a vision to deliver quality healthcare. MHMNC hardly needs any introduction to western Rajasthan in general and to the lovely Suncity in particular. Apart from the medical treatment comparable to international standards MHMNC is certainly best known for its unmatched nursing care.

MHMNC comprises diverse specialities & combines the talents of medical, surgical specialities and highly trained nursing, allied health, paramedical, technical and administrative personnel for more efficient diagnosis and comprehensive treatment. MHMNC is equipped with technologically advanced equipment, but it does not view healthcare as a money spinning machine.
Contact Details
Address : 644, Residency Road, Gaurav Path Jodhpur, Rajasthan – 342001
Contact : 0291 – 2648877 -88 -99
Email Id : [email protected]
Website : https://manidharihospital.com/
5. Kamla Nagar Hospital
Kamla Nagar Hospital is a multi-specialty hospital and is well known for its prompt treatment and individualized attention to the patients. It is dedicated to the care, comfort and security of the patients, drawn from all sections of the society. The hospital is recognized for purposes of treatment by government departments, public sector undertakings, banks and other commercial establishments also.
The hospital is continuously upgrading its facilities to make the best possible medicare available to the patients. Presently, we have 100 bedded hospital along with central air-conditioning with central oxygen and suction facility. We also have a modern conference hall with seating capacity of 100 persons.
Contact Details
Address : Pal Link Road, Shyam Nagar, Jodhpur (Rajasthan) - 342003
Contact : +91 9414753466
Email Id : [email protected]
Website : https://www.knhospital.com/
6. Rathi Hospital
Top Asthma Specialist Doctor, Allergy Specialist Doctor, Respiratory Specialist Rathi Hospital in Shastri Nagar Jodhpur, Rajasthan , is one of the oldest private medical centers in the city since 1990 that commits to serving the patients in the best possible ways. We, at Rathi hospital, provide Asthma Treatment, Allergy Treatment and Respiratory Specialist in Jodhpur comprehensive services to our patients for all their health-related problems. Over the years, we have evolved and gained a reputation for being great medical care providing institution because of the quintessential treatment that is given to our patients.
Contact Details
Address : E-109, Shastri Nagar 342003 Jodhpur City, Rajasthan, India
Contact : 0291-2433261
Email Id : [email protected]
Website : https://rathihospitaljodhpur.com/
7. Eternal Hospital
Eternal Hospital (A unit of Eternal Heart Care Centre and Research Institute) is a state-of-the-art tertiary care hospital in Jaipur city. This landmark Healthcare Institute is the result of the vision of Dr. Samin K. Sharma, world renowned Interventional Cardiologist based at Mount Sinai Hospital, New York, USA. Founded in 2013, today it is one of the most preferred hospital not only in Jaipur but also nationally and internationally owing to the exclusive services and excellent medical outcomes delivered. Eternal Hospital brings the best in multispecialty treatment to the state of Rajasthan.  Hospital with capacity of 250 bedded hospital has state-of-the-art technology focusing on the specialities like Cardiology, Cardiac Surgery, Neurology, Neuro Surgery, Orthopaedic & Joint Replacement, Spine Surgery, Nephrology, Paediatrics, Gynaecology, Critical Care, Urology, Pulmonology, Gastroenterology, Diabetes and Endocrinology and many more.
Contact Details
Address : 3 A Jagatpura Road, Near Jawahar Circle, Jaipur-302017, Rajasthan
Contact : +91 95491 58888
Email Id : [email protected]
Website : https://www.eternalhospital.com/
8. Chirayu Hospital
One of the leading super specialty hospitals in Jaipur, at Chirayu Hospital, we aim for delivering the highest quality of healthcare services to the patients for a spectrum of diseases. Our dedicated hospital staff and healthcare professionals offer world-class treatment facilities in a patient-friendly environment. We believe in innovation and research, and therefore, we utilize the most advanced equipment and techniques for treatment based on the latest technology. Further, the state-of-the-art infrastructure of the hospital makes us one of the most preferred destinations for treatment for specialties like Neurology and Neurosurgery, Cardiology and cardiothoracic surgery, Obstetrics and Gynaecology, Urology, Orthopaedics, Internal medicine, General Surgery, Pediatrics, Radiology, and Plastic surgery.
Contact Details
Address : Kalwar Road, Hathoj, Jaipur-302012
Contact : +91-7230025027
Email Id : [email protected]
Website : https://www.chirayuhospitaljaipur.com/
9. Goyal Hospital and Research Centre Pvt. Ltd
Goyal Hospital and Research Centre Pvt. Ltd. was established in 1989 by Dr. Anand Goyal with a vision to provide many different facilities under one roof. Goyal Hospital is a unique example of a Multi Super Speciality Medical Institution of modern times. Goyal Hospital provides comprehensive care to patients from all over Western Rajasthan. The Hospital believes in the policy of ploughing back its earnings for further improvements of hospital services. Adhering to its promise, it is constantly upgrading its facilities. Following its core philosophy of valuing human life above all, Goyal Hospital continuously strives to provide newer standards of medicine with a human touch. It's no wonder then that today the name Goyal Hospital is synonymous with care. The right doctors make a great hospital, for they are the ones who set the direction, bring in the skills and expertise and ultimately heal the patients.
Contact Details
Address : 961/3, Residency Road, Opp. Rotary Hall, Jodhpur - 342003, Rajasthan, INDIA
Contact : +91-291-2432144
Email Id : [email protected]
Website : https://www.goyalhospital.org/
10. Bone and Joint Hospital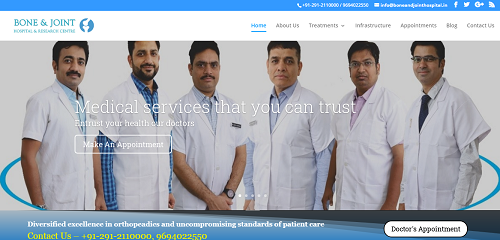 Bone and Joint Hospital has been providing excellent orthopaedic care since its inception in 2008. Located in Jodhpur, our unwavering commitment towards caring for our patients has seen us grow phenomenally – from being one of the premier orthopaedic centre to becoming one of the renowned Orthopedic Center in Western Rajasthan. Care by experienced and renowned orthopedic surgeon.
We have exclusive knee & joint replacement surgery, Spine surgery, Arthroscopy, Plastic surgery and Dental center in jodhpur at  very affordable price in comparison to others ortho centre.  Our Operation  theaters which are best in the class. This ensures practically zero infection & best results. We Have cashless treatment facility for Health Insured patients.
Contact Details
Address : 3 shyam Nagar, Near Radha Krishna Mandir, Pal Link Road, Jodhpur (Rajasthan), 342003 , India
Contact : +91-291-2110000
Email Id : [email protected]
Website : http://boneandjointhospital.in/