1. NewEra Hospital
Health is a State of complete physical, mental, and social well being, and not merely the absence of disease or infirmity. With delight and profound happiness we bring to you "NewEra Hospital" which epitomises quality healthcare in Neuro Cardiac Sciences, Trauma & Beyond. NewEra Hospital is a new milestone in integrated and specialised tertiary health care and is located at Central Avenue, Telephone Exchange Chowk, Quetta Colony, Near Jalaram Mandir, Nagpur – 440008. NewEra Hospital comes across as a 100 bedded Superspeciality hospital, and is the largest in East Nagpur.
A team of super specialist doctors have taken over the Life Care hospital,infusing new life , making it State-of-Art-hospital in East Nagpur. It has 2 world class modular OT equipped with Laminar Flow air handling system. In addition to this there is 1 general OT. "NewEra Hospital" will be the first cardiac surgery set up in Eastern Nagpur, filling up the long existing void. We endeavour to achieve status of a leading tertiary care, super speciality healthcare in Nagpur offering high quality healthcare services. Our belief in credibility, excellence, trust & care would develop strong bondings.
Contact Details
Address : Central Avenue Road, Near Telephone Exchange Chowk, Queta Colony, Near Jalaram Mandir, Nagpur - 08
Contact : + 91 8055997799
Email Id : [email protected]
Website : https://newerahospitalnagpur.com/
2. Avanti Hospital
Our team includes medical professionals, nurses, allied health professionals such as pharmacists and physiotherapists, support staff, spiritual staff, palliative care specialists and volunteer services.Fully responsible for your medical care and treatment during your stay, your attending physician who initiated your admission to the hospital, also collaborates with team members who assist in your treatment.

A Clinical Manager is responsible for the patient care provided on a particular nursing unit. Avanti Hospital has a skilled and compassionate team of professionals who are dedicated to working together to provide you with the highest level of care. Our fully equipped and caring nursing staff is responsible for the provision of care during your stay.
Contact Details
Address : 5, Abhyankar Road, Dhantoli, Nagpur, Maharashtra Pin Code: 440012
Contact : 022 61229470
Website : https://www.avantihospital.com/
3. Platina Heart Hospital
Platina Heart Hospital is strategically located in center of India, and in heart of Nagpur city. It is a mere 5 minute drive from Nagpur railway station and bus terminal making it easily accessible to all. dic design having stress on safety and comfort of patient. We maintain international standard of quality and hygiene.Our caring, attentive, devoted paramedical staff of hospital gives feeling of being treated at home. Their actions are driven by patient needs, comfort and trust to provide exemplary physical and emohgtional care of patients and their families.
Contact Details
Address : Platina Heart Hospital Near Hotel Hardev, Sitabuldi, Nagpur - 440012.
Contact : +91-976-770-3032
Email Id : [email protected]
Website : http://platinahospital.com/
4. Seven Star Hospitals
Harbouring a common goal to 'Redefine Healthcare' in Nagpur and this Central Province of India, Seven doyens from the medical fraternity, have come together alongwith proven talents from among Clinicians, Nursing, paramedics, and the management, to ensure that this hospital comes across as the destination of choice for superspeciality multidisciplinary healthcare solutions. The ideology of SevenStar Hospitals rests on the deployment of the latest and second to none state of the art Infrastructure, and Equipment. With an array of Firsts, Sevenstar Hospitals comes across as the First Hospital In Central India with the facility of Robotic Surgery (Da Vinci System).
SevenStar Hospitals is a unit of Nagpur Institute of Surgical Sciences and Research Centre Pvt. Ltd. and endeavors to mark a niche for itself and a landmark healthcare providing destination in Central India backed with unmatched high and stringent 'Quality' standards of healthcare deliverance.
Contact Details
Address : 324/1, Jagnade Square, Great Nag Road, Nagpur-440009 (Maharashtra)
Contact : 0712-6699899
Email Id : [email protected]
Website : http://sevenstarhospitals.com/
5. Viveka Hospital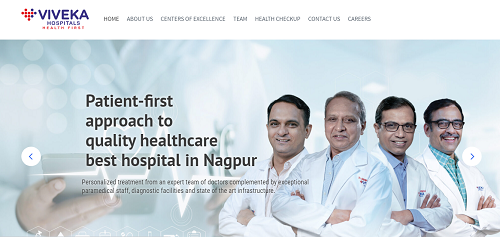 With the legacy of leading surgeons and medical practitioners of Central India, VIVEKA hospitals is committed to deliver world class medical care. Situated in the heart of Nagpur city, close to Subhash Nagar metro station, VIVEKA Hospitals is a one stop destination for the advanced healthcare and medical requirements of the citizens of Nagpur, Central India and across the globe.
Our reputation for strong performance is important in delivering the best care for our patients and high quality clinical services. This is underpinned by a culture of research and innovation, delivered in modern estate and facilitated by technology
Contact Details
Address : Subhash Nagar, Nagpur, Maharashtra- 440022
Contact : +91 7447441468
Email Id : [email protected]
Website : https://www.vivekahospitals.com/
6. Icon Hospital
The vision to serve all sectors of community, with commitment to deliver the best, through exemplary action and behavior, laid the foundation stones of ICON HOSPITAL 15 years back.
Today, ICON HOSPITAL – A Destination for Advanced Health Care – is a 60 beds broad array of superspeciality tertiary healthcare centre providing world class, holistic and affordable services to all sectors of community. We constantly endeavor to provide patients with the latest and most advanced technology for greater accuracy and reduced recovery time.
Contact Details
Address : K-12 Bharat Nagar Amravati Road, Nagpur - 440033, Maharashtra
Contact : + (91) - 7387421308
Email Id : [email protected]
Website : http://iconhospitalnagpur.com/
7. Aureus Institute of Medical Sciences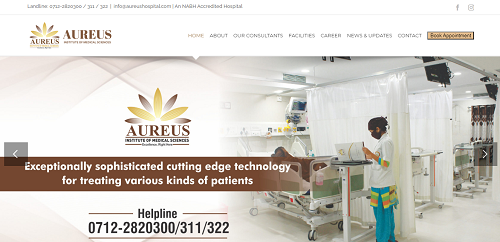 Aureus Institute of Medical Sciences is a 100 bedded multi-speciality hospital situated in heart of Nagpur offering comprehensive medical services.
The Institute is a metamorphosed version ACES (Aureus Critical Care & Emergency Services) hospital, which has been serving patients from entire central India over past 4 years.
Our clinical excellence is rooted in our brilliant team of doctors who are well versed with latest advancements in their respective field of medical expertise. The efficient nursing services, modern surroundings and hospitality are key aspects of service delivery. The hospital follows internationally benchmarked standards in medical, nursing and operating protocols. The entire team of Aureus Hospital workers thus ensures the best quality of care.
Contact Details
Address : Plot No 16, Govt. Medical College Road Wanjari Nagar
Contact : 0712-2820300
Email Id : [email protected]
Website : http://aureushospital.com/
8.  Zenith Hospital
We at Zenith pledge to provide quality services with skilled and qualified staff with the help of latest and advanced technology. We are commited to expertise care to cure with compassion that will help to transform patient care in Amravati.
We facilitate 50 bedded tertiary care hospital,which is equipped with sophisticated ,high end technologically advanced machine,that assures speedy and accurate diagnosis which enhances patient care in hospital.Patient at Zenith wiil be treated with medical excellances ,care,compassion and tenderness.
Contact Details
Address : Zenith Hospital, Walcut compound, Amravati 444601, Opposite khatri complex, A,mravati (M.S.)
Contact : +(91) 9764004958
Website : http://zenithhospital.org/
9. Care Hospital
CARE Hospitals, Nagpur, has been acclaimed as a hospital par excellence for its contribution to healthcare in Nagpur city and the surrounding regions. This 105-bed hospital, commissioned on 19 November 2006, has earned a reputation for being the best provider of quality healthcare of international standards at affordable rates.
The multispecialty hospital has doctors of international acclaim, qualified and competent medical, nursing, paramedical and other staff, as well as superior technology and state-of-the-art facilities to provide the best care to patients. We strive to achieve perfection in serving patients by providing quality healthcare, built on the values of compassion, care and concern.
Contact Details
Address : Wardha Road Ramdaspeth 3 Farmland Panchsheel Square, Nagpur, Maharashtra 440012
Contact : +91-712-6165656
Email Id : [email protected]
Website : https://www.carehospitals.com/
10. Crescent Hospital & Heart Centre
Crescent Hospital & Heart Centre, Nagpur has been in the forefront of delivering cardiac care with truth, trust and transparency since 1986 through its state-of-the art hospital providing a depth of expertise in complete spectrum of advanced medical & surgical interventions with a comprehensive mix of in-patient & outpatient services.
We value the humanity first, unlike any other profession, the delivery of healthcare is a sacred responsibility, when people entrust us with their lives and it is our prime duty to see to it that they receive best possible healthcare treatment.
Contact Details
Address : Plot No. 25, Behind Old Mount Carmel School,Near Lokmat Square, Dhantoli, Nagpur - 440012, Maharastra
Contact : 621-254-2147
Email Id : [email protected]
Website : https://crescenthearthospital.in/