1. Amar Hospital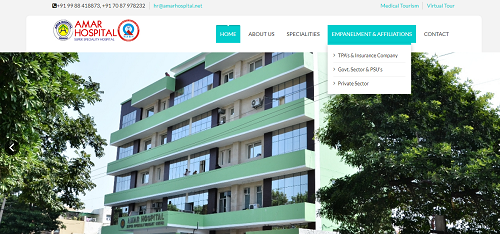 The Amar Hospital Mohali is a landmark healthcare service Institution that enjoys a unique reputation of being a popular destination for both Indian and International patients seeking treatment at an affordable cost. The Amar Hospital Mohali has lent its unique dimension of human touch to the complex science of healthcare.
TriCity (Chandigarh, Panchkula, Mohali), now boasts of Amar Hospital's tertiary care multi-specialty hospitals with 100 beds with well equipped Diagnostic Center and the professionalism of its consultants and surgeons that compares well with their international peers. In a short time, Amar Hospital has performed surgeries, some of them rare in nature exemplifying the innovative application of the latest knowledge in medicine.
Contact Details
Address : Sector 70, S.A.S Nagar, Sahibzada Ajit Singh Nagar, Punjab 160071, India
Contact : +91-172-5037683
Email Id : [email protected]
Website : http://amarhospital.net/
2. Eden Hospital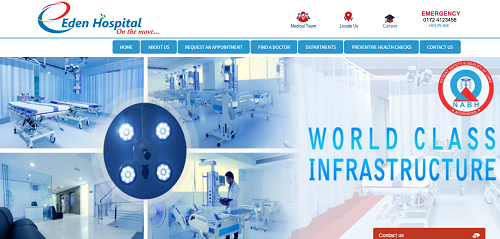 Eden Hospital is managed by a team of highly qualified and experienced doctors and paramedical staff who have trained at premier institutes of the country. We are the first of its kind hospital in the city beautiful with a state-of-the-art infrastructure and a strong focus on wellness and healing.
Contact Details
Address : Plot No-115 , Phase-1, Industrial Area-1 Chandigarh , 160002.
Contact : +91 – 172 – 4123456
Email Id : [email protected]
Website : http://www.edenhospital.net/
3. Ivy Hospital
The Ivy Healthcare Group was set up as a consequence of Mr Gurtej Singh and his wife Dr Kanwaldeep's courage, coupled with their ambitious plans and innovative ideas to make quality healthcare services accessible and affordable. An initiative that has changed the healthcare landscape of the region. They have been successful in creating a viable business model along with making healthcare more accessible and affordable. The Ivy Healthcare Group stands testimony to one of the best patient-care facilities in Punjab. Ivy hospitals, where compassion rules over commercialism, quality healthcare treatments are provided using state-of-art equipment - at affordable rates, stand tall as one of the most sought–after and reliable healthcare institute of North India.
Contact Details
Address : Sector 71, Mohali, Punjab 160071
Contact : +91 172 7170000
Website : https://www.ivyhospital.com/
4. Mehar Super Speciality Hospital
Mehar Hospital, Zirakpur, Mohali (Punjab) is a state-of-the-art Super Specialty hospital providing world class health care. Located right in the heart of Zirakpur, it caters to the need of rapidly developing Zirakpur and Chandigarh Tricity area and patients coming from adjoining states of HP, Haryana and Jammu & Kashmir as well.
The management & ownership of the institute consists of 10 specialized doctors belonging to one family and their endeavor is to combine the most needed humane touch with the latest technology & equipment to render protocol based care combined with compassion and commitment.
Contact Details
Address : Opp. Grandeur Marriage Palace, Singhpura Road, Zirakpur – 140603, Mohali (Punjab)
Contact : +91 7527 070 509
Email Id : [email protected]
Website : http://meharhospital.com/
5. Chaitanya hospital
Chaitanya hospital is a leading hospital in Tricity region of Chandigarh, Mohali & Panchkula providing comprehensive, high quality and ethical medical care to citizens of the city beautiful especially in the field of woman and child health.
The Hospital is professionally managed by a team of young, energetic and well qualified managers under guidance of Dr. Neeraj Kumar, Managing Director and Dr. Poonam Kumar, Medical Director. Qualified Paediatricians and Gynaecologists are available round the clock in the hospital to provide emergency and Intensive Medical care to the patients. The hospital has well equipped Neonatal ICU, Paediatric ICU, Two Operation Theatres, Four labour delivery beds, Birthing suite and well-appointed private and VIP rooms. There is inhouse pharmacy, lab collection centre, X-ray, Colour Doppler, Blood Gas Analyser, Micro Bilirubinometer and other sophisticated equipment. The patients are served healthy and hygienic food through Pantry and 24 hours Café shop. Ambulance facility is available for pickup of serious patients.
Contact Details
Address : Site No. 1 & 2, Sector-44C, Chandigarh -160044
Contact : +91-0172-5088088
Email Id : [email protected]
Website : https://chaitanyahospital.org/
6. A. B. Heart Care
Dr Bansal has received special training in MICS surgery from Poland. Heart operations like valve surgery and pediatric heart surgery can be performed without cutting any bone.Our hospital is multi specialty center with Nephrology, Neurosurgery, Pediatrics, Pulmonology etc all departments required for comprehensive care of all patients. We have fixed packages for all heart surgeries with strict no overcharges policy.
Contact Details
Address : Indus International Hospital, Derabassi Near Jawaharpur, Chandigarh – Ambala Road, National Highway No.22, Derabassi, MOHALI, Punjab 140507
Contact : +91 9013355907
Email Id : [email protected]
Website : https://www.abheartcare.com/
7. Global Heart & Super Specialty hospital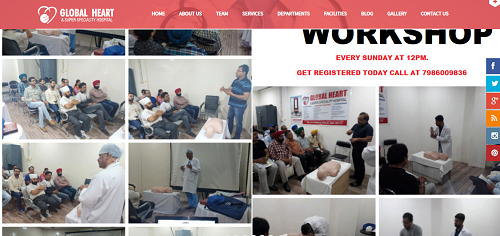 Global Heart & Super Specialty hospital is founded by the eminent cardiologist, Dr. Brajesh Kumar Badhan, who aimed to provide the best health services to the community. Global Heart & Super Specialty Hospital is an aesthetically designed and well equipped seven storied building, spreading across more than 15000 Sq. feet area and considered as among one of the region's best super specialty hospital located in the financial capital of Punjab, Ludhiana. Its state-of-the-art 60 bedded multi-specialty tertiary care hospital has been offering comprehensive and advanced Cardiac and Gynecological care along with various other ethical practices and facilities at the affordable cost to all patients under one roof.
Contact Details
Address : Ferozepur Road, Near Octori Post, Ludhiana-141012(Pb.)INDIA
Contact : +91-161-2553095
Email Id : [email protected]
Website : http://globalhearthospital.in/
8. Shrimann Hospital
Shrimann Hospital is a 300+ bedded Super Speciality Hospital, with more than 20 specialised departments equipped with state-of-the-art and world class infrastructure. With an aim to make world class healthcare affordable and accessible, Shrimann Hospital has a team of dedicated doctors backed with an experience spanning decades in their respective fields.

At Shrimann, we promote Transparent Medical Practice in an ethical manner where care and compassion are of the highest priority. Shrimann aims to deliver accelerated healing by highly skilled professionals using state-of-the-art technology to achieve highest level of satisfaction. With its special forte and commitment to an all-inclusive healthcare delivery plan, Shrimann Super Speciality Hospital aims to bridge the gap between quality health care and affordability.
Contact Details
Address : Jalandhar Pathankot Road, New Reru Chowk, Jalandhar,
Punjab
Contact : +91 81451 81451
Email Id : [email protected]
Website : http://www.shrimannhospitals.com/
9. Amcare Hospital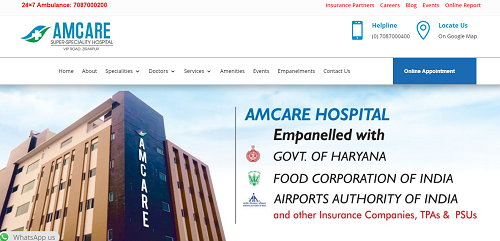 Amcare is a 110 bed super multi-specialty hospital based in VIP Road, Zirakpur with over 20+ super medical & surgical specialties supporting patients  not only from Chandigarh & Panchkula but also Himachal Pradesh, Haryana, Punjab and J&K. We're the best hospital in zirakpur. Amcare was founded by Dr. Arun Nibber which came into operations in the year 2017 with a variety of World Class Medical & Support facilities and services. We have a 24hours functional Ambulance Service, Blood Bank, Pharmacy, Dialysis center, Ventilator care, Physiotherapy, Radiology and pathology Lab. We're backed up with chandigarh's best Medical & Surgical Specialists who are available 24hours for any routine or emergency examinations.
Contact Details
Address : Amcare Hospital, VIP Road, Zirakpur – Punjab
Contact : +91-7087000200
Email Id : [email protected]
Website : https://www.amcarehospital.com/
10. Oxford Hospital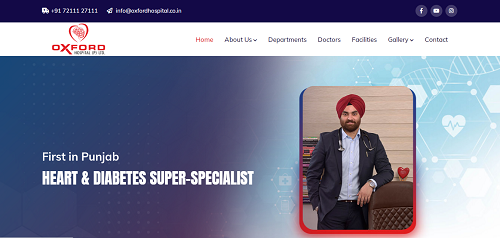 Oxford Hospital is a Jalandhar based heart failure clinic providing best quality cardiac treatment and care to the heart patients. The hospital is a brainchild of Dr. Gurbeer Singh Gill who is a leading heart specialist of Punjab. The hospital has performed hundreds of successful angioplasties, pacemaker implantation surgeries, and other hear related surgeries.

Heart attacks are life-threatening and hence quickest and right medical care is very important. But not all the heart failures are lethal to life. Oxford Hospital is one of the best heart hospitals in Jalandhar and helping patients to recover from heart failures.
Contact Details
Address : 305, Lajpat Nagar, Near Nakodar Chowk, Jalandhar (144 001) PB, India
Contact : +91 98550 00028
Email Id : [email protected]
Website : http://www.oxfordhospital.co.in/