Cardiologists are doctors who specialize in diagnosing and treating diseases or conditions of the heart and blood vessels—the cardiovascular system. When you are dealing with a complex health condition like heart disease, it is important that you find the right match between you and your specialist. The cardiologist evaluates your symptoms and your medical history and may recommend tests for a more definite diagnosis.
Top 10 Cardiologists Doctors in Pune
1. Dr. Rahul Sawant
Dr. Rahul Sawant is one of the Best Cardiologist in Pune. He is Interventional Cardiologist, MBBS, MD (Med) Pune, MRCP London, CCT Cardiology Cambridge UK. He is Director of Hridaymitra Cardia Clinic, Pune. Hridaymitra Cardia Clinic of excellence in Pune for heart care and you will discover well trained, and topmost best cardiologist in Pune. He is affiliated with various corporate hospitals in Pune including Noble Hospital, Deenanath Mangeshkar Hospital, Sahyadri Hospital, N M Wadia hospital. Dr. Sawant is an associate professor of Cardiology at Bharati Vidyapeeth's Medical College and Hospital, Pune. He is a well-known heart specialist in Pune. He has rich experience with cardiology procedures and has performed around in excess of 5000 angiographies and in excess of 3,000 angioplasties.
Contact Details
Address : 1st Floor, Pushpa Prestige, Market Yard Chouk, Diagonally Opposite Utsav Hotel, Pune Satara Road, Pune
Contact : 90219 40551
Email Id : [email protected]
Website : https://www.hridaymitracardiaclinic.com/
2. Dr. Sachin Hundekari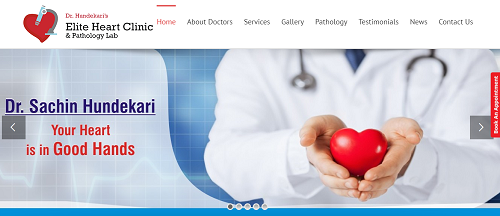 Dr. Sachin Hundekari is eminent cardiologist from Pune, who has experience of 10 years in the field of cardiology, trained in one of the best cardiac institute KIMS hospital & Research Center at Hyderabad and practiced in various Superspeciality hospitals in Hyderabad & Mumbai. Now he is giving services for various hospitals in Pune since last 3 years Compassion for work, care for every patient is his moto. He has presented many papers in National and International conferences. He is expert in radial interventions.
Contact Details
Address : Shop No. 205, Solitaire Business Hub, Kaspate Wasti Road, Kalewadi Phata Wakad, Pune – 411057.
Contact : 8007417756
Email Id : [email protected]
Website : https://www.cardiologistpune.com/
3. Dr. Saurabh Potdar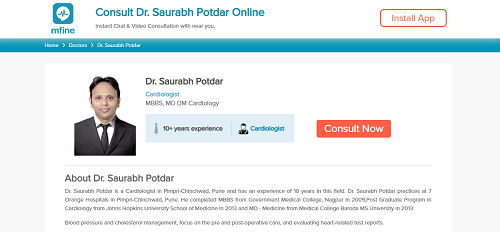 Dr. Saurabh Potdar is a Cardiologist in Pimpri-Chinchwad, Pune and has an experience of 10 years in this field. Dr. Saurabh Potdar practices at 7 Orange Hospitals in Pimpri-Chinchwad, Pune. He completed MBBS from Government Medical College, Nagpur in 2009,Post Graduate Program in Cardiology from Johns Hopkins University School of Medicine in 2013 and MD - Medicine from Medical College Baroda MS University in 2013.Blood pressure and cholesterol management, focus on the pre and post-operative care, and evaluating heart-related test reports.
Contact Details
Address : Pawana Nagar Housing Society,, Chinchwad, Pimpri-Chinchwad, Near Anurag Gas Agency, Chinchwad, Pune, Pune - 411033
Contact : 07350055754
Website : https://www.mfine.co/
4. Hridayaksha Clinic
The Hridayaksha clinic have latest technology machines with experty Heart specialist doctors.The Hridayaksha Clinic puts patients first.We provide a safe, friendly and comfortable environment for patients and their families at what we recognise is a vulnerable time in their lives. Our services are designed and delivered to suit the patient never forgetting that each person is individual and has specific emotional as well as clinical needs.Hridayaksha clinic has been established with an aim to provide best cardiac care to their patients in Pune.
Contact Details
Address : AnandApartment,1182/1/5,Fergusson College Road,Opposite Lalit Mahal Hotel,Shivaji Nagar, Pune-411005
Contact : 020-25513131
Email Id : [email protected]
Website : http://www.hridayaksha.com/
5. Dr. Satyajeet Suryawanshi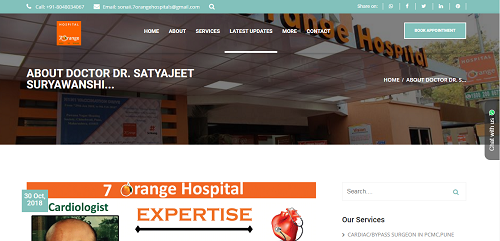 Dr. Satyajeet Suryawanshi is amongst the best Interventional Cardiologists in the city of Pune. Dr. Suryawanshi has completed his graduation and postgraduation from Mumbai (SION Hospital) and Pune (KEM Hospital). He subsequently underwent super specialisation in the field of Cardiology from prestigious JASLOK Hospital Mumbai (DNB Cardiology) under the able guidance of stalwarts like Dr Ashwin Mehta, Dr. Sushil Munshi, Dr. Kaustubh Vaidya, Dr. Ajit Desai, Dr. S. R. Handa and Dr. Asit Shah. Furthermore, he pursued a post-doctoral Fellowship in Cardiac Intervention and Electrophysiology under able guidance of Dr. Vivek Kumar, Vanita Arora and Dr. K. K. Talwar in MAX Hospitals, New Delhi.
Contact Details
Address : 74, Pawana Nagar, Next To Fatehchand Jain School, Chinchwad, Near Chapekar Chowk, Pimpri Chinchwad, Maharashtra 411033,
Contact : +91-8048034067
Email Id : [email protected]
Website : https://www.bestcardiachospitalpcmc.com/