Ayurvedic medicine is a traditional system of medicine that originated in India and has been practiced for thousands of years. In India, Ayurvedic doctors are trained in the principles and practices of Ayurveda and are licensed to practice this form of medicine. Ayurvedic doctors in India may work in a variety of settings, including hospitals, clinics, and private practices. They may also work in collaboration with other healthcare professionals, such as allopathic doctors, to provide a more holistic approach to patient care.
To become an Top 10 Ayurvedic Doctor in India, an individual must complete a five-and-a-half-year bachelor's degree in Ayurvedic medicine and surgery (BAMS) from an accredited institution. This program includes classroom instruction, clinical training, and supervised clinical practice. After completing their education, Ayurvedic doctors in India must pass a licensing exam in order to practice legally.
It is important to note that the training and regulation of Ayurvedic doctors in India may vary depending on the specific state in which they practice. If you are considering seeking treatment from an Ayurvedic doctor in India, it is recommended that you research the specific qualifications and licensing requirements for practitioners in your area.
List of Content
Dr. Jayaprakash
Dr. Pradeep Chaurasiya
Dr Partap Chauhan
Dr. Harish Singhal
Dr. Kamlesh Gupta
Dr Sandeep Madaan
Dr. Rakesh Agarwal
Dr. Bhuvnesh Sharma
Dr. Tarun Gupta
Dr. Saji D'Souza
1. Dr. Jayaprakash
Dr. Jayaprakash was born into the Dharma family – traditional ayurvedic healers for over nine generations. He was initiated into healing in his early age by his father – the famous and most revered ayurvedic physician of his times – Dr. Bahuelyan. He further advanced his studies in Ayurvedic Medicine and Surgery and became one of the pioneers in adapting the concepts of Ayurveda for the modern society and life style with incredible effectiveness. His work has been instrumental in the propagation and practice of Ayurveda outside Kerala, across India and overseas. The "Doctors Vest Book of Indian Medicine" compiled and published by him in 1995 is considered the definite handbook for practitioners of Indian medicine – Ayurveda and Sidhha.
Dr. Jayaprakash's inspirational life's work exploring and following the true roots of ancient Indian medicine has unravelled many lost cures, treatment techniques and modalities that existed for several incurable diseases, in this land. His efforts and desire to to give back to these tribal and aborigine societies led to the constitution of the non profit organization '"Centre for Development of Indian Medicine". The organisation supports the tribal and aborigine settlements in the forests and remote villages of attapadi, kallar, mukkali, maruthuamalai etc through Free medical camps, Free treatments and Free eye camps.
Contact Details
Phone: +91 8281 151515
Email: [email protected]
Address: Maruthummoodu-Aruvikkarakkonam Road, Uliyazhathura, Ayiroopara, Thiruvananthapuram 695584, Kerala, India
Website: https://www.ayurmana.in
2. Dr. Pradeep Chaurasiya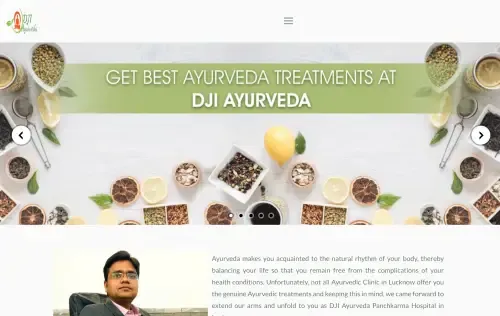 Ayurveda has proven its worth to the whole world and now more people are embracing it. The credibility and reliability of Ayurvedic therapies and treatments are no more shrouded in the mists of scepticism. Today, more and more people are willing to look for Ayurvedic practitioners and want to become a Ayurvedic and Panchkarma Doctor in India, who understand the power of this amazing ancient India medicine.
Dr. Pradeep Kumar Chaurasiya is one of the few Ayurveda practitioners in India who not only possess a degree as a Panchkarma Physician (M.D. Panchkarma) but also have Ayurvedic Speciality in Diabetes, Skin Disorders, Obesity, Liver Disorders and Pain Management. He knows how to diagnose the patient according to Ayurvedic pathophysiology and offer him or her treatment accordingly. Perhaps that is why from last 10 years he has been practicing as a Best Ayurveda and Panchkarma Doctor at DJI Ayurveda-Wellness & Panchkarma Center in Gomti Nagar, Lucknow and is able to help innumerable patients suffering from different types of disorders that includes lifestyle disorders- diabetes, high blood pressure, respiratory disorders -chronic bronchitis, asthma, pneumonia, GIT disorder - gastritis, IBS, constipation, colitis, etc.
Contact Details
Phone: +91-7887085549
Email: [email protected]
Address: 2/296 , Vijay khand-2, Besides Health City Hospital, Near Manoj Pandey Cross Road, Vijay Khand-2, Gomti Nagar, Lucknow, Uttar Pradesh 226010
Website: https://www.djiayurved.com
3. Dr Partap Chauhan
Westernization of traditional Indian sciences in the late 80's was a double-edged sword. While it popularized Ayurveda and Yoga in the west, it also gave rise to commercialized spin-offs that was hardly the authentic knowledge that was handed down by the ancients. Dr Chauhan wanted the world to experience the purity and efficacy of authentic Ayurveda. He designed the Ayunique­TM protocol of treatment that is completely based on the classical compendiums written by the founding fathers of Ayurveda—Charak, Shushruta and Vagbhatta.
Over 1.5 million people are living a healthier life thanks to Dr. Chauhan's authentic Ayurveda.
Dr Chauhan firmly believed that technology was a great enabler in demystifying Ayurveda for the common man. He had a simple explanation for everything, and he wanted to get it out to the world. He started on television with his popular talk show "Jiva Health Show" which is perhaps the longest running Ayurveda health show on TV. Millions of viewers around the world tune in to the program to share their health problems with Dr Chauhan directly.
Use of the internet had an even bigger impact in opening up the deepest secrets of Ayurveda to people around the world. With a website launced in 1992, Jiva was the first in India to launch an Ayurveda website where people could get Ayurvedic health information and also book video-consultation with a Jiva doctor.
Contact Details
Phone: (0129) 4189111, 4040404
Email: [email protected]
Address: Building No. 6772, Block No.10, Gali No.3, Dev Nagar, Karolbagh New Delhi-11000
Website: https://www.jiva.com
4. Dr. Harish Singhal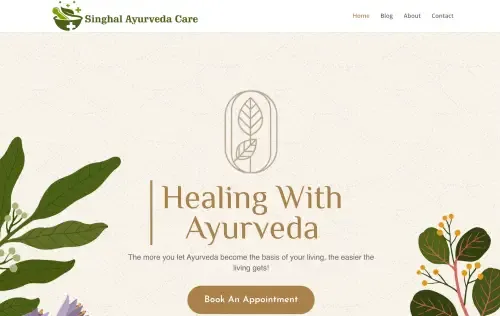 Dr. Harish Kumar Singhal has been practising at Singhal Ayurveda Care Jodhpur, Rajasthan for 12 years now. The doctor did his Bachelor of Ayurvedic Medicine and Surgery from Lalit Hari Govt. PG Ayurvedic College, Pilibhit, UP in 2005 and MD from National Institute of Ayurveda, Jaipur, Rajasthan in 2009.
Dr. Harish Kumar Singhal is practicing with an aim to serve humanity with Ancient Science of Healing, that is Ayurveda, and brings back the smiles of the patients who are severely tired from various diseases and gives hope to recover. He has 15+ years experience in the field of Ayurveda and 12 yrs experience in Pediatric field.
He is an expert in the treatment of Autism, ADHD, Epilepsy, Cerebral Palsy, SMN Disease, Muscular Dystrophy, Rheumatoid Arthritis and Pediatric Respiratory Disorders. He has further refined his procedures by combining potent elements from the various great healing traditions of the world.
Contact Details
Phone: 9636622206, 8619892143
Email: [email protected]
Address: Singhal Ayurveda Care, Plot No. 83, Paota Polo First, Jodhpur
Website: https://singhalayurveda.com
5. Dr. Kamlesh Gupta
Dr. Kamlesh Gupta is a Master's in Ayurveda currently practicing in Charak Ayurveda Panchkarma Chikitsa Kendra in Jabalpur Madhya Pradesh since 2007. He completed BAMS, MD (A.Med), PGCCP, CFN.
Heal your mind and body with our treatments. Charak Ayurved and Panchakarma India objective is to make people's lives happy and healthy through authentic Ayurvedic therapy. By offering the most indulgent ayurvedic service and by setting the highest standards in quality of products & services in all its centers, we have earned the trust and confidence of a large number of Patie
It is a well-equipped clinic with all the modern types of equipment. The clinic has separate waiting and consultation areas that allow enough space for patients to wait conveniently at the clinic. The clinic is operational between 10:00 am to 9:00 pm on All days. Visit Sri Sanjeevni Ayurveda And Panchakarma Clinic, Jabalpur, Madhya Pradesh to get solutions for you and your entire family at an affordable price!
Contact Details
Phone: +91-9993408558
Email: [email protected]
Address: Opposite Parijat Building And Axis Bank,4, Samderiya Complex No 1,Main Road Cherital,, Damoh Naka, Jabalpur, Madhya Pradesh 482002
Website: http://www.charakayurvedmantra.com
6. Dr Sandeep Madaan
Dr. Sandeep Madaan is an Ayurveda Expert of commendable repute .He is M.D Ayurveda from University of Rajasthan. Having more than 9years of Clinical Experience, his clientele consists of both Indian and Foreigners.  He has been Practising Ayurveda as Chief Ayurvedic Consultant at Aastha Ayurvedic Clinic, Delhi, (www.asthaayurveda.com) since 2004.
His area of specialization being chronic and obstinate disorders like Acid Peptic Disorder, Irritable Bowel Syndrome, Ulcerative colitis, Recurrent Cold, Migraine, Sinusitis, Liver , Skin & Joint disorders and Infertility. He is also providing Panchkarma (Detoxification) therapies at Delhi. A total of 4 Ayurveda Experts, One Yoga Expert and A Herbalist are associated at the Centre. The activities include Conducting Wellness camps, Initial and Advanced Level Ayurveda Courses, Providing Ayurveda Consultations and Panchkarma Therapies along with Dietary Recommendations.
Dr. Madaan has presence Online as Panel Expert (Ayurveda) for online consultation at www.kandmool.com and www.medindia.net. In past He has been associated with Apollo Clinic, Pitam Pura, Delhi and visits Noida at The Yogaguru Centre (www.theyogaguru.com), & Maharishi Ayurveda (www.mapi.com) for Ayurveda Consultations. He has also been with Deptt. Of AYUSH, Min. of Health & F. Welfare, New Delhi As Senior Reserch Fellow  for some Research Based Projects in Ayurveda. - See more at: https://www.asthaayurveda.in/dr-sandeep-madaan-md-ayurveda.php#sthash.fKVRMSJe.dpuf
Contact Details
Phone: +91 9868263718
Email: [email protected]
Address: C- 10/27 sector 15, Rohini, New Delhi, 110086, INDIA
Website: https://www.asthaayurveda.in
7. Dr. Rakesh Agarwal
Vaidyaratnam Dr. Rakesh Agarwal is a third-generation Ayurveda Specialist, Research Scholar, and Philanthropist. He is a dedicated and innovative Ayurvedic Doctor in India of International repute is renowned for handling many of the most complex cases in various fields of Ayurveda as: Chronic Diseases and Sexual Disorder, Infertility Problems, Diabetes Mellitus, Migraine, obesity ,Joint Pains ,Renal Calculi ,Urinary Calculi, Treatment for addictive injections ,Heart Diseases Diabetes Mellitus ,Piles ,Skin Diseases, Knee basti, for knee pain and other complications ,Mental disorders ,Liver disorders, Treatment for any type of addiction, Yoga therapy, All type of ayurvedic, panch karma procedure.
Dr Aggarwal serves as Chief Founder and Editor of Family Health Magazine in Hindi, Arogyadham Magazine, established in 1992. This quarterly publication covers the topics as Ayurveda, Balanced Diet, Good Moral Character, Naturopathy, Yoga, Homeopathy, Psychology, Philosophy, Religion and rare and effective domestic formulas of medicine. It is read by an estimated 1 million people in India and abroad.
Contact Details
Phone: +91-8449333303
Email: [email protected]
Address: Arya Samaj Road, Opp. DAV Degree College, Near Meenakshi Chowk, Muzaffarnagar (U.P.) PIN – 251001
Website: https://arogyadhamhealth.com
8. Dr. Bhuvnesh Sharma
Dr. Bhuvnesh Sharma, M.D ( Panchkarma ) working for Sri Vaidya kerala Ayurveda Hospital is a versatile professional with substantial expertise in clinical and wellness fields.
He has experience in healing the metabolic system of an individual that can help attaining total health of an individual leading to a healthier and happier lifestyle. Dr.Bhuvnesh Sharma is well-experienced in handling complicated health issues of both body and mind and advising lifestyle modifications. He firmly believes in the Ayurvedic principle of HEALTHY BODY & MIND.
Are you also searching for "best ayurvedic panchkarma hospital near me." on Google? Search No Further!

"Nestled in the green and fresh environs, Sri Vaidya Ayurveda Panchkarma Treatment Hospital based in Dwarka, Delhi aims to provide holistic Ayurvedic care – preventive as well as curative – to men, women, and children.
To bring the best Ayurveda Doctor In India & near you, we chose Corporate Park for the establishment of our hospital. And it comes with the top-notch facilities right from the point where you enter up to the 3rd floor where we are housed.
Contact Details
Phone: 09310097364
Email: [email protected]
Address: D21 Corporate Park, Dwarka Sec-21, New Delhi, 110077
Website: https://srivaidya.com/
9. Dr. Tarun Gupta
Dr. Tarun Gupta is the senior Ayurvedic Consultant and Director of SKK Ayurveda and Panchakarma He completed B.A.M.S. from Delhi University and underwent advanced training in Keralian Panchakarma Treatments from Kerala. He has a vast experience of more than 20 years in succesfully treating several ailments like Arthritis, Slip Disc, Knee Arthritis, neuro-muscular disorders, skin conditions like psoriasis, eczema, fungal diseases etc. Patients have seen tremendous improvement with Ayurveda and Panchakarma therapies under Dr. Tarun Gupta's expert guidance.
SKK Ayurveda and Panchakarma is one of the Best Ayurveda & Panchakarma Centres in New Delhi, India for holistic health care based on the principles of authentic Ayurveda. We provide Ayurvedic treatments and Panchakarma therapies for a disease free state (Aarogya) of the body and mind.
Our experienced Ayurvedic doctors in India have successfully treated thousands of patients with various acute and chronic disorders.
Effective & authentic panchakarma therapies at SKK Ayurveda & Panchakarma are offered by trained panchakarma therapists under the guidance of Dr. Tarun Gupta and Dr. Rani Gupta.
Contact Details
Phone: +91 98114 41562
Address: C-2/95, Janak Puri, Near Kendriya Vidyalaya, New Delhi, Delhi 110058
Website: https://www.ayurvedadoctor.net
10. Dr. Saji D'Souza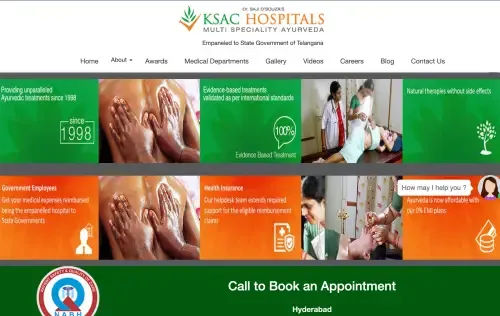 A pioneering physician, Dr. Saji D'Souza is widely respected for his contributions to healthcare—Ayurvedic medicine in particular. A distinguished spine specialist, Dr. D'Souza was amongst the first who proved scientifically that Cervical and Lumbar Spondylosis can be cured with natural therapies without surgical intervention. He is a health columnist for the Deccan Chronicle, The Hindu, The Times of India, Indian Express, Swathi Magazine, Vaartha, and Eenadu etc.
Dr. D'Souza received a BAMS (Bachelor of Ayurvedic Medicine and Surgery) degree from the Government Ayurveda College, Thiruvananthapuram. He followed this up with an MD in Alternative Medicine (AM) and a Fellowship in Rural Health Society (FRHS) approved by Alma Atta (Russia) under the UN Peace Foundation. He also holds a MS (Ayu) from the Rajiv Gandhi University of Health Sciences.
Dr. D'Souza was selected and appointed by the Government of Andhra Pradesh to present a paper on Ayurveda & Health Tourism before 150 countries in Dubai, Sharjah & England.
Dr. D'Souza's work has been covered extensively by the media including Deccan Chronicle, Times Of India, Eenadu, Andhra Jyothi, The Hindu, Indian Express, Vartha, Hindi Milap, Siasat, TV9, ETV, Gemini, Teja, TV5 ,C Channel, MAA TV, Udaya TV, Janasri and Suvarna TV.
Contact Details
Phone: +91 98661 30743
Address: 63-252/1/3, Adj. to Taj Deccan, Banjara Hills Main Road, Banjara Hills, Hyderabad Telangana - 500 034
Website: https://www.ksachospitals.com