Homeopathy is an advanced, effective, and gentle system of holistic medicine that has been successfully used for over two hundred years and on every continent. Homeopathy is not to be confused with herbal medicine or nutritional therapy. The set of principles that guide the selection of medicine make homeopathy a distinct and integral system unto itself. Many doctors are practicing Homeopathy in India for many years.
Homeopathic medicines, called remedies, may be safely and effectively applied in chronic (long-term) conditions, as well as acute (short-term and self-limiting) illnesses and injuries of adults, children, and animals. Homeopathy stands out distinct as compared to other modes of treatment by its fundamental principles directed towards treating diseases at the root level, by addressing the multiple causative factors such as genetic, immunological, metabolic, hormonal, emotional and the like.
As a result, the diseases are treated in totality rather than in parts or as entities separate from the 'whole' of the individual patient. In that sense, homeopathic science believes in the 'holistic' approach.
Every life is precious. Everyone wants to consult the best doctor for their health. Here we bought you the 15 Best Homeopathy Doctors In Mumbai for your next doctor visit.
1. Ask Dr. Shah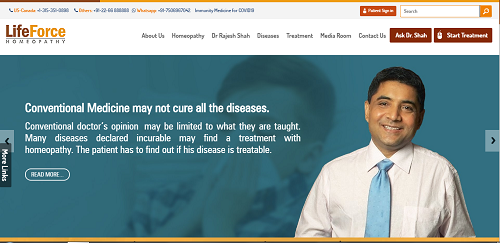 Ask Dr. Shah is one of the Best Homeopathy Doctors in Mumbai. Their mission at there clinic is to develop the best world standards in homeopathic practice and make them available to their patients. Enhancing the potential of homeopathy by research, and bring its benefits to people across the globe. To practice the highest standards of ethics and conduct in medical practice. Everything they do reflects their mission and values. They value integrity, honesty, dedication, commitment, and accountability.
Contact Details:
Address: 411, Krushal Commercial Complex, Above Shoppers Stop, G. M. Road, Chembur, Mumbai - 400089, India
Phone: +91-22-6688-8888, +91-7208001138
Website: https://www.askdrshah.com
2. Reflectionz Clinic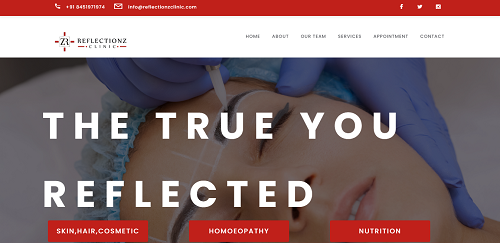 Reflectionz Clinic is one of the renowned Homeopathy clinics in Mumbai city. They are Skin Specialist In Mumbai. Reflectionz clinic uses homeopathy medicines for skin problems. Because homeopathy is completely natural, safe and has no adverse effects on the body. Homeopathy has no negative side effects, hence it can be said to be most suitable for chronic & acute ailments and the best & safest treatment for infants, kids, pregnant women or for the entire family.
Contact Details:
Address: 22, EMP-67, Evershine Moon CHS Ltd. Thakur Village, Kandivali East, Mumbai 400101, India.
Phone: +91-8451971974
Website: http://www.reflectionzclinic.com/
3. Welling Homeopathy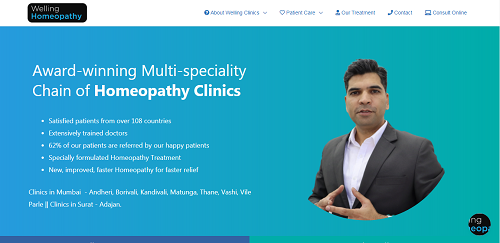 Welling Clinics take pride in the quality of healthcare facilities they provide to all our stakeholders. Their quality management procedures are stringent and continuous feedback from their patients gives value-added inputs regarding the journey towards building a disease-free world through nature-friendly healthcare science – Homoeopathy. They believe in delivering results in the quickest possible time, thus changing the general concept of Homoeopathy in the minds of the general public, as being a too slow and long-drawn process. In the process of giving quickest results, They also maintain stringent quality in our procedures, so as the results are permanent and our patients become healthier in the process.
Contact Details:
Address: Welling Clinic, 1st Floor, Shraddha, Near J.K.Shah Classes, Above Abhyudaay Bank, Andheri Mumbai, India.
Phone: +(91) 8080 850 950
Email : [email protected]
Website:  https://www.wellinghomeopathy.com
4. Imperial Clinic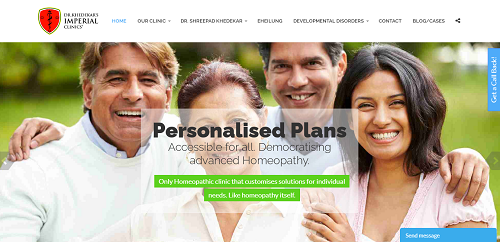 Imperial Clinics specializes in treating developmental disorders, severe and complex pathologies that are considered 'incurable' but the approach to every illness, even a simple cough is with the same degree of care and attention. The individual is looked at, not their symptoms. Everything from the mind state to genetic disposition, from diet to social conditioning is taken into consideration before a personalized line of treatment is devised. The ultimate aim is to strengthen the patient's immune system and stimulate their own DNA repair mechanism so they can fight off disease from within. These are some best Homeopathy Clinics in Mumbai and Best Ayurvedic Clinic In Mumbai
Contact Details:
Address: Shree Sai Prabhadevi CHS, Ground Floor, Opposite Sahakar Bhandar Mall, Agar Bazar, Kashinath Dhuru Marg, Prabhadevi, Mumbai, Maharashtra 400028.
Phone: 022 2438 5888
Website: http://imperialclinics.com/
5. Dr. Joshi's Homeopathy
Located in Vile Parle, Mumbai, they provide Homeopathic care to patients from all sectors, all age groups, from young infants, children to adults. They see clients from India and from different parts of the world. They specialize in treating cases of allergies, auto-immune complaints like multiple sclerosis, scleroderma, severe urticaria, orthopedic complaints like rheumatoid arthritis, hormonal complaints like PCOS, diabetes, auto-immune thyroiditis, high blood pressure, cancer care, kidney failure, liver disorders, depression, anxiety neurosis.
Contact Details:
Address: B 101, Rushi Sanket, Mahant Road, Vile Parle (East) Mumbai, India - 400057.
Phone: +91-22-26149922, +91 9619532162
Website: http://www.drjoshisclinic.com/
6. Dr. Batra's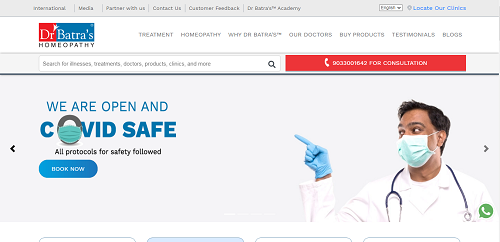 Considered as one of the top Homeopathy Doctors in Mumbai, Dr. Batra specializes in Homeopathy for the cure of many diseases. They believe that a job is not simply about getting to office every day, finishing routine stuff by the end of the day and then packing off without any take-home feeling. They believe that this is the place where you spend most of your waking time so why not make it worthwhile! That is why we take all the care to see that you get the best while you give your best at your job at Dr. Batra's.
Contact Details:
Address: 5/6, Agnelo House, 2nd Floor, S.V.Road, Landmark: Next to Khar Police Station, Khar-West, Mumbai - 400052, Maharashtra, India.
Phone: 9033001642
Website: https://www.drbatras.com/
7. Dr. Ashwini
Ashwini Homoeopathy is a leading homeopathic center in India, Specialising in the treatment of Advanced diseases as Cancer, is a premium medical center that specializes in innovative and effective forms of healing. Relentless efforts by Dr.Abhay Patil, who has pioneered homeopathy treatment with astrological insights, have given AHC phenomenal results in overcoming tough medical challenges like Cancer.
Contact Details:
Address: Shop no19,20 JK Chambers, Ground Floor, Next to Golden Punjab Hotel, Sector-17, Vashi, Navi-Mumbai:-400705.
Phone: +91-9820577533, +91-22-27651935
Website: https://ashwinihomoeopathy.com/
8. Mission To Care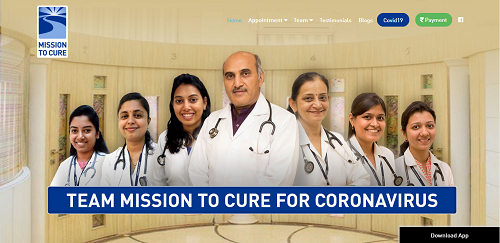 Dr. Vijay Shah M.D. (Homœopathy) is the Dean of Mission To Cure Clinic and Institute of Homœopathy based in Mumbai, India. With a vast professional experience encompassing 33 years, he has been curing patients of all ages suffering from various challenging diseases including many "so-called Incurable" diseases with outstanding results. He ensures that the patients understand their diseases and the role played by Homeopathy in curing them. Mission To Cure believes in the application of modern medical science and technology supported by its research and development. Hospital also involved in Urologist Doctors in Mumbai
Contact Details:
Address: Ehsan House, 101, 1st Floor, Above ICICI Bank, Ramdas, Sutrale Marg, Off. Chandavarkar Road, Borivali (W), Mumbai - 400 092. Maharashtra
Phone: 2895 0202, 2893 0856
Website: http://missiontocure.com/
9. Dr. Rajan Sankaran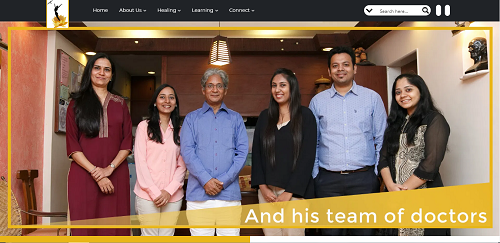 Dr. Rajan Sankaran is an internationally renowned thinker, teacher, and writer of the homeopathic system of medicine. He is reputed to be a clear and original thinker and is best known for his path-breaking concepts in Homoeopathy. His understanding of 'disease as a delusion' followed by his discovery of newer miasms, classification of diseased states into kingdoms (viz. plant, mineral, and animal) and the seven levels of experience, brought in much more clarity into understanding diseased states.
Contact Details:
Address: G-3, Ground floor, Beach Haven 1, Wing 1, Near Ramada Inn Palmgrove Hotel, Juhu Tara Road, Juhu Beach, Mumbai 400049 India
Phone: +91-22 2610 3460 / 2610 3467
Email : [email protected]
Website: http://www.sankaransclinic.com/
10. Dr. Gaurang Gaikwad
Dr. Gaurang Gaikwad is an accomplished homoeopathic practitioner and an internationally acclaimed teacher. Among the younger generation, Dr. Gaurang is one of the most popular teachers across India and the youngest homoeopath to be invited to Europe, to teach Classical Homoeopathy and Repertory. Dr. Gaurang's approach is a blend of classical approach and advanced kingdom approach.
Dr. Gaurang comes from a rich heritage of doctors in the family, with both parents being Opthalmologists. Dr. Vijay Vaishnav, who was his first mentor initiated him into homoeopathy and provided fundamental training on Classical Homoeopathy in CMP Homoeopathic Medical College, Mumbai.
Dr. Gaurang considers Dr. Rajan Sankaran to be a huge inspiration and mentor. He has worked very closely with Dr. Sankaran on his world-renowned books including, Synergy in Homoeopathy, Synergy Synopsis and From Similia to Synergy and The Art of Follow Up. He is associated with 'The Other Song Academy', where he teaches students and works closely with Dr. Sankaran.
Contact Details:
Address: 101,Shivana Apartment, Mogul Ln,opposite Bombay telephone exchange Colony, near Big Bazaar,Mahim, Mumbai, Maharashtra 400016
Phone: +91 9773407131
Email : [email protected]
Website: https://www.drgauranggaikwad.com/
11. Nash Homeoplex
Nash Homeoplex is a medical centre where one can get a variety of services which are offered using homeopathic methods. It is one of the top places where a person can get an effective medical service and get rid of an issue. There are a number of different issues which a person can get rid of upon visiting our clinic. We have the expertise and knowledge of offering the best in class medical services to the patients who visit us. In order to do so, we make use of the best in class methods which are available in the medical field. The wide range of treatments that we offer to all our patients includes:
All of these services are offered using the best procedures of homeopathy which are there in the medical field. In order to do so, we have a team of medical experts who are well known for all of the services they offer. This team consists of a variety of different experts who are well qualified as well as have years of experience. The services that we offer are known for being highly effective and also for the short time they take .
Contact Details:
Address: b-203, Kotia Nirman, Above Volvo Showroom, New Link Road , Andheri West
Phone: .+91-22-26741516
Email : [email protected]
Website: http://www.nashhomeoplex.com/
12. SunShine Homeopathy
As Homoeopathic Doctors, our belief is that Life is meant to be lived to its fullest. Each breath, that we take, be as natural as possible, as fulfilling and meaningful as it can. Whatever be the environment around us, the ever increasing stress & pollution, the surmounting vices & worries, but amidst all this, shines a ray of Sunshine, a hope for health, a cheerful life & the joy of living. Homoeopathy is not just a way of treating, or a way of healing. It is a way of life… sweet, simple, effective.
Contact Details:
Address: Flat No. 6, 1st Floor, Premkunj C.H.S., Plot No. 43/B Sion Circle, Sion (West Above Shiva Farms, opposite Kapole Stores, Mumbai, Maharashtra 400022
Phone: +91 8655 060 555
Email : [email protected]
Website: http://sunshinehomeopathy.com/
13. Homeo Consult
Your decision to consider alternative treatment can certainly cause apprehension. Your condition has already created uncertainties and you must now be sure of the physician you are seeking and verify whether he has the required credentials – experience – knowledge and confidence to help you and/or guide you in the right direction.
Do note that the scope of homeopathic treatment described on our website is general in nature. However, the results of our treatment can be considered exclusive and may not be achieved by all homeopaths (Homeopathy Doctors). Our treatment has been designed by 3 generations of homeopaths over the past 80 years and after prescribing millions of prescriptions for over a million patients since the 1940's. Other homeopaths may not be able to mimic these results considering each ones limitations and experience.
Contact Details:
Address: Jain Chambers, SV Road,Bandra (W), Mumbai - 400050, India
Phone: +91 9820190203
Email : [email protected]
Website: https://homeoconsult.com/
14. Dr Gala's Clinics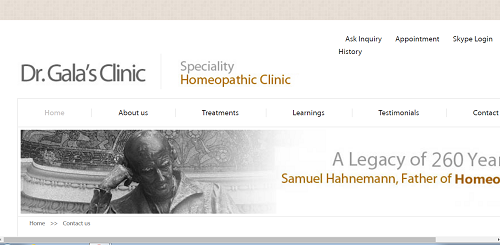 Dr Satish Gala has been in clinical practice since last 22 yrs and as a consultant Homoeopathic Physician at Nanavati Hospital since 15 years .He has worked as associate consultant with renowned Homoeopathic Physician Dr Anil.Bhatia for 10 yrsDr. Gala has been treating patients from all over the country & in 20 countries internationally mainly concentrated in England ,U.S ,Singapore & Dubai .He regularly consults at Leicester,England along with Dr Vasant Kholia.He has presented clinical papers on various clinical topics like gout,ADHD,Sports Medicine & Homoeopathy , Joint Disorders ,psoriasis at various National conferences. He is doing research activity in the field of Autoimmune diseases at Homoeopathic Education And Research Institute in Mumbai since last 3 years & has presented paper and case presentation on the same.He shall shortly be starting his Phd studies from Maharashtra University of Health Science .
Contact Details:
Address: 2, Arif Mansion,1st floor,Opposite Prime Mall,Next to Alfa Store No 1,Irla Society Lane,Vile Parle West , Mumbai-400056.
Phone: 9321282247
Website: http://www.drgala.in/
---
The novel CORONAVIRUS is a pandemic and WHO has declared it as an emergency. Since there is still no cure for this virus it makes it very important that we take precautions at a personal level.
Basic sanitization and cleaning methods can go a long way in improving immunity and saving ourselves from viruses and infections. Sanitizing your hands at regular intervals with an alcohol-based sanitizer, not touching public places or disinfecting it before use are some methods to stay safe. It is also equally crucial that you follow proper disinfection methods at home to not welcome illness.
You can now connect with  who provides cleaning & sanitization services in Mumbai that will help you lower the risk of corona virus.