Recruitment consultants in Mumbai play a vital role in helping businesses find the right talent to meet their staffing needs. Mumbai is a major commercial and financial hub in India, with a diverse range of industries and sectors, including IT, engineering, finance, healthcare, hospitality, and more. With so many job opportunities available, it can be challenging for businesses to find the right candidates to fill their open positions. That's where recruitment consultants come in.
Recruitment consultants in Maharashtra are experts in the field of talent acquisition and have the knowledge and experience to help businesses find and hire the right candidates for their needs. They work with businesses to understand their specific staffing needs and requirements, and then use their extensive networks and resources to source and screen qualified candidates. By partnering with a recruitment consultant, businesses can save time and resources, and ensure that they are getting the best possible candidates for their open positions.
Recruitment Consultants In Mumbai
There are many recruitment consultants in Mumbai, each with their own unique strengths and areas of expertise. Some of the top 10 Recruitment Consultants in Mumbai include:
1. ABC Consultants
ABC Consultants is one of the leading recruitment consultants in Mumbai, providing staffing solutions for various industries such as IT, engineering, finance, healthcare, and consumer goods. Established in 1969, ABC Consultants has over five decades of experience in the industry and has helped numerous companies find top-quality talent for their businesses.
ABC Consultants Mumbai has a team of highly skilled professionals who have extensive experience in talent acquisition and recruitment. They work closely with their clients to understand their unique staffing needs and requirements, and then use their extensive networks and resources to source and screen qualified candidates. Their recruitment process involves multiple rounds of screening and assessment to ensure that only the most qualified candidates are presented to their clients.
ABC Consultants Mumbai has a strong track record of success and has helped many businesses find the right talent to meet their staffing needs. They are known for their personalized and responsive service, and their commitment to delivering the best possible outcomes for their clients.
In addition to recruitment services, ABC Consultants Mumbai also offers executive search and leadership consulting services. Their executive search services are designed to help businesses find top-level executives and senior management professionals to lead their organizations. Their leadership consulting services help businesses develop and implement effective leadership strategies to drive growth and success.
Overall, ABC Consultants Mumbai is a reliable and trusted recruitment consultant that can help businesses find the right talent to meet their staffing needs. With their extensive experience, strong network, and personalized service, they are well-equipped to help businesses of all sizes and industries find the right candidates to succeed in today's competitive job market.
Contact Details
Mobile Number : +91-20-41048000
Email ID : [email protected]
Address : Awfis Parinee Crescenzo, 1st, Floor, G Block BKC, Bandra Kurla Complex, Bandra East, Mumbai 400051
Website : www.abcconsultants.in
2. Randstad India
Randstad India, an ISO 9001:2015 certified company, is a wholly owned subsidiary of Randstad Holding nv, a € 23.3 billion global provider of HR services.
With a legacy of over 30 years in the Indian market, Randstad is today one of the leading players in the Indian recruitment ecosystem. We believe in combining our passion for people with smart investments in intelligent technology to help organizations and talent realise their true potential. Employing over 800 specialist recruiters across our 20 office locations, Randstad India provides a full range of solutions including temporary and permanent staffing, outsourcing and other workforce solutions in the areas of engineering, finance and accounting, human resources, IT, manufacturing and logistics, and sales and marketing.
Contact Details
Mobile Number : 022 - 67232000
Email ID : [email protected]
Address : 4th Floor, Techweb Centre, New Link Road, Oshiwara, Jogeshwari (W), Mumbai 400 102 Mumbai
Website : https://www.randstad.in/
3. Super Placement Services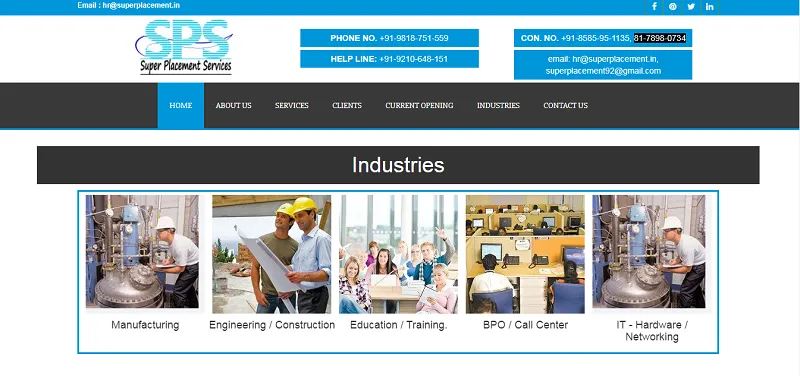 Super Placement Services is a Global HR Recruitment agency in mumbai, addressing complex staffing needs and we have access to highly skilled professionals. We have the background and knowledge to fill positions at every level of our client's organizations. At Super Placement we plan to extend our horizons and offer effective and customized HR Practices that will facilitate business efficiency and performance.
We have a solid infrastructure which ensures that there is a hassle free completion of all the projects that are initiated. We ensure that every client is satisfied with the project that we deliver and this sole reason we are positioned far above all the Placement Consultants in Mumbai. We are job placement agencies in Mumbai who provide recruitment consultancy services. We recruits for IT, telecom, manpower, permanent and many more.
Contact Details
Mobile Number : 9210648151
Email ID : [email protected]
Address : B-26 / 1 , Gali No.-5 Amar Vihar, Karawal Nagar Delhi-110094, Delhi, 110094
Website : http://www.superplacement.in/
4. Adecco India
We build strong partnerships of mutual trust bringing many benefits, particularly in the areas of employability and access to work, and thus livelihoods. As a trusted advisor we work with job seekers – freshers, early career aspirants, seasoned professionals, military veterans, and their spouses advising them on their careers, and coaching them to develop their talent with training, upskilling and lifelong learning.
We invest in our programs to create real value for our candidates, associates, employees, clients, suppliers, and communities at large and endeavor to create an environment that enables and empowers everyone to achieve their goals. Our mission is to support all our stakeholders by being even more resilient, innovative, and responsive.
Contact Details
Mobile Number : +91 22 - 48925500
Address : 1007/1008, 10th Floor, Windfall Building, Sahar Plaza, Andheri-Kurla Road, JB Nagar, Andheri (E), Mumbai – 400 059
Website : https://www.adecco.co.in/
5. Talent Corner HR Services
We are a professional human resources organization providing innovative recruitments solutions to the corporate world.
Incorporated in 2002, with a modest set-up of just three people, today Talent Corner has grown into one of India's leading HR Management Company with 200+ team members at 15 locations across India. We are serving over 900+ clients in diverse industries. The Recruitment Industry in India is growing at the fastest space hence the need for skilled manpower becomes crucial. In today's challenging scenario our company aims to match the right person to the right job with the highest level of service.
Our Continuous Endeavour is to make the Recruitment process Easier, Faster and Transparent, in order to absorb fresh talent. To reduce the Gap and Upgrade the relationship between a candidate and client which represents the goal we are trying to achieve.
Contact Details
Mobile Number : +91 22 4297 5100
Email ID : [email protected]
Address : 708 & 709, Bhaveshwar Arcade Annex, LBS Marg, Opp Shreyas Cinema, Ghatkopar West, Mumbai – 400086
Website : https://talentcorner.in/
6. Sampoorna Computer People
Sampoorna Consultants is a pioneer in IT Recruitment in India. Established in 1990, we provide consultancy exclusively in recruitment of IT & Telecom professionals. We are a Mumbai-based company with offices in Bangalore, Chennai, Delhi, Hyderabad and Pune.

At a PAN-India level, we take pride in having one of the largest data bank of IT professionals. This means that we have access to a pool of candidates with niche IT skills who may not otherwise be available on public databases. The database is extensively automated to enable advanced skill matching.

We have worked with companies of all scales, ranging from startups to small product companies to large IT services leaders as well as MNCs setting up operations in India for the 1st time. Our deep domain expertise in IT recruitment coupled with a large multi location team means that we can work on positions at all levels from freshers all the way upto the CEO. We have the capability to close a large number of IT positions within a short time as well as the ability to find candidates with hard to hire niche skills.

Our HO has created a recruitment system which has been certified for ISO 9001:2015 by Bureau Veritas India. We are the first IT & Telecom specialist recruitment company in India to get this certification. Sampoorna is a founder member of ERA (Executive Recruiters Association) which is India's Recruitment Agency's Industry Organisation
Contact Details
Mobile Number : 9870002200
Email ID : [email protected]
Address : G-11/12, Nahar & Seth Ind. Estate, Near P & G Plaza, Chakala Road , Andheri (East) Mumbai - 400 099. India
Website : https://www.sampoorna.com/
7. Shella Consultants
Devoted to commenced and preserve an optimistic difference to your staffing needs, we at Shella Consultants, are a headhunting and manpower recruitment firm of high repute and recognition. We have gained this recognition by providing exemplary customer service and competent employees to diverse corporates, of all sizes; in India, Gulf, Europe, U.K, U.S.A as well as other parts of the globe.

Our firm enthusiastically performs its work in acceptance to cater your manpower necessities, procuring the candidate with the desired profile and building trusting relationships. Owing to our industry expertise, we comprehend that firm's today have need of more than an able candidate; they reach for employees who are productive, exhibit a positive attitude and have the ability to become a member of their team.

Apart from customary practices to source candidates (like advertising in newspapers), we also include pioneering means to procure accurate professionals. Our experts influence the power of technology-based recruitment and focus on online media to make sure that our clients receive the most suitable candidates for their organization.
Contact Details
Mobile Number : 08048954300
Email ID : [email protected]
Address : 1203, Universal Majestic, Ghatkopar Mankhurd Link Road, Chembur West Mumbai - 400043, Maharashtra, India
Website : https://www.shellaconsultants.com/
8. New Horizon
Recruitment has become very challenging and Time-consuming. Business owners definitely need someone expert, experienced, and have a huge database with the right search.
We just do not get our client the right resources but also guide on hiring requirements in terms of Position level, experience and market rate. We provide candidates PAN India for the Middle and Senior levels.
We are one of the top recruitment Consultants in Mumbai and the preferred partner for leading multinationals in India. Our strong point is - we are one of the best recruitment agencies in india who recruit across different industry segments for some of the leading business houses in Mumbai, India.
Being one of the top hr consultants in Mumbai, our core team of industry professionals has an excellent record of successfully meeting all the recruiting needs of various sectors. The good thing about working with an recruitment firms in mumbai is that we are fully adept at handling all the aspects of the employment process right from sourcing to shortlisting and interview.
As one of the best recruitment consultants in Mumbai, we carefully match all the candidate profiles (talent) to make sure only the right candidates are chosen and the aspirations of organization perfectly match with those of the candidates.
Contact Details
Mobile Number : +91 7738004652
Email ID : [email protected]
Address : Mani Bhuvan, Jawahar Nagar, Goregaon West, Mumbai : 400062
Website : https://www.new-horizon.co.in/
9. Smartco
We are Indian Government recognized best International Manpower Consultancy with a 1000+ License permission to recruit unlimited number of personnel's. We have our own state of the art and well-equipped and fully computerized ultra modern office near Saudi Consulate in Mumbai and Delhi with associate offices in all major cities of India.
We also emphasize on the capability and competency of the personnel's in the respective trade and has all necessary arrangement to achieve this. Our highly qualified manpower recruitment managers with years of experience in evaluating the technical skills and knowledge can shortlist the candidates for your final selection. As and when required your representative can visit India and personally approve the candidates, we have short listed as per the job description and also take a closer look into our style of working. We can also shoulder the responsibility of your requirement as per your required technical specification.
All the services of our company are customized in such a way that they match with requirements and cultures of various companies.
SMARTCO is one such overseas manpower consultancy in India that helps candidates who are planning to set their careers overseas. We are one of the top recruitment agencies in Mumbai, India for abroad Jobs.
Contact Details
Mobile Number : +91 22 2300 1452
Email ID : [email protected]
Address : 52/A Halima Building, B - Block, Behind Light of India Restaurant, Opp: Petrol Pump, Clare Road, Byculla, Mumbai - 400 008, (MH) INDIA.
Website : https://www.smartco.net.in/
10. SearchLight HR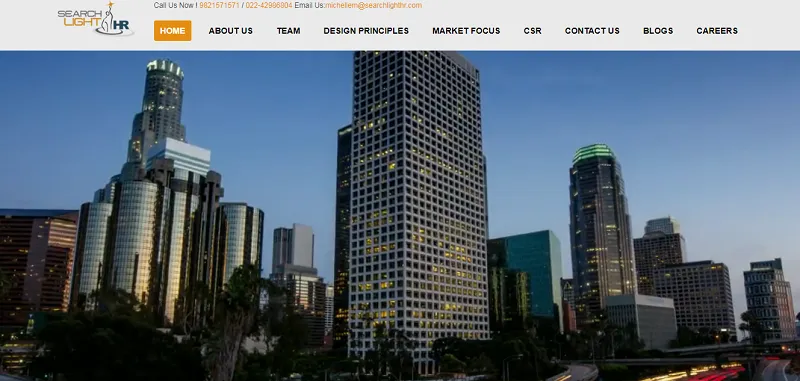 SearchLight HR was incorporated in 2010 with a vision to bring impactful changes in the way recruitment practices have been conducted thus far. At SearchLight we believe that the recruitment landscape have gone through a dramatic change however the operating practices have been age old. Notwithstanding the increase in business challenges, engagement models and talent pool has not undergone a proportional change. SearchLight was born to steer the market practices in a different direction, a path that we believe is based on the principles of fairness , equity and performance.
We believe our methods are different from normal market practices and we trust ourselves to deliver commitments. We do not promise results instead we walk with you through the journey as a partner with an undying spirit of partnership. Over the last few years, we have made an impact in the lives of quite a few professionals whom we guided to a new job and in the process helped our client companies to absorb some of the best talent in the marketplace.
Contact Details
Mobile Number : 9821571571
Email ID : [email protected]
Address : CSC College Premises, Hiranandani Gardens, Powai, Mumbai 400076. India
Website : https://www.searchlighthr.com/