Andheri is one of the most famous and busiest Places in Mumbai. Andheri is divided into two sections: Andheri West and East. Its West side is largely a residential area and Andheri East is Largely a commercial Area. It is near to the Arabian sea. There is a chance of humidity in the weather. World Famous Juhu Beach is also located in Andheri West.
Things to Do near Andheri
There is an end number of restaurants,  Cinema Hall, IT Companies, Hotel, Temple, School, Shopping places, and much more available in Andheri East and West. We have shortlisted some of them and showing you below.
Top Restaurants In Andheri
1. The Tanjore Tiffin Room
This South Indian restaurant in Versova has got it just right from its interiors to its food and that's why it makes it to our list of best restaurants in Andheri. What's more, apart from the traditional Tamil food, which includes the all-favorite appam and stew, as well as the Malabari Parotha, but it also has an interesting bar menu, which includes cocktails like the Tamil Sunrise.
2. Jimis Burger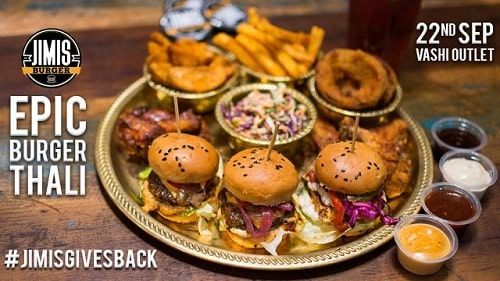 Who doesn't love the sound of succulent meat served between two pieces of bread and put in front of you with an accompaniment of fries? Well, if your mouth isn't watering at the sound of that, then head over to Jimis Burger to try some of the delicious meals that they serve.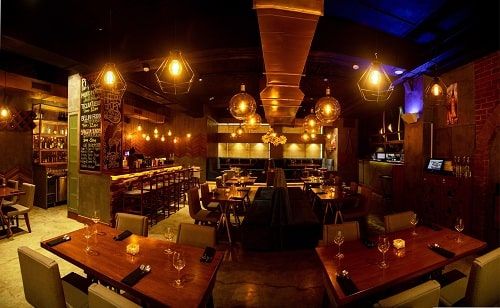 The restaurant is spacious with wooden interiors and beautiful lighting making the interiors look excellent. Their meticulously planned menu will leave you spoilt for choices. Pi Bar And Kitchen is a casual dining restaurant serving Beverages preparations. A great place in Andheri West, it is praised for its stylish presentation and is a nice joint to visit when one is looking to satiate hunger pangs with tasty, hygienic food.
4. Tea Villa Cafe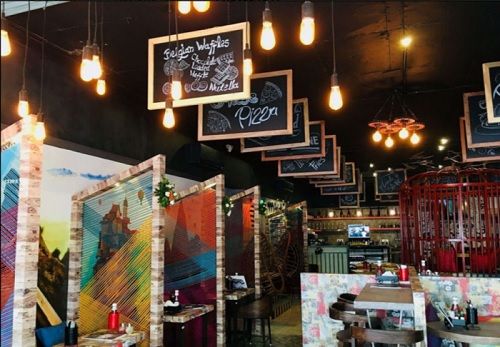 It's unbelievable as to how beautiful this cafe is with its sophisticated and classy white ambiance. Their savory preparations are not limited to just desserts but they offer a lot more to treat your taste buds. Don't forget to try their tempting mac and chess along with lip-smacking peri-peri fries.
5. Glocal Junction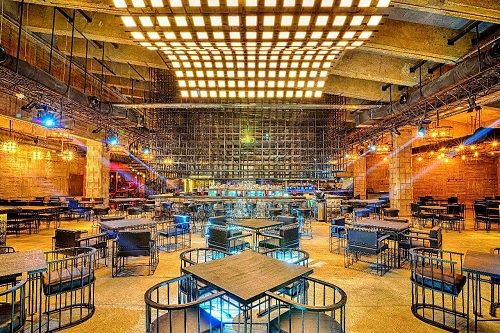 Chic design-conscious venue serving global breakfast, lunch and dinner menus in a fashionable space. Glocal Junction is a new-age all-day dining and bar concept that unifies the global and local elements together. The food menu at Glocal Junction is an amalgamation of global cuisines with a twist of regional flavors.
6. Banana Leaf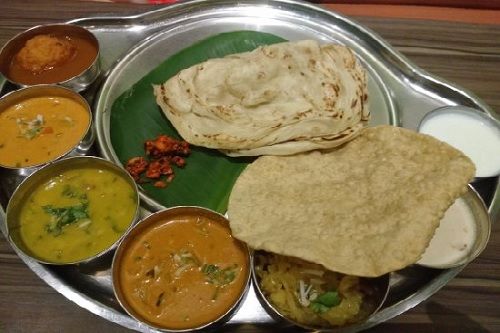 Banana Leaf is an authentic South Indian fine dining restaurant chain spread across Mumbai. This contemporary place with a leafy terrace offers a range of veg southern Indian delicacies.
Breakfast buffets & informal international meals are served at this open-kitchen hotel restaurant. This all-day dining place exudes a cheerful vibe and is bustling throughout the day. The seating is comfortable and the layout pleasing.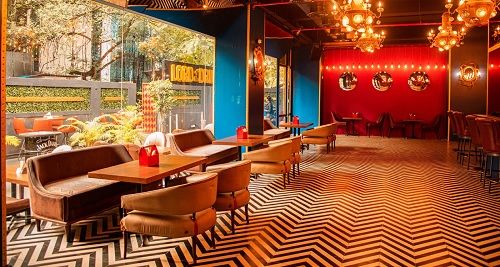 Artisanal cocktails served with Indian & global cuisine in an elegant space with outdoor seating. For a more relaxed and casual experience, this spacious lounge and bar spread over two levels is a perfect choice.
Places To Visit
1. Versova Beach
A continuation of Juhu Beach towards the Andheri suburbs, Versova Beach is comparatively less crowded and only separated by a creek from the former beach. Versova is essentially a fishing village inhabited by Kolis (fisherfolks) situated in the vicinity of the beach and is a hotbed for fish trade.
2. Lokhandwala Market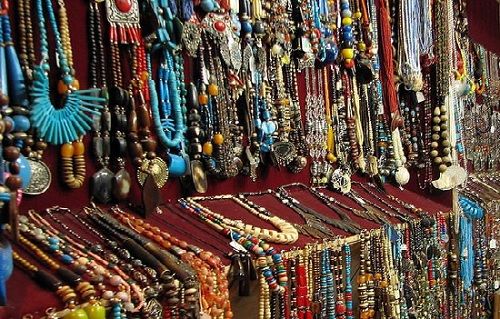 Lokhandwala is another place to shop happily and heartily. Do not miss the lip-smacking food around these shopping streets.
3. Chota Kashmir
Chota Kashmir is Bollywood's own rendition of a tiny Kashmir and is really a haven amidst claustrophobic cityscape. Located near Goregaon, overlooking the Aarey Colony and just a few km away from Andheri the park has abundant flora and a lush green velvet cover.
4. Mahakali Caves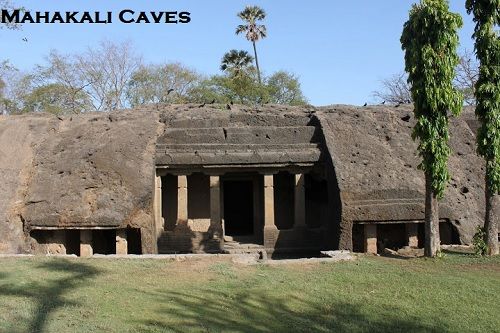 Alternatively known as Kondivite Caves, the Mahakali Caves are located in the western part of the city of Mumbai, Andheri. The Mahakali Caves are a total of nineteen rock-cut monuments, built between the duration of the 1st and 6th centuries.
5. Juhu Beach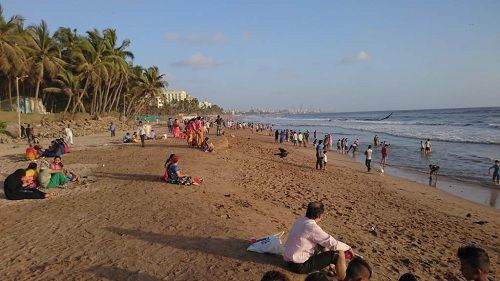 Juhu is an upmarket neighborhood of Mumbai. It is most famous for the sprawling Juhu Beach. It is surrounded by the Arabian Sea to the west, Versova to the north, Santacruz and Vile Parle to the east, and Khar to the south. Juhu is among the most affluent areas of the city and home to many Bollywood celebrities.
6. Manish Market
If you love street shopping, Manish Market is one of the best places to shop and bargain.
7. Gilbert Hill
Gilbert Hill is not really a popular tourist spot, but it is one of those places that deserves a lot more attention. It is one of the only three monolithic volcanic rock formations in the world.
8. R-City Mall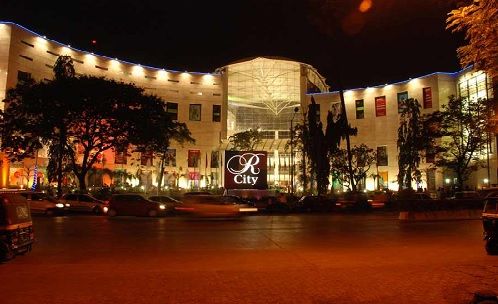 R City is the biggest mall in Mumbai to shop for branded clothes & lifestyle products. It is among the best shopping malls in Mumbai for entertainment and dining and much more. Enjoy your day at the R City Mall which offers exciting entertainment, multiplex and edutainment experience.
Top Hospitals In Andheri
1. Vcare imaging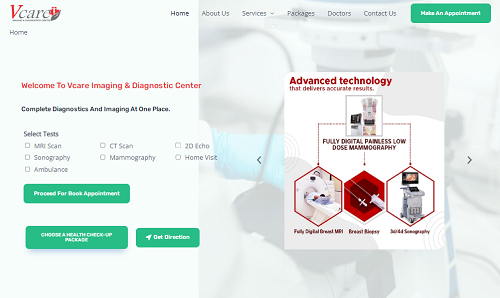 Our mission is to provide world-class facilities and strive to provide timely & accurate reports with compassion & care. Our Radiologists work hand in hand with our highly trained technologists to ensure you are at ease during your routine.
A Premier Health Care Provider with Multiple diagnostics lab near me & Imaging Services Under One Roof. Fully Automated Computerized Laboratory with End to End Diagnostic Centre in Andheri and Imaging Solutions Under One roof. Our Experienced and Dedicated Team Make Sure You Receive the Most Effective Treatment in Those Times of Worry.
Contact Details:
Phone: 9819577304
Email: [email protected]
Website: https://vcareimaging.in/
2: SevenHills Hospital
SevenHills Hospital is a leading healthcare service provider in India. The healthcare verticals of the hospital primarily comprise of diagnostics, hospitals, and daycare specialty services and facilities.
SevenHills Group has over two decades of experience in the healthcare sector and is known for providing quality healthcare and valuable experience to all domestic and international patients. Our healthcare offerings are supported by a team of compassionate and dedicated medical professionals who have rich knowledge and experience in their respective domains.
3. Akanksha Maternity & Surgical Hospital
Akanksha Maternity and Surgical hospital were founded 28 years ago, in 1980 by the relentless efforts of Dr. Vijay G. Pisat and Dr. (Mrs) Lalita Pisat. Over the years, we have tried our best to keep ourselves updated with state-of-the-art equipment, better facilities and give patients what they need.
4. Criticare Multispeciality Hospital & Research Centre
Favorably located in the western suburbs of the city, Criticare Multispeciality Hospital & Research Centre in Andheri East was established in November 2014. A highly trusted name, the hospital has been positively reviewed by more than 200 citizens.
5. Apex Multispeciality Hospital
Apex Multispeciality Hospital in Andheri East, Mumbai is a top player in the category Hospitals in the Mumbai. This well-known establishment acts as a one-stop destination servicing customers both local and from other parts of Mumbai.
6. Bellevue Multispeciality Hospital
An eye specialist, Bellevue Multispeciality Hospital Pvt Ltd in Andheri West, Mumbai is one of the eminent medical practitioners in the city. Having many years of expertise in the medical field, this doctor has been practicing at the Andheri West clinic since 1983.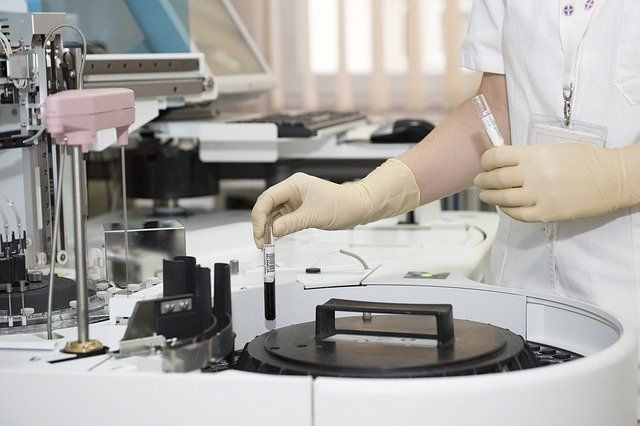 Car Repair Company

Carfixo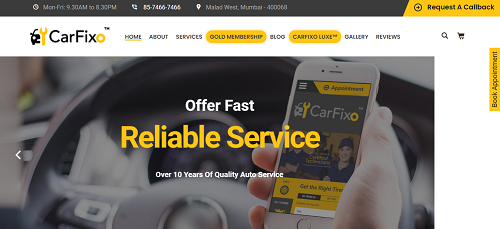 CarFixo is a leading professional Multi Car Workshop and Automotive Service Company known for providing a full range of top-quality car repairs and world-class maintenance services in Mumbai, Navi Mumbai, and Thane.
At CarFixo, we are backed by an adept team of highly-skilled and well-trained automobile engineers and experienced technicians who employ cutting-edge technology and advanced equipment to deliver seamless and reliable car services.
We are a one-stop solution for all your Car Repair In Andheri and maintenance needs. Experience true comfort and convenience by getting a free car inspection and diagnosis at your doorstep and our contactless and free pickup and drop-in services.
Contact Details
Mobile No : 85-7466-7466
Website : https://carfixo.in/
Schools & Colleges
AIG Academy ( Online, Regular & Distance Learning University )
Build a career filled with great opportunities with an MBA degree by AIG Academy in Mumbai. Whether you are a student looking to continue your studies or a working professional desiring for a degree along with a job, Online MBA in Andheri by AIG Academy can fulfill your every need. You can pursue this MBA course sitting at your comfort zone. Distance MBA with an AIG Academy comes with various specializations. The best part of AIG Academy is that it also offers an MBA in one year degree where you can save your year gap and pursue your degree in just one year.
Pest Control Service
1. Mumbai Pest Control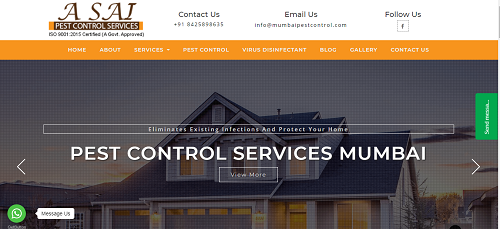 When A Sai Pest Control Services Andheri began their herbal pest control business decade ago, they had two goals in mind: To provide quality herbal pest control services in Mumbai, Thane, Navi Mumbai, Kalyan and furnish superior customer service. Today, over a decade later, A Sai Pest Control Mumbai, Thane, Navi Mumbai is still committed to that mission. It is the name you can trust to protect your business or home against pests like rodent control, termite treatment, bed bugs treatment, birds and mosquitoes control, cockroach and ants control treatment.
As the trusted commercial pest control company in Mumbai, A Sai Pest Control Thane has provided peace of mind against pests ever since we opened our doors for business from last 18 years.
Contact US
Address : Shop No.6, 1st Floor, Rajiv Gandhi Market,Khopat, Thane (West) - 400601
Mobile : +91 8425898635
Email ID : [email protected]
Website : https://www.mumbaipestcontrol.com/
2. Eco Friendly Pests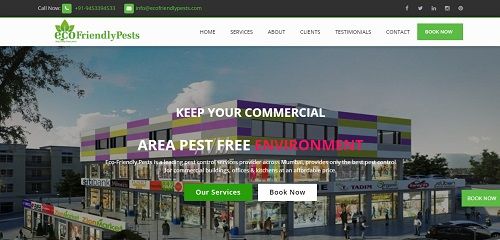 EcoFriendlyPests is the most popular pest control company that provides Pest control services in Andheri. It's started a pest control business in Mumbai and later move to other locations such as Thane, Navi Mumbai, and Pune many years ago. Our mission is very clear, straightforward, and direct that we will help us to provide you a hygienic pest control services near your place. Also, anyone can get our best pest control services at an affordable price and 100% safe for your family member, pets, and environment at your places. EcoFriendlyPests continuously provide organic pest control solutions through our best and experienced pest control technicians team.
EcoFriendlyPests is an in-house pest control experts team who has been many years of experience, expertise in his field, and the most important thing is a well-behavior and very simple. Our team will visit your place once you request a pest treatment and they do a complete inspection. After that, as per the investigation of the place and the required pest control treatment, they decide which will be the best possible way to eradicate dangerous pests from your home. We use government-approved chemicals and spry to eradicate all kinds of dangerous pests at your place. Our chemicals are safe for humans, pets, children, and pregnant women at your home. EcoFriendlyPests provides Pest control services in Andheri for both commercial and residential places.
Contact US
Address : D.N. Dube Road, Rajesh Compound, Dahisar East
Mobile : +91-9453394533
Email ID : [email protected]
Website : https://ecofriendlypests.com/
3. Elix Pest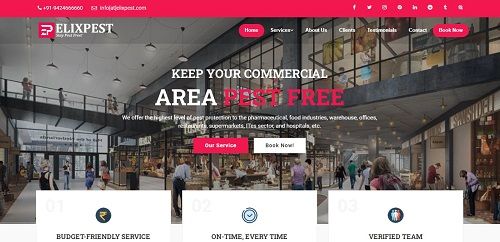 Elix Pest is a leading pest control company in Andheri. We're a team of experienced professionals, police verified, and intensively trained members in-house. We use high-quality and goverment-approved chemicals and eco-friendly gel and safe spray.
We're playing a vital role in the Pest control service in Andheri, Maharashtra, and other locations such as Navi Mumbai, Thane, Pune, India. We're an ISO-certified company, our professional's pest technicians are verified by Government (Police Verified), highly qualified, intensively trained team, and provide eco-friendly and safe pest control at an affordable price. Customers are happy with our pest services, commitments, working process, and behavior of our professional pest control team.
We're partnering with prominent pest control companies across Andheri such as Pepcopp.co.in and other reputed pest control companies to do the best pest services to our clients.
Contact US
Address : Room No 4, D. N. Dube Road, Ratan Nagar, Dahisar, Mumbai 400068.
Mobile : +919424666660
Email ID : [email protected]
Website : https://elixpest.com/
4. SSD Pest Control Service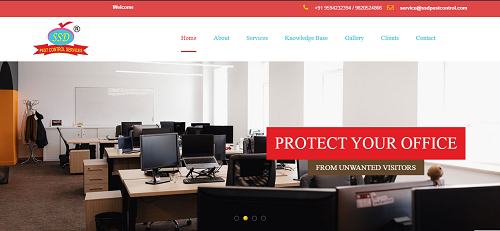 Established in the year 2018, we, SSD Pest Control In Andheri, are engaged in providing effective services for pest control. we have specialized in offering residential, commercial, marina and corporate pest control services. SSD Pest Control Services Company, is looking to set new global standards in providing all sort of facility management services at affordable cost by developing innovative pro-environmental superior technologies. Every dwelling is entitled to get facility management services to improve quality of living and to have quality time in their family and business. We wish to equip ourselves to serve every dwelling in the Globe.
The experienced and dedicated service team offers customer friendly service which is technically superior and environment friendly. With continuous research and developmental activities we are at process of developing eco friendly low cost technologies for pest control.
Contact Details
Mobile No : 9594232394
Email ID : [email protected]
Website : https://ssdpestcontrol.com/
Top Companies & Jobs
1. Mitsui O.S.K. Lines Maritime India Pvt. Ltd: http://www.molmi.info/
2. SEO Masala: http://seomasala.com/
3. Mindcraft Software: https://www.mindcraft.in/
4. MyDigital Crown: http://mydigitalcrown.com/
5. Torm: http://www.torm.com/
The novel CORONAVIRUS is a pandemic and WHO has declared it as an emergency. Since there is still no cure for this virus it makes it very important that we take precautions at a personal level.
Basic sanitization and cleaning methods can go a long way in improving immunity and saving ourselves from viruses and infections. Sanitizing your hands at regular intervals with an alcohol-based sanitizer, not touching public places or disinfecting it before use are some methods to stay safe. It is also equally crucial that you follow proper disinfection methods at home to not welcome illness.
You can now connect with Exicare who provides cleaning & sanitization services in Mumbai that will help you lower the risk of corona virus.