The Annapurna Base Camp Trek is one of the most popular treks in Nepal, reaching an altitude of 4130 meters. The trek provides magnificent views of the major peaks in the Annapurna region, Machhapuchhre, Dhaulagiri, Nilgiri, Annapurna South, Hiunchuli, Annapurna 1, Ganagapurna, Annapurna III and many other snow-covered peaks. Trekking on this route not only brings people closer to nature but also to the indigenous people, along with their culture and tradition.
About Annapurna Base Camp Trek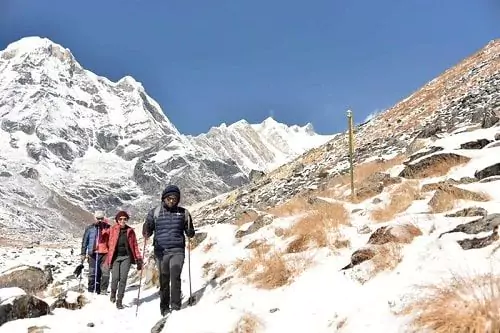 Annapurna Base Camp Trek route is a part of the Annapurna Conservation Area Project which is the largest ecosystem protecting the area in Nepal. The trek encapsulates the forests, rivers, waterfalls, and various species of rare plants, animals, and birds.
While walking the route you will visit the numerous villages like Chhomrong, Dobhan, Ghandruk, and Deorali at the gateway to the sanctuary. During your stay at these villages, you will understand the local lifestyle, traditions, and culture and enjoy the incomparable tastes of local cuisine.
Natural Experience
The trail is equally a delight for natural experiences. Ghorepani, Poon Hill is one of the best viewpoints in this trek for a spectacular sunrise view and mountain vista. Mount Dhaulagiri, the Annapurna Range, and Mount Machhapuchhre (Fishtail Mountain) to the North and the Butterfly Peaks to the far West are all visible from atop Poon Hill. At Annapurna Base Camp, the giant Annapurna (8091m) looks wonderful with a 360-degree view. It will be one of the most spectacular and unforgettable moments you will ever witness.
There is a natural hot spring near Jhinu Danda, where you can cleanse yourself both physically and spiritually. The pools are built into the riverbank of the powerful Modi Khola. You will enjoy a stunning view whilst relaxing in the therapeutic hot water with the sights and sound of the river, surrounded by the beautiful Rhododendron trees which are native to Nepal. Locals believe the waters have a healing quality that eases away your aches and pains.
People and Culture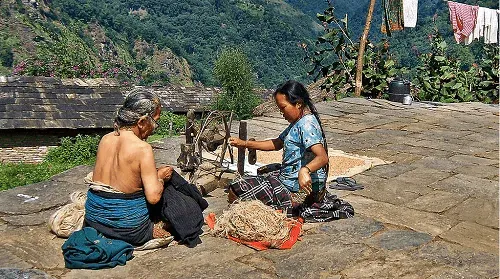 En Route to Annapurna Base Camp Trek, we will encounter varied ethnic groups and the Manaslu Circuit Trek takes us to the West- Central part of Nepal.  Bahuns, Chhetris, Mongolian, Himalayan, Magar, and Gurung. Gurungs – a Tibeto – Burmese people live mainly on the Southern slopes i.e the largest settlement being Ghandruk, with its sweeping views of the Annapurna's and Machhapuchhare.
Gurungs made up a large number of the Gurka Regiments, and army income has contributed greatly to the economy of their region. Gurung women wear nose rings, known as Phil, and coral necklaces.
The Magars are also excellent soldiers and fought for the unification of Nepal. Brahmins and Kshetras are dominant in the middle hills, making up 30% of the country's population.
How difficult to trek Annapurna Base Camp?
Regarding the difficulty of this trek, it is very moderate and doesn't require high and advanced physical fitness. So anyone can enjoy and take pleasure in nature while walking this trek. Those who are traveling with children can also get pleasure from this trek.
Trekking Annapurna Base camp via Ghorepani allows your body to adapt and acclimatize to the higher altitude. Visitors having previous trek experience with a fit body can trek it within a shorter period of time. The highest elevation that we will reach is 4130 meters above sea level.
When to trek in Annapurna Base Camp?
From mid – September to November (Autumn) and March to May (Spring) are the best seasons to trek Annapurna Base Camp. June to August (Monsoon) are the rainy months, but this time is best for keen botanists and has a clear sky most days. During the months of March, April and May, the hike offers grand spectacles of blooming rhododendron flowers.
The view of Mt.Dhaulagiri with the rising sun shining on it is one of the superb views on this trek. At the highlight of the trek, you will climb Poon Hill at dawn to enjoy one of the most brilliant mountain views on the earth. As the sun touches the snow-capped summits of the Himalayan giants, (Dhaulagiri 8167m) and Annapurna (8091m) many other peaks gradually become visible magically before your eyes.
This trek offers great opportunities to witness the Annapurna region with a limited trekking time. If you would like to avoid crowds, then it is recommended to trek in winter (January-February). The temperature is cold in the morning, but not unbearable and it is warm during the day hikes with a clear sky and fantastic views most days.
Packing list
Go For Nepal will send you the Annapurna Base Camp Trek packing list specifically required for this trek or you can check here recommended trekking gears, once your booking is received by us. In the meantime, consider buying some good quality hiking boots, and start wearing them in. No technical kit is required although a good Season 3 sleeping bag will be much appreciated at the higher altitudes. In the lower elevations, the lodges provide quality and blankets.
Agency for Annapurna Base Camp Trek
1: Go For Nepal
We are a government authorized trekking company in Nepal. We offer the best-valued trip service to our customers. The varieties of services include trekking, hiking, climbing, cultural activities, and other adventure activities.
We also operate tailor-made trekking itinerary as per our customers' requirements and budget. We offer both private trips and group joining trips to make our service criteria broad.
Go For Nepal Treks and Expedition Company is a group of enthusiastic, competent, and professional personalities. We provide expert trekking guide of a specific region for specific trekking routes.
Contact Details
Email ID: [email protected]
Contact Number: +977 9841071401
Website: https://www.gofornepal.com/
2: World Expeditions Travel Group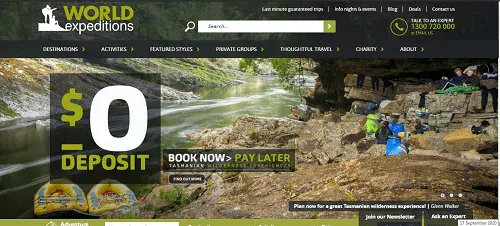 Our heritage dates back to 1975 when we launched our inaugural trekking holidays in Nepal under our former name, Australian Himalayan Expeditions. In the years that followed, we expanded our operations into other Himalayan destinations as well as South America, Asia, Africa, and Australia. To reflect the broader range of holidays on offer, Australian Himalayan Expeditions was renamed World Expeditions in the late 80s.
Since our inception, we have practiced a simple philosophy; to provide high-quality adventure holidays for Annapurna Base Camp Trek for small groups of like-minded travelers with a strong alignment to responsible tourism practice and a commitment to supporting local communities at every level of the operation.
Contact Details
Email ID:[email protected]
Contact Number:+61 2 8270 8400
Website: https://worldexpeditions.com/
3. BanBanjara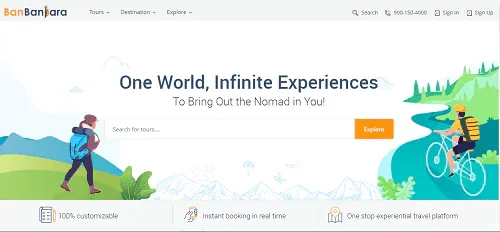 BanBanjara is on its way to being the leading adventure and creative tourism company in the country, specializing in customizable trip options tailored to serve the needs of individual customers
BanBanjara's mission is to empower and enhance the lives of its customers, employees, and the local communities that are key stakeholders in its business activities. We follow a strict triple bottom line, where we give equal importance to the People, Planet, and Profits. For every rupee that we generate as profit, a part of it goes towards a social and environmental cause. With this in our arsenal, our objective is to enhance the travel industry and redefine the way people browse and book their desired experiences.
BanBanjara came to life as a solution to the endless issues that the founders faced while traveling around the country and globally. Major issues such as lack of personalization, and trustworthy tour operators led to the creation of BanBanjara.com. Resulting in a platform where you can truly make your trip by your rules and fulfill your individual needs.
Contact Details
Email ID: [email protected]
Contact Number: 900-150-4000
Website: https://banbanjara.com/
4. Trek The Himalayas
We, Trek The Himalayas leading company of Indian, are the team of well Experienced & Equipped personnel, we have been organizing treks, and mountaineering, we are the local leader for Himalayan trips at entire India Himalayas. Our local knowledge and Himalayan experiences ensure that we are the real people who are operating trips in this Himalayan destinations and also known about India and its reality. We have grown up; learning mistakes and comments from our valuable clients so we can provide high-quality trips of exceptional value with no hidden extras. Our well-experienced team of local guides & Sherpa's will get you to know the real adventure of Annapurna Base Camp Trek Himalayan trips of India better than anyone else. From the greenest beginner to the sharpest professional adventure travelers, we can get you where you want to go and assure you our best trip.
In 2007, two young mountaineers, Rakesh Pant and Sandeep Rawat, met at the start of a Siachen expedition. The expedition ended, but a deep friendship had just begun. They shared a love for adrenaline and adventure. The combination that saw them traverse the mighty Himalayas, summit quite a few peaks, and explore trails and paths that would leave the rest of us fainthearted. Soon, they were working for the same company, but in different cities. Sandeep in Delhi and Rakesh in Bangalore. But the call of the Himalayas was just too strong to be ignored. Sitting in restaurants in their respective cities, a plan was hatched on the phone. A plan to quit their jobs, start a trekking company, and share their love for the high mountains with other people. But what would they call this company?
Contact Details
Email ID: [email protected]
Contact Number: +91-969 024 0820
Website: https://www.trekthehimalayas.com/
5. Ashmita Trek & Tours
Ashmita Trek & Tours is the leading trekking company in Darjeeling, West Bengal, India. We provide the best holiday trips for groups of all sizes. Whether you are an individual, family, or student travel group, we will arrange a unique and exciting trek for you! We are proud to say that we are an eco-friendly travel and trekking agency, and have strived to provide the best experience not only for our clients but also for locals since our origin in 2007. Our success is the outcome of extensive research, careful planning, and constructively listening to feedback. Our dedicated, experienced, and committed local team strives to provide the ultimate satisfaction for our clients. We are always there to take care of all the services and to give as much flexibility to our clients to make their vacation exciting, enjoyable, and safe with us.
Our company is registered with the government of West Bengal Tourism and an associate member of various adventure organizations. Our dedication to providing a positive, memorable experience for our clients is demonstrated by the reviews and feedback we have received over the years.
Our head office is in Darjeeling, managed by local expert Mr. SubashTamang, the founder of the company. Subash has had extensive trekking experience since 1998 and is happy to give you the adventure of a lifetime in the beautiful Himalaya region.
We invite you to come have an unforgettable time in the Himalayas and we hope to have the pleasure of traveling with you soon. Namaste!
Contact Details
Email ID: [email protected]
Contact Number: 9733106312
Website: https://www.ashmitatrek.com/
6. Bookatrekking
At Bookatrekking.com you'll find the treks that will make your life unforgettable. Whether you want to discover the Inca Trail or climb the Kilimanjaro, Bookatrekking.com offers a wide and varied range of services. Here, no false promises are made, prices are for Annapurna Base Camp Trek transparent and every booking is confirmed immediately. Find, compare, book and trek.
Contact Details
Email ID: [email protected]
Contact Number: +31 850161354
Website: https://bookatrekking.com/
7. zostel
A Zostel X Home is your window into the lives of beautiful people and amazing places nicely hidden away from mainstream travel circuits and the mind numbing crowds.
Experience the sweetness of living in a friendly place at the most serene and offbeat destinations.
All I ever wanted is to truly connect myself to the places I travel to, completely immerse myself in the lives of the people there and take back memories that only belong to me.
Contact Details
Email ID: [email protected]
Contact Number: 022-4896-2270
Website: https://www.zostel.com/
8. Himalyanwonders
Founded in 2011, our office is centrally located in Thamel, the tourist hub of Kathmandu, Nepal. We are a fully licensed operator and all of our guides work for us full time, speak excellent English and are certified by the Trekking Association of Nepal.

On average our trekking guides have over 8 years of experience and lead over 100 treks each. Our guides are all internationally WAFA (Wilderness First Aid) Certified and have taken a special course on issues related to acclimatization issues. Very few companies offer guides any training in part because they rely solely on freelancers. We organize about 300 treks a year in the different regions of Nepal.
Contact Details
Email ID: [email protected]
Contact Number: +977 1 425 7126
Website: https://www.himalayanwonders.com/
9. We Ramblers
At We Ramblers, we provide professionally managed and serviced adventure tours in the region of Nepal, Bhutan and India. With many years of rich experience, we are pioneers in Everest high passes trek, Annapurna Base camp trek and Bicycle trek, lower Mustang and upper Mustang trek, bicycle/ motor bike and 4×4 rides.
Our premier adventure tours are just perfect for those active adventurers who are ready to explore some of the most exotic locations of the world without breaking a sweat. At We Ramblers, our highly experienced on-field ground staff will bring you close to the local cultures before opening the window to the heaven at the top of the world. All our support staff has been directly contracted or employed with us and we do not outsource any part of our adventure travel services to any agency.
Welcome to Annapurna Base Camp Trek (ABC Trek). This is one of the several beautiful treks in the Annapurna zone. You can see three mountains that feature in the list of Top 10 Highest peaks in the world, such as Dhaulagiri I (8,167m / 7th highest), Manaslu (8,156m / 8th highest) and Annapurna (8,091m / 10th highest). The Annapurna base camp trekking trail goes through the spectacular Himalayan villages with the view of beautiful terraced farms.
Annapurna Base Camp Trek is of moderate difficulty level. Our Annapurna base camp trek starts from Pokhara, the lake city of Nepal and the gateway for Annapurna Conservation Area (ACA) as well as Dhaulagiri ranges treks. On the first day, we will drive for 45 km / 1.5 hours to a village called Nayapul (1, 011 meters) and commence our trek to Thikedunga (1, 552 meters). The complete trek we will cover many destinations such as Ghorepani (2,800 meters), Pun Hill (3,200 meters), Tadapani (2,647 meters), Chhomroong (2,100 meters), Dovan (2,400 meters), Deurali (3,300 meters), Mount Machhapuchchhre Base Camp (3,700 meters), Annapurna Base Camp (4,200m), Bamboo (2,335 meters) and Jhinu Danda (1,600 meters).
Contact Details
Email ID: [email protected]
Contact Number: +91 9886274292
Website: https://www.weramblers.com/
10. Moxtain
Founded in the year 2017 as Moxtain Private Limited, an Adventure Service provider and has emerged as a well-known name in the Adventure Tourism Industry. We are a Delhi-based company, with a strong presence in the trekking areas of Uttarakhand and Himachal. The Company with its professional and experienced team and a well-managed travel website has served more than 4,000 clients to date.
Our team on the field includes exceptionally professional and trained members. Our website gives access to choose from numerous treks, read multiple blogs and stories and book the services as per the users convenience, and receive automated invoices against your payments.
Annapurna Base Camp trek can journey during any season. It treats you to an amazing panorama which is distinct to each season. However, the best season to undertake the trek is the fall and the spring season. The weather is warm and cool in the spring season with temperatures ranging from 17 degrees to 20 degrees Celsius during the day. Early mornings and nights are slightly cooler. The skies are clear and the landscape looks lush green with beautiful flowers blooming along the trail.
The summer season from June to August witnesses a lot of rainfall, thunder, and humidity. Some of the hiking trails of the ABC trek are unaffected by the rains. With the right preparation and equipment, you can even undertake the ABC trek during the summer season. The fall season from September to November is the most favorable season to do the ABC trek. The weather is fresh and clear to enjoy the beautiful views of mountain peaks and scenic Nepalese landscape. The temperatures range between 15 to 17 degrees Celsius in the daytime and 5 to 7 degrees Celsius in early mornings and nights.
Contact Details
Email ID: [email protected]
Contact Number: +91 8800576900
Website: https://www.moxtain.com/