Mumbai is the home to cultural, historical and architectural legacy, in the form of many ancient temples, and Babulnath Shiva Temple is among the oldest of those. It is built on a hillock near the Malabar Hill area and it is an interesting story behind its construction. Babulnath Temple Shiva Linga and Idols were originally consecrated in the 12th century by the then Hindu king Bhimdev.
Babulnath Temple has a special place among the devotees of  Lord Shiva, and during Mahashivaratri festival, the excitement during the celebration are worth watching in Babulnath Shiva Temple in India. Many People Visit Babulnath Shiva Temple in the festival of Mahashivaratri to enjoy. People worship Lord Shiva and Goddess Parvati with full fervour on this day. On other day the local people of that area visit in this Temple. Babulnath Temple opening time is 5 AM, and it closes by 10.30 PM every day, except Monday.
History Behind Babulnath Shiva Temple
Babulnath Temple is popular from about 300 years ago. Babulnath Temple Shiva Linga and Idols were originally consecrated in the 12th century by the then Hindu king Bhimdev.  One evening, a cow didn't give the milk. So, Babul started keeping an eye on that cow in the fields. He found that it poured all the milk at a particular place in the evening. After following her for a few days, Babul reported this strange behaviour to Pandurang.
Pandurang too followed the cow and then ordered digging at that place. A large Shivalinga surfaced as a result. And it is what we see as the Babulnath Temple Shivalinga today. Along with it, the idols of Lord Ganesha, Lord Hanuman and Goddess Parvati were also found in the Babulnath Shiva Temple. A Gujarati merchant built the present temple in the year 1890. At that time, Babulnath Temple tower (gopuram) was the tallest structure in Mumbai. However, lightning damaged it afterwards. Babulnath Temple architecture, with its beautifully carved pillars, resembles the architectural style of Hindu temples.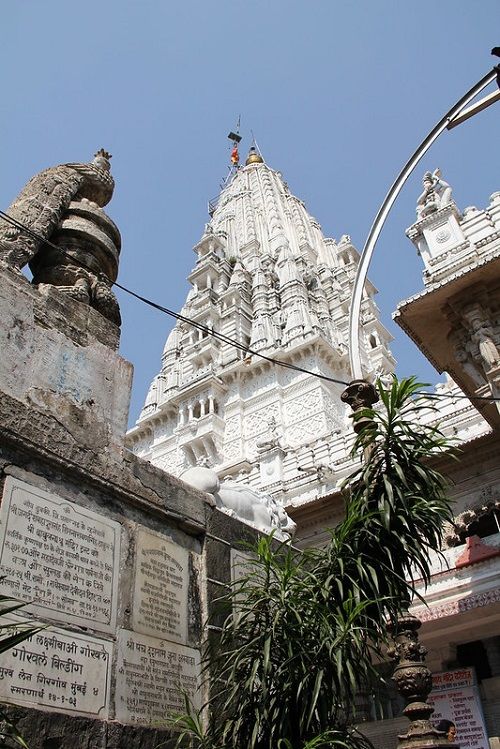 Reach to Babulnath Shiva Temple
Location of the Babulnath Shiva Temple in Babulnath Rd, Chowpatty, Mumbai, Maharashtra. There are around 10+ buses that take commuters daily to the Babulnath bus stop from different corners of Mumbai bus stands and also the other service are available.
Best Time To Visit Babulnath Shiva Temple
Everyday many people visit the Babulnath Temple but the Best time to visit the Babulnath Shiva Temple in Mahashivaratri and other Hindu Festivals.