A urologist, or urologic surgeon, is a specially trained physician who provides care for the organs and issues of the urinary tract in women, men and children, all of whom can have different urological issues. Urologists also treat problems in the male reproductive system and organs, some issues with female reproductive organs, and disorders of the adrenal glands, which are on top of the kidneys and control the production of hormones in the body.
Urologist Doctors in Indore address what are known as genitourinary issues, meaning related to the genital and urinary organs in men and women of all ages. Because these systems involve different aspects of a person's health, urologists have extensive knowledge in other fields of medicine, such as gynecology, endocrinology, pediatrics and internal medicine.
List Of Content
Dr Pritesh Shrimali
Dr. Rajeev Agarwal
Dr Vivek Jha
DR. SAURABH
Dr. Yusuf Saifee
Dr.Ashish Khare
DR. RAJ KUMAR MATHUR
Dr. Sushil Bhatia
1.  Dr Pritesh Shrimali
Dr Pritesh Shrimali obtained his medical degree from Devi Ahilya University Indore. He went on to successfully complete his post-graduate training in General Surgery obtaining Master of Surgery (MS) from MGM Indore. He did his DNB Urology from the prestigious P.D. Hinduja National Hospital & Research Center Mumbai. He was privileged to have been trained under the pioneers (Dr M H Kamat, Dr S Sagade and Dr V Srinivas ) of India in the field of Urology. He has worked as a urologist in Urology department of Topiwala National Medical College & BYL Nair medical center, Mumbai with Dr Hemant Pathak. He has also been associated with Kokilaben Dhirubhai Ambani Hospital as an Associate Consultant Urologist. He was the Senior Consultant Urologist at R G Stone Urology & Laparoscopy Health center for a span of 3 years. He has had the privilege of heading the Urology Department as the Chief Consultant at Umrao Hospital.
Contact
Phone: 982-650-5003
Email: [email protected]
Address: Room no. 2, 1st Floor,
Bombay Hospital,
Ring Road, Indore(MP) - 452010
Website http://www.urologistindore.com/
This Centre is led by Dr. Rajeev Agarwal, a senior urologist who is recognized as a leader in the field of urology. He has over 25 years of experience in the field of urology and strives to provide his patients with the best care possible. He is credited with bringing lithotripsy to Madhya Pradesh for the first time, way back in 1994 in Bhopal and followed it up in 1997 with a Centre in Indore. Till date he has performed ESWL successfully in over 3000 patients in last two decades.
Dr. Rajeev Agarwal has performed more than 20000 urological procedures which include pyelolithotomy, prostatectomy, urethroplasty , treatment of male and female urinary fistulae, and extra-corporeal short wave lithotripsy (ESWL). He is a dedicated urologist who treats a wide spectrum of urological diseases in men, women and children. These may include tumors, stones, infection, and urinary disorders.
Contact
Phone: 98933 33598
Email: [email protected], [email protected]
Address: Crystal Lithotripsy & Urology Centre
307, Morya Arcade,
1/2, Old Palasia Indore - 452 001.
Website: http://lithotripsyindore.in/
3. Dr Vivek Jha
Dr Vivek Jha is a broad certified urologist in Indore and has been practising at Bombay Hospital, Indore location since February 2006. He is well known throughout Indore as a senior, highly-skilled, capable and compassionate urologist, andrologist, and genitourinary surgeon with vast expertise in this field. His expertise is in treating enlarged prostates (BPH), complex kidney stones, incontinence, infertility, erectile dysfunction, and urological oncology (prostate, bladder, kidney, and adrenal cancers).
Dr Jha is also well known to be highly committed to administering the most personalized care to his patients. The care that he provides to his patients is unique to the practice of medicine in today's fast-changing world of healthcare.
Contact
Phone: +91 98267 20200
Email: U[email protected]
Address: Room no. 10, First Floor, Bombay Hospital, Ring Road, Indore, Madhya Pradesh, 452001
Website https://urocliniccare.com/
4. DR. SAURABH
Dr. Chipde was born and brought up in Aurangabad and completed his medical degree from Dr. B.A.M. University, Aurangabad. He went to All India Institute of Medical Sciences, New Delhi for his Master's (surgery) and After completion of his master's, He Joined M.ch in Urology, from Sanjay Gandhi Postgraduate Institute of medical sciences, Lucknow .
Age doesn't matter, says Dr. SAURABH, as at a very early age he started his courier as Senior Residend Surgeon in A.I.I.M.S, New Delhi. And then he joined Sri Aurobindo Institute of Medical Sciences Indore as Assistant professor, and currently working as an Associate Doctor in Urology and Renal Transplantation in S.A.I.M.S, Indore He is also trained in Fundamental skills of robotic-assisted surgery curriculum (FSRS), from Roswell Park Cancer Institute, Buffalo, New York.
He is the one who performed the First Robotic Prostate Surgery in Central India. Dr. Saurabh Chipde offers a host of treatments that cater to the various ailments faced by their male and female patients. Few of the ailments treated here are Urinary Tract Infections (UTI), Incontinence, Male Infertility, Kidney Diseases, Renal Transplantation, Bladder Prolapse, Interstitial Cystitis Or Painful Bladder Syndrome, Kidney and Ureteral Stones, Urethral Stricture and Paediatric Urological Disorders to name a few.
Contact
Phone: +91-7389501402
Email: [email protected]
Address: 103, 1st floor, Ankur Alley, Above HDFC Bank, Satya Sai Square, A.B Road, Vijaye Nagar
Website https://www.drchipdeurologist.com/
5. Dr. Yusuf Saifee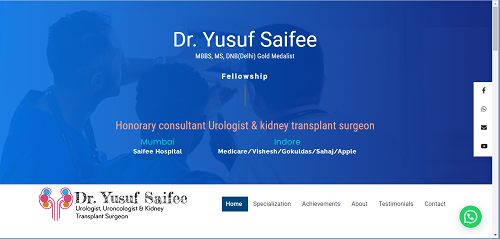 Dr. Yusuf Saifee is a Consultant Urologist and kidney transplant surgeon, practicing for more than ten years and having a large experience of over 5000 surgeries .. He is a versatile surgeon with rich experience across a gamut of Urological surgeries, including endoscopic laser surgery for kidney stones, endoscopic surgery for prostate and urine problems.
Laparoscopic and Robotic surgery for urological cancers and Kidney Transplantation.
Dr Yusuf Saifee received his medical education and extensive surgical experience from various premier institutes situated at New Delhi & Ahmedabad(1998-2016). He is a Gold Medalist and recipient of multiple awards, honors, and international fellowships.
Dr Yusuf Saifee was one of the few Urologist from India to be selected for advanced training in laparoscopic and Robotic surgeries for Kidney and Prostate Cancers at Renowned, Jikei University Hospital, Japan and Guys Hospital, London.
He has presented and published many scientific research papers at various national and international forums.
Along with world class surgical experience, Dr Yusuf's compassionate and caring approach makes him one of the most sought after urologist in India.
Contact
Phone: 7567866653
Email: [email protected]
Address: 20, Sneh Vihar Colony, Transport Nagar,
Near Vishnu Puri Gurudwara, Indore,
Madhya Pradesh-452014
Website: https://advancedurocare.com/
6. Dr.Ashish Khare
Dr.Ashish Khare is a consultant dermatologist and hair expert at Monaris skin and Hair clinic. Dr. Khare has vast experience in treating skin diseases, hair fall problems, vitiligo surgeries, and vitiligo tatooing,
and Fillers. Dr. Khare is trained and excelled in painless Laser hair removal, Q-switched Nd Yag laser for skin whitening and tattoo removal, Fractional CO2 laser for all types of scars and dermatologic surgeries. Book an appointment with Dr. Khare.
Contact
Phone: +91 9810885868
Email: [email protected]
Address: HPlus Super Speciality Clinic
301-302, 3rd Floor, Headquarter Building Satya Sai Square, Vijay Nagar, Indore -452010
Website https://hplusclinic.com/
7. DR. RAJ KUMAR MATHUR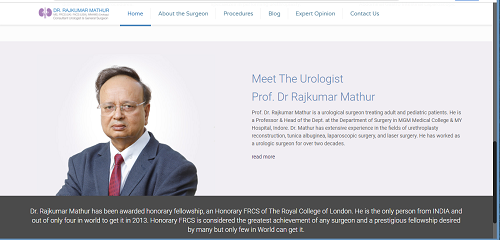 Prof. Dr Rajkumar Mathur is a urological surgeon treating adult and paediatric patients. He is a Professor & Head of the Dept. at Department of Surgery in MGM Medical College & MY Hospital, Indore. Dr Mathur has extensive experience in the fields of urethroplasty reconstruction, tunica albuginea, laparoscopic surgery and laser surgery. He has worked as a urologic surgeon for over two decades.
Contact
Phone: 09826040088
Email: [email protected]
Address: B-14, next to Bank of India, Ratlam Kothi, Indore, Madhya Pradesh 452001
Website: https://www.indoreurologist.com/
8. Dr. Sushil Bhatia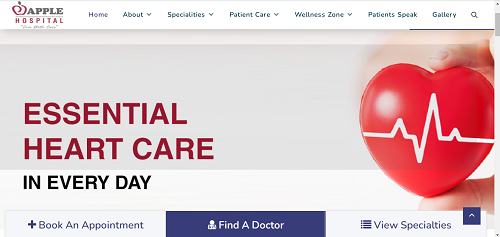 Dr. Sushil Bhatia is a leading Urologist from Indore, practicing in the field since 1998, known to be an expert in treating his patients. He is currently associated with Choithram Hospital & Research Centre, and is also a consultant at Apple Hospital, Indore. Dr. Bhatia can also be consulted at his private Urology clinic located in Bairathi Colony, Indore.
Contact
Phone: +91-731-4769900
Email: [email protected]
Address: Apple Hospital, Indore
Website: http://applehospitalindore.com/