A urologist, or urologic surgeon, is a specially trained physician who provides care for the organs and issues of the urinary tract in women, men and children, all of whom can have different urological issues. Urologists also treat problems in the male reproductive system and organs, some issues with female reproductive organs, and disorders of the adrenal glands, which are on top of the kidneys and control the production of hormones in the body.
Urologist Doctors in Nashik address what are known as genitourinary issues, meaning related to the genital and urinary organs in men and women of all ages. Because these systems involve different aspects of a person's health, urologists have extensive knowledge in other fields of medicine, such as gynecology, endocrinology, pediatrics and internal medicine.
List of Content
Dr. Pravin Govardhane
Dr. Lomesh Kapadnis
Dr. Pratikshit Mahajan
Dr.Radheshyam Chaudhari,
Dr. Chintaman Chaudhari
DR. MANOHAR BAPAYE
APEX WELLNESS HOSPITAL
Dr. Archis Nerlikar
Dr Milind Kirloskar Schedule
Dr. Dhake Urology
1. Dr. Pravin Govardhane
Dr. Pravin Govardhane is highly experienced, skilled and award-winning Urologist having more than 16 years of remarkable experience. He is the Best Urologist in Nashik, working as consultant Urologist and Transplant Surgeon at Apollo Hospital, Nashik since last 3 years. He is an expert in managing stone disease as well as prostate disease through minimally invasive urology (Mini PCNL, RIRS, Bipolar TURP, Laser prostatectomy) and has gathered vast experience in this field. Also, he has great experience of managing complicated urology and general surgical cases at Raipur which is only government tertiary referral centre in Chhattisgarh. After post-graduation, he has worked as Senior Resident doctor at prestigious Goa Medical College, which is the oldest medical college in Asia. He was part of the team for the first renal transplantation in Goa Medical College.
Contact US:
Address: Apollo Hospitals Nashik, Plot No 1,Swaminarayan Nagar, Aurangabad Naka,Panchavati,, Nashik, Maharashtra 422003
Mobile: +91 87909 13636
Email ID: [email protected]
Website: https://www.urologynashik.com/
2. Dr. Lomesh Kapadnis
Dr. Lomesh Kapadnis is one of the best Urologist in Nashik, he did his MBBS from the prestigious Grant Medical College & Sir J. J. Hospital, Mumbai in 2007. After graduation, he did his specialization in General Surgery at Grant Medical College & Sir J.J. Hospital Mumbai Worked under eminent professors like Dr. R.T.Udwadia, Dr. G.D. Bakshi, Dr. M.b. Tayade, Dr. A.H. Bhandarwar Expertise In Laparoscopic Surgery At J.J. Hospital Completed M.S. in 2012.
After completing his Masters in Surgery he secured 11th rank in Maharashtra Superspeciality entrance exam and joined M.Ch in Urology at the LIMG Hospital, Sion. Worked under Dr. J.V.Dhabalia & Dr. Ajit Swant at Sion hospital. Independently Performed More than 500 major and minor endoscopic procedures. was part of the Cadaver and Liver-related transplant team of Sion hospital and assisted > 20 donor and recipient transplant Surgeries. Took special interest in Laparoscopic surgeries and reconstructive urology Part of the organising committee of " Cadaver transplant CME" at Sion hospital in March 2014. Passed M.Ch. in August 2016. Dr. Lomesh Kapadnis's Clinic provides the best Urology treatments in Nashik with a blend of research and surgical
Contact US:
Address:Siddhidata Urology and Maternity Clinic, G-16, Suyojit Modern Point Point, Sharanpur Road,Near Tilakwadi signal, Nashik, Maharashtra 422002
Mobile: +91 7715996562
Email ID: [email protected]
Website: https://www.siddhidataclinic.com/
3. Dr. Pratikshit Mahajan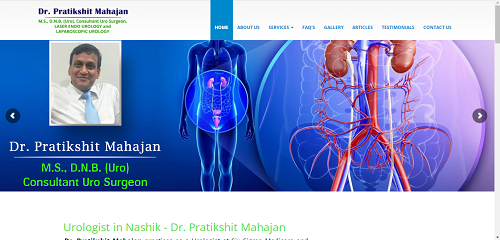 Dr. Pratikshit Mahajan practices as a Urologist at Six Sigma Medicare and Research Ltd. Professional Qualification of the Doctor are MS, DNB (Urology) and Specializes in Urologywith an Experience of 7 Years.
We feel that the patient – physician relationship is unique, confidential and sacred and we strive to maintain this policy. We feel that the patient – physician relationship is unique, confidential and sacred and we strive to maintain this policy.
The urethra's main job in males and females is to pass urine outside the body. This thin tube also has an important role in ejaculation for men. When a scar from swelling, injury or infection blocks or slows the flow of urine in this tube, it is called a urethral stricture. Some people feel pain with a urethral stricture.
What Happens under Normal Conditions?
The bladder empties through the urethra and out of the body (called voiding). The female urethra is much shorter than the male's. In males, urine must travel a longer distance from the bladder through the penis.
Contact US:
Address:Uro Clinic,Woodland Towers,1st Floor,old Gangapur Naka,(vasantrao Naik Chowk),Near Dongre Vastigruh,Gangapur Road,Nashik-422001
Mobile: (025)-2316383
Email ID: [email protected]
Website: https://www.urologistinnashik.com/
4. Dr.Radheshyam Chaudhari,
Dr. Radheshyam Chaudhari, "Urologist in Nashik," has maintained a tradition ranking in the top five throughout his academic career. Dr. Radheshyam Chaudhari has authored numerous papers in scientific journals.
He has lectured on various Urological topics widely. Building the tradition of excellence, Dr. Radheshyam Chaudhari has continued to expand and grow over the years. This ensures to treat his patients with knowledge that he has accumulated for many years.\Dr. Radheshyam Chaudhari maintained tradition ranking in top five throughtout his academic career. Dr. Radheshyam Chaudaahri have authored numerous papers in scientific journals. He has lectured various Urological topics widely widely. Building the tradition of excellence, Dr Radheshyam Chaudhari has continued to expand and grow over the years. This ensures to treat his patients with knowledge that he has accumulated since many years.
Well versed in all skill required for clinical practice including communication with patient, analyzing the patients history for correct clinical diagnosis and providing appropriate treatment which can be medical or surgical treatment.
Extensive training in performing surgeries to detect and treat urology-associated medical conditionsknowledge on updates on the latest technology and procedures used in the profession13 years of experience in clinical field and total 9 years of experience in urology.Worked over major hospitals that have proved to be beneficial to patients.
Special interests are Laparoscopic Urology, Endourology for stone disease with use of laser, Oncourology & Paediatric Urology.Also interested in Journals and articles on latest surgical techniques and newestequipment in the medical field
Contact US:
Address: Urology OPD, First floor, ashoka medicover hospital, Indira Nagar, Nashik, Maharashtra 422009
Mobile: 8850899878
Email ID: [email protected]
Website: https://urocare4u.in/
5. Dr. Chintaman Chaudhari
Dr. Chintaman R Chaudhari has made a rather exceptional name as Urologist in Nashik city. The Hospital is located in Karmyogi Nagar and it is easily approachable place near city centre mall. The stronghold this doctor has in the medical field has not only drawn in patients from in and around the vicinity but from across the city as well.  Conveyance is easily available and the place is well connected. The doctor's determination stems from a sheer passion to offer patients healthier living options. Knowing that with the ever-increasing and changing lifestyle, there is a need for general physicians in the city and windows to better one's health.
Dr. Chintaman R Chaudhari is a Urologist in Nashik and has an experience of 20 years in this field. Dr.Chintaman R Chaudhari practices at Shree Laxminarayan Hospital, Karmayogi Nagar, Nashik. He completed MBBS from Government Medical College, Dhule in 1999, MS – General Surgery from Government Medical College and Hospital, Nagpur in 2005 and DNB – Urology/Genito – Urinary Surgery from National Board of Examination, New Delhi, India in 2010. This Doctor possesses an impressive amount of knowledge and constantly keeps updated with advancements made in the field.
Contact US:
Address: S no 772 ,Plot No 3 and 4, City Center Mall link Road, Karmayogi Nagar, Nashik, Maharashtra 422009
Mobile: 099227 11122
Email ID: [email protected]
Website: https://www.shreelaxminarayanhospital.com/
6. DR. MANOHAR BAPAYE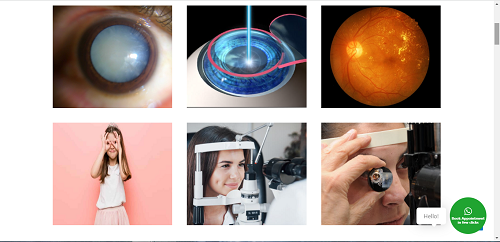 Dr. Manohar Bapaye is a renowned urologist, who is the co-founder of Dr. Bapaye Hospital. He is the first super-specialist urologist in North Maharashtra. He has won many awards like Dr.BC Roy award of Nashik IMA, Dr.Vasantrao Gupte award, lifetime achievement award of a surgical society. He has an outpatient clinic at current premises and operative privileges in most multi-specialty hospitals in Nashik. He is a life member of the Urological Society of India (USI) & Indian Medical Association (IMA).
A cataract is the most common cause of blindness in the world. In the majority of patients, it is fully reversible. At Dr. Bapaye Hospital, our qualified doctors use the latest technology to not only reverse blindness but give perfect spectacle free vision.The perfection in cataract surgery starts in the outpatient clinic by obtaining perfect measurements of the eye and selecting appropriate Intraocular Lenses (IOL) for each patient. We use combinations of various modalities to achieve the task.We are the 1st NABH audited Eye Hospital providing Best Cataract Eye Surgery in Nashik with ultramodern facilities.PHACOEMULSIFICATION is the most modern micro-incision technique of cataract surgery, wherein an ultrasound probe breaks the cataract into tiny pieces and sucks them out. The incision (about 2.5-3mm) is self-sealing and needs no stitches. The surgical time is reduced and there is faster healing and visual rehabilitation. There is minimal or no post-operative discomfort and a quick return to normal routine.Once the cataract is removed, it is replaced with a permanent, artificial Intraocular Lens (IOL).
Contact US:
Address: Old Agra Rd, Behind NDCC Bank, Shalimar, Nashik, Maharashtra 422001
Mobile: 09423971283
Email ID: [email protected]
Website: https://bapayeeyehospital.com/
7. APEX WELLNESS HOSPITAL
APEX Wellness Hospital Nashik founded in 2020 is a dedicated Super Speciality Hospital which is also known as Best Cancer Centre in Nashik offering compressive end-to-end care in Oncology, Neurosurgery, Orthopedics, and Joint Replacement, as well as General Medicine apart from this Cardiology, Cardiac Surgery, Opthalmology, Nephrology, Neurology, E-Emergency Services, and Tumor lines people from Nashik neighboring areas, can now be available offer label and high-quality medical treatment at the center at Nashik APEX Wellness Hospital offers clinical expertise latest technology and impressive patient your credible prices.
Dr. Ajinkya Desale Joint Replacement Surgeon in Nashik has become very common and provides the ultimate solution for painful joints that are being difficult to manage with conservative treatment. Dr. Desale's Orthopedics and Joint Replacement Clinic at Nashik has a range of advanced treatments, which provide aims at providing the best Orthopedics services and treatment possible. We have a team of expert Orthopedic Surgeons. He is one of the Best Orthopedic Doctors in Nashik, Dhule, Jalgaon, and other parts of North Maharashtra.
Contact US:
Address: Sarvey No. 799, Plot No. 187, Behind Prakash Petrol Pump, Govind Nagar, Nashik 422 009
Mobile: +91 9607775353
Email ID: [email protected]
Website: https://www.apexwellnesshospital.com/]
8.Dr. Archis Nerlikar
M.B.B.S. (N.D.M.V.P.S Medical College), F.C.P.S. and M.S. in General Surgery from LTMG Sion, Mumbai, M.Ch. in Urology (U.K.)
Welcome to The Nerlikar Hospital and Research Centre. A world of Trusted, Innovative, and easily Available medical treatment facilities. Our team of over 15+ experienced doctors join me in offering you the best of modern health care services that ensure you are disease free and happy. Always!
We, at Nerlikar Hospital, possess an experienced team that comprises qualified and prominent doctors and counsellors along with a capable staff that helps us stand out of the crowd. A family of doctors with varied specializations offer to impart the best de-addiction treatment in Nashik. Our fully equipped hospital offers in-house consultation and treatment for ailments related to Orthopaedics, General Surgery, Dentistry, Urology and Alcohol de-addiction.
Contact US:
Address: Near Jehan Circle, Gangapur Road, Nasik, Maharashtra-422013
Mobile: (+91)253-2342474
Email ID: [email protected]
Website: Nerlikarhospital.com
9. Dr Milind Kirloskar Schedule
Dr Milind Kirloskar is a practising urologist and a widely recognised andrology physician in the city. He works as the consultant at Dhanvantari Hospital and has a wide knowledge and experience of over 26 years in the field.
Dr Milind Kirloskar graduated in Bachelor of Medicine and Bachelor of Surgery (MBBS). He then chose to widen his expertise in the field of genitourinary surgery and did his post-graduate MS in General Surgery and MCh in Urology.
Dr Milind focuses on medical and surgical diseases of the male and female urinary-tract system and the male reproductive organs. He has been treating patients with an individualised approach to give the best solutions to patient problems. The doctor specialises in Urology and is apt at handling complicated and high-risk genitourinary surgeries. He offers some of the best treatment procedures for conditions such as urinary stone disease, male sexual problems, urinary tract infection, bladder stones, enlarged prostate, stricture and tumours.
Contact US:
Address: Dhanvantari Hospital, Tilakwadi Road, Opposite City Pride Hotel, Tilak Wadi, Nashik, Maharashtra 422002, India
Mobile: +91 9823033684
Email ID: [email protected]
Website: http://www.drkirloskarhospital.com/
10. Dr. Dhake Urology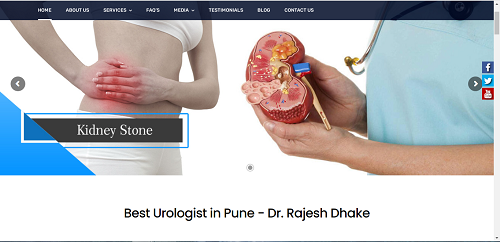 Dr. Rajesh Dhake eminent Urologist in Pune. He is Gold Medallist in Urology from Gujarat University and has gained 14  years of clinical experience. Dr. Dhake is an MBBS, MS – General Surgery, MCh – Urology.
He started Dhake Urology Clinic in Pune with the aim of providing highest standard of urological and andrological to patients suffering from Prostate Cancer, Erectile Dysfunction & Impotence, bladder cancer, kidney stone, prostate enlargement and other urological problems. At, Dhake urology clinic, he uses most advanced treatment methods like laparoscopic and laser treatment. Due to highest standard patient care and advanced treatment patient refer it as best urology clinic in Pune.
Dr. Rajesh Dhake has a special interest in laser treatment for kidney stones, prostate, and Laparoscopy. He is highly renowned medical professional in his field of work. He follows an ethical approach in his work and maintains dedication with his patients. He is following the treatment method that is most suitable for patients. He is one of the few urologist in Pune who specializes in treating the diseases related to Male and Female urology problems. If you are facing the problems related to the urology then meet Best Urologist in Pune Dr. Rajesh Dhake who can give you proper treatment with perfect solution on it.
Contact US:
Address: 107, 1st Floor Khinvasara Trade Center,
Dattamandir Road, Pune-33
Mobile: +91 98256 00737
Email ID: [email protected]
Website: https://www.drrajeshdhakeurologist.com/