A urologist, or urologic surgeon, is a specially trained physician who provides care for the organs and issues of the urinary tract in women, men and children, all of whom can have different urological issues. Urologists also treat problems in the male reproductive system and organs, some issues with female reproductive organs, and disorders of the adrenal glands, which are on top of the kidneys and control the production of hormones in the body.
Urologist Doctors in Thane address what are known as genitourinary issues, meaning related to the genital and urinary organs in men and women of all ages. Because these systems involve different aspects of a person's health, urologists have extensive knowledge in other fields of medicine, such as gynecology, endocrinology, pediatrics and internal medicine.
List of Content
Dr. Vivek Birla
Pankaj N. Maheshwari
Dr. Pradeep Rao
Dr. Ajay Kanbur
Dr Pradeep Bhave
Urology & Laparoscopy Hospital
Dr. Sunil Raghunath
Dr. Mangesh Patil
Dr. Pattnaik's S.S. Hi
Dr. Irfan Shaikh
1. Dr. Vivek Birla
Welcome to the Dr V. K. Birla's Hi-Tech Urology centre & Healthline Hospital situated at the prime location of Thane (w), City of lakes, Louiswadi highway Service Road, It was started in the year 2002. It is a full-fledged Urological & Multispecialty set up comprising of latest Technology equipment which is most contemporary in their category to provide Most Sophisticated Preventive Diagnostic & Curative Health Care Services under One roof at affordable rates. highly reputed & Competent Doctors of various Specialties / Super specialities, Qualified & experienced RMO's, Staff nurses & Paramedical staff are available for Service under the supervision of Dr V.K. Birla, Urologist & Andrologist.
Dr. Vivek Birla is a Urologist Doctors In Thane and has an experience of 25 years in this field. Dr. Vivek Birla practices at Hitech Urology Centre, Thane. He completed MBBS from GS Medical College in 1987,MS - General Surgery from GS Medical College in 1990 and MCh - Urology from Grant Medical College and Sir JJ Hospital, Mumbai in 1993. He was a lecturer at L T M Medical collage Sion medical Clg for two years, Later he was a professor at Rajiv Gandhi Medical College, Kalva Thane He has attended and presented papers in various National and International conferences.
Contact US:
Address: Landmark Arcade, 1st Floor, Louiswadi, Highway Service Road, Thane West.
Mobile: (+91) 9321521676
Email ID: [email protected]
Website: https://www.hitechurologythane.com/
2. Pankaj N. Maheshwari
At the age of about 20 years he was found to have a large stone in his left kidney. The only facility he had that time was to get it removed surgically. A large cut was made in his flank to remove the 3 cm stone. He spent over 10 days in hospital and was out of college for nearly six weeks. Sadly, one small stone fragment was left behind during the open surgery. Open surgeries carry this risk as they are not done under X-ray control.
Luckily for him, shock wave lithotripsy (SWL) had just started in India at that time. He underwent two sessions of SWL and found the treatment to be easier and effective. Without anesthesia, without any cut, nearly pain-free fragmentation of the stone was performed externally and he passed out the fragments in his urine. He was very happy.
Eight years later, Rajan was diagnosed stones in both his kidneys. The one on right was blocking his ureter (tube joining the kidney to the urinary bladder). He was treated by ureteroscopy surgery (URS). A fine endoscope was inserted up the ureter and the stone was fragmented and removed. Again this needed just one-day hospitalization and was very comfortable.
Left side had formed a 28 mm calculus hence Rajan was advised percutaneous nephrolithotomy (PCNL) surgery. When Rajan first heard about the surgery, he questioned how it would go. It involved making a small tract in his back, and inserting scopes through it to reach the stone. The stone would be fragmented and removed through this tract. Later, he said he was amazed at how smoothly the stones were removed. He felt sad that he had needed the open procedure the first time he had formed a stone during his college days.
Rajan is now very careful about what he eats and drinks.He wishes he had known all along about how much your diet and fluids affect the way stones form. "I am much better educated today about how to prevent kidney stones," says Rajan."I drink a lot of fluids and eat less salt and foods that form my type of stones.If I had some general education about stones before, I would not have needed the procedures and surgeries that I've had." Rajan hopes his story will help millions of people diagnosed with kidney stones each year.
Contact US:
Address: Mulund Goregaon Link Rd, Industrial Area, Mulund West, Mumbai, Maharashtra 400078
Mobile: +91-8879350085
Email ID: [email protected]
Website: https://drpankajmaheshwari.in/
3. Dr. Pradeep Rao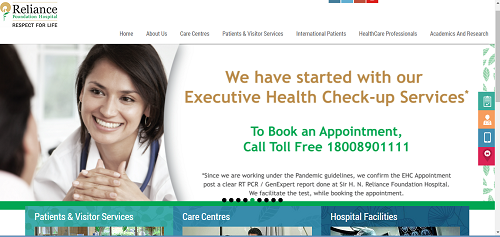 Dr. Pradeep Rao was brought up in Mumbai, the commercial capital of India. He graduated from the Grant Medical College and completed his General Surgical training from the Lokamanya Tilak Municipal General Hospital, Sion, Mumbai in 1994. He became a Fellow of the Royal College of Surgeons of Edinburgh in 1995. After this in 1996, he joined the Muljibhai Patel Urological Hospital, Nadiad for Urology residency under the guidance of Dr Mahesh Desai and Dr S D Bapat and obtained the board certification in Genitourinary Surgery in 2000. He was recently conferred with a Honorary Fellowship by the Royal College of Physicians and Surgeons of Glasgow for his contributions to the field of Urology.
He was a Visiting Fellow in Laparoscopic Urology with Dr Inderbir Gill in 2000 at the Cleveland Clinic Foundation. On returning from Cleveland, he was one of the earliest urologists to start doing laparoscopy in India. He then trained in Robotic Surgery at MPUH, Nadiad and USC, Los Angeles, California. He has been a faculty at MPUH, Nadiad and the Jayramdas Patel Academic Centre there since 2010.
He has been specializing in Endourology, Laparoscopy, Robotics, Renal Transplant and Vascular Access with a primary interest in Stone disease and Laparoscopic / Robotic Uro-oncology. He is the Director & Head, Department of Urology at the Global Hospital in Mumbai. He is also attached to Mamata Hospital, Dombivli and Jupiter Hospital, Thane. He was appointed as Honorary Urologist at the KEM Hospital, Mumbai for training residents in laparoscopy. He is a Faculty Director at ceMAST, a training centre for Minimal Access Surgery in Mumbai.
He did the initial clinical trial for the LMA Stonebreaker device (published in BJU in 2006). In May 2007, he did the first ever Single Port Nephrectomy (among other Single port cases) using the R-Port and is credited with being a pioneer of this technology. He is a member of the LESSCAR working group formed to direct the future of Single Port surgery. He was also involved with the initial trials of the BackStop device (published in J Urology). He started the first successful Laparoscopic Donor Nephrectomy program in Mumbai at Global Hospital.
Contact US:
Address: Raja Rammohan Roy Road, Prarthana Samaj, Girgaon, Mumbai - 400004
Mobile: 022-35475757
Website: https://www.rfhospital.org/
4. Dr. Ajay Kanbur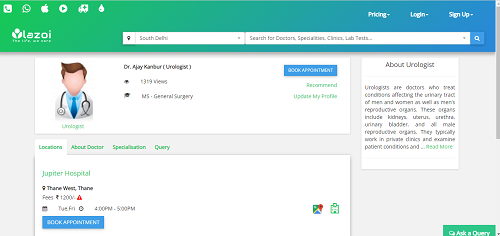 Lazoi is a unique online healthcare solution platform which fulfils the complete health requirements of patients. It also empowers doctors with easy maintenance of patient records and can organize their invaluable time in a more efficient manner.
Within two years of inception it has revolutionized the healthcare industry by enabling patients to choose a doctor online as per their medical needs and budget. They can easily fix an online appointment with specialized medical professionals to take a second opinion, book diagnostic tests and health packages at discounted rates.
One word that describes Lazoi is convenience. It values each individual's time spent on searching for right options when it comes to medical requirements. Our services are absolutely free for patients and we offer 100% guaranteed value for money while searching for the right practitioner, diagnostic centre and pharmacy.
While associating with Lazoi, doctors can manage appointments on their fingertips with the help of benchmark software called - DocPractice. They can easily manage their day's proceedings in a much secure and professional manner. Additionally they can also view patients' reports in advance, browse through their medical history, refer to old diagnoses & treatment and prescribe medication accordingly. Lazoi services are available on the go. So if you are on a holiday or business trip, don't worry about managing appointments.
Lazoi has a slew of services to offer to patients. It ranges from online booking of doctors, diagnostic tests, purchasing medicine, checking medical records to keeping an account of medical expenses. As a patient, you can access your health records anytime, anywhere even when visiting a doctor abroad. Moreover, when health conditions are critical and most important people need to be contacted, you have the option of making an emergency communication.
ortal from the comfort of your home.
Contact US:
Address: BII/17, Mohan cooperative Industrial Estate, Mathura Road,
New Delhi - 110044,India
Mobile: +91-8010335566
Email ID: [email protected]
Website: https://www.lazoi.com/
5. Dr Pradeep Bhave

Health is wealth. However, it is possible that healthcare more often than not, is not within your reach. Medtravels is committed to bring health closer to you with an array of services. Medtravels is a thought-out technical platform that connects you to your preferred medical centers / practitioners, and health/ wellness centres. We also provide value added services which include commute assistance including e-visa services (proposed), financial assistance for domestic patients, and online pharmacy services mindful of your location and budget. Get treated the way you want, at the location you want, with assistance at all times within your reach.
Medtravels - for those who provide healthcare services
Our innovation would redefine the existing practices and leverage the potential of not only the patients, but all the other associated stakeholders that include healthcare providers, associates, facilitators, and medical travel companies by helping them establish and expand their network. Take your healthcare services far and wide with Medtravels
Contact US:
Address: Sector, Noida,Uttar Pradesh,India-201301
Mobile: +91-9599811164
Email ID: [email protected]
Website: https://www.medtravels.in/
6. Urology & Laparoscopy Hospital
RG Stone Urology & Laparoscopy Hospital pioneered the concept of complete quality urological care in Mumbai in 1986. With over 34+ years of excellence, RG has had an inspirational journey in delivering efficient care to patients with the help of a dedicated and proficient team of professionals.

With 13 centres across 7 cities, RG Stone is India's largest chain of urology & laparoscopy hospitals. RG has undertaken more than 5,00,000 successful procedures for Indian and International patients including Lithotripsy for kidney stones; Laparoscopy for gall stones, hernia, urinary tract tumors, female tract tumours, etc; Endoscopy for stones, infertility, etc; and Laser Surgery for prostate and urinary stones. RG also leverages this knowledge to other protagonist surgeons worldwide. RG Stone conducts trainings for surgeons to learn this utmost useful techniques.

RG Stone is a proud holder of Guinness World Record for treating the largest kidney stone of 13 cm. Besides this achievement, RG has treated the youngest patient with stone (7 months), and also treated the oldest patient with stone (107 years). Today, RG Stone is the world leader in the field of Laser, Lithotripsy & Laparoscopy!

RG is focused to establish a network of facilities committed to provide complete urological care. Over years, we have become an institution of trust, and a hope of many searching for a cure with care. Internationally acclaimed, FDA approved equipments, all possible modalities of technologies and a commitment to manage the disease without resorting to surgery is what gives the patient the security to get nothing but the best available treatment.
Contact US:
Address: F-12, East of Kailash New Delhi-110065 IN
Mobile: +91-11-7105 6000
Email ID: [email protected]
Website: https://www.rghospitals.com/
7. Dr. Sunil Raghunath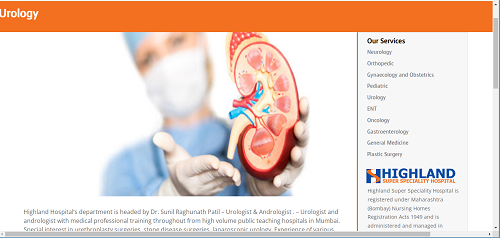 Highland Hospital's department is headed by Dr. Sunil Raghunath Patil – Urologist & Andrologist . – Urologist and andrologist with medical professional training throughout from high volume public teaching hospitals in Mumbai. Special interest in urethroplasty surgeries, stone disease surgeries, laparoscopic urology. Experience of various research and clinical trials in Mumbai.
We, at Highland Super Speciality Hospital, offer excellence in in-patient and out-patient facilities, focusing on the comfort and safety of our patients and their loved ones. Our modern infrastructure and facilities that match international standards make us one of the leading hospitals in Thane. We aim at offering the finest healthcare services to all domestic and international patients at affordable prices.
Highland Super Speciality Hospital is registered under Maharashtra (Bombay) Nursing Homes Registration Acts 1949 and is administered and managed in accordance with a Scheme of Management approved by Bombay Nursing Homes act.
The Hospital has a total of 50 beds –50 In-Patient beds, which includes 10 ICCU beds. The In- Patient specialties are Neurology, Neuro surgery, General Medicine, General Surgery and Orthopedics.
Contact US:
Address: Highland Superspeciality Hospital
2nd Floor, Above Dmart, Highland Park, Kolshet Road, Dhokali,
Thane, West Mumbai Maharashtra – 400607
Mobile: +91-22-25840300
Website: https://highlandhospital.co.in/
8. Dr. Mangesh Patil
Dr Mangesh Patil is a consultant Urologist and Robotic Uro oncology surgeon at Sir H. N. Reliance Foundation Hospital, Saifee Hospital, Breach Candy Hospital, S. L. Raheja Hospital and runs his own Uro Care Clinic, Andheri.
Dr. Mangesh Patil is a renowned and Best Urologist in Girgaon, he is trained in Endourology and Robotic Surgery, with professional experience of more than 10 years . He completed his urology training at Hinduja Hospital, and has the distinction of conducting over 1000 urological procedures during his training period. He then went to Rosewell Park cancer Institute, for his robotic surgery training.
Dr. Mangesh Patil is a renowned Urologist and Uro-Oncosurgeon, and is trained in Endourology and Robotic Surgery, with professional experience of more than 10 years. He is also one of the Best Oncosurgeon in Mumbai dealing with Urological cancers. He completed his urology training from Hinduja Hospital and has the distinction of conducting over 4000 urological procedures during his training period. He then went to Roswell Park cancer Institute, for his robotic surgery training. A pioneer in the field of Robotic urological surgery, Dr. Mangesh is one of the few surgeons in India who has completed over 475 independent Robotic surgeries, and has set up the Robotic Surgery program at the Asian Hospital, Mumbai and Sir H N Reliance Foundation Hospital, Girgaon. He has also received basic training in the Da Vinci Robotic Surgery technique from renowned surgeon, Dr. Khurshid Guru, New York.
Contact US:
Address: 201 B wing / 50 B Sanskriti Park CHS, opposite Canossa school, Next to sacred Heart church, Mahakali road, close to shere Punjab circle, Andheri East, Mumbai.
Mobile: + 98708 36069
Email ID: [email protected]
Website: https://www.drmangeshpatil.com/
9. Dr. Pattnaik's S.S. Hi
Dr. Pattnaik's S.S. Hi-tech Urological Hospital is one of the pioneer Urological institutes in the world, which has been providing world class urological and allied treatment to patients of all ages with state of the art technology under one roof since 25 years. The Hospital is backed by the Chief urologist Dr. Prashant K. Pattnaik who is considered as the Pioneer in this field.
With over two decades of experience in treating patients, Dr. Pattnaik's S.S. Hi-tech Urological Hospital' was established in 1996 in the heart of Mumbai and has been providing unparalleled urological care to its patients since then. It is based on the foundations blocks of Honesty, Transparency, Focus, Organization, Patient Care and Community Service.
The Hospital also serves as a tertiary referral center for a number of failed and complex cases. Equipped with the state of the Art technology and skilled professionals in a range of specialties, their team is able to tak
Dr. Pattnaik´s S.S. Hi-tech Urological Hospital was established in 1996 in the heart of Mumbai which specialized in the field of Urology. It is based on the foundation blocks of Patient Care, Honesty, Transparency, Focus, Organization, and Community Service.
The Hospital serves as a tertiary referral center for a number of failed, complicated & challenging cases. Equipped with State of the Art technology and skilled professionals in a range of specialties, their team is capable of taking special care of high risk and preliminary cases of associated diseases.
Contact US:
Address: Kakad Apartment, 1st floor, 4 Pali road Opp HSBC bank , Bandra west Mumbai 400050
Mobile: (+91) 9637731789
Email ID: [email protected]
Website: https://pattnaikurology.com/
10. Dr. Irfan Shaikh
Dr. Irfan Shaikh – Consultant Urologist, Uro Surgeon & Andrologist (MBBS, MS (Gen. Surgery), M.Ch. Urology), is one of the Top Urologists In Pune. A gold medalist in the department of Urology, Dr. Irfan Shaikh specializes in Female Urology in India. He has completed his education at one of the top colleges. He has completed MBBS from Byramjee Jeejeebhoy Government Medical College & Sasson General Hospital in Pune and MS in general surgery from PGI, Chandigarh. Moreover, he has also done M.Ch in Urology from Topiwala National Medical College & BYL Nair Charitable Hospital. Dr.Irfan shaikh has completed all his degrees from prestigious institutes with special recognition, Dr. Irfan Shaikh ensures to treat his patients with all the clinical knowledge & expertise.
With the experience of over 11 years in this field, he is well versed in treating all kinds of diseases related to Urology. Dr. Irfan Shaikh, a leading Urologist in Pune, has been working relentlessly for the past 11 years to provide quality healthcare to his patients. He has founded the Urolife clinic, Pune, it's a one-stop treatment solution for various Urological problems.
Contact US:
Address: KD Plaza, 2nd Floor, Above Union Bank, 7 Loves Chowk, Pune, Maharashtra 411042
Mobile: (+91)-8686353030
Email ID: [email protected]
Website: https://www.urolife.in/