Cars need to be serviced. They are designed to require maintenance to keep them in good working order. Having the oil and filters changed at regular intervals prevents any dirt or dust getting into the engine's oily bits and potentially causing major issues.Car Repair Services solves all the issued of your car and also its goes longer time.
So here are the Top 10 Car Repair Company in Mumbai who  have the expedites in car repairs services in Mumbai.
Top 10 Car Repair in Mumbai
1. CarFixo
2. Bombay Motor Works
3. Sahara Motors
4. FortPoint
5. Carnation
6. Angel Auto Wheels
7. Sehmbi
8. Autocop Services
9. Best Way Motor Work
10. Soni Max
1. CarFixo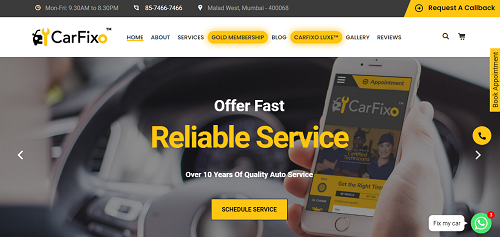 CarFixo is a leading professional Multi Car Workshop and Automotive Service Company known for providing a full range of top-quality car repairs and world-class maintenance services in Mumbai, Navi Mumbai, and Thane.
At CarFixo, we are backed by an adept team of highly-skilled and well-trained automobile engineers and experienced technicians who employ cutting-edge technology and advanced equipment to deliver seamless and reliable car services.
We are a one-stop solution for all your  maintenance needs and car repair in Mumbai. Experience true comfort and convenience by getting a free car inspection and diagnosis at your doorstep and our contactless and free pickup and drop-in services.
Contact Details
Address: Malad West, Mumbai - 400068
Contact: 85-7466-7466
Email Id: [email protected]
Website: https://carfixo.in/
2. Bombay Motor Works
Bombay Motor Works is a one stop solution for all your Luxury Car Care needs. It takes care of end to end car solutions in Mumbai, Navi-Mumbai and Thane. Be it a periodic Car Service, Car Spa, Dent Removal, Annual Oil Change Service, Automatic Gear Box Repair, Engine Repair,Shock-up Repair, Car Electrical Repair or any specific problem- Bombay Motor Works has you covered. Savings of up to 40% on your car services, & Luxury Car Repair as compared to authorised workshops. Curated & Reputed workshop network possessing all Standard recommended equipment's and infrastructure, ensuring the Best Quality work at a Reasonable price.
Contact Details
Address: Sakinaka, Andheri, Mumbai 400072
Contact: 7767001385
Email Id: [email protected]
Website: https://www.bombaymotorworks.com/
3. Sahara Motors
Established in 1998, Sahara Motors is a full service automotive solutions company. Over years, we have earned the reputation for providing reliable service and sound counsel for all our customers by providing solutions for their various auto repairs and service needs. Also, we are known to be one of the best, most reliable and affordable car repair in Mumbai. We stay away from a cheap fix. With over three decades of experience in the field, Sahara Motors, has established long-term relationships with its loyal customers, who have grown to depend on the Max guarantee of efficient, cost-effective and personalized service.
Contact Details
Address: N.S Phadke Road, Juhu Lane, Near Nasar Building, Andheri West Mumbai, Maharashtra 400058
Contact: 9892 6646 87
Email Id: [email protected]
Website: http://saharamotors20.com/
4. FortPoint
FortPoint is an authorized Maruti Suzuki dealership located in Mumbai and Thane. The dealership was established with a vision to offer excellent pre-sales and after-sales services to its customers, and within a short period of time it has been able to achieve outstanding success in the dealership world. Catering to various customer's mobility needs, FortPoint offers the latest range of Maruti Suzuki cars and a range of certified pre-owned cars at reasonable prices.

Other auto services include offering suitable finance & insurance deals, repair services and specials. Also the dealership provides an array of accessories at attractive prices. The dealership is backed by a team of talented and experienced professionals who works persistently to deliver the best customer services for a happy car buying or repairing experience.
Contact Details
Address: Ground, 1st & 2nd Floor, Meru Bldg,Old Jaihind Cinema, Nr.Voltas Bldg,Chinchpokli(East), Mumbai - 400 012.
Contact: +91-9594973671
Website: https://www.fortpointmaruti.com/
5. Carnation
Running repairs are the services required in the car, when a part is not working in right condition or may have worn out to the point that replacement or repairs are required to maintain the performance of your car.
MFCS offers to complete the demanded repairs with quality service with cost effective by our trained technicians. MFCS are catering almost 500+ types of services in various systems of car to fulfil the various demanded repairs of customers.
Contact Details
Address: C/O Mahindra First Choice Services A-3, Swaroop Nagar, Sai Baba Road, Near Silver Oak Public School,Delhi-110042
Contact: 9711824830
Email Id: [email protected]
Website: http://www.carnation.in/
6. Angel Auto Wheels
We, Angel Auto stand strong in serving you with our vast experience of 20 Years in Automobile business with our well trained and qualified staff. To ease the process of owing the New vehicles we provide our expertise in Buy Back- Exchange, Vehicle Finance and Accessories.
Angel Auto came into existence as a partnership firm in 2004. We opened the biggest ever multi car showroom, at Vasai. We were the first, to open a multi car showroom in Vasai, where we displayed latest cars, offering a wide choice to customers in selection of their car models.
The showroom started attracting people not only from Vasai but from surrounding places like Virar, Palghar, Boisar and Wada region. We were the first multi car showroom, where besides cars on display, other allied services like easy finance, genuine accessories and exchange of used cars were available, all under one roof with a team of well groomed and trained staff, to assist customers in their decision making while buying cars of their choice and need.
Contact Details
Address: Mumbai
Contact: 9168666335
Email Id: [email protected]
Website: http://www.angelmahindra.com/
7. Sehmbi
Established in the year 1980, Sehmbi Automatic Transmission Car Repair in Mumbai, Malad (W) is a top player in the category of Automatic Transmission Repair and Services. This well-known establishment acts as a one-stop destination for Transmission Repair in Mumbai and caters to the services across India. Throughout its journey, this business has established a firm foothold in its industry. The belief that customer satisfaction is as important as their services has establishment garner a vast base of customers which continues to grow by the day. It employs individuals who are dedicated to their respective roles and put in a lot of effort to achieve a common vision and larger goals of the company. Shortly this business aims to expand its line of services and cater to a larger client base. It occupies a prominent location in Malad. It is an effortless task in commuting as there are various modes of transport readily available. It is at Madh Marve Road opposite Hotel Retreat Malad (W) which makes it easy for first-time visitors in locating the place.
Contact Details
Address: Madh marve road Opp. Hotel Retreat, Malad West, Mumbai- 400095, Maharashtra(India)
Contact: +91 9833771779
Email Id: [email protected]
Website: https://sehmbi.in/index.php
8. Autocop Services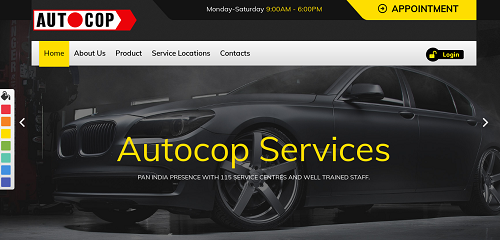 Autocop has been the undisputed leader and acknowledged pioneer in the field of electronics and technically advanced car safety, security and comfort systems in India for the last 24 years.
So we know what India needs. Researched, designed and manufactured in India, Autocop TRACKPRO offers vehicle tracking solutions made specially for the Indian roads. Our enterprise partnership with Google ensures that you get the most accurate location data.With a large number of report options available, you get all the information you will ever need about the whereabouts of your vehicle; when you need it, as you need it. And our rich history allows us to provide you all of this at unbeatable prices that match every budget! So go ahead and explore the world. We are here to make sure you will never go off the map.
Contact Details
Address: Autocop (India) Pvt Ltd A-35 , 2nd Floor, MIDC, Andheri East, Mumbai - 400093, Maharashtra
Contact: +91 22 40783333
Email Id: [email protected]
Website: http://www.autocopservice.com/index.html
9. Best Way Motor Work
Car is a luxury for a lot of people, and there are a lot of times when the car stops working due to some or other reason. We have come up with the Premium Car Repair In Powai, Mumbai for all the people, who want to get their car repairs under budget. We have a team of professional mechanics and car experts who have years of expertise, and always make sure that the car is in a good condition.

Our Premium Car Service Center In Powai, Mumbai is highly praised because we have the best tools, with the help of which we are always successful in rendering successful services. If you have any car, that requires servicing, then you don't have to worry anymore as we are here at your service.
Contact Details
Address: Gala No - 1, Opposite Micro Lab, Osmania Compound, Chandivali, Powai, Mumbai - 400072
Contact: +91 8587004753
Email Id: [email protected]
Website: https://bestwaymotorwork.com/index.html
10. Soni Max
Sonimax the professional car care Experts was founded by Mr.Sakkaravarthy Satthivel in Mumbai in 1999. Its main areas of business is car detailing services which includes - Car interior cleaning, car exterior cleaning and polishing, Anti rust Treatment, Engine Wax Treatment, Silencer Coating, Windshield Polish, Air Conditioning Disinfectant, Pest Control Treatment and many more.
Our technicians specialize in all aspects of cleaning and polishing the car. We endeavour to provide our services at your doorstep. We offer our services in a most competitive and cost effective way, compare to others. Our aim is to give value for money and the highest standards of services to all our customers.Customer service and satisfaction has been our main goal.
Contact Details
Address: Shop No.11, Balaji Co. Op. Hsg. Soc., Ground Floor,Matunga Labour Camp, Near Chhota Sion Hospital, Next To HDFC ATM, 60 Feet Road,Mumbai-400 019. Maharashtra India.
Contact: +91 9820206871
Email Id: [email protected]
Website: https://www.sonimaxcarcare.com/index.php