Churchgate is an area in South Mumbai. During the eighteenth and up to the mid-19th century, Mumbai was a walled city. The city walls had three gates, and Church Gate, named after St. Thomas Cathedral, Mumbai was one of the gates. Churchgate, now known as Veer Nariman Street, is a prominent location in the South Mumbai. The Place imbibed its name from the Churchgate railway station and St. Thomas Church. Churchgate houses some of Mumbai's prestigious buildings and organizations.
Things to do near Churchgate
Places to visit near Churchgate
1. Marine drive
Marine Drive also known as Nariman point or the Queen's Necklace is one of the best promenades of Mumbai is at Churchgate, spread across till marine lines which is a bliss for all season. Monsoon rains, Summers or Winter the romance goes on. Also watch out the queens necklace video to know why so-called.
2. Gateway of India
The Gateway of India is an arch-monument built in the early twentieth century in the city of Mumbai, in the Indian state of Maharashtra. Gateway of India is the most important and valued landmark of the city of Mumbai.
3. Elephanta Caves
As you reach Gateway of India, You will see that little ferry going to take a trip to and from Gateway of India to Elephanta caves and also for a joy ride. The only historic and heritage caves of South Mumbai for all those planning a day off from busy city to a serene island feeling the waves of Arabian sea and spend a whole day inside caves with family and friends.
4. Eros Cinema
One of the oldest theaters in the city, Eros Cinema is located right outside the Churchgate Railway Station and has a seating capacity of over 1000! This is one place where you can catch the latest cinema flicks and can travel back in time. While it has shut its doors for a while now, the building is still at its prime and is a must-visit spot.
5. Colaba Causeway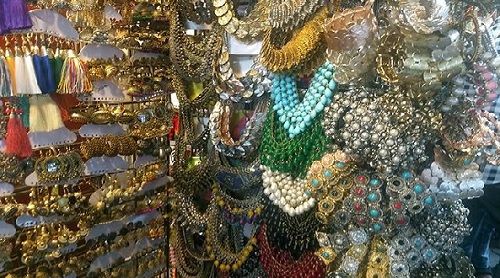 Colaba market is one of the many reasons shopaholic people from the far north and suburbs of Mumbai travel. It's Colaba Causeway, a street-side shopping heaven for fashion and trendy products major imported and related to fashion and accessories at cheaper prices with bargain options.
6. Wankhede and Bradbourne Stadium
The two main cricket stadiums of Mumbai are both located in Churchgate and give you splendid views of the Arabian Sea from the aerial perspective. These massive stadiums are a treat to visit for all cricket and sports lovers. Do try to catch on some cricket matches there!
7. Asiatic Library / Town Hall Library
Also called Town Hall library located at SBS Road, Mumbai GPO (Fort), Town Hall, Shahid Bhagat Singh Road, the Nearest station being Churchgate. This is one of the biggest libraries with beautiful looks from outside, getting a digital transformation from keeping books in the traditional way inside. Best place for Oldest reference library related to Mumbai and many other subjects local and international.
8. Fashion Street
Fashion Street is one of the most popular tourist destinations in the city and is also Mumbai's premier shopping hub. FS located at CST in Mumbai is a good place to shop and fulfill your fashion needs if you knew the market carefully. Fashion Street is cheap street-side shopping destination of Mumbai just like Linking Road at Bandra for best bargain shopping experience.
9. Rajabai Clock Tower
The Rajabai Clock Tower is a clock tower in South Mumbai India. It is located in the confines of the Fort campus of the University of Mumbai. The tower is part of the Victorian and Art Deco Ensemble of Mumbai, which was added to the list of World Heritage Sites in 2018. It is one of the most beautiful and a big tourist attraction of South Mumbai is the Rajabai Clock Tower.
10. Azad Maidan
Azad Maidan is a triangular-shaped maidan in Mumbai, Maharashtra, India. It is located on 25 acres of land near the Chhatrapati Shivaji Terminus station. Spend some time and enjoy watching some local cricket matches being played.
Places to Eat in Churchgate
1. Rustom's Ice Cream
One of the famous and oldest ice-cream shops, Mumbai's famous K. Rustom's Ice Cream has been around for over 50 years now and this place is always packed with ice cream lovers. You can try out their fresh fruit ice cream sandwiches which come at extremely affordable rates. Do try out their lassis as well.
2. Gaylord Cafe
This cafe is a perfect option for those looking for a continental meal option in the city. The vintage look of this  Mumbai eatery will take you back to the city's bygone era. The long menu comprising classic and innovative Indian and continental dishes will leave you spoilt for choices.
3. Khau Galli
The Churchgate Khau Galli is a small lane lined with food stalls offering a range of typical Mumbai street food. From the buttery pav bhaji served to steam hot, to nutritious, thick fruit smoothies, this food street has some of the more popular eateries serving the usual, delicious Mumbai street fare, and then some surprises.
4. Salt Water Cafe
This modern-day cafe offers a menu loaded with European-influenced dishes. The menu is limited, but your cravings for some yummy food will definitely be satiated. Apart from the delectable food, the classy ambiance with soothing background music also cheers you up.
5. Raju sandwich stall
A short walk out of Khau Galli towards H.R College (at Dinshaw Wacha road) leads to the popular Raju sandwich stall which can be recognized by the crowd of chatting college students around it. The delicious-sounding Chilly cheese toast, Cheese noodle roll and Penne cheese roll are the most ordered dishes.
6. Shiv Sagar
If you think Mumbai is a coastal city with fewer options for vegetarians, then it is time to think again. Shiv Sagar is one of those vegetarian restaurants in Mumbai that leave you content with a surfeit of vegetarian delicacies. Though known for south Indian fare, the Chinese and north Indian dishes available at this budget restaurant are worth tasting.
7. Pizza By The Bay
Originally called Jazz By The Bay, Pizza by the Bay has always been a fancy-ish dinner overlooking the sea. Enjoy some thin-crust pizzas, along with healthy salads and desserts.
8. Mockingbird Cafe
Located a stone's throw away from Churchgate station, Mockingbird Cafe has managed to hold its own despite being alongside some of the oldest restaurants in the city. It's considered a must-visit especially if you want a peaceful time with loved ones.
9. The J
The J has managed to win hearts by taking everybody's favorite comfort food—French fries—and making them even better thanks to generous dollops of sauces and toppings. Wash down their cheesy, spicy fries with unique milkshakes and cake shakes like the Nutella Monaco Milkshake and Red Velvet Cake shake.
10. Sahyadri Restaurant
Serving homemade, extremely reasonable vegetarian food is Sahyadri's USP. Located close to Churchgate Station, this is the ideal place to go if you are looking for a quick, pocket-friendly breakfast or lunch.
Colleges and Schools
AIG Academy ( Online, Regular & Distance Learning University )
Build a career filled with great opportunities with an MBA degree by AIG Academy in Mumbai. Whether you are a student looking to continue your studies or a working professional desiring for a degree along with a job, Online MBA in Churchgate by AIG Academy can fulfill your every need. You can pursue this MBA course sitting at your comfort zone. Distance MBA with an AIG Academy comes with various specializations. The best part of AIG Academy is that it also offers an MBA in one year degree where you can save your year gap and pursue your degree in just one year.
2. Kishinchand Kellaram College ( KC College)
The K.C. College of Management Studies (KCCMS) started with Management Courses way back in 1960. The college has a reputed tradition for training students not just for today but for the challenges of tomorrow as well. It was the first college to be awarded an "A" grade by The National Assessment and Accreditation Council (NAAC) in Mumbai.
3. Jai Hind College
Jai Hind College was founded in the year 1948. he college is affiliated to the University of Mumbai, offering undergraduate and postgraduate programs in Arts, Commerce, and Science. This college definitely has one of the best faculty and good management. The crowd is good and the location is amazing.
4. SNDT Women's College
SNDT Women's University is the first Women's university in India as well as in South-East Asia.The university headquarters are at Churchgate in South Mumbai, while the main campus is in Santacruz–Juhu area of Mumbai.
5. Sydenham College
Sydenham College of Commerce and Economics is a prestigious college located in Mumbai which is also the oldest college of commerce in Asia. Affiliated to the Dr. Homi Bhabha State University, the college offers undergraduate and postgraduate degrees in commerce and management.
6. H.R College of Commerce and Economics
Hassaram Rijhumal College of Commerce and Economics, commonly known as HR College, is a highly reputed college located in Churchgate, Mumbai. It is run by the Hyderabad National Collegiate Board and is affiliated to the University of Mumbai.
7. St. Xavier's Institute of Education
St. Xavier's probably has the most iconic college building in India. So much so that it has been declared a heritage site! Xavier's was the first college to be granted autonomy by the University of Mumbai in 2010.
8. St. Annes Girls High School
St Annes Girls High School is located in Churchgate, Mumbai. It was established in 1925. This school follows the State board. The school is an English medium.
9. HVB Global Academy
Being ever-sensitive to changing ground realities, HVB is on the cusp of going global. We will offer the IBDP curriculum and that will mean we now have another institute known as HVB Global Academy
10. BD Somani International School
B. D. Somani International School offers its students an internationally recognized curriculum in an Indian setting
11. Cathedral & John Connon School
For the last one hundred and fifty years, the school has imparted the finest education to its students. It follows the Indian Certificate of Secondary Education (ICSE) up to the tenth grade and the Indian School Certificate (ISC) for the eleventh and twelfth grades.
Hospitals and Medical Centers
1. Vcare Imaging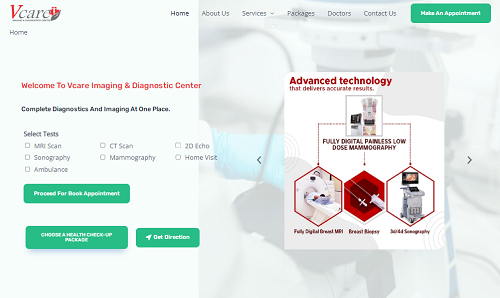 Our mission is to provide world-class facilities and strive to provide timely & accurate reports with compassion & care. Our Radiologists work hand in hand with our highly trained technologists to ensure you are at ease during your routine.
A Premier Health Care Provider with Multiple CT Scan Centre In Kandivali & Imaging Services Under One Roof. Fully Automated Computerized Laboratory with End to End Diagnostic Centre in Churchgate and Imaging Solutions Under One roof. Our Experienced and Dedicated Team Make Sure You Receive the Most Effective Treatment in Those Times of Worry.
Contact Details:
Phone: 9819577304
Email: [email protected]
Website: https://vcareimaging.in/
2. Apollo Spectra Hospitals
Apollo Spectra Hospitals in Tardeo, Mumbai is a top player in the category Hospitals in the Mumbai. This well-known establishment acts as a one-stop destination servicing customers both local and from other parts of Mumbai.
3. Shalby Hospital
Shalby Hospital in Marine Drive, Mumbai is a top player in the category Hospitals in the Mumbai. This well-known establishment acts as a one-stop destination servicing customers both local and from other parts of Mumbai.
4. Shroff Eye Clinic
In Mumbai, Shroff Eye Clinic is a recognized name in patient care. It was incepted in the year 1965. They are one of the well-known Hospitals in Marine Lines. Backed with a vision to offer the best in patient care and equipped with technologically advanced healthcare facilities, they are one of the upcoming names in the healthcare industry.
5. GT Hospital
Gokuldas Tejpal Hospital is a government of Maharashtra run free hospital in South Mumbai, India. It was built in 1875 thanks to the beneficence of Gokuldas Tejpal, a renowned Hindu businessman and philanthropist of Mumbai.
6. Bombay Hospital
Bombay Hospital is one of the biggest hospitals in the city and is located at New Marine Lines, Mumbai. It was one of the first private hospitals to have started in the city and since its inception, Bombay Hospital has set a benchmark in the health industry.
Car Repair Company

Carfixo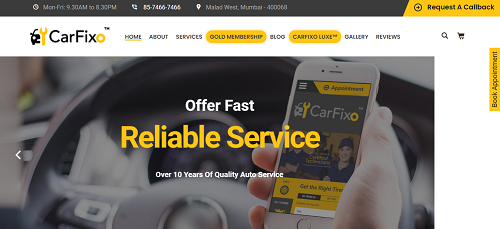 CarFixo is a leading professional Multi Car Workshop and Automotive Service Company known for providing a full range of top-quality car repairs and world-class maintenance services in Mumbai, Navi Mumbai, and Thane.
At CarFixo, we are backed by an adept team of highly-skilled and well-trained automobile engineers and experienced technicians who employ cutting-edge technology and advanced equipment to deliver seamless and reliable car services.
We are a one-stop solution for all your car repair and maintenance needs. Experience true comfort and convenience by getting a free car inspection and diagnosis at your doorstep and our contactless and free pickup and drop-in services.
Contact Details
Mobile No : 85-7466-7466
Website : https://carfixo.in/
Pest Control Service
1. Mumbai Pest Control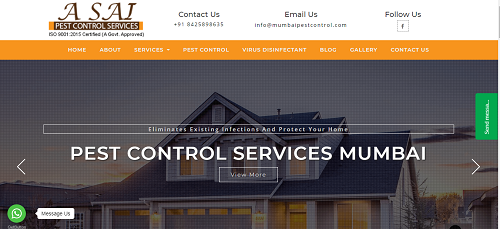 When A Sai Pest Control Services Churchgate began their herbal pest control business decade ago, they had two goals in mind: To provide quality herbal pest control services in Mumbai, Thane, Navi Mumbai, Kalyan and furnish superior customer service. Today, over a decade later, A Sai Pest Control Mumbai, Thane, Navi Mumbai is still committed to that mission. It is the name you can trust to protect your business or home against pests like rodent control, termite treatment, bed bugs treatment, birds and mosquitoes control, cockroach and ants control treatment.
As the trusted commercial pest control company in Mumbai, A Sai Pest Control Thane has provided peace of mind against pests ever since we opened our doors for business from last 18 years.
Contact US
Address : Shop No.6, 1st Floor, Rajiv Gandhi Market,Khopat, Thane (West) - 400601
Mobile : +91 8425898635
Email ID : [email protected]
Website : https://www.mumbaipestcontrol.com/
2. Eco Friendly Pests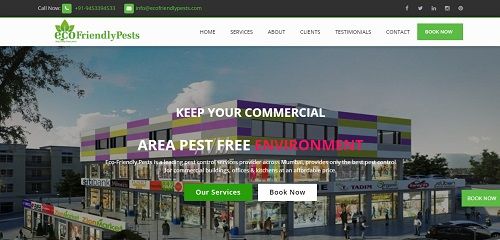 EcoFriendlyPests is the most popular pest control company that provides Pest control services in Churchgate. It's started a pest control business in Mumbai and later move to other locations such as Thane, Navi Mumbai, and Pune many years ago. Our mission is very clear, straightforward, and direct that we will help us to provide you a hygienic pest control services near your place. Also, anyone can get our best pest control services at an affordable price and 100% safe for your family member, pets, and environment at your places. EcoFriendlyPests continuously provide organic pest control solutions through our best and experienced pest control technicians team.
EcoFriendlyPests is an in-house pest control experts team who has been many years of experience, expertise in his field, and the most important thing is a well-behavior and very simple. Our team will visit your place once you request a pest treatment and they do a complete inspection. After that, as per the investigation of the place and the required pest control treatment, they decide which will be the best possible way to eradicate dangerous pests from your home. We use government-approved chemicals and spry to eradicate all kinds of dangerous pests at your place. Our chemicals are safe for humans, pets, children, and pregnant women at your home. EcoFriendlyPests provides Pest control services in Churchgate for both commercial and residential places.
Contact US
Address : D.N. Dube Road, Rajesh Compound, Dahisar East
Mobile : +91-9453394533
Email ID : [email protected]
Website : https://ecofriendlypests.com/
3. Elix Pest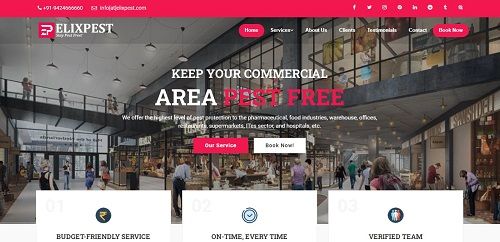 Elix Pest is a leading pest control company in Churchgate. We're a team of experienced professionals, police verified, and intensively trained members in-house. We use high-quality and goverment-approved chemicals and eco-friendly gel and safe spray.
We're playing a vital role in the Pest control service in Churchgate, Maharashtra, and other locations such as Navi Mumbai, Thane, Pune, India. We're an ISO-certified company, our professional's pest technicians are verified by Government (Police Verified), highly qualified, intensively trained team, and provide eco-friendly and safe pest control at an affordable price. Customers are happy with our pest services, commitments, working process, and behavior of our professional pest control team.
We're partnering with prominent pest control companies across Churchgate such as Pepcopp.co.in and other reputed pest control companies to do the best pest services to our clients.
Contact US
Address : Room No 4, D. N. Dube Road, Ratan Nagar, Dahisar, Mumbai 400068.
Mobile : +919424666660
Email ID : [email protected]
Website : https://elixpest.com/
SSD Pest Control Service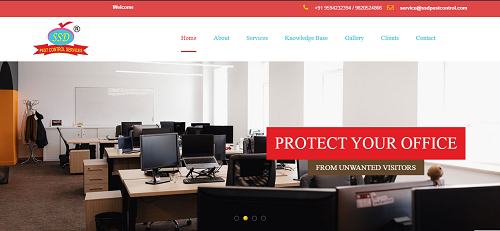 Established in the year 2018, we, SSD Pest Control In Churchgate , are engaged in providing effective services for pest control. we have specialized in offering residential, commercial, marina and corporate pest control services. SSD Pest Control Services Company, is looking to set new global standards in providing all sort of facility management services at affordable cost by developing innovative pro-environmental superior technologies. Every dwelling is entitled to get facility management services to improve quality of living and to have quality time in their family and business. We wish to equip ourselves to serve every dwelling in the Globe.
The experienced and dedicated service team offers customer friendly service which is technically superior and environment friendly. With continuous research and developmental activities we are at process of developing eco friendly low cost technologies for pest control.
Contact Details
Mobile No : 9594232394
Email ID : [email protected]
Website : https://ssdpestcontrol.com/
Schools & Colleges
AIG Academy ( Online, Regular & Distance Learning University )
Dr. Antonio Da Silva Technical High School & Jr. College Of Science
Bhawani Shankar Road Junior College Of Science
Kirti M. Doongursee College
Dadar Vidya Mandir Junior College
ABA College of Law
Guru Nanak High School and Junior College of Commerce
Mandar Education Society
Kohinoor College of Hospitality Management & Tourism Studies
Government Technical High School & Jr. College, Dadar
R A Poddar College Of Commerce & Economics
Business & Jobs
3. Apeejay Business Center
4. Togglehead Digital
5. Sharptech
6. 3 Spin Creative Media