About Grant Road
Grant Road is a locality in South Mumbai. Grant Road railway station serves this area. It is the fourth station on the Western local line preceded by Churchgate, Marine Lines, Charni Road, and followed by the main junction, Mumbai Central.
Grant Road along with Tardeo and Mumbai Central has been a neighbourhood of Mumbai City dominated by the Jains, Muslims and the Parsi & Irani Zoroastrians. It is considered as the place of ancestral roots of the originating Zoroastrians of the city mainly being the areas of Balaram Street and Sleater Road.
Things to do near Grant Road
Places to visit near Grant Road
1. Chor Bazar
Chor Bazar is Mumbai's cheapest market hidden in Grant Road. Speciality is the name 'Chor' which means 'Thieves' and which brings the fact that many of the goods sold here are stolen goods too.
2. Lamington Road
City's biggest electronic good articles market, A digital world one can say where we get all electronics in cheaper rate compared to other retailers and branded showrooms in Mumbai. Lamington road is the perfect place for all technology lovers and electronic devices.
3. Jinnah Hall Building
Jinnah Hall in Opera House, Mumbai is one of the top Exhibition Halls in Opera House, Mumbai.
4. Mani Bhavan Gandhi Museum
Mahatma Gandhi once lived in this simple, two-story building, which is now a museum, library and research center depicting Gandhi's life and struggles for Indian freedom through peaceful means.
5. Gol Deval Temple
Very Old and The Only Gol Deval Temple, Right in middle of Busy Streets of Grant Road, Mumbai.
6. Kamathipura
A red light area in Grant Road is a welcome to AIDS for those sex illiterates who visits here for cheap cost pleasures. Take a private cab / taxi or any bus from grant road station towards Gol Deval temple and ahead, it will pass through this famous prostitution market and you will get to know the reality in a get quick view.
7. Visit Khetwadi during Ganesh Festival
Visit this khetwadi lane once for sure during Ganpati Festival. There are total 14 lanes in khetwadi, each lane having very unique and very huge Ganesh idols sitted in very small areas.
8. Kumbharvada
Kumbharwada resident which has some very old time building and lanes and will give you a nostalgic experience of old Mumbai.
Places to eat near Grant Road
1. B Merwan
B Merwan is probably one of the oldest Irani cafes left in Mumbai and we think it's a great option to grab a quick and tasty breakfast at. Try their famous mawa cake.
2. Jack's Pizza
Jack's Pizza is a home delivery service on Grant Road that delivers to nearby areas such as Peddar Road, Chowpatty, Churchgate and around. Thin crust is their speciality, and they ace it with the sauce here.
3. Jaffer Bhai's Delhi Darbar
This informal dining room dishes up an array of biryanis & pan-Indian favorites.
4. Flute 24 Hrs
Indian, Chinese & Italian buffet offered along with a full bar in a warmly-lit, casual setting.
5. Prisim Health Food
Prisim Health Food in SoBo is a fitness cafe and it's got the best options for those who want something other than fried food when they eat outside.
6. Baroke - Hotel Krishna Palace
Baroke, the night club you know and love, has come back to life in an all-new avatar as a fancy eatery.
7. Bombay Cafe
From Paneer To Chocolate, Try A Whole New Variety Of Dosas At The Bombay Cafe!
8. Lemon N Spice
This Small Little Eatery Offers Extremely Delicious Food & Drinks.
9. Kakori House
Go over to Kakori House for some yummy Awadhi food. Serving delicious Awadhi cuisine, Kakori House is known for its mouthwatering food. Go here to have their to-die-for kakori and galouti kebabs with roomali roti and Warqi parathas.
Schools & Colleges
1. AIG Academy ( Online, Regular & Distance Learning University )
Build a career filled with great opportunities with an MBA degree by AIG Academy in Mumbai. Whether you are a student looking to continue your studies or a working professional desiring for a degree along with a job, Online MBA in Grant Road by AIG Academy can fulfill your every need. You can pursue this MBA course sitting at your comfort zone. Distance MBA with an AIG Academy comes with various specializations. The best part of AIG Academy is that it also offers an MBA in one year degree where you can save your year gap and pursue your degree in just one year.
2. Girton High School
Girton High School is a private school for girls in Mumbai, Maharashtra, India. It was established in 1888.
3. Queen Mary School
The Queen Mary School, founded in 1875, is a private school for girls in Grant road, Mumbai, India. It operates under the management of the Christian Medical Educational Fellowship Trust and prepares students to take the Indian Certificate of Secondary Education Board examinations.
4. Edubridge International School
Edubridge International School is an international school at Grant Road in south Mumbai, India, not far from Chowpatty Beach. It was authorised as a World School in February 2014 by the International Baccalaureate.
5. The Universal School, Tardeo
Universal School Tardeo is the best International Schools in Mumbai. It is the best IGCSE School in South Mum. and one of the Best Intl. Schools
6. St. Columba High School
St Columba Girls High School in Gamdevi, Mumbai is a top company in the category Girls Schools, also known for Schools, English Medium Schools, Convent Schools.
7. B.M. Ruia Girls' College
B. M. Ruia Girls College was established in 1958, then known as Hindi Medium College by Marwadi Sammelan, which was always in the forefront of propagating and promulgating Hindi.
8. Sant Gadge Maharaj College
Sant Gadge Maharaj College is situated in Mumbai in Maharashtra state of India. Established in 1972, it is accredited from UGC, NAAC and it is affiliated to University of Mumbai
9. Navneet Education Society Night Degree College
NAVNEET EDUCATION SOCIETY was established as per provision by Govt. of Maharashtra in the year 1998 . The Navneet education society had started Govt. of Maharashtra  recognized  junior college section at Mumbai Central in faculties of Arts , Science & Commerce.
Car Repair Company

Carfixo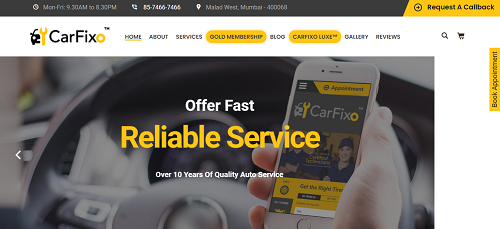 CarFixo is a leading professional Multi Car Workshop and Automotive Service Company known for providing a full range of top-quality car repairs and world-class maintenance services in Mumbai, Navi Mumbai, and Thane.
At CarFixo, we are backed by an adept team of highly-skilled and well-trained automobile engineers and experienced technicians who employ cutting-edge technology and advanced equipment to deliver seamless and reliable car services.
We are a one-stop solution for all your car repair and maintenance needs. Experience true comfort and convenience by getting a free car inspection and diagnosis at your doorstep and our contactless and free pickup and drop-in services.
Contact Details
Mobile No : 85-7466-7466
Website : https://carfixo.in/
Pest Control Service
1. Mumbai Pest Control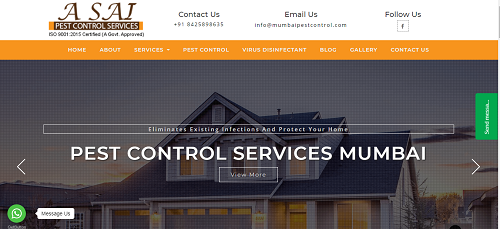 When A Sai Pest Control Services Grant Road began their herbal pest control business decade ago, they had two goals in mind: To provide quality herbal pest control services in Mumbai, Thane, Navi Mumbai, Kalyan and furnish superior customer service. Today, over a decade later, A Sai Pest Control Mumbai, Thane, Navi Mumbai is still committed to that mission. It is the name you can trust to protect your business or home against pests like rodent control, termite treatment, bed bugs treatment, birds and mosquitoes control, cockroach and ants control treatment.
As the trusted commercial pest control company in Mumbai, A Sai Pest Control Thane has provided peace of mind against pests ever since we opened our doors for business from last 18 years.
Contact US
Address : Shop No.6, 1st Floor, Rajiv Gandhi Market,Khopat, Thane (West) - 400601
Mobile : +91 8425898635
Email ID : [email protected]
Website : https://www.mumbaipestcontrol.com/
SSD Pest Control Service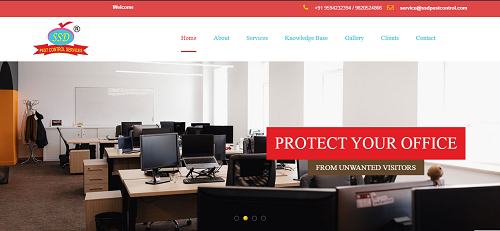 Established in the year 2018, we, SSD Pest Control In Grant Road, are engaged in providing effective services for pest control. we have specialized in offering residential, commercial, marina and corporate pest control services. SSD Pest Control Services Company, is looking to set new global standards in providing all sort of facility management services at affordable cost by developing innovative pro-environmental superior technologies. Every dwelling is entitled to get facility management services to improve quality of living and to have quality time in their family and business. We wish to equip ourselves to serve every dwelling in the Globe.
The experienced and dedicated service team offers customer friendly service which is technically superior and environment friendly. With continuous research and developmental activities we are at process of developing eco friendly low cost technologies for pest control.
Contact Details
Mobile No : 9594232394
Email ID : [email protected]
Website : https://ssdpestcontrol.com/
Hospitals & Medical centers
1. Bhatia Hospital
2. Sir H. N. Reliance Foundation Hospital and Research Centre
3. Smt. Motiben B. Dalvi Hospital
4. Apollo Spectra Hospitals
5. Infiniti Eye Hospital
Companies & Business Centers
1. MyDigital Crown
2. Sanjeevan And Company
3. D.A. Technologies
4. Bombay Surgical Company
5. Ketco Krishna Electric And Trading Company