Homeopathy is an advanced, effective, and gentle system of holistic medicine that has been successfully used for over two hundred years and on every continent. Homeopathy is not to be confused with herbal medicine or nutritional therapy. The set of principles that guide the selection of medicine make homeopathy a distinct and integral system unto itself. Many doctors are practicing Homeopathy in Indore for many years.
Homeopathic medicines, called remedies, may be safely and effectively applied in chronic (long-term) conditions, as well as acute (short-term and self-limiting) illnesses and injuries of adults, children, and animals. Homeopathy stands out distinct as compared to other modes of treatment by its fundamental principles directed towards treating diseases at the root level, by addressing the multiple causative factors such as genetic, immunological, metabolic, hormonal, emotional and the like.
As a result, the diseases are treated in totality rather than in parts or as entities separate from the 'whole' of the individual patient. In that sense, homeopathic science believes in the 'holistic' approach.
Every life is precious. Everyone wants to consult the best doctor for their health. Here we bought you the 13 Best Homeopathy Doctors In Indore for your next doctor visit.
1. Dr. Shalini Tiwari
Dr. Shalini Tiwari has a firm belief that Homoeopathy is a system of medicine based on scientific and natural law of healing. Homoeopathy Cures chronic, Complicated and Hopeless Cases, as per our experience. The Highest Ideal of CURE is rapid, gentle and permanent restoration of Health. Homoeopathic remedies are most efficient, non–toxic and Quick in action. These are safely prescribed according to symptoms of each individual.
Homoeopathic remedies do not suppress but root out chronic ailments(mostly without operation) and render permanent cure and good health even to the declared incurable cases by other systems of medicine. Homoeopathic remedies are certainly NOT SLOW in Action but it is generally the patient who seeks homoeopathic treatment at a very late stage : usually after trying other pathies in vain. Homoeopathy renders Complete and Permanent Cure of diseases. There are NO EXTRA Precautions in Homoeopathic treatment.
Contact Details:
Address : 135-AG Scheme No. 54 Vijay nagar, Indore, Madhya Pradesh 452010
Phone : 9977990928
Website : http://www.drshalinitiwari.com
2. Dr. Batra's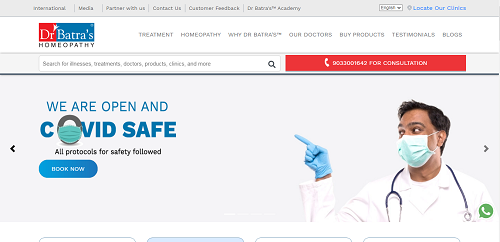 Considered as one of the Top Homeopathy Doctors in Indore and Best Ayurvedic Doctors In Indore, Dr. Batra specializes in Homeopathy for the cure of many diseases. They believe that a job is not simply about getting to office every day, finishing routine stuff by the end of the day and then packing off without any take-home feeling. They believe that this is the place where you spend most of your waking time so why not make it worthwhile! That is why we take all the care to see that you get the best while you give your best at your job at Dr. Batra's.
Contact Details:
Address : 1st Floor, 102, Building 9/1/2, M. G. Road, Landmark: Near Treasure Island Mall, Above Suzuki Showroom, Indore - 452001
Phone : 9033001649
Website : https://www.drbatras.com/
3. Dr. S. Faujdar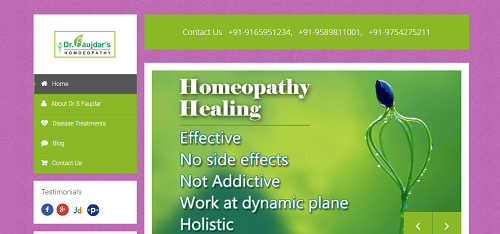 Dr. S. Faujdar was born in year 1982 in Chhatarpur (M.P). Since his childhood Dr. S. Faujdar was keen in knowing about various diseases and its treatment. His grandfather Dr.P.D.Faujdar was a renowned Ayurveda doctor and had an established medical store. With his grandfather, Dr.S.Faujdar learnt a lot about natural ways of treatment. But still he was curious to know more about untreatable diseases. So in standard 10th he made his mind to study natural medicine. With this intent in mind Dr.S.Faujdar did Homeopathy degree course (BHMS)-Gold Medalist from Jiwaji University, Gwalior. During his college life, he learnt a lot about all treatment options with medicines which his professors appreciated.
After completion of his studies, in year 2003 Dr.S.Faujdar started giving services in collaboration of Gwalior Charitable trust where low income group people with surgical conditions of osteoarthritis and varicose veins came. Initially Dr.Faujdar and his team treated the patients causally.
Contact Details:
Address : UG-10, Sunview Residency, in front of Barwani Plaza, Patwa Petrol Pump, To Saket Road, 6/1, Old Palasia Indore
Phone : 9165951234
Website : http://www.drfaujdar.com/
4. Dr. Arpit Chopra JAIN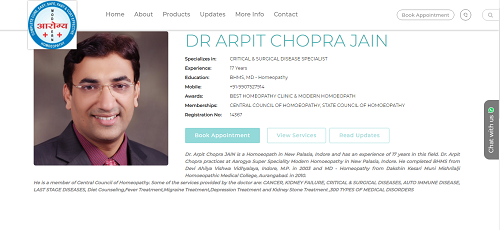 Dr. Arpit Chopra JAIN is a Homoeopath in New Palasia, Best Ayurvedic Doctors In Indore and has an experience of 17 years in this field. Dr. Arpit Chopra practices at Aarogya Super Speciality Modern Homoeopathy in New Palasia, Indore. He completed BHMS from Devi Ahilya Vishwa Vidhyalaya, Indore, M.P. in 2003 and MD - Homeopathy from Dakshin Kesari Muni Mishrilalji Homoeopathic Medical College, Aurangabad in 2010.
He is a member of Central Council of Homeopathy. Some of the services provided by the doctor are: CANCER, KIDNEY FAILURE, CRITICAL & SURGICAL DISEASES, AUTO IMMUNE DISEASE, LAST STAGE DISEASES, Diet Counseling, Fever Treatment, Migraine Treatment, Depression Treatment and Kidney Stone Treatment ,300 TYPES OF MEDICAL DISORDERS.
Contact Details:
Address : First Floor, Vikram Tower, 240-241, Sapna Sangeeta Rd, in front of Lotus Electronic Show Room, Indore, Madhya Pradesh
Phone : +91-7999978894
Email Id : [email protected]
Website : https://www.aarogyahomoeopathyindore.com/
5. Dr. Swatantra
AUDE SAPERE HOMEOPATHY CLINIC By Dr. Swatantra in Bhawar Kuan, Indore is a top player in the category Dermatologists in the Indore. This well-known establishment acts as a one-stop destination servicing customers both local and from other parts of Indore. Over the course of its journey, this business has established a firm foothold in it's industry. The belief that customer satisfaction is as important as their products and services, have helped this establishment garner a vast base of customers, which continues to grow by the day.
This business employs individuals that are dedicated towards their respective roles and put in a lot of effort to achieve the common vision and larger goals of the company. In the near future, this business aims to expand its line of products and services and cater to a larger client base. In Indore, this establishment occupies a prominent location in Bhawar Kuan. It is an effortless task in commuting to this establishment as there are various modes of transport readily available.
Contact Details:
Address :132, 1st floor, Bhawarkua, veda business park Near Bhanvarkuan Square, Indore, Madhya Pradesh
Phone : 8109675410
Website : http://homeopathyindore.in/
6. Dr. Shreyas Bansal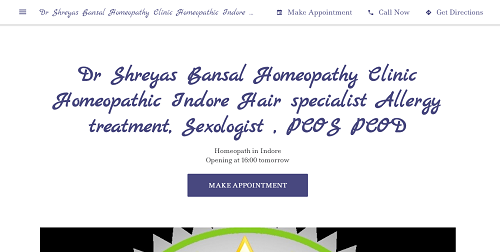 Patients who were treated with homeopathy used fewer medications, had better health, fewer days off sick, fewer visits to medical specialists, less time in the hospital than patients of conventional physicians. Moreover, there are no costs associated with complications due to adverse medication effects.
Homeopathy is a medical system based on the belief that the body can cure itself. Those who practice it use tiny amounts of natural substances, like plants and minerals. They believe these stimulate the healing process
Contact Details:
Address : 105 Western business centre 1/6 New PalasiaBehind Mangilal dairy Indore, Madhya Pradesh 452001
Phone : 9111179793
Website : http://www.homeopathydoctorindore.com/
7. Dr Vaibhav
Dr Vaibhav did Graduation in Homeopathy from a reputed college of M.P. and trained under various great masters. he is practitioner and research scientist. well known for his creative skills and dedication towards patients. He is very popular amongst his patients .He keep himself updates about all the new advancements in the medical world.
Contact Details:
Address : 101, Radha Krishna Apartment , Opposite JMB, Anand Bazar Main Road, Indore, Madhya Pradesh 452009
Phone : 8048040490
Email Id : [email protected]
Website : http://www.ashahomeo.com/
8. Dr. B.P. Mishra
Dr. B.P. Mishra the forerunner laid the foundation of Homeoheal clinic 6 decades ago when he identified an emerging need of holistic approach of health, not only to deal the ailments calmly, safe, uproot it fully and also for preventing its outburst to its maximum virtue.
Dr. B.P.Mishra was a versatile and eminent physician of his time pioneering Homeopathy in Madhya Bharat ( Now Madhya Pradesh ), Bhopal/Indore. He earned licence for primary healthcare from the Saint John Ambulance association U.K. in 1923. He was also registered as Class-A Ayurvedacharya (आयुर्वेदाचार्य). Apart from the renowned medical practitioner he was a great philosopher, artist, painter, spiritual and lot more, he was also having the Diploma in fine arts from school of fine arts, Indore and J.J. Arts Bombay (Mumbai)
With his foresightedness he brought the concept of "Homeopathic first aid box kit" which was one of the uniqueness of that time. Best Ayurvedic Doctors In Indore Being philanthropist he himself prepare the kits and charitably distributed to all government and non-government setups.
Contact Details:
Address : 43, Sukhdev Nagar, Airport Road, Indore-452002 (M.P.)
Phone : 7312621143
Email Id : [email protected]
Website : http://homeoheal.in/
9. Euphoria
EUPHORIA is one of the best homeopathic and bach flower treatment center in the world . It is based in Indore , Madhya Pradesh. We have a great panel of doctors who are adept in treating all kinds of diseases whether it is acute , chronic, advanced, autoimmune and genetic disorders . We give 100 percent results as we are dealing with the best form of homeopathic treatment and bach flower therapy. People from all around the world have got treated from our centre and have got amazing results. We always prove our mettle by giving evidence based treatments.
Contact Details:
Address : U.G. 3 Cross Road Building, Vijay Nagar Square,MR 10 Main Road Near G Sachanand Market, Behind Vijay Nagar Police Station' Vijay Nagar ,Indore,Pincode- 452010,Madhya Pradesh
Phone : +91-9685035311
Email Id : [email protected]
Website : https://www.euphoriahomeopathy.com/
10. Samragee Homeopathy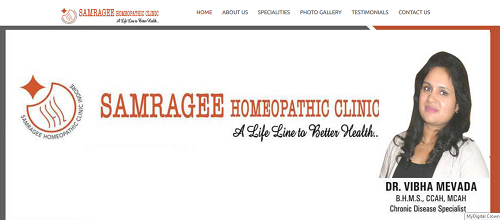 SAMRAGEE HOMEOPATHIC CLINIC is committed to supply best homeopathic Treatment, having expertise of treating patients with differing kinds of diseases.
Dr Vibha Mevada did BHMS from nashik University and CCAH (certificate course in advance homeopathy) & MCAH (Master course in advance homeopathy) which are short term PG course from The Other Song International Academy of Advance Homeopathy, Mumbai.
There's no denying the talk that we do treat here our best to assure you the satisfying result. We will do our best to make you comfortable. We strongly believe in ethics; as a health provider being ethical is not just a remembered value, but a strongly observed one.
Contact Details:
Address : 251, Usha Nagar Ext., Opp. Ranjeet Hanuman Temple, Indore(M.P.), 452009
Phone : +91 9111005008
Email Id : [email protected]
Website : http://samrageehomeopathicclinic.com/
11. Dr. Vishvesh Verma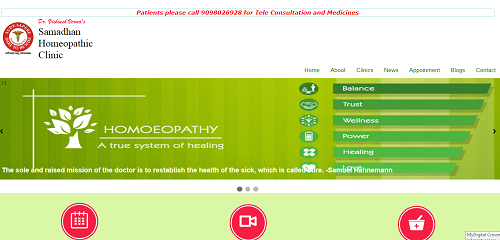 It is meant for complete cure and solution of all complaints under one roof. This is an approach towards healthy mankind with the help of appropriate treatment ; from disease , where there is any disturbance in the normal functioning of the body that disrupts the Ease enjoyed by the person; bringing back to Health.
Contact Details:
Address :Samadhan Homeopathic Clinic, 24, Gulmarg Complex
Sapna Sangeeta Road, Indore,452001
Phone : 07314281076
Email Id : [email protected]
Website : http://drvishveshverma.s3-website.ap-south-1.amazonaws.com/
12. Essence Homeopathy
ESSENCE HOMEOPATHY CLINIC is one of the finest homeoapthy Clinic in INDORE, MADHYA PRADESH, providing health care services online to patients all over the world and to local patients on a daily basis, bringing about fundamental as well as tertian Homoeopathy care services.
Dr. Ummekulsum is a homeopathuc consultant, and a passionate nutritionist. She has her expertise in chronic and lifestyle disorders, her passion is to help women and children live a drug-free life.
Contact Details:
Address :673, Noorani nagar dhar road, Indore.Near Evan-e-Burhani, Indore- 452002, India
Phone : +91 7489311080
Email Id : [email protected]
Website : http://essencehomeopathyclinic.com/
13. AHHC
Advanced Homoeo Health Center Indore is located in the heart of city i.e Manorma Ganj  Indore Near Rasgullawal Geeta bhavan Main Road  is renowned for curing patients for various chronic diseases in central India. The clinic is managed by an experiance qualified Homeopathy Doctor " Dr A.K Dwivedi", Ever since the inception of the AHHC patient have visited from global location in search of complete Cure and looking for ailment from prolonged diseases.
Our constant endeavor to provide the best of services to our patients at AHHC has enabled us to establish one of the leading Homeopathy clinic in the Madhya Pradesh , looking at great success and patient's faith in AHHC, the management of the clinic does plans to expand the  network of existing  clinic  at various geographical locations.
Contact Details:
Address :8/9, Mayank Apartment (Ground Floor), Geeta Bhawan Road, Manorama Ganj, Indore, Madhya Pradesh 452001
Phone : 09826042287
Email Id : [email protected]
Website : http://www.homeopathyclinics.in/